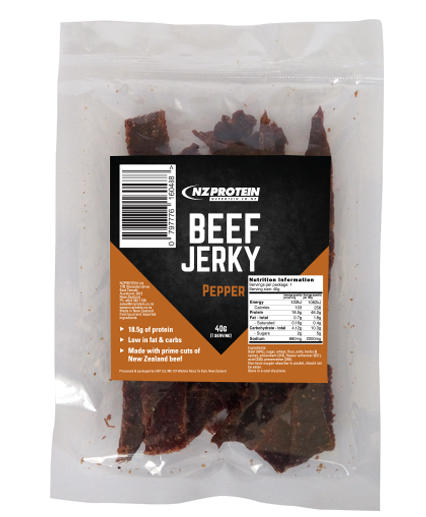 Beef Jerky
Ideal High-Protein Snack
Made from Prime New Zealand Beef, each pack has 18.5g of protein & is low in carbs & fat. There's no need to refrigerate the packs, and they fit easily in your bag or pocket! It therefore makes for an ideal high-protein snack snack at work, in the office, in your car, or wherever you are.
Rated
5
/
5
Based on
5
customer reviews.
Excellent product. Great tasting and far less calories than a protein bar for a similar amount of protein. Will definitely continue to purchase this if price remains the same.
Received the pepper jerky as one of the "gifts" that can be selected. Tastes great and once it's gone you're left wanting more.
The best beef jerky I have ever had, and for such a great price.
Yummy as!
Chilli is the best if you like a kick :)
There's actually quite a bit in each packet so it's a fairly good snack.
The beef jerky tastes great, not too overloaded with strong sauce flavours and salt like other jerky products. The flavours are great
tastes more like a natural beef jerky product, than others. Would buy it again.
Click on a flavour to see the nutritional information.
Serving size: 40g
Servings per pack: 1
| Name | Ave Quantity Per Serving | Ave Quantity Per 100g |
| --- | --- | --- |
| Energy | 433kJ | 1082kJ |
| Calories | 103 | 258 |
| Protein | 18.5g | 46.2g |
| Fat - total | 0.7g | 1.8g |
| - Saturated | 0.16g | 0.4g |
| Carbohydrate - total | 4.12g | 10.3g |
| - Sugars | 2g | 5g |
| Sodium | 880mg | 2200mg |
Ingredients: Beef (90%), sugar, wheat, flour, salts, herbs & spices, antioxidant (316), flavour enhancer (621), acid (330), preservative (250).
Allergen information: contains wheat
Serving size: 40g
Servings per pack: 1
| Name | Ave Quantity Per Serving | Ave Quantity Per 100g |
| --- | --- | --- |
| Energy | 433kJ | 1082kJ |
| Calories | 103 | 258 |
| Protein | 18.5g | 46.2g |
| Fat - total | 0.7g | 1.8g |
| - Saturated | 0.16g | 0.4g |
| Carbohydrate - total | 4.12g | 10.3g |
| - Sugars | 2g | 5g |
| Sodium | 880mg | 2200mg |
Ingredients: Beef (90%), sugar, wheat, flour, salts, herbs & spices, antioxidant (316), flavour enhancer (621), acid (330), preservative (250).
Allergen information: contains wheat
Serving size: 40g
Servings per pack: 1
| Name | Ave Quantity Per Serving | Ave Quantity Per 100g |
| --- | --- | --- |
| Energy | 433kJ | 1082kJ |
| Calories | 103 | 258 |
| Protein | 18.5g | 46.2g |
| Fat - total | 0.7g | 1.8g |
| - Saturated | 0.16g | 0.4g |
| Carbohydrate - total | 4.12g | 10.3g |
| - Sugars | 2g | 5g |
| Sodium | 880mg | 2200mg |
Ingredients: Beef (90%), sugar, wheat, flour, salts, herbs & spices, antioxidant (316), flavour enhancer (621), acid (330), preservative (250).
Allergen information: contains wheat
Serving size: 40g
Servings per pack: 1
| Name | Ave Quantity Per Serving | Ave Quantity Per 100g |
| --- | --- | --- |
| Energy | 433kJ | 1082kJ |
| Calories | 103 | 258 |
| Protein | 18.5g | 46.2g |
| Fat - total | 0.7g | 1.8g |
| - Saturated | 0.16g | 0.4g |
| Carbohydrate - total | 4.12g | 10.3g |
| - Sugars | 2g | 5g |
| Sodium | 880mg | 2200mg |
Ingredients: Beef (90%), sugar, wheat, flour, salts, herbs & spices, antioxidant (316), flavour enhancer (621), acid (330), preservative (250).
Allergen information: contains wheat