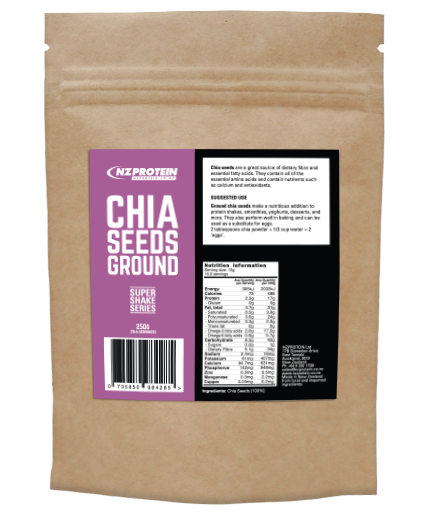 Chia Seeds Ground 250g
A Nutritious Addition to Protein Shakes, Smoothies, Yogurts, Desserts, and More.
Chia seeds are a great source of dietary fibre and essential fatty acids. They contain all of the essential amino acids and contain nutrients such as calcium and antioxidants.
Suggested Use
Ground chia seeds make a nutritious addition to protein shakes, smoothies, yoghurts, desserts, and more. They also perform well in baking and can be used as a substitute for eggs.
2 tablespoons chia powder + 1/3 cup water = 2 'eggs'.
Recipes
---
NO REVIEWS HAVE BEEN PLACED YET
Serving size: 15g
Servings per pack: 16.6
| Name | Ave Quantity Per Serving | Ave Quantity Per 100g |
| --- | --- | --- |
| Energy | 305kJ | 2033kJ |
| Calories | 73 | 486 |
| Protein | 2.5g | 17g |
| - Gluten | 0g | 0g |
| Fat - total | 4.7g | 31g |
| - Saturated | 0.5g | 3.3g |
| - Polyunsaturated | 3.6g | 24g |
| - Monounsaturated | 0.3g | 2.3g |
| - Trans Fat | 0g | 0g |
| - Total omega-3 fatty acids | 2.6g | 17.5g |
| - Total omega-6 fatty acids | 0.9g | 5.7g |
| Carbohydrate | 6.3g | 42g |
| - Sugars | 0.2g | 1g |
| - Dietary Fibre | 5.1g | 34g |
| Sodium | 2.4mg | 16mg |
| Potassium | 61mg | 407mg |
| Calcium | 96mg | 631mg |
| Phospohorus | 142mg | 948mg |
| Zinc | 0.5mg | 3.5mg |
| Manganese | 0.3mg | 2.2mg |
| Copper | 0.03mg | 0.2mg |
Ingredients: Ground Chia Seeds (100%)