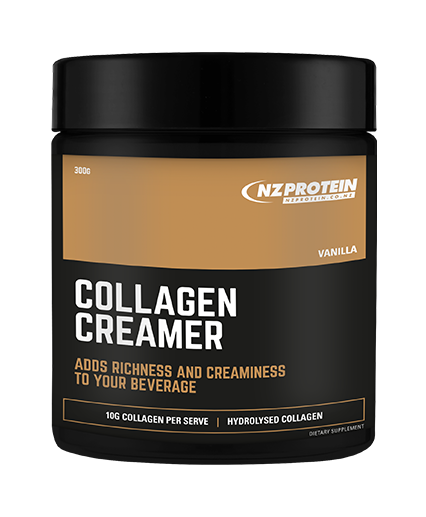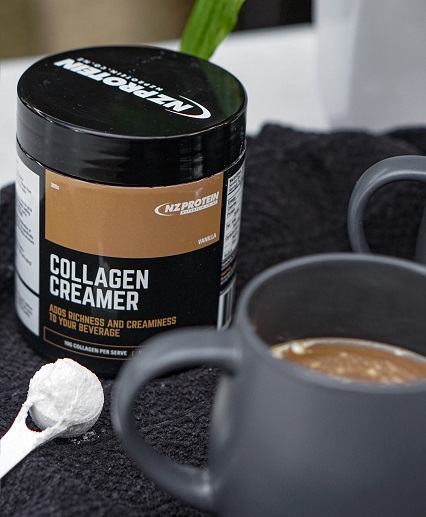 Collagen Creamer 300g
Adds Richness & Creaminess To Your Beverage.
Collagen Creamer NZ
NZ Protein's Collagen Creamer is a naturally flavoured product that adds richness and creaminess to your beverage.
It makes a great addition to beverages including coffee, tea, smoothies and more.
Our collagen creamer has 10 grams of collagen per serve and quality fats from coconut milk.
To increase the richness and creaminess of your beverage just add one serving and stir in.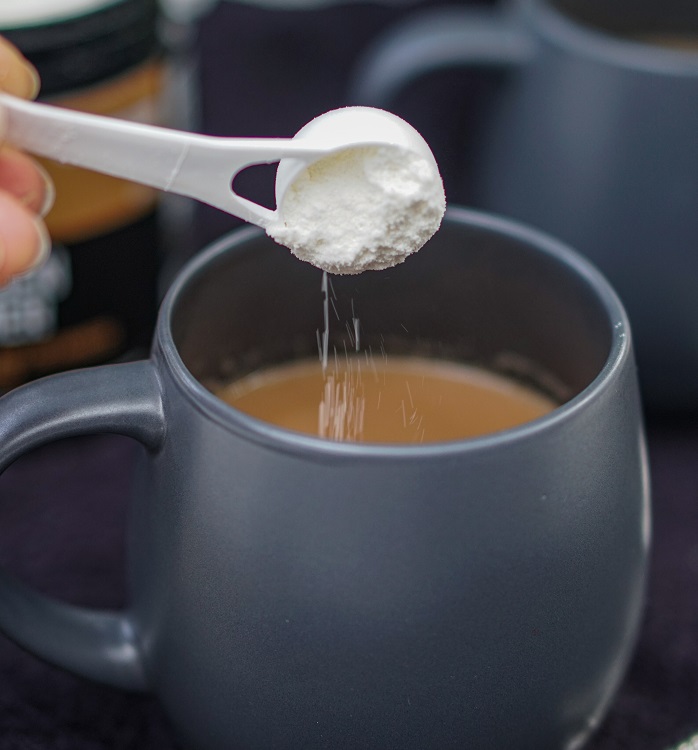 Collagen NZ
NZProtein's Collagen is a concentrated protein supplement for joints, bones and skin. It's collagen from beef (bovine) that's been hydrolysed into an easily dissolvable, rapid-digesting form.
Collagen is the connective tissue that accounts for up to 30% of proteins in our body. It forms the elastic netting that supports the protective tissues in joints, and is essential to giving skin elasticity and strength.
Collagen Hydrolysate provides a unique combination of amino acids in concentrated levels which are specifically needed by the body to support connective tissue structure and maintain healthy cell function.
It may be beneficial for:
• Joint tissue health and reduced inflammation
• Healthier skin and hair, and stronger nails (anti-aging)
• Bone density
• Gut health and improved digestion
• Improved sleep
Recipes
Please note that this product is processed in a facility that also handles milk, egg, soy, peanut, and gluten ingredients.
---
Rated
4.1
/
5
Based on
21
customer reviews.
Good product.
Not the best on the market ;( has isdues with dissolving and rhe taste us not great
Given a 4 'cause it's lumpy. I've tried mixing with cold water first and it's a little better but then I have cold coffee. Taste is good and good value for money. Thanks guys for always being super efficient with sending orders out. Much appreciated.
Clumpy in my coffee but good taste, better value for money and I've just seen the review that says mix with cold water fist so will try that first. Just want to say thanks for always being so efficient in sending out my orders, thank you.
Love this stuff and super super fast at getting products out basically the following day and it's there so if your unorganised like me this is a great place to keep you on track!!
Have been taking this everyday in my coffee, I pre mix it with cold water before I pour my coffee in then it doesn't get lumpy and dissolved properly. I put protein marshmallows on top as well. My skin and hair has been feeling great 😊 highly recommend
Good price, I switched to this brand from another expensive brand in the supermarket and it has the same ingredients and everything!
Just love the flavour of this and the price point is incredible.
Great taste, love the smooth texture in my coffee. I definitely prefer coffee with this added now!
Great addition to coffee, smooth, creamy and really yummy 😋
Not impressed with taste of this in coffee strange taste. Okay in smoothies
Tasty and creamy - I only use 2 scoops not 4 as recommended as I didn't realise at the time it was only 15 serves but 2 scoops is plenty for my coffee ☕️
Collagen creamer adds a nice subtle coconut taste to my morning coffee. Also nice in hot chocolate.
I do like the flavour of this in a black coffee, it can get a little clumpy though and I've found that 4 scoops is too much for 1 coffee so I do 2 and have 2 x coffees a day. I probably will go back to the plain hydrolysed collagen when this is used up, glad I tried it though
This product made me bloated and nauseous. I didnt notice any improvement with my skin, hair or anything. I definitely do not recommend!
Easy to mix
Nice flavour
my joints LOVE this product
Delicious! Yummy vanilla and coconutty taste. Mixes well and is great with a hot chocolate!
Had it this morning actually super impressed!! It is very good, less coconutty tasting than the other brand I have!!
Cannot rave enough about this product!!! love, love, love - goes great in coffee/tea, smoothies, scrambled eggs, soup, I mix it in everything.
Love NZ Protein products, but currently do not rate this collagen creamer.
It is a great price, however it mixes poorly in hot drinks in comparison to other collagen creamers I have tired.
I have used in coffee and taste is not overly strong and I don't find it makes the drink particularly sweet or creamy.
Serving size: 20g
Servings per pack: 15
| Name | Ave Quantity Per Serving | Ave Quantity Per 100g |
| --- | --- | --- |
| Energy | 384kJ | 1922kJ |
| Calories | 91 | 457 |
| Protein | 9.9g | 49.3g |
| - Gluten | 0g | 0g |
| Fat - total | 3.4g | 17.1g |
| - Saturated | 3.2g | 16g |
| Carbohydrate | 5.7g | 28.6g |
| - Sugars | 0.2g | 1g |
| - Fibre | 0.2g | 1g |
| Sodium | 64mg | 321mg |
Ingredients: Ingredients: Hydrolysed Collagen (Bovine Origin), Coconut Milk Powder (Contains Maltodextrin From Rice), Flavour, Xantham Gum