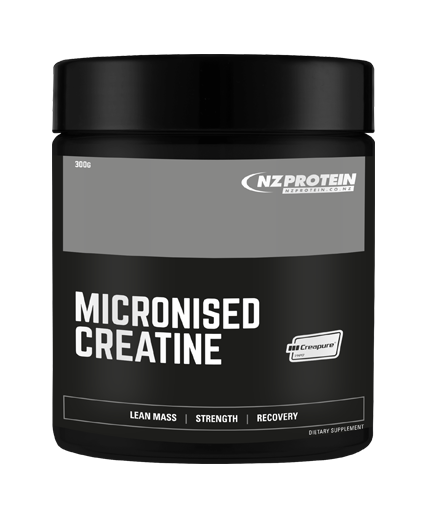 Creapure® Creatine 300g
The Ultimate Creatine for Lean Mass, Strength, and Recovery.
There is still a shortage of Creapure and more is due December. We have standard creatine monohydrate available too.
Creatine is found naturally in the body. Supplementation with creatine monohydrate has been shown to increase physical performance.
Creatine Facts
Creatine is a chemical that's found naturally occurring in the human body with about 95% found in skeletal muscle tissue in the form of phosphocreatine, and the rest in the brain, heart and testes. Creatine is also found in red meat and fish.
In many respects creatine acts similar to an amino acid and our bodies can produce it from the amino acids glycine and arginine. The average adult has 80-130 grams of creatine naturally occurring in their body. There are many factors, however, that can affect the amount of creatine available in the body including exercise level, body composition, dietary intake of creatine (from meat and fish), and hormone levels.
Studies have consistently shown that additional supplementation of creatine increases the concentration of creatine in muscles and promotes a faster regeneration of Adenosine Triphosphate (ATP).
ATP is a primary energy source that helps with various biological processes including muscle contraction. This energy also helps to fuel high intensity, short duration exercise such as weight lifting, sprinting, or any other exercise that uses fuel quickly.
Research not only provides overwhelming evidence that creatine is beneficial for exercise performance and developing muscle in athletes, but that supplementation can also enhance recovery after exercise and prevent and/or reduce severity of injuries - assisting with rehabilitation and helping athletes tolerate intense training loads.
Creatine Benefits
Creatine is one of the most popular dietary supplements for athletes. It's also one of the most extensively studied too, with no proven adverse effects.
Exercise Performance
Creatine can help to fuel high intensity exercise performance by increasing the amount of ATP available in the body.
Creatine monohydrate (Creapure®) supplementation has been shown to increase physical performance in successive bursts of short-term, high intensity exercise. According to the manufacturer:
• up to 15% increased maximum power and endurance
• up to 20% additional power with interval training
• up to 30% power gain and energy release in the short-sprint range
• up to 15% more for sprint reps
Muscle Gain
Supplementation with creatine has regularly shown to increase strength and muscle mass when taken in conjunction with heavy weight training. It may even be beneficial for injury prevention.
In studies subjects who combined creatine monohdrate with resistance training gained about twice as much muscle mass during 1 - 3 months of training compared with a placebo group. These gains are a result of improved ATP synthesis provididing greater muscle contraction energy and allowing athletes to perform at a higher intensity.
In a review of more than 150 studies of those taking creatine, subjects gained an average of 2.2% in lean body mass and lost 3.2% of body fat overall.
Creatine Monohydrate
There are various forms of creatine on the market and monohydrate is the most studied for athletic performance and health.
Although all forms of supplemented creatine increase concentration of creatine in muscle, monohydrate is the most common form and is the most effective according to the International Society of Sports Nutrition.
Creapure vs Creatine Monohydrate
Creapure® IS creatine monohydrate. It's just been been further refined to remove impurities and unnecessary by-products. The resulting product is a creatine monohydrate that's potent and 99.99% pure.
Creapure® is world-renowned for being the most pure micronised creatine available on the market and regarded as the "ultimate creatine for lean mass, strength, and recovery".
It's manufactured by Alzchem in Germany to Good Manufacturing Practises (GMP) and every batch is rigorously tested using high-end High Pressure Liquid Chromatography (HPLC). Though this extra purification process increases the cost slightly, it's also safer as it's the only creatine consistently tested to be free from toxic impurities including creatinine, dicyandiamide, dihydrotriazine and thiourea.
Creapure® is tasteless and odourless. It mixes easily easily in water or juice and doesn't readily settle to the bottom. There is no gritty taste or texture that one may experience with other creatine products.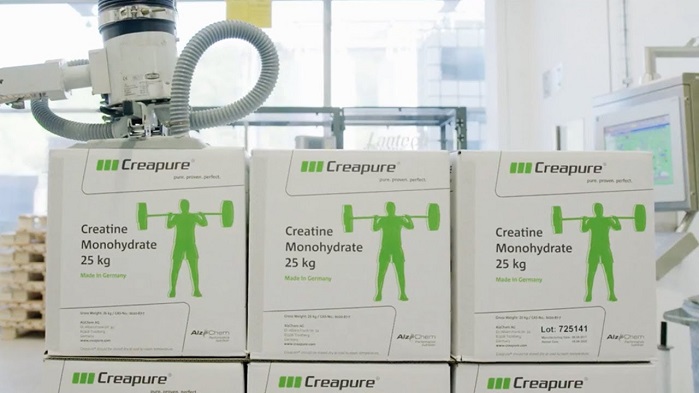 Best Way to Take Creatine
This product is micronised meaning that it's very fine. It's tasteless and odourless and mixes easily into almost any liquid.
For best results, many people mix it into their pre or post workout drinks that contain fast-digesting protein (such as Whey) and fast-digesting carbohydrates. Consuming it this way can assist with the uptake of creatine by muscle.
Creatine Loading
Creatine is commonly supplemented with a loading phase or a maintenance phase.
Recommended dosage with a loading phase: 5 grams of Creapure® 4 times a day for 6 days, followed by a maintenance phase of 2-5 grams a day.
Recommended dosage without a loading phase (maintenance phase): 3 grams of Creapure® a day for 4 weeks, followed by a maintenance phase of 2-5 grams a day.
The loading phase is entirely optional and depends on personal preference. There's evidence to suggest that the loading phase can be beneficial because it saturates muscles with creatine faster. Other studies show that consistent smaller intake of creatine saturates the muscle equally well - it just takes a little longer to saturate the muscle.
Creatine does not need to be cycled. Though perceived muscle size and strength may be enhanced fairly quickly, it may be best to take creatine consistently for several months as it works to support muscle development in the longer term.
Creatine Side Effects
According to the International Society of Sports Nutrition supplementing with creatine monohydrate is safe, effective and ethical.
Creatine monohydrate is one of the most studied nutritional aids for athletes and there is no scientific evidence that it causes any negative effects on healthy individuals in short or long term use.
There are several myths surrounding the supplementation of creatine:
Weight gained while taking creatine is just due to water retention.
Creatine can cause kidney complications.
Creatine causes cramping, dehydration (and/or altered electrolyte levels).
That long term effects aren't known.
Newer formulations and versions of creatine are more effective than monohydrate and have less side effects.
Creatine supplements are illegal, steroids, or unethical to use.
All of these myths have been disproven and are uncredible according to the International Society of Sports Nutrition.
In any case, always make sure to consume plenty of water when consuming creatine and undertaking strenuous exercise.
---
Rated
4.81
/
5
Based on
129
customer reviews.
Mixes way better than any other creatine that I've used before. Most importantly, seems to work really well too - I've been using for 2x months and noticed quite a difference in my training.
Arrived really quickly and I've been adding it to my protein smoothies for a week now. Too early to see the results but it it tastless and blends well.
the best
Noticed an increase in energy, but haven't used it long enough to give any more feedback.
Happy with everything. will purchase again
Great product, it works for me. you can add to any food or drink and you won't even know it's there
Dissolves well and does seem to increase energy levels after about 1 week for me.
I have been using creatine regularly for a couple of years and notice a difference when I stop using it (aka run out of creatine). It also has good benefits for cognitive function which is great for my studies.
Love it no taste when mixed in with protein
Does the trick, light and soluble. Mix with warm water to dissolve immediately.
Awesome tasteless addition to my morning protein shake :)
Great product at a great price, and gets awesome results!
Powder is nice and fine not gritty or lumpy
A great product, easy to mix in with a protein shake or pre-workout. Helps to enhance the muscle pump and endurance.
Great product, great value, mixes really well highly recommend
Good quality product, immaculate service as always. The people who own this company can be reached easily and respond positively with all feedback. I like that.
Great value for money!!! Product is awesome and the tubs they come in are very easy to open and close and fit perfectly in the pantry. Product also dissolves well.
Excellent product. You start noticing the results in a week.
Great product. Efficient delivery.
Great value creatine, flavourless so it is easy to mix with a pre or post workout product as well.
Look creatine in water sucks, it doesn't dissolve and feels gritty. But in tea, coffee, anything warm, totally can't tell it's there.
Great product, great price and super fast delivery!
best on the market hands down
Mixes well with all drinks and helps tremendously with training during each creatine cycle
Awesome
Great to add to other drinks, dissolves easily.
Great service and great products. Would definitely recommend NZ Protein.
All Nz protein products are good there protein powder is delicious
Just finished my tub and came to get more but you're out of stock. The creapure is much whiter and finer than the previous brand I had (regular creatine). Kinda seems a bit purer so I'll wait for it to come back in. You guys always dispatch so fast too, 5 stars.
Great product. Great price.
Works really well, just wished it mixed a little better
Good quality Creatine for a good price.
Dissolves very easily, don't notice it at all in my shakes
Great product!
Don't need it when I'm using my usual NZProtein Pre Workout (as it's already has it); But on rest days or the odd occasion when I have to use my partners dodgy overseas pre workout it's great to have.
Thoughtful spoon to measure out exact amounts. Good strong container seals well and travels in hand luggage
Great value
Mixes well. No taste. Easy to order and fast shipping. Highly recommend.
Tasteless and mixes well, which is all I want from creatine.
Easy to mix - I throw it in my morning coffee and stir it in. Results took about a few weeks but a noticeable improvement in strength which is really great when you are in your late 50's.
Good product mixes well.
As a long time user of Creatine (20+ years), I can honestly say that this is up there with the best available on the market. And if you do your homework you will find it to be good value for money.
For the quality it's the best value for money around these days.
Just like good Creatine should be, no flavour, no gritty aftertaste.
It arrived in good time.
Good
It's great thanks...Good quick delivery. Recommended.
Dissolves really well and better than other powders ive bought before
Great product. Big size for a great price so definitely worth it. Would obviously purchase again!
Great product + fast delivery
Have bought the Creapure and value whey isolate. The creapure is great and the whey isolate is the easiest mixing, and best tasting whey isolate I have used. Would highly recommend.
It's very thin and it dissolves well.
Great quality
Barely dissolves in water unfortunately. It does seem to dissolve okay in juices
Takes a little to mix into the drink, like all creatine. I just stir mine in OJ. I find it better than most of the expensive brands. Same effects as well.
Great product
Great product, good price, works really well for me.
Great creatine, however hard to fully dissolve.
Product mixes in okay with milk, no taste which is great! Quick shipping by NZ Proteins as usual, thanks!
Its pure creatine and is great!
Love the Creatine, lack of flavour makes it super easy to mix in my protein shakes, feel much stronger for using it
This stuff is great. Henchlife.
Affordable. Taste good
Most potent form of creatine available, made by the most reputable producer. NZ protein offers the best supplements on the market.
Great product, works well for me.
Mixes well with a warm tea. Works a treat too!
Good stuff. Sometimes doesn't completely dissolve but can't taste it. I eat low-carb so creatine aids energy production for my muscles and I notice the difference when I don't use it regularly.
Bought this for my boyfriend. 10/10. He started doing legs after taking creatine coz he said it "changed" him. Can never go back to not taking it again.
Nice creatine, not gritty or anything, when it says unflavoured it literally has no flavour, not Sour or awkward tasting. Will definitly be buying again.
Blends nicely with the bcaa
Noticed good gains using this.
It's creatine, it does the job
Doesn't dissolve in water too well so I just mix with protein in the morning
Great product, mixes easily and product ships quickly,
Happy with the product always great service and fast delivery.
Dissolves easily with no taste
Noticeable increase in strength after loading with 20g for 1 week and maintaining with 5g.
Great value creatine product creatine should never be expensive
Great products
Doesn't mix that well in just water, but fine in protein shakes
Creatine is creatine but its value for money and produced in NZ. NZPROTEIN REPLY: this one's from Germany but everything is packed here locally. We get NZ where we can but NZ doesn't produce everything.
Awesome product! I had really good strength gains on this product
easy to use, very tolerable.
Juts staring using it and seems to be working well.
Easy ordering process and fast delivery.
Makes me grit my teeth, not something I actually enjoy using as a creamer. It doesn't dissolve that well and isn't yummy. It is coconut based so if you are curious trying a coconut coffee sachet first to get a sense of the taste as it's similar. If I was to use it I'd add in sugar and milk too which defeats the purpose. It's fine in a smoothie though.
Same great product, slick new packaging.
Great Product
It's hard to compare creatine after having only just begun using this brand but, I can comment on the value for money, response and delivery times, ease of interaction and quality of these things overall. I rated 5 stars, there ya go.
Like the new packaging. Product is good, starting this Monday for loading up
Good product, have used this before and will use it again..
Great product and great price. Will continue to repurchase.
flavourless, and next to no texture. definitely worth a try and I will buy again
Good
Great product
Great
Great Creatine!
Dave was super easy to deal with, nz protein delivers quality products and good prices
Awesome
Excellent product, definitely feel a difference, has helped me get stronger after injury.
Great products, very efficient service and delivery, effective business.
Ok mixes well
Great product. Purchased it many times before and will continue to in the future.
Great product
Great product , used it before and will use it again..
Mixes well, great creatine
Notable reduction in body fat since using this and changing nothing else in my routine. Glad I got another order in before the lockdown
Mixes really well, very impressive product. I feel like its made a dif in my training, but now to early to see how much as the gyms have closed for Covd19
Great product and service.
Mixes well. I use 3/4 water an 1/4 apple juice.
Only been a week so haven't seen any gains yet but feeling good on it.
Only just got back on it but previously when I used it it helped.
Got a huge sweat on after taking it. Was amazing
Yes it is great thank you. Got to my door the next day after order nice and quick.
Quick delivery. Reasonably priced. Awesome results. Good taste.
Does what it says. Easy and great quality!
Quality products and insanely fast delivery from Auckland to wellington in less than two days! Cheers NZProtien x
All the gains. Doesn't fully dissolve in water, not sure if its meant to? Doesn't bother me, still easy to drink.
No taste and goes down easy.
Awesome product.
Great product will continue to purchase
Fantastic, love this company and their products!
Always impressed with nz proteins creapure thankyou
Great product.Delivery service is awesome.
Just simple creatine, but does exactly what it needs to!
Good value and mixes well compared to other brands I've tried.
Easy product to use. Tasteless. Lasts a long time.
Love it!! Helps my little frame haha
I'm sure it's a great product, and delivery was fantastically quick but I was rather disappointed that there was no scoop, meaning I have to find an old one that measures up to the right serving.
If you want healthy gains naturally, look no further than this product.
Best value and quality creatine monohydrate I have found on the market so far!
Give it a try!
Awesome product, used with the BCAA and good training programme and diet, biggest I've ever been and just continually growing.
Wonderful product once again from NZProtein! Exceeded all expectations.
Fantastic product , great value , taste and mixes well. Service is always fast, the product is great and the prices are unbeatable!
Great value
Serving size: 5g (one teaspoon)
Servings per pack: 60
| Name | Ave Quantity Per Serving | Ave Quantity Per 100g |
| --- | --- | --- |
| Creatine Monohydrate | 5g | - |