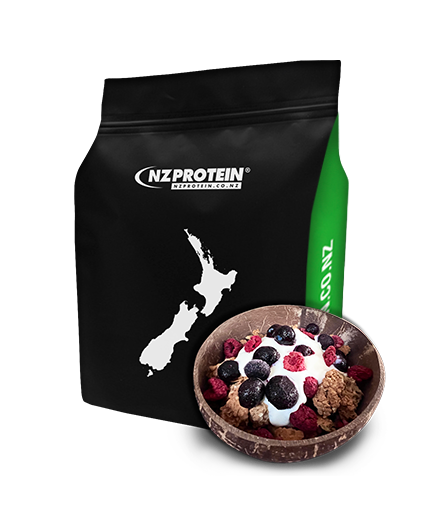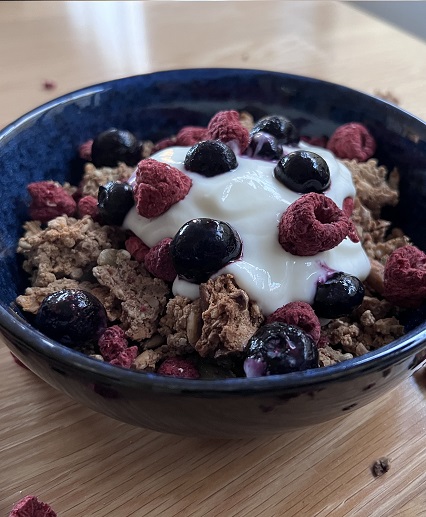 Protein-Ola
High Protein Granola That's Only $3.50 Per Serve.
We are currently working on more flavours as well.
NZProtein's Protein-Ola is high protein granola that's loaded with goodness.
It has ~29g of protein in each serving with only ~1.5g of sugars, plus fibre and quality fats from nuts, seeds, and hemp hearts.
Add a splash of water or milk, or berries and yoghurt for a crunchy high protein breakfast or snack. Can even be eaten straight from the pack!
Ready to eat
12.5 servings in a big 1kg pack ($3.50/serve)
~29g grams of protein per serve
No added sugar or fruit syrups
An innovative fibre approach
Only ~1.5g of sugars per serve
Over 10g of fibre (and net carbohydrates of 7g) per serve
Vegan friendly
High Protein Granola
Most other granola products on the market tend to be high in sugars, carbohydrates, and calories - even the claimed high protein ones.
This product has up to 3x more protein than the other claimed high protein granolas in the market.
We have not used sugars to bind this product. Instead, an innovative fibre approach has allowed us to bind the product and create a crunchy granola.
This is a high quality product and we are working on developing more flavours.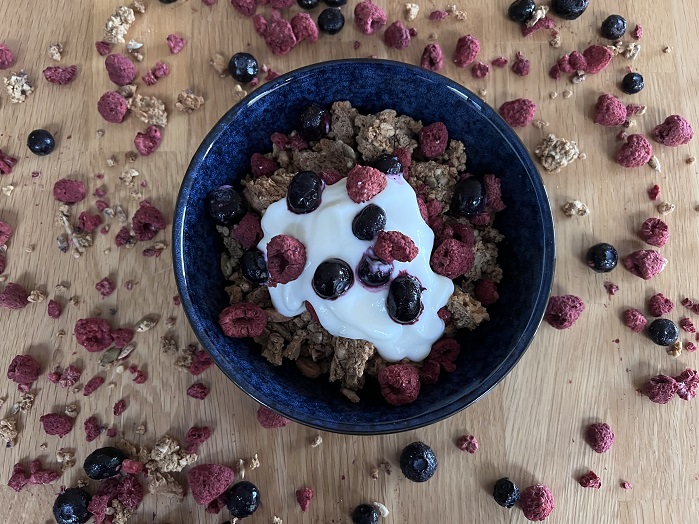 Ingredients
Our main ingredients are our plant protein blend of pea isolate and faba bean proteins.
Pea protein isolate is a 'complete protein'. In other words, it has a complete amino acid profile. This means it's a good protein for muscle repair and development.
Faba protein is also a complete protein. It's been included to keep the protein content high and give the best texture.
Our combination of plant proteins ensure maximum protein content and make this product suitable for vegans, vegetarians, and those with a sensitive stomach.
Protein-Ola contains puffed quinoa. This ingredient is responsible in part for the crunchy texture and is packed with nutrients like magnesium, calcium, iron and zinc. Quinoa is also a great source of fibre.
This means Protein-Ola will keep you regular and you'll feel full after eating it.
Protein-Ola derives more crunch and flavour from pumpkin seeds, sunflower seeds, hemp hearts, hazelnuts, cashews, raspberries and cinnamon.
These are quality and nutritious ingredients. They are a tasty combination of healthy fats, vitamins and minerals. We really tried to pack as many benefits into this product as possible.
Considering the amount of junk food available on the market, Protein-Ola is a refreshing contrast.
There are no added sugars or fillers.
Best Granola NZ
Granola has a reputation as being a 'health food'. It is often marketed as a great breakfast option and can have beneficial effects on cholesterol.
Although many granola products contain fibre and heart healthy nuts, they also tend to be high in sugar and calories. This means granola may not be the best option for those with weight loss goals.
Additionally the lack of protein in typical granola products means that those with muscle gain goals may not reap much benefit from eating it.
Protein-Ola is superior because it has all the benefits of normal granola but comes with much more protein and less sugar. One 80g serving contains 29.1g of protein which is comparable to a tin of tuna.
It has only 1.5g of sugar per 100g meaning it is the perfect option for diabetics who are mindful of blood glucose levels.
Finally with only 334 calories per serve, Protein-Ola is lower in calories than most other granolas available in the supermarket.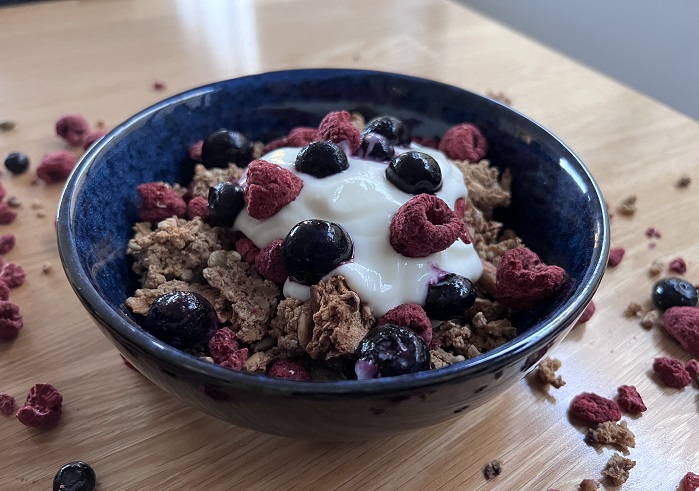 Protein Granola Recipe
Protein-Ola can be eaten like cereal with a splash of any liquid like water or milk.
You could combine it with yoghurt to get a more potent protein hit. You can eat it straight from the bag.
Be careful though, once you start munching it can be hard to stop!
For those who love baking, Protein-Ola is easy to include in tasty recipes.
Blending it up will give you a high protein crumb. You can use this in cheesecake bases, trail mix or slices. We like to create granola muffins and high protein caramel slices.
Mixing Protein-Ola with our low calorie sauce is a winning combination. These two ingredients alone make a biscuit-y base that can be topped with whatever your heart desires.
If you do decide to bake with Protein-Ola, be sure to send us photos of your creations.
*Please note that while every care is taken, this product is processed in a facility that also handles milk, egg, soy, and gluten ingredients.
---
Rated
4.83
/
5
Based on
6
customer reviews.
This is dangerously yummy - nutritious and filling, will definitely be buying again!
I'm pleasantly surprised by how good this is, I use it as a snack or add to a low sugar grain cereal.
Great product and great service 🤗
Really enjoy this granola, great for a high protein/fibre snack or breakfast, and dairy free which is really nice.
Tastes good on its own, can't wait for more flavours!
I like it, but the flavor is not the most exciting. I do like fruity stuff but I think a chocolate one would be a much safer bet for most customers. I love the idea of this, if there was a chocolate flavor that tastes like real chocolate like the amazing double chocolate whey they have then I'd get tons of this. But with the one raspberry or whatever it is I just got a bit sick of the flavor too quickly. It's good don't get me wrong, but gets boring.
So, bottom line, please do a chocolate flavor. I'd definitely buy this a lot if there was one!
Delicious, very filling and great with yoghurt. Will buy again.
Click on a flavour to see the nutritional information.
Serving size: 80g
Servings per pack: 12.5
| Name | Ave Quantity Per Serving | Ave Quantity Per 100g |
| --- | --- | --- |
| Energy | 1397kJ | 1746kJ |
| Calories | 334 | 417 |
| Protein | 29.1g | 36.3g |
| - Gluten | 0g | 0g |
| Fat - total | 18.2g | 22.8g |
| - Saturated | 2.2g | 2.7g |
| Carbohydrate - total | 17.1g | 21.4g |
| - Sugars | 1.5g | 1.8g |
| - Fibre | 10.4g | 13.1g |
| Sodium | 99mg | 123mg |
Ingredients: Plant Protein Blend (Pea Isolate, Faba Bean), Puffed Quinoa, Pumpkin Seeds, Sunflower Seeds, Gum Acacia, Hemp Hearts, Hazelnuts, Cashews, Flavour, Freeze Dried Raspberries, Cinnamon.
Contains: tree nuts.