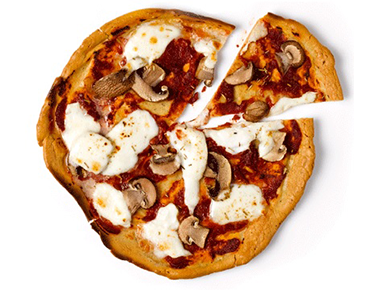 Ingredients - Base
• 1 whole egg
• 1 egg white
• 1 heaped scoop of whey protein powder
• 15g oats
• 1 tbsp olive oil
Ingredients - Toppings
• 3tbsp tomato puree
• 3 mushrooms, sliced
• ½ ball buffalo mozzarella
Directions
1. Blend the base ingredients together.
2. Warm a dry non-stick pan over a medium heat and add the dough mixture. Fry it like a giant pancake for about 5min.
3. As soon as your base is firm enough to hold its shape, remove it from the pan and add the toppings – starting with the tomato paste and ending with some torn chunks of mozzarella. Then grill the whole pizza until the cheese melts and the base starts to go golden and crispy. One pizza, 46g protein in 10min flat – and no delivery charge.
46g protein
19g carbs
494 Kcal
Serves 1
Courtesy http://www.menshealth.co.uk