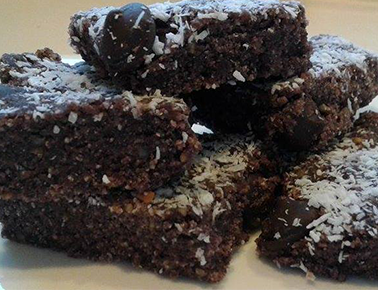 Ingredients
• 1 cup coconut flour
• ½ cup almond meal
• ½ cup Whey or Casein powder, gourmet vanilla or double chocolate flavour
• 1-2 T cocoa or cacao powder (adjust depending on the strength of chocolate flavour you want)
• 1 T dried blackcurrant powder
• 2 T granulated sweetener of choice (optional)
• ½ cup almond butter (can sub for any nut butter)
• ½ cup maple syrup
• 1 tsp vanilla extract
• 1 T + dairy free milk of choice*
• Sugar free carob or dark chocolate, chopped small (optional)
• Sugar free marshmallows, chopped small (optional)
• Nuts, chopped small (optional)
• Fine desiccated coconut, to sprinkle on the top (optional)
Instructions
Line a large, flat baking dish with greased paper and set aside.
In a large microwave safe bowl, combine the coconut flour, almond meal, protein powder, cocoa or cacao powder, blackcurrant powder and granulated sweetener (if using) and mix well.
In a microwave safe bowl or pot for stovetop, combine the nut butter and maple syrup and heat gently until melted. Add the vanilla extract and pour the wet mixture into the dry and mix well- it should be crumbly.
Using a tablespoon, add the milk of choice one spoonful at a time until a thick, firm batter is formed. Stir through any optional extras, chocolate, marshmallows and nuts that you are using. Ensure the extras are in small size pieces to ensure the brownie stays together. If they are too big it will just crumble apart.
Transfer to the lined baking dish and press firmly into the size and thickness that you require.
Refrigerate until firm before slicing.
Notes
* Depending on the flour/protein powder combination, you may need more or less.
These are soft at room temperature but delicious eaten from the fridge or thawed in the fridge when frozen.