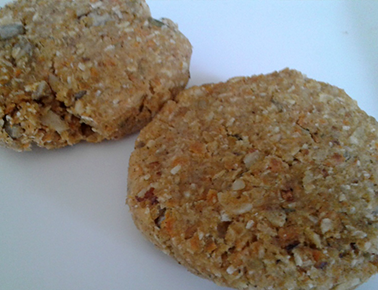 Ingredients
• 1 can chickpeas, drained and rinsed
• 1 medium carrot grated
• 1 egg or 40 mls egg white
• 1/4 cup Desiccated Coconut
• 1/3 cup pineapple, drained
• 1/4 cup Almonds, sliced
• 1 tblspn NZProtein Super Blend powder
• 2 tblspns pumpkin seeds
• 1 tblspn sesame seeds
• 1 tblspn sunflower seeds
• 1 tsp cinnamon
• 1/4 tsp ginger
• 1 tsp nutmeg
• 1 teaspoon NZProtein Matcha powder
Instructions
1. Preheat oven to 180.
2. In a food processor add the chickpeas, pineapple and egg. Blend well.
3. Then add the remaining ingredients and pulse a few times to mix it all together.
4. Roll mixture into the size cookies you want and place onto a lined baking sheet.
5. Bake for 15-18 minutes.
6. Let cool before removing from the baking paper.