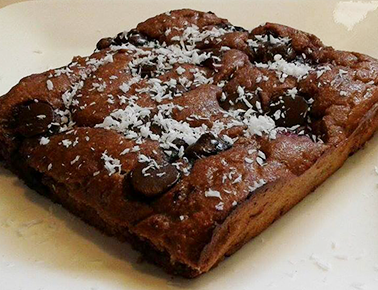 Ingredients
2 Tblsp coconut flour
20 gms NZProtein Whey, Casein, or Pea Isolate protein in gourmet vanilla, double chocolate, or mixed berry flavour
½ Tblsp cocoa or cacao powder
½ tsp baking powder
1 Tblsp unsweetened applesauce
50mls unsweetended almond milk (adjust accordingly to get right consistency)
½ tsp vanilla essence
30 mls egg white liquid
¼ cup frozen berries
1 Tblsp dark choc or sugar free carob choc
Directions
Line a square cake tin with baking paper or use a silicone cake square.
In a small mixing bowl, combine all the dry ingredients and set aside.
With the exception of the berries and milk, add your wet ingredients to the dry. Gradually add the milk adjusting more or less to achieve the right consistency of a thick, smooth batter. Stir through the berries and top with the chocolate chips.
Press into a square shape to one side of the cake tin, making it as thick or as slim as you want. Can be shaped to make two servings within the tin.
Bake in a pre-heated 180 degree celcius oven until just cooked in the centre. This will depend on the consistency of the batter and the thickness of the shape. A knife should come out clean from the centre.