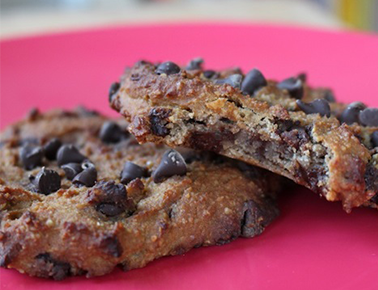 Four main ingredients to make those simple, vegan & gluten-free cookies: almond meal, pea protein, apple sauce and chocolate chips. The only drawback: you cannot eat them warm. When they're still warm, they don't hold their shape at all. You have to allow them to completely cool down, eventually placing them in the fridge for a few hours for them to firm up.
Ingredients (makes 4 cookies)
• 1/4 cup almond meal (30 g)
• 3 tbsp NZProtein Pea Isolate (25 g)
• 1/4 tsp baking powder
• 1/2 cup unsweetened apple sauce or baby food
• 1/4 tsp vanilla extract
• 1/4 cup unsweetened chocolate chips (40 g)
Directions
Bake for 25-30 min at 180⁰C.
Nutrition facts per cookie:
116 kcal
6.8 g protein
10.4 g carbs
6.6 g fibre
3.1 g sugar
5.3 g fat
Courtesy http://www.fitnesstreats.com/2014/04/chocolate-chip-pea-protein-cookies/