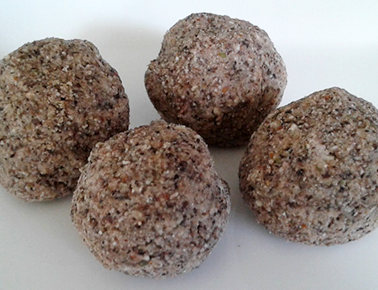 Ingredients
2 scoops NZProtein Whey or Casein powder, vanilla or chocolate flavour
1 heaped tablespoon Chia protein powder
¼ cup pumpkin seeds
¼ cup almonds
¼ cup softened coconut oil (not melted)
Pinch of Stevia (optional if you want some sweetness)
3 tbsp psyllium husk
1 tbsp cacao or cocoa powder
1 tsp cinnamon
Directions
Blend pumpkin and almond seeds until in a powder form.
Combine blended nuts with the remaining ingredients in a bowl and mix well.
Add necessary water one tablespoon at a time to make a thick texture and roll in balls.
Place balls in freezer or fridge to harden.
Store in fridge for up to one week.