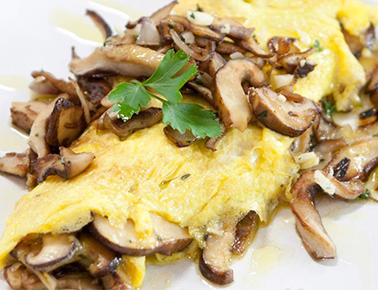 Ingredients
• 1.5 tbsp olive oil
• 2 scoops NZProtein Egg White
• 1 large mushroom (sliced up) - optional
• 1.5 cups fresh spinach - optional
• 1 tbsp crumbled feta or goat cheese - optional
• 1 tbsp chopped fresh parsley - optional
Directions
1. To reconstitute the egg white, add it to ~200-220ml of warm water. You may want to try slightly more or slightly less depending on your desired texture.
2. Sauté spinach and mushrooms and set aside (if applicable).
3. Add parsley to the egg white and whisk to mix (if applicable) and season with salt and pepper.
4. Heat oil in a frying pan at a medium-high heat.
5. Pour in the egg mixture. As the egg begins to cook lift the sides to allow the egg whites to set.
6. While the top of the omelette is still moist, place mushrooms and spinach on top (if applicable). Sprinkle cheese on top, fold omelette, and finish cooking.