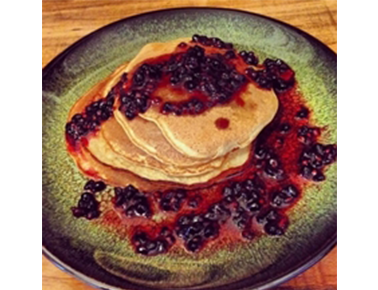 Ingredients
• 2 level scoops of NZProtein Pea Isolate powder (Gourmet Vanilla)
• 1/4 cup of egg whites
• 1/8 cup of unsweetened almond-milk
• 24 fresh blueberries (mashed) and honey
Directions
1. Combine wet ingredients into a bowl – egg white & unsweetened almond milk.
2. Add the pea protein into the wet mixture.
3. Whisk well, and add to a non-stick pan.
4. Cook until firm.
5. Mash blueberries and honey until juices are released, and add on top of pancakes.
Courtesy http://growingnaturals.com/portfolio-items/richelles-protein-pancakes/?portfolioID=357