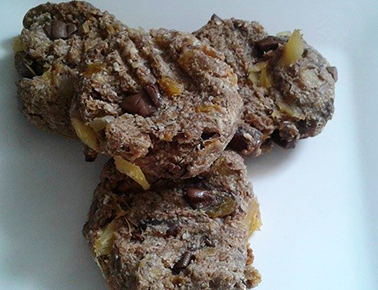 These cookies have a texture that is chewy and similar to baked oatmeal.
Ingredients
• 1Tblsp Chia protein powder
• ½ Tbsp chia seeds
• ¼ cup unsweetened almond milk
• 185g tin crushed pineapple, drained well
• ¾ cup oats bran or whole (depending if you want a more chunky cookie, then use whole oats)
• ¼ cup unsweetened shredded coconut
• ¼ cup chopped dates
• ¼ cup sugar free carob or dark chocolate, chopped
• 1 Tblsp nut butter
• large pinch of cinnamon
Instructions
1. Preheat oven to 180°.
2. In a small bowl, stir together the chia powder, seeds and almond milk and let the mixture sit for about 10 minutes, or until the chia ingredients have created a nice gel-like consistency.
3. Pour the chia gel into a medium sized mixing bowl and add in the pineapple, oats, coconut, nut butter and cinnamon until well combined.
4. Gently stir in the dates and chocolate or carob chunks.
5. Scoop out dough (about 1-2 tablespoons worth) onto a baking stone or a greased cookie sheet and use a fork to press the dough down to make more of a cookie shape. You should get approx 15 cookies.
6. Place in oven and bake for 15-20 minutes, or until the base of the cookies has only just turned browned. The top tends to not colour so beware you do not over cook.
7. When they are cooked, take them out, let cool and enjoy.
8. Because of the nature of the mixture store cookies in the fridge.