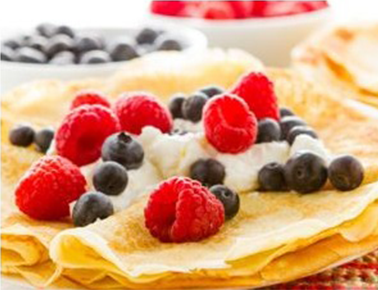 These delicate crepes are simple to make and deliver a whopping 33 grams of protein per serving!
Ingredients
• 1/2 cup egg whites (4 large)
• 1 scoop NZProtein Whey
• Splash of water
Serving suggestions: Fill with sweetened pumpkin puree, ricotta creme, fruit compote, etc. Top with maple syrup, fruit caulis, fresh berries, vanilla Greek yoghurt (for even more protein!) or no-sugar-added syrup. Note: Garnish ideas not included in nutrition facts.
Directions
1. Blend water and protein powder briefly.
2. Combine with egg whites.
3. Pour 1/3 of the batter in a non-stick pan (spray pan with no-stick spray if necessary). Cook until bubbles form. Flip, cook 10 more seconds. Repeat with rest of batter.
Makes 1 generous serving of 3 crepes.
Amount Per Serving
Calories: 158.0
Total Fat: 2.4 g
Cholesterol: 45.0 mg
Sodium: 280.0 mg
Total Carbs: 2.9 g
Protein: 31.4 g
Courtesy http://recipes.sparkpeople.com/recipe-detail.asp?recipe=151815