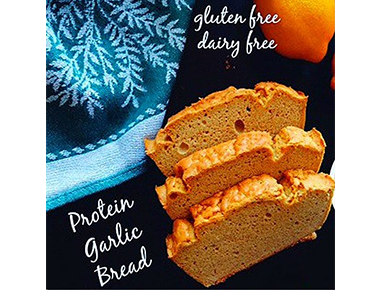 Ingredients
• 1 cup NZProtein Pea Isolate
• 5 eggs separated (save the yolk)
• 1 1/4 cup egg whites
• 1/2 tsp garlic powder
• 1/4 tsp black pepper and sea salt
• 2-3 tbsp Nutritional Yeast (optional)
• Coconut oil or Spray
Directions
1. Combine all your egg whites (and the ones separated) into a large bowl. Beat for about 2 minutes or until fluffy.
2. Slowly fold in your protein and mix again with hand or mixer. Fold in your egg yolk. Last, stir in your seasoning.
3.Pour batter into an oiled (or you can use coconut spray) bread pan. Bake at 165⁰C for 30 minutes or so. Remove let it cool before slicing or touching.
Courtesy http://growingnaturals.com/portfolio-items/protein-garlic-bread/?portfolioID=357