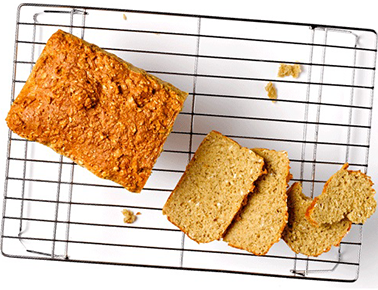 This protein-packed bread makes the ultimate lunch.
Ingredients
• 2 scoops NZProtein Whey
• 4 egg whites
• 4 scoops of rolled oats
• 1tsp baking powder
• ½ scoop of pea protein powder
• 1tsp salt
Directions
1. Blend the ingredients until smooth and pour into a loaf tin.
2. Bake at 165°C for 35min but don't open the oven while it's baking or it won't rise properly.
3. When the time's up prick the bread with a knife. If it comes out clean then you're good to go. If not, stick it back in the oven for another 5 min or so. When it's cool, cut as much as you need and load it up with lean meat and salad for a protein-packed lunch.
9.3g protein
8g carbs
79 Kcal
Serves 10
Courtesy http://www.menshealth.co.uk