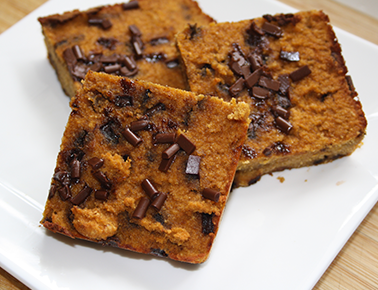 Ingredients
1 cup mashed pumpkin (ensure you drain off the excess water prior to mashing)
¼ cup maple syrup
1 tsp vanilla essence
¼ cup natural Peanut Butter
1 tblsp unsweetened almond milk
2 eggs
½ cup coconut flour
¾ tsp baking soda
1 tsp cinnamon
½ tsp ginger
¼ tsp nutmeg
Pinch ground cloves
½ cup carab chocolate broken into small pieces
1 teaspoon matcha
Optional add 1 serving of NZProtein Whey or Pea Isolate, gourmet vanilla flavour
Directions
Preheat oven to 180°C. Line a square baking tin with paper and spray with non-stick cooking spray.
Add pumpkin, maple syrup, vanilla essence, peanut butter, almond milk and eggs to a large bowl and mix until well combined, smooth and creamy.
Add coconut flour, baking soda, and the remaining spices.
Gently fold in 1/3 cup of carob chocolate pieces into the batter. Spread the batter evenly in the pan.
Bake for 20 – 25 minutes or until a knife comes our clean.
While still hot sprinkle the remaining chocolate pieces over the top. The chocolate pieces will melt as the slice cools.