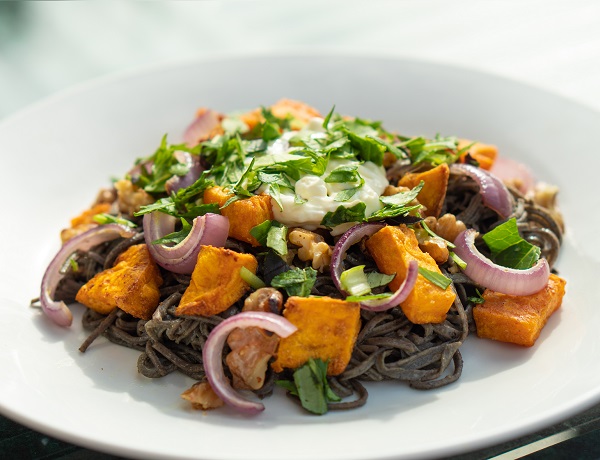 This colourful winter salad is perfect for dinner parties or as a stand alone meal. It is nourishing, naturally gluten free and flavoursome!
Ingredients
NZProtein Black Bean Spaghetti
1 1/2c Pumpkin, peeled and chopped
1/2 Red onion, chopped
4 Cloves of garlic
1/4c Walnut halves
1/4c Sour cream, to serve
1/4c Fresh coriander, to dress
Coconut oil, to fry
Avocado oil, to roast and to serve
Salt and pepper to taste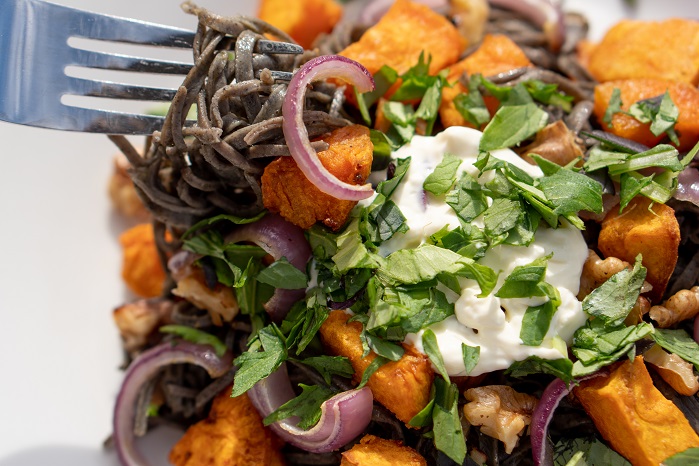 Directions
Roast the pumpkin, garlic and red onion with avocado oil, salt and pepper in the oven at 180oC for 30-35 minutes.
While the vegetables are roasting bring a pot of water to boil, add the black bean spaghetti and drain once cooked through (approx. 6 minutes). Flavour with salt and pepper and toss with a drizzle of avocado oil to avoid sticking.
Meanwhile, melt 1/2t coconut oil to a pan over high heat. Toast the walnuts in the hot pan for 5 minutes until they start to crisp.
Plate the spaghetti and veg and serve with sour cream and coriander and enjoy!