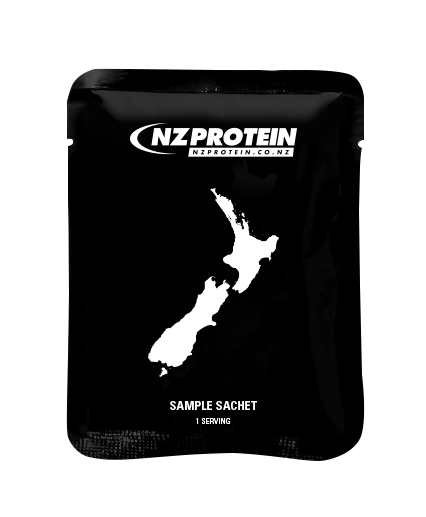 Egg White Sample Sachet
Egg Whites are a Quality Protein Source.
High Biological Value Protein that's Lactose and Dairy Free
Pasteurised so it's safe to drink
Economical – 1kg contains the whites from about 260 medium sized eggs
Complete source of protein & contains all eight essential amino acids
High in BCAAs and L-Leucine for muscle development
Slower digesting (provides a time released protein supply)
Lactose & dairy free
Low in fat & carbohydrates so typically has less calories per gram than other protein powders
Quick & convenient
Product Information
Egg White Protein is not instantised and by nature, is frothy and lumpy when mixed in a handshaker. Our Gourmet Vanilla flavour, however, mixes better with less foam/lumps if shaken well and left to settle for a minute.
It has been formulated to mix with water and it's recommended to add water before the powder in a hand shaker, or use a blender.
Each sachet contains one serving (31.25g). Mix entire sachet with ~250-400ml of chilled water or your favourite liquid.
---
Rated
3.42
/
5
Based on
12
customer reviews.
Works well with my gut, foams a bit but manageable - vanilla tastes good
The best taste.
Has a bit of an egg after-taste.

But if you mix and refrigerate it overnight, the egg taste mostly disappears and it tastes pretty good.
Love the taste. Not worried that it didn't blend perfectly- I only used my hand held plastic shaker and was absolutely fine.
Will definitely be ordering some more !!
I can't have whey so tried this and the pea. I know whey tastes the best so I wasn't sure what to expect but I prefer the vanilla egg to the pea. It is frothier and it needs a good shaking in my hand shaker but egg is a very good protein so I'm happy to compromise and use it after my training. AJ
Doesn't mix well and tastes horrible. NZPROTEIN REPLY: this product is non-instantised. Please refer to the mixing instructions on the product page - it is not like the other products that you order. Cheers
Very good for recovery, but was hard to drink once shaken in the shaker. However one of the samples expired 12/11/2020 so wasnt too happy about that. NZPROTEIN REPLY: sorry about that! We didn't realise we had some older ones still in the crate.
I feel ill after having this
just had this as a protein shake, the sweet watery vanilla egg flavour makes me feel physically sick
I found this a bit unpleasant to be honest. Not sure if I was imagining it but did have a bit of an 'eggy' aftertaste for me. Might just take getting used to. or need to mix with stronger flavours. Much prefer the pea protein vanilla flavour and texture
Tried it in a smoothie and alone and it tastes very eggy... Don't know why I'd expect different though! Was very foamy too. But taste wise it's exactly the same as the pea protein vanilla.
It would be great in a chocolate flavour you can taste the egg coming thru in the vanilla one thanks.
Great taste
Click on a flavour to see the nutritional information.
| Name | Ave Quantity Per Serving | Ave Quantity Per 100g |
| --- | --- | --- |
| Energy | 502kJ | 1598kJ |
| Calories | 120 | 382 |
| Protein | 24.2g | 77.3g |
| Fat - total | 1g | 3.1g |
| - Saturated | 0.3g | 0.8g |
| Carbohydrate - total | 1.7g | 5.6g |
| - Sugars | 1.4g | 4.5g |
| Sodium | 364mg | 1160mg |