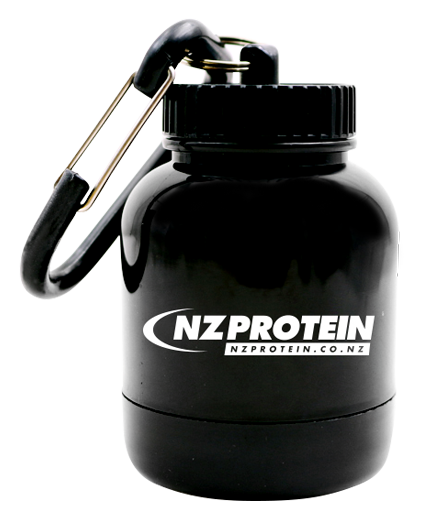 Mini Protein Storage Tub
With 100ml Capacity and a Carabiner Keychain.
Mini Protein Tub
NZProtein's Mini Protein Tub is a portable tub to store and transport your protein powder and supplements into a shaker cup or water bottle.
It has a capacity of 100ml and a handy carabiner keychain. It opens at both the top and bottom so it can be used as a funnel as well, for tipping powders into drink bottles with small necks etc.
Above all, these are cool and real conversation starters.
Benefits
Cool looking mini protein tubs that hold protein powder and supplements
With handy carabiner keychain
100ml capacity
Perfect for taking your protein with you on the go
These mini tubs are also available as a free gift at the checkout if you spend over $100.
---
Rated
4.6
/
5
Based on
10
customer reviews.
Perfect for holding 2 scoops of protein powder, love that there is a large opening for adding product and a smaller one for 'pouring' it out.
Well thought out, works for me. Thank you :)
Nice idea but poorly thought out. If the intended use is mainly for the gym (post workout) then it's beyond belief that it can hold only one scoop of protein, and even that's a fiddle. Quality build but it needs to be at least 3-4 times the size to easily accommodate 2 scoops of protein, some carbs and other bits and pieces. NZPROTEIN REPLY: we're sorry it's too small for your application but it is a keyring and is better suited to holding smaller amounts of powder such as pre workouts, BCAAs, etc.
fab i love it so handy
Fun and practical little trinket
I really like this one, I think this product is best for post & the fill and go funnel is best for Pre, I think I will not like a ready mixed drink on the go so. Both is cool..
Surprised how much this actually fits its decent sizing. Really handy and also love you can take top off and bottom, makes pouring into bottles easy
Very cool and handy to have around.
Great.
Bottom unscrews for easy filling.
Then can uncap the top to use the narrow filling section to put into your shaker.
Great design.
perfect size and easy to use! no more stray containers or snaplock bags needed when on the go.