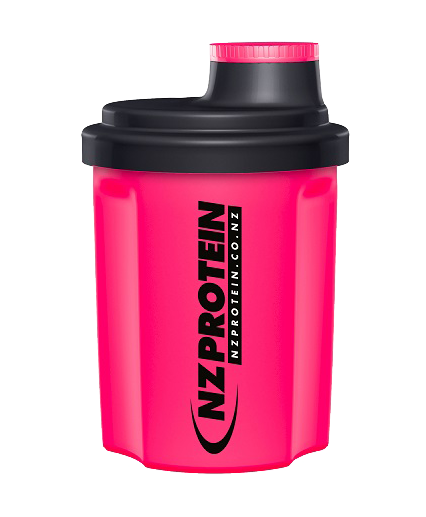 Nano Shaker
Mini Protein Shaker Bottles, 100% Leak Proof From Europe.

The Best Protein Shaker Bottles
We're pretty sure that we stock the best protein shakers in New Zealand. Made all the way in Europe, our Nano shakers are mini shakers that are bright pink and pack a big wow.
They're built tough to resist wear so they'll look new even after continued use. But the best part? They don't leak. You can feel safe putting them in your car or your gym bag knowing that they're not going to ruin all your stuff.
Model

Nano Shaker

Capacity

450ml

(Measurement up to 300ml)

Storage Compartment

No

Leak Proof?

Fits in Cup Holder?

Yes

Mixability

Mixes well with no mixing ball required

Safe in

Microwave, dishwasher and freezer safe

BPA, DHE Free?

High quality, non-toxic plastic.

Colour

Black lid with pink cap, and bright pink body


Made in

Europe

Cost

$8.50


(Or free as a gift if you spend >$150)
They Don't Leak
Nano mini protein shaker bottles feature a softer plastic in the cap and lid. The result is a perfect fit between the screw cap, lid, and bottle. This unique manufacture method completely prevents them from leaking.
Easy to Twist
Easy twist technology make our shakers smoother to use than ever. The small cap and big lid both twist, so you can rest assured knowing that the lids or caps aren't going to pop off and leave an accidental spillage in your car or gym bag.
Effective Shaking
An arched screen gives a larger surface area, and allows a higher rate of flow of liquid across it. This means that our nano mini shakers blend more effectively without even needing mixing balls.
Caps Aren't Connected to Lids
Nano mini protein shaker bottles feature caps that aren't connected to the lids. Because there aren't any additional plastic pieces attached to the lid or cap, there's nothing to prevent nose or forehead disturbances while drinking. This makes our nano shakers more comfortable to drink from.
---
Rated
4.58
/
5
Based on
12
customer reviews.
Great shaker, doesn't leak and dissolves protein powder really well. Only reason why it's 4 stars is it actually doesn't fit in my car cup holder, which is crucial to me as I normally drink my protein shake while sitting in traffic on the way to work. Other than that it's good :)
Easy to use and small and portable.
Great size shaker and mixes well.
Awesome shaker, can take to work and it mixes really well
Great size, I love the removable lid.
Really great little shaker! I saw someone else mention "small parts" in their review and started to worry, but the inside screen and the lid are not that small!
Great little shaker, the perfect size for me. Mixes so easily and so far hasn't leaked.
Great colour and ergonomic design! Would like a bigger one too
Pretty hard to see the measuring line when filling it and a bit of a hassle to clean/keep track of the little pieces post clean.
The best little shaker ever! Absolutely love it.
It's a shaker.
Slowly I am throwing out my old shakers and buying more of these, love this shaker! Perfect size and mixes the powder perfectly.