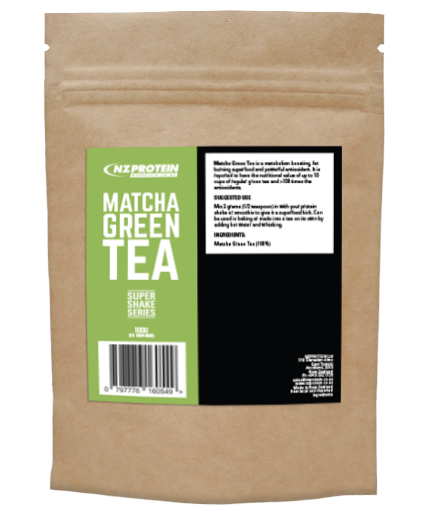 Matcha Green Tea 100g
Matcha has 10x the Nutritional Value, >100X Antioxidants of Green Tea*.
Matcha Powder NZ
NZ Protein's Matcha Green Tea is matcha powder - a metabolism boosting, fat burning superfood and powerful antioxidant.
Matcha is reported to have the nutritional value of up to 10 cups of regular green tea and up to 137 times more antioxidants than regular green tea.
Matcha literally means "powdered tea." With matcha green tea, you're drinking the actual leaves, which have been dried and then stone ground into a fine powder.

To make matcha tea, plants are covered with shade cloths before they're harvested. This increases chlorophyll content and creates a vibrant green colour that's rich in antioxidants.

Because matcha is made from high-quality tea, and the whole leaves are ingested, it's a more potent source of nutrients than regular green tea.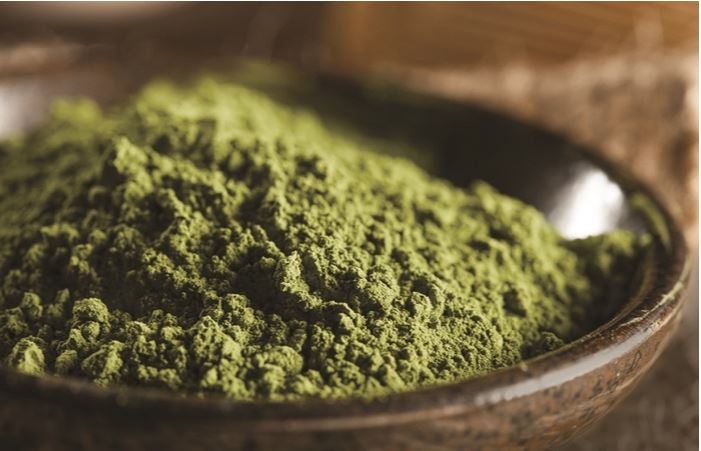 Benefits
Matcha contains a unique and potent class of antioxidant known as catechins. Among antioxidants, catechins are the most beneficial as they may offer protection against heart disease and cancer, and may be beneficial for blood sugar regulation, blood pressure reduction, and anti-aging.

One specific catechin called Epigallocatechin Gallate (EGCg) makes up 60% of the catechins in matcha. Of all the antioxidants, EGCg is the most widely recognised for its metabolism boosting and cancer fighting properties.

EGCg and other catechins counteract the effects of free radicals from the likes of pollution, UV rays, radiation, and chemicals, which can lead to cell and DNA damage.

Matcha contains over 100 times more EGCg than any other tea on the market.
Directions
Mix 2 grams (1/2 teaspoon) in with your protein shake or smoothie to give it a superfood kick. It can be used as an ingredient in both sweet and savory dishes, in everything from matcha muffins, brownies and puddings, to matcha soup, stir frys, and even matcha guacamole!
It can also be made into tea by adding hot water and whisking it until frothy.
Matcha Recipes
---
Rated
4.88
/
5
Based on
67
customer reviews.
Great product, easy to add to smoothies or drink as a tea.
Great product, easy to mix in with smoothies. I don't like drinking green tea so it's a great alternative. Highly recommend.
Excellent. Love the quality and the price is reasonable. My third purchase
great product
Fast delivery!!! Pure matcha. Super love the taste!!! Worth the buy
Very good. I love it.
I am a repeat customer and as always I'm very happy with the product. Also super fast delivery. Ordered lunchtime Tuesday delivered Wednesday morning and I'm rural!
Suggested product from Nutritionist. Doing the job.
Nice treat and very good antioxidant.
Very fast delivery great price would be interested to know country of origin
Good product mixes well and tastes good. Excellent price compared to other brands
Can't do without and this is my second purchase. Reasonably priced too!
Does the job. I blend it with their protein powder and some cinnamon, nutmeg, apple, etc.
Yum!!! I followed the instructions and it was perfect 😊
Good pricing, well packaged and taste really good!
Wasn't sure if I would like this Matcha green tea but was surprised that it tastes quite good and a good price.
Will purchase again for sure. NZ Protein were very quick to ship and let me know when my order shipped and would arrive. Cheers
Arrived super quick, a fantastic price and tastes so yummy in an iced latte 😍
Lovely matcha, make a matcha latte every day! Easy to mix and goes a long way. 😃
Matcha tea powder - tastes like it should and does what it should, at a VERY affordable price. We have purchased this a number of times and we will be back for more when we run out again. Great product.
Nice product - flavour is good. Excellent value for money.
I have been taking this in my green juice and really feel the difference. I notice my skin is better.
Just gentle and delicious...love it
I find the Matcha Green tea easy to drink and very affordable.
It makes me regular and gives me energy
Mixes well into smoothies and into protein shake with a mild flavor
Best matcha powder I've purchased! Great price as well 👌🏻
Awesome thanks
It's a little clumpy when you mix it with other liquids but in all honestly it might be user error just have to be more patient with it . Taste awesome and really good for making Matcha lattes
Great product, and the best value price I've come across.
Excellent quality at a competitive price.
Mixes well, tastes like matcha, and it's really affordable. What more could you ask for?
Fast delivery , top quality product
Good tasting green tea. Fast delivery!
Very nice tea, highly recommended
Good product and good price, will be back for more.
Tastes like crap but it definitely works.
Quick delivery, happy with the product
Great for smoothies!
So impressive with product quality , service and price. I ordered this the second time. Love it
Great product, goes really well in morning smoothies- makes a great start to the day!
Awesome service from Nz Protein- fast delivery- highly recommend
Very fast delivery. Great matcha powder for shakes and baking. Would buy again
Fast overnight shipping, arrived next day after purchase! Amazing! Made matcha cookies with this, tasted brilliant, can't wait to try it in smoothies. Great value and best price you'll find, totally recommend 💚
Good value, straight to my door. I add it to my smoothies . Mixes well
Great
Best value matcha. I put it in my shakes and it turns them green
I am not a tea drinker. But when I was offered a cup of Matcha Green Tea I was absolutely amazed at the taste. I am now a Matcha Green Tea fan. My opinion is that it is the best tea on the market.
Absolute best pricing in the market for this product
I've recently added Matcha green tea to my daily routine. I have it as a hot tea, or add it to smoothies. While I'm still getting 'used' to the flavour as a tea, I love the boost it gives me and how I feel after having it. It's replaced one of my morning coffees. I'll definitely purchase it again, and highly recommend it.
Great matcha, I have it everyday! Fast overnight shipping. I will definitely buy again very soon!
Super fast delivery. I used it in a chia smoothie bowl and the flavour is nice. It's quite strong (that's good it will last ages).
Great product.
Matcha is matcha. It's exactly want you'd want
Great
First time buying this, so far so good! Tastes good but definitely stick to the 2g for 1 cup recommendation as it's really strong and could make you sick otherwise haha.
Really good product, matched for the description, and good price too, really fast delivery. Will definitely buy again from here.
Very pleased with the Product
Will be purchasing more at a later date.
Repeat buyer right here
Definitely does what it says
Loving the products!
Great value for money and delicious start to my day, really wakes me up in the morning!
Extremely fast delivery. Good product similar to the traditional Japanese one.
Amazing
The nicest matcha powder I've had so far. Not too overpowering. Really nice mixed with the gourmet vanilla whey
Loving this to add to my shakes, another great product from NZ protein
Love this product, not too over powering with the matcha flavour. Added it to my porridge, will try it in baking and smoothies.
Knew very little about matcha. Tried and like it. Mental clarity. I mix it with beetroot.
needs to be a higher grade and needs to be powdered so that there is no sediment happening. Try to am for ceremonial grade and state the exact elements and use. It was really bitter can?t wait to test it in a recipe to test this properly. NZPROTEIN REPLY: WE'RE A PROTEIN COMPANY, NOT A FINE TEA COMPANY. IT HAS THE SAME NUTRITIONAL VALUE BUT IT'S FOR PROTEIN BASED SMOOTHIES AT FAR LESS COST
Brilliant, love it. Will buy again
Not too sour, great taste and nice to drink just on its own. Good energy boost!