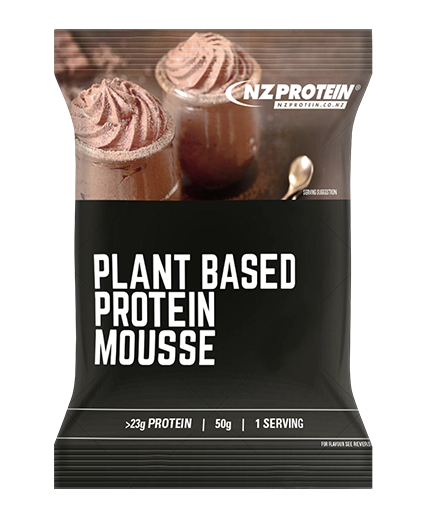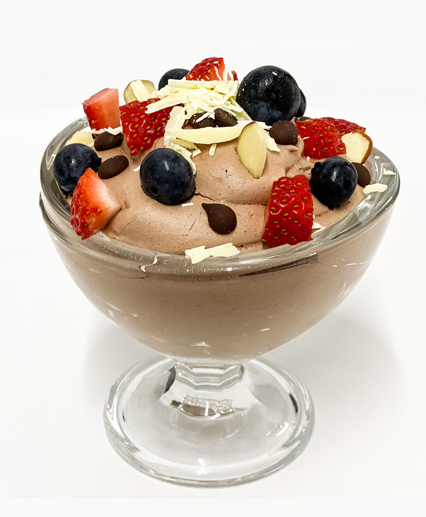 Plant Based Mousse Mix
Plant Based Mousse With 23.6g Protein.
This product is in temporary packaging.

Read below for the best mixing instructions :)
NZProtein's Plant Based Mousse Mix makes a quick, easy (and tasty) mousse dessert with a big 23.6g of protein.
It's ultra low in sugars (0.3g) and free from milk, gluten, gelatine and any animal products.
With our new Faba Bean Protein, a new functional protein powder from Australia, and some innovative science we have been able to develop a great vegan friendly high protein mousse.
What to expect
Being free of the typical mousse ingredients - milk, cream, sugar and gelatine, the texture is a little bit more sticky than regular mousse.
It needs an electric beater and it takes a little longer to whip than our regular protein mousse too.
It also needs more time in the fridge than our regular protein mousse so make sure to give it more time to set.
But these things are minor - this mousse is hard to put down. For plant based and free of all of the aforementioned ingredients it's surprisingly good. We've even been having it for breakfast here at NZProtein!
It's even better when you mix in berries, chocolate pieces, nuts - or whatever tickles your fancy.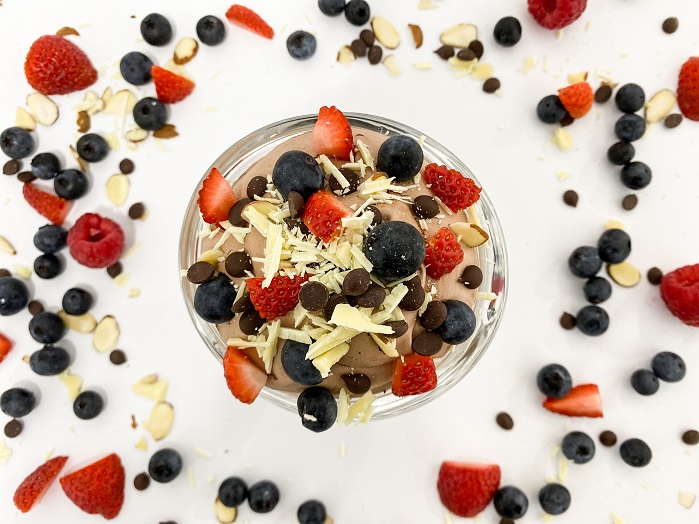 Directions
Add entire sachet (50g) to 125ml (1/2 cup) water or your favourite milk.

Shake or whip. For best texture, whip with an electric whisk for several minutes. Will turn lighter in colour and become fluffy.

Refrigerate for at least one hour before consuming. Store refrigerated and use within 1 day.

Please note that this product is processed in a facility that also handles milk, egg, soy, peanut, and gluten ingredients.
---
Rated
4.5
/
5
Based on
8
customer reviews.
I'm not a dessert person as a rule but this chocolate mousse provides the perfect solution to when you crave something sweet. Quick, convenient. creamy and tasty and no-guilt indulgence. Will be re-ordering.
I tried this with Unsweetened Coconut Milk (Australia's Own brand) and WOW! It was so good! It was really thick and creamy and smooth. I had it in the fridge for 2 hours and whipped it for 4 minutes (donno if that made a difference) Definitely prefer this over the Whey version that this store sells. Will most definitely be purchasing more of this and wish it was available in a large bag.
Flavor is good but a bit gloopy and not as enjoyable as the non plant based mousse mix.
Great taste, amazing macros. Doesn't get better than this!
Pretty good for plant-based mousse. I'm lactose-free and it takes fine. Gets a bit sticky if you don't mix it enough. I actually only eat half and save the rest for the next day. It's quite dense. Good choc flavour and not too sickly.
Took me a little bit to get used to. It's airy in texture but it's also stickier than normal mousse. At first I thought it wasn't set enough so left it in the fridge for quite a while longer. But I then realised that it's the way it is. First time I had it, there was a slight plant taste going on, but the sachet is quite big so I only had half. I had the second half later on and by then I was really liking it. Once you realise it is a little stickier and get past that, it's quite nice. I've got myself some more and had it a few times. It's really grown on me and I look forward to eating it. I put chocolate chips in and it's perfect!
Gave a 4 cause the taste is great but I forgot about it for 24 hrs. I do not recommend doing that, it's like eating deliciously flavored Styrofoam... I'm sure it would have been better if I remembered it after an hour.. but sadly I did not. I will have to try it again before I decide whether I have assessed this product accurately or not
Delicious! Have made just one pack so far in water and it was good. Next time I'll experiment with almond milk :)
Serving Size: 50g
Servings per Pack: 1
| Name | Ave Quantity Per Serving | Ave Quantity Per 100g |
| --- | --- | --- |
| Energy | 870kJ | 1740kJ |
| Calories | 208 | 416 |
| Protein | 23.6g | 47.2g |
| - Gluten | 0g | 0g |
| Fat - total | 7.5g | 15g |
| - Saturated | 6g | 12g |
| Carbohydrate | 10.7g | 21.4g |
| - Sugars | 0.3g | 0.6g |
| - Fibre | 2.7g | 5.4g |
| Sodium | 77mg | 154mg |
Ingredients: Faba Bean Isolate Protein, Rice Starch, Emulsifiers (475, 471, 433), Cocoa (Contains Sunflower Lecithin), Flavours, Guar Gum, Sweetener (Sucralose).