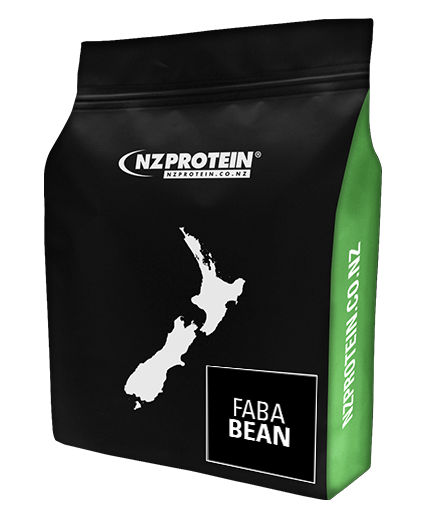 Faba Bean Protein 1kg
Plant Based Protein That's Functional.
Mixing hack: try two scoops of chocolate together with one scoop of banana or orange :)
Faba Bean Protein
NZ Protein's Faba Bean isolate protein powder is a newer plant based protein that's more pleasant than some other types of plant proteins, and it makes a good alternative to pea.
It's clean tasting and has less gritiness that's often associated with plant proteins.
Faba bean is high in protein (85% - unflavoured) and is a complete protein with a good amino acid profile. That means it's suitable for muscle growth and development and is comparable to other high quality sources of protein.
Like with other plant proteins, faba bean is vegan, GMO free, and naturally free of dairy, gluten, soy, and other allergens*.
Lastly, and perhaps most interestingly, it's functional. That means faba bean is likely to perform better in recipes and baking applications. It's heat stable too so works well in soups and casseroles.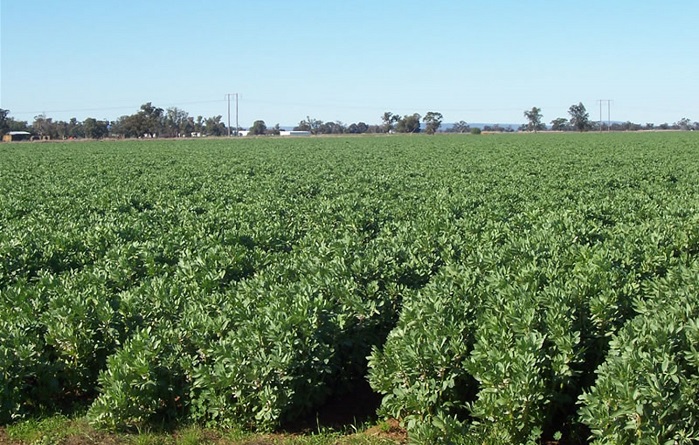 Flavours
Faba bean protein is a unique one. It's quite pleasant and easy to drink on its own - certainly easier than other plant proteins.
We have developed new flavours for this product and are working on more.
Clean Protein
Legumes are nutrient-dense and easy to digest foods. They're cleaner to produce and use less fossil fuel energy to grow than less sustainable animal sources of protein.
As the human population grows and the demand for protein grows it is believed that there will be more of a switch to sustainable plant based foods, such as faba bean which is a complete protein and is a suitable replacement to animal proteins.
Faba bean is a very versatile crop because they're able to grow in most climate conditions and soils. Additionally they belong to the 'nitrogen fixing' category of crops, meaning they provide an abundant and sustainable source of nitrogen into the soil.
This product is grown by our mates in Australia where the manufacturing plant has just been set up.
Faba Bean vs Pea Protein
Pea protein is hugely popular, so why bother with this new type?
Where pea and other types of plant protein have a grainy-ness to them, faba does not.
One serving of our faba bean contains 125 calories and ~26 grams of protein. One serving of our pea contains 111 calories and ~25 grams of protein, so both have similar protein levels and faba bean has slightly higher calories.
Overall, while both have comparable levels of protein, the main difference is that faba bean has a cleaner taste and pea is a better amino acid profile.
Protein Per 100g

85-90%

80-85%

Source

Faba (broad) beans, Australia


Yellow Peas, Canada


PDCAAS Score

0.75
(higher than pea; more bioactive)


0.64

Key Attributes

Vegan, plant based.

Clean texture.


Vegan, plant based.

Slightly grainy texture.


Best For

Best plant protein if taste and texture are an issue.

Functional protein - better for baking and recipes.

Higher PDCAAS score.

Good replacement for whey and has a better amino acid profile for muscle repair/growth.

Slightly lower cost.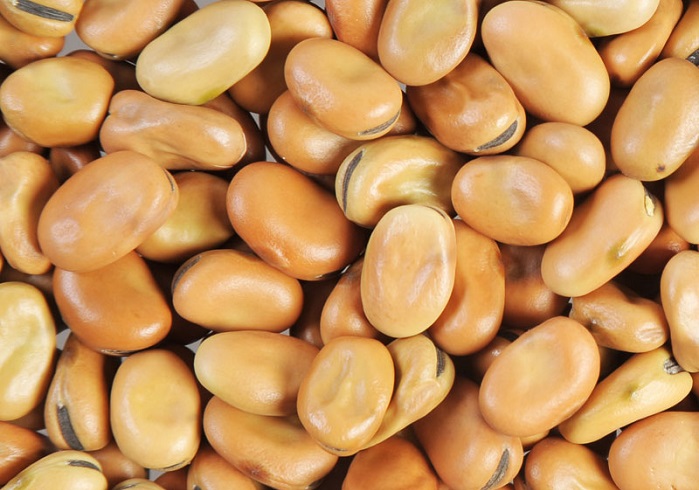 Taste and Mixing
This product has more of a neutral taste than other plant proteins. Flavoured varieties are available too. The texture is cleaner and not grainy. It blends easily into other foods and with other flavours.
Faba bean protein is formulated to mix with water, but other liquids (such as almond milk and yoghurt) can be used. It mixes slightly thicker than whey but not as thick as pea protein.
This product mixes easily in a handshaker or with a spoon but it's always good practice to add liquid before the powder. Our Fill n Go Funnels make this easy.
Depending on your nutritional requirements take 1-3 servings daily at breakfast, between meals, post workout, or before bed.
Digestibility
Plant proteins are slower digesting than general animal types. In saying that, the digestibility rate is high with 90% of the protein easily digestible.
The better a protein is digested, the more efficiently it can be used by the body. The digestibility of any given protein is related to the concentrations of its amino acids. The Protein Digestibility-Corrected Amino Acid Score (PDCAAS) is a rating that determines the bioavailibility of a protein. The maximum score is 1.0. This study gives faba beans a PDAAS score of 0.75. This is greater than pea protein but less than whey.
Good for Weight Loss
Higher-protein meals decrease hunger and increase satiety compared to lower-protein meals. It can help people to lose weight and keep it off by not only reducting appetite but also by increasing metabolism and helping to control blood sugar levels.
Faba bean protein may assist with sugar cravings and can make you feel full for longer and enable more prolonged absorption.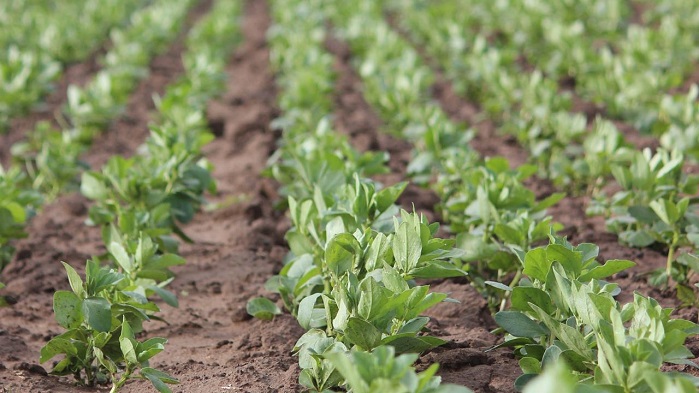 Side Effects
Faba (broad) bean is a type of legume. Allergies are uncommon. Those with allergies to faba beans and favism should avoid this product.
In their raw state faba beans, like peas, contain antinutrients which can can interfere and prevent absorption of nutrients such as proteins and minerals. Though antinutrients are naturally present in faba beans, they're eliminated through the manufacture and extraction process.
Faba Bean Recipes
Please note that this product is processed in a facility that also handles milk, egg, soy, peanut, and gluten ingredients.
---
Rated
4.86
/
5
Based on
97
customer reviews.
My orders always arrive the next day. Awesome service.
Love this protein as it doesn't affect my stomach like animal based products do. Tastes great too!
Always very quick to fulfill and send orders - usually arrives within 1 or 2 days from ordering and I live in the bottom of the South Island. Prices are great too. Have used many times in past and will continue to do so!
Love this product, chocolate tastes great, mixes well and bakes well. Super fast delivery too!
Wow! Flavour explosion! and so good for you.
I usually buy a chocolate and a banana flavoured faba bean protein powder and mix them together with water, collagen and egg white.
This time I bought the orange flavour to go with the chocolate as I wanted to create a jaffa flavour.
Just tried them together this morning and it is awesome!

I recommend you try all the faba bean protein powders.
They're high % protein and a great non dairy product.
Great vegan option! Couldn't drink whey since it kept breaking my skin out so I tried faba since I hate the grainy texture of pea and it was a great alternative. Still a little harder to drink than whey but has no weird aftertaste. Difficult to mix so would recommend blending into milk or a smoothie! I loved the chocolate taste also!
Great flavour, mixes with water well, good price. Recommended.
Great plant based protein love the banana flavor has no gritty mouth feel & mixes well and is low carb.
Will be buying again.
Great tasting product
Very smooth, none of the usual grittiness associated with plant based proteins. I like the flavourless ones for their versatility
Great protein, good to the taste and perfect for cereal, smoothies or baking
I have struggled to drink whey protein so thought I would give this a try. The chocolate flavour is not as sweet as the whey equivalent which is good. I found the whey flavours overly sweet. Chocolate faba bean protein has a nice creamy texture and isn't powdery. No bloating.
Fast delivery.
The best plant protein I've tried so far. I bought both banana and chocolate, both flavours are delicious on their own and mixed together. The protein mixes really well into yogurt, I'd suggest mixing it with a little bit of milk or water also as the powder is thicker than whey or isolate.
easy to mix
Smooth and creamy plant protein - no more grittyness, finally! Best I've ever found. Will always be in love with the banana flavour!
The smoothest vegan protein powder I've found. Love it!
Love the chocolate taste and texture. Good value.
My absolute favourite protein powder. Love it with oat milk in a shake or mixed with yoghurt (tastes like choc pudding)
Really great product! Neutral flavour so mixes well in a smoothie. Plus I liked the non gritty texture
Great taste, easy to mix and use in different ways, shakes, mixed into oats. I love it and the different flavours all taste good.
good product easy on the taste buds
The faba protein is absolutely brilliant. The chocolate one is so tasty that a shake is good enough to satisfy sweet cravings. But take the suggestions provided and do a two scoop chocolate, one schoop banana for an ultimate protein treat!
We have variety of faba bean flavours now. mix n match them for different flavours. we really find the texture easy to blend and use in cooking and their is no after taste per se like we found with pea protein. if you are looking for plant based protein, highly recommend faba beans! and dealing with nz protein as we all know is very easy - and their comms and delivery are fantastic
highly recommended
I love this product, it is thick and creamy and doesn't taste earthy. It has renewed my love of protein powders.
This stuff is awesome - the double chocolate tastes like a chocolate marshmallow fluff milkshake. Legit tastes like dessert vs a protein shake.
Mixes well with no gritty mouth feel wiil definitely be ordering again.
Delicious plant based protein. 2 scoops choc to 1 scoop banana makes for a perkynana shake if that's ya jam, so good!
Absolutely love this Vegan Protein, taste is great and no gritty feeling, thank you best vegan protein I have found! Love it 👍🏻
All 3 flavours are great. Best results combing banana or orange with chocolate. Not grainy and really tasty!
Sooooo good. Very smooth. Very happy with this. Should definitely do some more flavors 😋
This is a great protein powder for people with dairy intolerance… I add it to the meal replacement powder
Love this protein powder.
First plantbased protein powder that is not gritty which is great.
The unflavoured one has a higher protein content than the flavored ones - just an FYI if you're trying up your protein
Highly recommend it
Best as yet! 😍
Tastes like banana paddle pop ice-cream, inexpensive and has one of the best nutritional profiles 😎 🍌
Product mixes well and is easy to use.

There is a market for a supplement that is dairy free, gluten free and sugar free.....something to think about....
Tastes ok. Compared to pea protein, it does not mix well at all and is very difficult to clean protein shaker after. It would suit being used in a protein porridge perhaps. NZPROTEIN REPLY: add more water, it needs quite a lot!
Adds a great creamy texture. Not quite as nice tasting as whey but pretty mild so mixes with any other flavouring.
Great flavour and texture
Takes a longer time to dissolve than the whey proteins but it is the BEST dairy free alternative I have ever tried. Not too sickly sweet like a lot of the other brands. Pro tip: mix the protein shake and leave it on the counter to dissolve for about 5mins, mix again and it's pretty much clump free from there!
Really happy with the unflavoured Faba Bean Protein. Good price and good neutral flavour and texture. $42 for 1kg. A competitors version is $32.95 for only 500g. Arrived overnight. Will definitely be purchasing this again.
Great plant alternative. Must be whisked or blended though and would love if it was not artificial sweetener.
This protein powder is super good. The chocolate is very chocolatey and it doesn't have the weird after taste like some of the other plant based protein powders.
This is the best vegan protein powder I have ever had!!
10/10 on Flavour and definitely one of my favs..
Have referred to friends who have not been disappointed and is now happy customers of NZprotein
Great protein powder. We use it in smoothies and we can't taste it. I've also used it in baking for my vegan breastfeeding sister for an extra boost in her day. 😁 Thank team
The protein is hard to dissolve in water and the taste is not pleasant. However, it is easy to digest.

The customer services were exceptional, including the deliver. NZPROTEIN REPLY: try mixing it with more water - faba needs quite a lot.
If you're an adult craving a childhood nostalgia-like banana milk drink but lack the opportunity to buy one, this flavour is for you.

Taste is fantastic, and the fava bean makeup is much kinder to the gut than the brown rice/pea proteins I have been buying from big box chemists.

This also dissolves better than any none milk based protein I've ever had. It's great that I don't have to drink sand milk anymore.

A+ would highly recommend.
Mixes really well in a blended smoothie, or protein pancakes. Second time buying it. I dont see myself buying another. Tastes great, and fairly clean ingredients (not too much extra/filler).
Mixes ok, was not keen on the taste - Banana, tastes better if you add real banana which is not so good for carb and sugar content.
Always a 5 star! I am moving to Japan in a couple days so am going to miss this a lot... would be happy to open an online store there and sell this stuff too haha!
Bought a bag of the banana to try and a sample of the orange since the chocolate is so good. Really happy with all three. Looking forward to mixing the flavours in my oats and smoothies.
The double choc flavour is unbelievably good ! I always have this one by its self as a dessert in the evening as its so delicious just by its self.
I'm a regular consumer of the unflavoured fava bean powder and it's great. Foams up really bad in shaker but is perfect in smoothies. I'm a little confused with the serving size however. The bag says a serving size is 2 heaped scoops but here on the nutritional value is says 3 heaps scoops. Which is it? NZPROTEIN REPLY: we have emailed you. 3 heaped scoops :)
I don't normally write reviews so the fact I'm taking time to write this is saying something! I usually go for a vanilla pea protein but I decided to branch out and tried the Faba Bean Protein in banana. I am so glad I did! I've repurchased because I love it so much! I mix it into my overnight oats. I find it super smooth and the flavour is lovely plus the price is super competitive! Thank you NZProtein!
Cleanest taste, not grainy, delicious with milk
Chocolate Faba powder, lost count how many I've bought now. 10/10 for everything. Flavour, Texture, Mixability, Macros, and Ethics!
The banana and double choc Faba bean protein powders are delicious. Double choc one has the right amount of sweetness I.e. not too much and goes well in my oats. Blimmin love the banana flavour!!!
My favourite protein powder by far - clean, mild taste, nice texture, not gritty and mixes well. I get the Unflavoured but the Chocolate is good too. The only thing is that it does absorb a lot of liquid but I just add more water if the smoothie is too thick. I'd definitely take this on a desert island with me.
Okay so chocolate and orange is my new favourite combination. It's phenomenal in a shake.
perfect! its filling and tastes great
(2nd rating as it was 2 purchases) Adding onto my other review. Purely rating the flavours (2 serves straight with 400ml soy milk) - Chocolate 10/10, Banana 7.5/10, Orange 6/10.

They all taste great blended with my usual stuff as well (walnuts, pumpkin seeds, cocoa powder) and I'd say the orange flavour taste quite nice/unique blended with pears.
LOVE THIS STUFF!! The only non-whey protein powder that tastes good for me having it straight (with Soy milk). I've bought the new flavours banana and orange. I like them both, not quite as much as the original chocolate though (I actually like this even better than previous whey powders I used to have!). Smooth, creamy texture, no weird after taste, ethical, good price and macros. Ticks all the boxes perfectly. Have let friends try them out and they love it and have bought some too (I will tell more people about it if the price can promise not to increase from the demand hahah).

Thank you NZPROTEIN!
This is delicious. I used to get the Pea protein but it was a bit gritty.
The Faba Bean protein is not gritty at all. Makes a nice fluffy smoothie.
Banana flavour is good too.
Wasn't sure what I would think of the new banana flavour, so only got a sample pack. Wow! It's really nice. Will definitely be buying a big bag when I have finished the chocolate.
I tried the Banana flavour and WOW! I loved it! It definitely has a banana taste but also a nutty taste (which I'm guessing is the Faba bean maybe). Not sure everyone will taste that but I did and really liked it. Will be purchasing again for sure!
Love it
Such a great tasting and textured plant based protein. Highly recommend
This product works well for me in that it provides a solid boost of high quality protein with an agreeable taste.The chocolate flavor is mild and nicely compliments the subtle, slightly nutty taste of the faba (fava) beans from which it is derived. I doesn't mix quite as easily as the whey protein but that is by no means a deal breaker. I appreciate the fact that it is plant-based rather than being derived from the dairy industry and plan on ordering this product on a monthly basis. Highly recommended.
Great flavour. Not gritty. Feels way better in my tummy and I do not get the IBS symptoms I do from other plant based protein powders
Quick service and great price. I wanted a good quality, clean, plant-based protein with no additives or flavours - the Faba Bean Protein ticks all the boxes. I'll be ordering again from NZProtein.
My 2nd bag now, love this stuff and told many others to give it a go!!
I bought the Double Chocolate flavor after trying a lot of different protein powders. This is amazing stuff, hard to believe it's good for me as its like drinking chocolate mousse! I blend mine with a 500ml water, a banana and psyllium husk, and it makes for a smooth and very thick and absolutely delicious drink. I like that it's the right balance of sweetness for me. It's better than a lot of protein powders I've tried before that leave a weird aftertaste or have a grainy or clumpy texture, or have weird or dull flavors. Though I prefer stevia to sucralose (yeah I know I'm weird), sucralose normally taste unpleasant chemical taste to me when added to most things, but it works with this one well. I could easily add more water to make it more shake like, but I like it thick. I also don't notice any bean taste the way I have it. I may get the unflavored one later to add to other smoothies.
This is the best plant protein I have used - and I have tried so many. Only wish it came in more flavours!!
I use unflavoured and the taste is quite strong but it's not a bad taste. Also good to use in baking for some extra protein and flavour. The worst thing I've found is that it gets way too foamy when mixing in a shaker. I have to stir it now which takes longer, and it doesn't mix as well.
I've been looking for alternative to whey protein for years and tried others like pea (horrible for me regardless of the flavour or other stuff mixed), hemp (a bit better), but this chocolate Faba bean protein is the BEST alternative I've had! I don't think it's better than whey for taste, but comes super close. There is a bit of a 'beany' taste but it's not that strong. Good texture and like it so much it will be my new permanent go-to! Thank you!
Mixes well, doesn't add noticeable flavor to smoothies
Delicious, blends perfectly and Digests easy. No sore tummy, not grainy bits, absolutely no problems. This is my new go-to.
Just tried a sample of the choc flavour and wow!! Best plant protein I have tried - great flavour and consistency and easy on the stomach. Will def be buying a full size version.

Any chance of a vanilla or caramel flavour pretty please?? NZPROTEIN REPLY: very difficult to flavour in those, we have been trying but it's not going great so far! Will keep trying.
Easy mixing and easy absorption although flavour not as strong as samples so using 250ml of water for mixing then more water after to help metabolize. More palatable then any pea,rice or combo I've ever had. And just brilliant how fast delivery is
Taste good, mixes well, great price, fast dispatch
Seriously good, Incredibly smooth & delicious ! Replacing my pea protein, FABA isn't gritty and tasty enough to be mixed with water. Happy customer !
Much smoother than the previous Fava bean protein powder I got from Pure Plant Protein. Doesn't upset my stomach like the previous one as well.
Really tasty and way less gritty than the pea protein.
Mixes well, tastes great, doesn't repeat on me like whey does. I'm glad I found this stuff.
My digestive system & body reacts well to this protein powder. Unflavoured is ok. It also makes a great thickener (+ protein enhancer) for things like casseroles & stews etc.
I recently went plant-based and after having a bad experience with pea protein, was keen to give it a try. WOW. It actually tastes good, with a very mild flavour and smooth texture. I will be getting this from now on. Please have a multi-buy option! Look forward to getting more.
My favourite plant based protein powder. Good consistency and amazing in a banana smoothie 👊
Delicious fava bean protein
Love it! Smooth, creamy, great flavour. Hoping you do discounts for bulk buys soon.
Love it - nice and smooth and very filling. Will purchase again :)
Really creamy, good flavour, not too sweet! Best plant based protein powder so far
The new chocolate flavour is amazing. Tastes great, super smooth, and as always, your delivery time is second to none.
sooo yummy, even better than pea - creamy, chocolatey, delish
The chocolate flavour is genuinely the best plant protein I've ever had, and I've tried many different brands (mostly pea proteins).

Has a much nicer flavour than any pea protein and is very smooth and creamy. It's just like drinking a chocolate milkshake even when mixed with water. Also has significantly lower sodium content than most pea proteins as well.
Incredible new plant based protein out of Australia. Texturally superior to pea protein (not grainy) and without the bitterness and high sodium content of pea protein.

Mixes well with powdered peanut butter and/or cocoa to create a delicious protein packed spread to put on toast. Add some hazelnut extract and you darn near have high protein Nutella (using unflavoured faba protein with extra erythritol to sweeten). I imagine the double choc flavour will work even better for this purpose.

Hoping NZProtein offer bulk purchase discounts for this product soon.
Pleasant (neutral) taste, mixes well in shakes, good substitute for flour in baking, I tolerate it better than milk based proteins, does not cause any gastro issues often associated with beans. I like the fact it's produced in Australia and has better environmental credentials than animal derived proteins.
Been looking for a great tasting easy to mix plant based protein powder for a while and this is one of the best. Quick delivery in these hard times and came packed really well

Looking forward to using it in baking some plant based treats too.

Great stuff!
Genuinely delicious protein. Have it by itself and it's a really smooth creamy protein. Mix it with Banana into a smoothie and it gives that little bit of sweetness which I'm sure we have all come to expect from using pea isolate. Super delicious protein, very nice and creamy.
Great protein powder, mixes a treat and I double it up with matcha powder too. Taste is fine as long as you're not expecting a sweet hit with every mouthful.
Click on a flavour to see the nutritional information.
Serving size: 31.25g (3 heaped scoops)
Servings per pack: 32
| Name | Ave Quantity Per Serving | Ave Quantity Per 100g |
| --- | --- | --- |
| Energy | 522kJ | 1670kJ |
| Calories | 125 | 399 |
| Protein | 26.5g | 85g |
| - Gluten | 0g | 0g |
| Fat - total | 1.7g | 5.4g |
| - Saturated | 0.5g | 1.2g |
| Carbohydrate | 1.2g | 3.8g |
| - Sugars | <0.5g | <1g |
| - Fibre | <0.5g | <0.5g |
| Sodium | 91mg | 290mg |
Ingredients: Faba Bean Protein Isolate.
Serving size: 31.25g (3 heaped scoops)
Servings per pack: 32
| Name | Ave Quantity Per Serving | Ave Quantity Per 100g |
| --- | --- | --- |
| Energy | 516kJ | 1652kJ |
| Calories | 123 | 395 |
| Protein | 23.1g | 73.9g |
| - Gluten | 0g | 0g |
| Fat - total | 2.1g | 6.9g |
| - Saturated | 0.7g | 2.4g |
| Carbohydrate | 2.7g | 8.6g |
| - Sugars | 0.4g | 1.2g |
| Sodium | 79mg | 252mg |
Ingredients: Faba Bean Protein Isolate, Cocoa, Flavours, Sweetener (Sucralose).
Serving size: 31.25g (3 heaped scoops)
Servings per pack: 32
| Name | Ave Quantity Per Serving | Ave Quantity Per 100g |
| --- | --- | --- |
| Energy | 522kJ | 1670kJ |
| Calories | 125 | 399 |
| Protein | 26.5g | 85g |
| - Gluten | 0g | 0g |
| Fat - total | 1.7g | 5.4g |
| - Saturated | 0.5g | 1.2g |
| Carbohydrate | 1.2g | 3.8g |
| - Sugars | <0.5g | <1g |
| - Fibre | <0.5g | <0.5g |
| Sodium | 91mg | 290mg |
Ingredients: Faba Bean Protein Isolate, Flavour, Sweetener (Sucralose).
Serving size: 31.25g (3 heaped scoops)
Servings per pack: 32
| Name | Ave Quantity Per Serving | Ave Quantity Per 100g |
| --- | --- | --- |
| Energy | 522kJ | 1670kJ |
| Calories | 125 | 399 |
| Protein | 26.5g | 85g |
| - Gluten | 0g | 0g |
| Fat - total | 1.7g | 5.4g |
| - Saturated | 0.5g | 1.2g |
| Carbohydrate | 1.2g | 3.8g |
| - Sugars | <0.5g | <1g |
| - Fibre | <0.5g | <0.5g |
| Sodium | 91mg | 290mg |
Ingredients: Faba Bean Protein Isolate, Flavour, Citric Acid, Sweetener (Sucralose).
(mg per serving - unflavoured)
Branched chain aminio acids:
| | |
| --- | --- |
| Isoleucine | 1010 |
| Leucine | 1750 |
| Valine | 1220 |
Other essential aminio acids:
| | |
| --- | --- |
| Lysine | 1460 |
| Methionine | 175 |
| Phenylalanine | 960 |
| Threonine | 880 |
| Tryptophan | 140 |
Non essential aminio acids:
| | |
| --- | --- |
| Histidine | 580 |
| Alanine | 1010 |
| Arganine | 2070 |
| Aspartic Acid | 2440 |
| Cysteine/Cystine | 180 |
| Glutamic Acid | 3720 |
| Glycine | 960 |
| Proline | 980 |
| Serine | 1190 |
| Tyrosine | 800 |