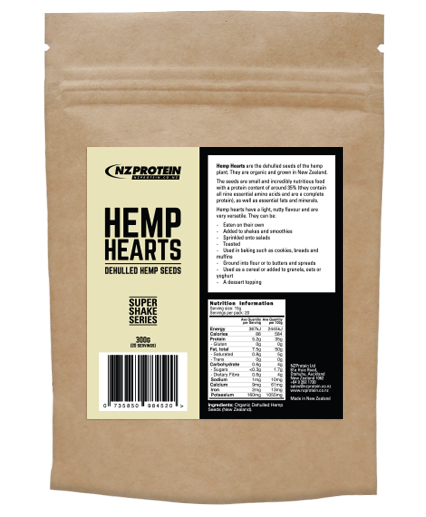 Hemp Hearts 300g
Dehulled Hemp Seeds Are Delicious & Nutritious.
NZProtein's Hemp Hearts are the dehulled seeds of the hemp plant. They are grown in New Zealand.
The seeds are small and incredibly nutritious food with a protein content of around 35% (they contain all nine essential amino acids and are a complete protein), as well as essential fats and minerals.
Hemp hearts have a light, nutty flavour and are very versatile. They can be:
eaten on their own
added to shakes and smoothies
sprinkled onto salads
toasted
used in baking such as cookies, breads and muffins
ground into flour or to butters and spreads
used as a cereal or added to granola, oats or yoghurt
a dessert topping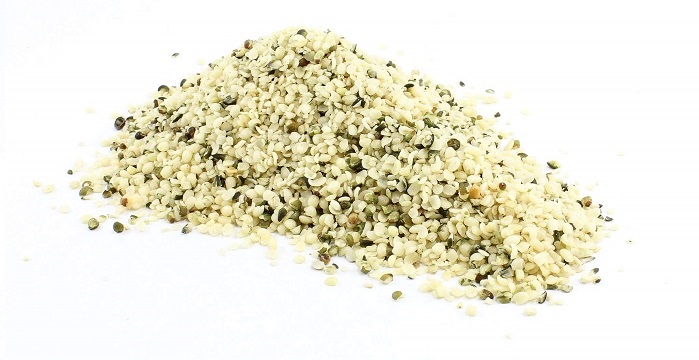 Hemp Hearts Nutrition Facts
Hemp is one of the earliest known plants cultivated and one of the most nutritious superfoods in the world.
Hemp hearts are a good source of complete, highly digestible protein (around 35% protein - similar to animal sources). They have double the amount of protein than chia seeds and 50% more than almonds.
Edestin, a highly digestible plant protein, is only found in hemp seeds.
Hemp seeds are a good source of omega fatty acids with a ratio of 3:1 omega 6 to omega 3. They also contain fibre and minerals including iron, magnesium, copper and zinc.
Hemp hearts are free from the allergens that affect other tree nuts and seeds.
They are also very low in carbohydrates and are keto friendly.
Hemp Hearts Recipes
---
Rated
4.73
/
5
Based on
15
customer reviews.
Good quality product
Good product and NZ grown hemp too
These are good seeds as they don't have to many hulls in the bag. Love the seeds and good in my morning smoothie
I'm not sure if I'm seeing any nutritional benefits, but I add it for the extra protein. I have to say though, that I really don't like the taste or smell of it in my smoothie. So probably won't purchase it again once it's finished.
Lovely to sprinkle over salads, instead of croutons.
It used to be quite good but recent purchase was not as good. Hemp seeds were not thoroughly dehulled. Lots of them were hard to chew in my salad. NZPROTEIN REPLY: sorry to hear this. We used the same supply as always, but we buy from the hemp growers who are dehull them at their end.
These are lovely creamy seeds which mix into my Smoothies really well. I even add them to my bread mix.
Great product. I bought 6
Great Product, Price and Fast Delivery.

Amazing quality, keep refrigerated for better shelf life.
Great quality product
Have been adding Hemp Hearts to my Smoothie and sprinkling on my Yoghurt. Really yummy and healthy.

Always impressed with the brilliant service even in lockdown.
Delicious and flavorsome.
These are quite tasty and nutty. Tried them in a pan with chilli and salt and never looked back.
This is a great price. Can you make a breakfast cereal with it?
Love this hemp hearts. Nice, great taste? clean and fresh in their resealable bag.
I add 1/2tbsp to my nzprotien whey protein powder to give it fibre.
Serving Size: 15g
Servings Per Pack: 20
| Name | Ave Quantity Per Serving | Ave Quantity Per 100g |
| --- | --- | --- |
| Energy | 367kJ | 2445kJ |
| Calories | 88 | 584 |
| Protein | 5.2g | 35g |
| - Gluten | 0g | 0g |
| Fat - total | 7.5g | 50g |
| - Saturated | 0.8g | 5g |
| - Trans | 0g | 0g |
| Carbohydrate | 0.6g | 4g |
| - Sugars | <0.3g | 1.7g |
| - Dietary Fibre | 0.6g | 4g |
| Sodium | 1mg | 10mg |
| Calcium | 9mg | 61mg |
| Iron | 2mg | 13mg |
| Potassium | 160mg | 1055mg |
Ingredients: Organic Dehulled Hemp Seeds (New Zealand).