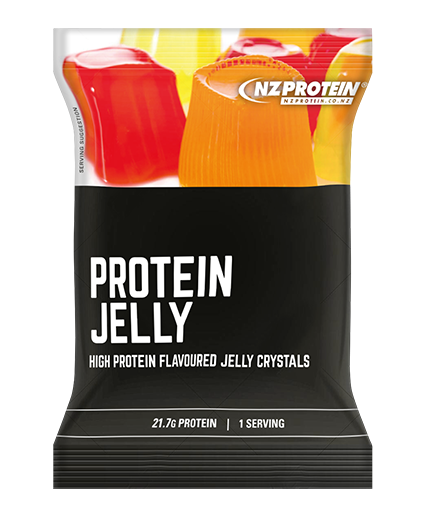 Protein Jelly Mix
High Protein Flavoured Jelly Crystals.
All flavours are new/upgraded!
Protein Jelly NZ
This product is perfect for those who love desserts but also care about their nutrition. There is no other jelly in the market that contains over 21 grams of protein and tastes so good.
Life is too short to eat bland foods. The issue in modern society is that too many of us regularly consume hyperpalatable foods (processed foods that taste nice but have little nutritional value).
Approximately 80% of New Zealand shelf-stable supermarket products are high in calories and low in nutrients. Even worse, ultra processed foods make up around 50% of the average Kiwi kid's diet.
This needs to change.
At NZProtein, we believe in making nutritious products without compromising on taste.
Our NZProtein jelly comes in a variety of tasty flavours and you'd never know it wasn't full of calories and sugar.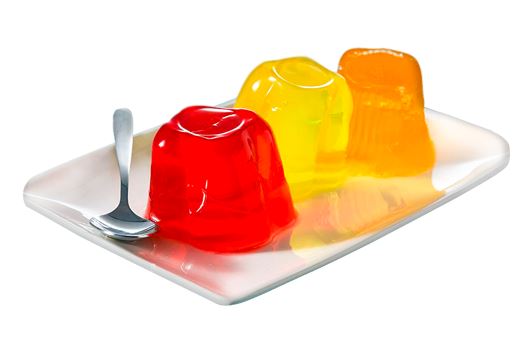 We think that NZProtein jelly is one of the best desserts money can buy. Great tasting treats do not have to be full of sugar and calories. We want to challenge the notion that delicious equates to unhealthy. You can have your (jelly) cake and eat it too!
High Protein Supplement
The most notable benefit of NZProtein jelly is its high protein content.
Most supermarket jellies contain less than one gram of protein per serving. Ours contains a whopping 21.7 grams.
Why does this matter? Because protein is an essential part of our diet. Inadequate protein intake means we will not feel satiated after eating.
It has been studied that women especially experience increased satiety when eating a high protein diet. Protein is vital if your goal is to build or retain muscle.
Specifically, 20-25 grams of protein after a workout is the required amount to stimulate muscle protein synthesis.
NZProtein jelly is made from collagen peptides and gelatin. Although it is not suitable for vegans, everyone else can benefit a lot from collagen consumption.
Not only is it high protein but collagen may also benefit bone and joint health.
Basically this dessert is perfect for those in a calorie deficit, those trying to put on muscle and anyone who wants to preserve their bones and joints.
Versatile
You could enjoy the NZProtein jelly by itself or add it to another recipe. If you wish to add some more vitamins to your NZProtein jelly dessert you could add sliced fruit into the bowl before letting it set.
Another funky idea would be to create a jelly cheesecake slice. You would do this by first making your cheesecake, then pouring NZProtein jelly mix on top and letting it set in the fridge.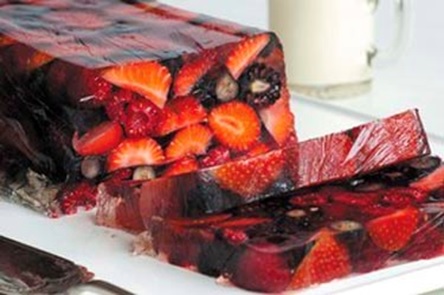 Macro Friendly
With only 93 calories per packet, NZProtein jelly will easily fit your macros. Additionally it is low in carbohydrates, fats and sugar.
The average New Zealander consumes 57 grams of sugar per day. Although sugar tastes good, it confers no nutritional benefits and is unnecessarily incorporated into many of our every day foods.
NZProtein jelly contains less than one gram of sugar per serve. This means it is ideal for diabetics, those on low carbohydrate diets and the general population.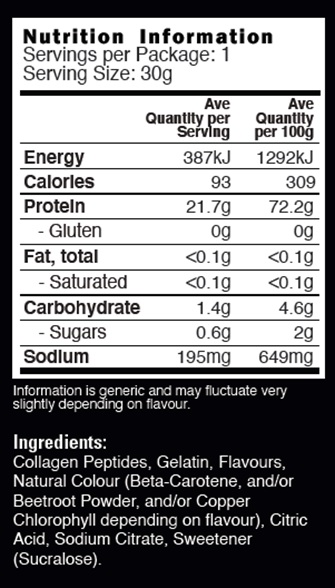 Directions
Our protein jelly mix comes in a 30 gram sachet that's quick and easy to make in just three steps.
Pour entire sachet into a bowl.

Add 200ml of boiling water and stir until crystals are dissolved.

Leave on bench to cool to room temperature, then refrigerate for 4 hours or until set.

Recipes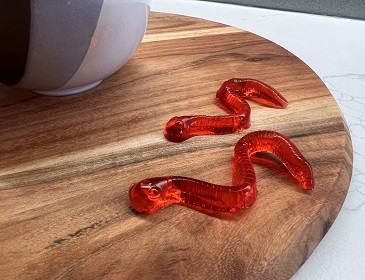 Sour Protein Gummies
Sour on the outside, sweet in the centre and gains throughout. These gummies are a must have treat in the pantry!
View Recipe
Please note that this product is processed in a facility that also handles milk, egg, soy, peanut, and gluten ingredients.
---
Rated
4.61
/
5
Based on
28
customer reviews.
Seriously good. The kids love it,
This stuffy is so tasty.

Perfect with 1/3 cup blueberries
80mls of coconut milk and 120mls of water.
Jeĺly. Such a delicious product and a good serving size. Nice flavours too
OMG surprisingly SO yum. Will definitely order again.
Nice consistency with good flavour.
Delicious and filling. Love it. Thanks NZ Protein
Lime tasted a bit strange. Sort of like a mix of lemon and honey. However, Pineapple was amazing! Definitely going to buy again!
Horrible horrible horrible, both in taste and texture. Even my chickens didn't want to eat it! NZPROTEIN reply: please check our videos on making this one if you're having trouble as the texture should be the same as regular (sugar) jelly.
not great.
Love it
Yum!
Love, love, love the jellies. They taste great, are really easy to make and enjoy. Great for a quick fix and helps bring up the protein levels with ease.
The pineapple flavoured jelly is the better tasting product for me. I, too, add gelatin for more quantity. Simply too irresistible!
Thought I was ordering lollies haha but was pleasantly surprised 😮 was yummy 🤤
Awesome jelly. Tastes great. Mixes up really easy and well. Tried pineapple, berry, lime and grape. They are all great. Lovely flavors. High in protein so great for after bariatric surgery to meet the protein requirements.
Love this jelly. High in protein and it tastes great. Good range of flavors, my new go ro for a quick easy protein fix.
I actually bought this for my father who has stage 4 pancreatic cancer. The cancer has caused diabetes and these allow him a low sugar high protein snack. His diabetes nurse was very impressed when I showed him. I think perhaps you should promote them to hospice staff, the district health nurse system and GP's. They are also nice for the rest of the family to pinch!!
I ordered each of the jellies, enjoyed the pineapple flavour but not the others
Delicious flavour, great consistency and a awesome snack when you feel like something sweet and still get a small hit of protein from. Will be buying again :)
Thanks NZ protein
Great product
Tastes amazing! Just like real jelly! Perfect treat!
Very nice jelly, great flavours and texture, easy to eat protein fix which feels like a naughty treat.
You guys honestly make the best snacks 🤣
Very nice!
Lovevthe taste, made mine into gummy lollies addi g bit more gelatine but it wasn't a lot in the sachet so didn't get a lot
Very good flavour, kids love it too, gave it to them for school lunches ❤
Whoops! I thought this product was plant-based, as so many of the NZ Protein products are. However, this jelly, being so high in protein and delicious (and only a once-in-a-while treat) didn't make me feel too guilty. Highly recommended for anyone trying to boost their carbs who isn't WFPB.
Amazing!!! Pineapple flavour was awesome! Can't wait to try the other flavours
Click on a flavour to see the nutritional information.
Serving Size: 30g
Servings per pack: 1
| Name | Ave Quantity Per Serving | Ave Quantity Per 100g |
| --- | --- | --- |
| Energy | 387kJ | 1292kJ |
| Calories | 93 | 309 |
| Protein | 21.7g | 72.2g |
| - Gluten | 0g | 0g |
| Fat - total | <0.1g | <0.1g |
| - Saturated | <0.1g | <0.1g |
| Carbohydrate | 1.4g | 4.6g |
| - Sugars | 0.6g | 2g |
| Sodium | 195mg | 649mg |
Ingredients: Collagen Peptides, Gelatin, Natural Flavour, Natural Colour (Beta-Carotene), Citric Acid, Sodium Citrate, Sweetener (Sucralose).