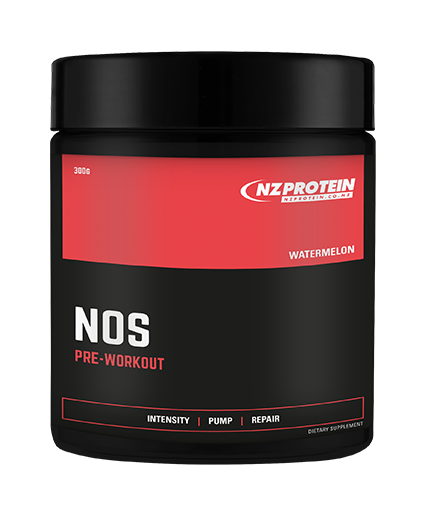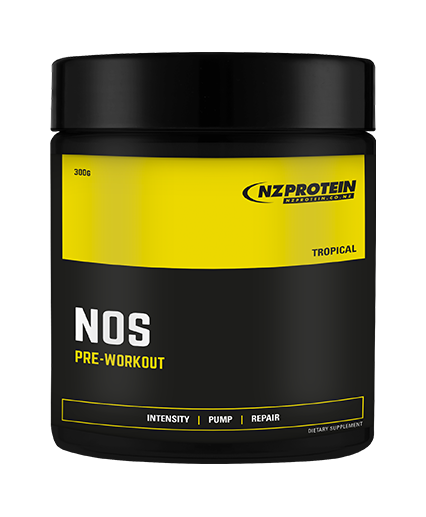 Pre Workout (NOS)
Potent Supplement to Increase Intensity & Drive.
More tropical flavour this week
Pre Workout Supplement
NZ Protein's Pre Workout is a potent supplement that's formulated to increase intensity and drive during physical exercise.
This product contains a special blend of ingredients that work to maximise effectiveness by working in a 3 stage delivery matrix: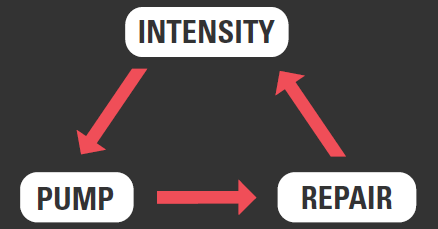 Intensity - train for harder and longer Increase your strength so you can push harder with the effects of key ingredients proven to fuel training for maximum results.
Pump - take your training to new levels Extra fuel to increase NOS production and blood flow is key to maximise muscle contraction and support the muscle pump during training.
Repair - maximise your results Provide fuel to muscles to support lean muscle tissue repair and recovery. Feed your efforts by shuttling nitrogen to exhausted muscle cells.
What's in it?
Intensity: Beta-Alanine
Beta-alanine is a naturally occurring amino acid that is reported to significantly increase strength, lean body mass and muscular endurance by helping to manage the pH of the muscle cells.
In other words, it helps buffer the acidic buildup that can occur in muscle, which allows you to maintain your strength, speed, and power for a longer period. In essence, you may be able to train harder and longer because of it.
It is reported to be incredibly synergistic with creatine and BCAAs. Therefore, when used/stacked properly, this supplement may be an amazing tool to help you take your training to new levels, resulting in new personal records and added lean muscle.
Beta-Alanine is responsible for 'tingling' or 'itch' skin sensations that you may experience. This is called paraesthesia and lasts up to 60-90 minutes. This is the most common side effect and paraesthesia is not harmful in any way.
Intensity: Caffeine
Caffeine is a stimulant and gives a boost of energy - which increases alertness and wards off drowsiness temporarily. This means that it can help you to perform certain tasks for longer. This isn't just limited to mental tasks - it includes physical tasks as well, such as running or lifting weights.
This means ingesting caffeine may give you the energy you need to give 100% during your workout. And giving 100% in the gym means you may get the results you want more quickly.
Ingesting caffeine jumpstarts the process of lipolysis, which is when your body releases free fatty acids into the bloodstream. This occurs when your body is breaking down your fat stores to convert it into energy. In other words, caffeine boosts your metabolism slightly and helps you burn fat.
Intensity: Niacin
Niacin is vitamin B3. It's involved in nearly 60 metabolic processes related to energy production and ranks high for bodybuilders by virtue of its critical importance in providing training fuel. Niacin's most basic function is to release energy and can give you that drive if you're struggling to find the motivation and energy to train hard.
Niacin also increases vascularity as it causes blood vessels to widen which allows more blood to flow through them.
Pump: Creapure (Creatine Monohydrate)
Supplementing with creatine increases the amount of free cellular adenosine triphosphate (ATP) available in the body. ATP is a primary energy source that helps with various biological processes including muscle contraction. This energy also helps to fuel high-intensity, short duration exercise such as weight lifting, sprinting, or any other exercise that uses fuel quickly.
This, in turn, may help to improve lean mass, strength, and recovery.
Pump: L-Citrulline
The primary role of L-Citrulline in the body is to support the optimization of blood flow to the tissues, which is critical for helping you not only perform your workouts to the best of your abilities, but also to speed up recovery.
L-Citrulline functions in the body by being converted to L-Arginine and then into nitric oxide (NOS). This nitric oxide is then going to be involved with vasodilation. This vasodilation is what helps increase the amount of blood and oxygen that is delivered to the working muscles, helping to prevent both mental and physical fatigue.
Pump: L-Arginine AAKG
L-Arginine alpha-Ketoglutarate is a cell volumiser. This means it can help to expand cells in the body, which may lead to a greater delivery of nutrients including glucose, amino acids, and oxygen.
It also increases nitric oxide production, which in turn can increase vascularity and help to get a better pump in the gym - especially for those undertaking hypertrophy style weight training. Therefore, supplementing with L-Arginine has been reported to help boost muscular endurance and stamina.
Repair: Glutamine
L-Glutamine is the most abundant amino acid in the body, and is the primary transporter of nitrogen to muscle cells.
Intense training or increased stress to the body (such as with an injury) can lower the body's natural stores, and glutamine depletion may result. Supplementing with glutamine during these periods may
Repair: BCAAs
There are three Branched Chain Amino Acids (BCAAs) - L-Leucine, L-Isoleucine, and L-Valine. These essential amino acids cannot be produced by the body and make up about 1/3 of amino acids present in our body.
BCAAs can be depleted from muscle under intense training, and a deficiency in any one of them may cause muscle waste (catabolism).
Because branched chain amino acids are metabolised in skeletal muscle they may provide fuel (energy) for muscle during exercise.
Amino acids are responsible for protein synthesis and BCAAs may be an important component for effective muscle growth and improved recovery.
Suggested Use
Mix 10 grams (one scoop) in 200-300ml of cold water in a shaker, depending on desired taste. Take before exercise. Maximum two scoops in any 24 hour period. Adults 18+ only. Not suitable for pregnant or lactating women.
*Please note that while every care is taken, this product is processed in a facility that also handles milk, egg, soy, and gluten ingredients.
---
Rated
4.57
/
5
Based on
75
customer reviews.
Perfect for energy boost
Like it , just thought it could have a little more flavour.

Good energy. NZPROTEIN REPLY: we are re working our flavours shortly :)
Taste good, and works how it should. Not too sweet which is what I like but unfortunately within 10 minutes of taking this I got itchy all over so have stopped taking it hence the low rating.
All other products great but can't do this with the itching effects.
Definitely worth the money. Noticeable difference in training.
Great pre-workout. Gives exactly what I want for a good price
Works great - good energy, focus and pump during workouts. The right amount of stimulants for my personal preference. Just doesn't mix the greatest - seems to settle on the bottom of the glass after mixing so you have to drink it quite fast after mixing. Flavour is average - but I don't really care about taste as long as it does the job!
Really impressive just right
I am happy with this. Boosts my energy a lot, especially to get those extra reps in. The taste is OK, but only use half the recommended amount. More would be too intense for me.
Tastes like 5 Gum Watermelon, dissolves instantly. Great kick for a workout. A+
Tropical flavour pre workout for me is the best!!!!!! Taste
Like raro! And everyone knows what raro is in NZ?! That pre workout is the best!! I've ever come across, the pump you get from it is too good! In my opinion will be back to order more once mine runs out' keen to order the watermelon flavour too!!! Good work guys!!
Great product, great flavours
Not bad, I really like the flavour of the watermelon.
Great pre workout with good amounts of good ingredients, not filled with a bunch of unnecessary junk like some other pre's, my new favorite.
Pre-workout tasted great and gives me a great boost of energy during my workouts. Only wish the company would offer free shipping if the customer purchased over a certain amount. NZPROTEIN REPLY: we do!
One of the best pre-work outs I have used; great taste and it gives me the energy I need during my workout. Highly recommend. Service at NZ Protein is awesome, usually get my products the next day or latest within 48hours. The only improvement I could see is with the payment system, we might be the only ones but the payment system on the website won't take a card, I have to pay over the internet which isn't a big deal, however for convenience I would love to use my card.
Great product. Love the little bit of boost you get from this product.
Best pre workout I've come across. Good quantities of quality ingredients. Highly recommend.
Good buy
Love this product! I am 51 years old so need a bit of help with those hard-core lifting sessions. I usually avoid pre-workout supplements because they make my skin itch and I feel jittery, however, I needed a bit of a boost so decided to try this one. The NOS product is just perfect, it gives me the right amount of stamina during my workout but without the itch or jitter! so rating it a 5 and highly recommend for subtle stamina increase.
Nice caffeine hit, really keeps me going through the workout. I used to be exhausted halfway, but this little shot of energy kept me awake! Watermelon flavour is nice, not too sweet, and really good with icey cold water. Superrrr fast delivery too!
Great wee boost! I love all my NZ protein products thank you and you guys have super fast delivery!
Motivates and energises and price is fair
Watermelon flavour is really fresh and tasty. Energy is clean and even before I get in the gym my muscles feel prepped and ready. I took a decent hiatus from pre workouts and coming back with this has helped me break through plateau's in a couple of weeks! Gives me the tingles but I kinda like that!
Taste like raro, I kid you not. Bit sweet for first thing in the morning but does the job great! Highly recommend - it's a great pre pump.

For those that get pre workout tingling, this doesn't have too bad a reaction compared to other brands (at least for myself). Just some minor pins and needles in hands, but only for a few minutes and easy to work through.
I love using Pre Workout (NOS). Yes I know I could drink coffee first up and it would do the same trick but I can't drink early in the morning - I can do Pre Workout.
i would love a couple of more flavours but am happy to keep using Watermelon...
Works well. Flavouring is ok.
Love this product! Have ordered 3 more times since trying it. Personally I'm a light weight and manage to stretch it out by only using a 3rd of a serving as I feel it enough from this. My partner uses about 2/3rds serving and thinks that's plenty too. We both love this product.
Good value for money but Does not last long
Regarding the Tropical flavour, it tastes good (for a pre-workout) and mixes well. Makes me itchy for a bit but anything with beta-alanine in will do that. Not too much caffeine which is good, as it gives me a boost of energy without the shakes and leaves room for a caffeine drink during the workout.
Tastes great and does exactly what I want in a pre workout
Easily drinkable. Only had it on 2 occasions so early days.
Great taste which is hard to find in pre workouts and provides a good boost of energy.
Does what it should
I tried the watermelon pre-workout and certainly does the job in terms of kick. I personally didn't think the taste was the best which was the reason for the loss of a star but in saying that it is not sickly sweet and does not leave a horrible after taste, so positives there too. Overall a great product.
Unfortunately the flavour is not very nice (I much prefer tropical) but the ingredients and amount are quite well-backed and good. NZPROTEIN REPLY: the watermelon is amazing but it has to be served ice cold!
Got tropical but the flavour isn't very nice without mixing it with other things like lemonade and thrifty. The ingredients are value per serve is decent compared to most others though!
A great pre-workout with a great flavor. Has a bit less caffeine than other brands which I appreciate. Great pump for the workout.
I really like your Pre Workout and i believe it is great value for money. Delivery is always prompt.
Tastes bad first 1 I have tried
Mixes easy, taste is pretty good. Certainly can feel the tingling during the workout and in my opinion has helped with reps and weights.
I use this religiously pre training sessions, I struggle with motivation otherwise. Good taste, makes my face tingly as. Recommend
Love it, good value and performs the way I'm after.
Great product will use again.
Bit of a funny after taste but you get used to it. I like how this isn't packed with over powering sweeteners. Great pre-workout
Love everything about it apart from the taste.
Very effective, I won't train without it. Makes your workout more intense, leading to more gains. Does not make you jittery like caffeine or energy drinks.
MUCH nicer than a lot of the other brands because I only have to add a little bit of water whereas before on other brands I'd have to fill up a whole huge drink bottle and even then it was sickly strong. Will never have the mainstream brands again. This stuff tastes good and kicks in fast. Recommended to have immediately before workout
Great taste and easy to drink first thing in the morning. Definitely notice the difference in performance when I don't use Pre Workout. Must also say that NZ Protein are super fast with delivery, even to a rural address. Ordered this 2pm and it arrived the next morning.
Wow, I've only used this twice, but can truly say it gave me the edge I was looking for.
Tastes great, dissolves easily in water.
really give you a lot of energy, will definitely purchase again
Great product. Feel it kick in pretty quick, gives me a great boost of energy for my workout and tastes so good.
Great taste and works well! I only use half a scoop and that is suffice for me
Great product, definitely gives you the boost before workouts. Watermelon flavor is okay.
Only used a couple of times and it is good. I got the tropical flavor as the other was sold out. For $40, I do question whether I need it for the amount you get but other than that it's a good product
Great tasting with no weird aftertaste. Gave me a great boost before my workout. Not overly sweet either which is great!
Makes me itch a little but other than that great product and the flavor isn't too strong like some other pre workouts
Back to basics. Effective product.
Watermelon flavour 👌 easy to dry scoop and gives you the extra boost you need to get the gains!
Great, works.
I really liked the Pre Workout (NOS) to be honest I would like to have more options about flavours. Previously I took the Tropical Flavour, but I only get to take it once, thereafter I started to use the Watermelon since then I am using it and so far so good for a while.
Has what you want, Does what you need 5/5
Second time buying this, I loved the Tropical but tried the Watermelon this time. Both amazing flavors. Flavor is more subtle than other brands. But I love that this pre workout has only 150mg of caffeine yet still gets me in the zone and provides a great pump. Other preworkouts are shoved full for 300mg caffeine or more! But this one has quality ingredients to promote a great workout every time. I really like how it also contains 3g of creatine!
Good pump, high energy levels.
Pretty good
Great product. First time taking a ore workout. Got a tingling in my face but other than that it just gave me the extra boost I was looking for
Awesome pump!! Good amount of stim!! Fast delivery thanks
Some of the best pre I?ve ever had. I?ve tried both flavours, they both taste good. I?d definitely buy again
Honestly the best pre i've had. Doesnt make me crash, tastes good (not horrible and sweet), with pretty good ingredients. looking forward to watermelon
Pump was great, not a huge hit on you but definitely gives you that good clean focus. The taste was pretty surprising and as always with these products so damn good.
I've been using this for a while now, I like it because it doesn't taste sweet and fake
Tastes great not like other pre workouts and gives a good muscle pump but don't get that crash afterwards

Shane
Decent tasting, great value pre workout. Good quality blend. Overall grade: A+
The tropical flavour is pleasing and easy to drink when consuming this Nos product. The pumps through the workout are awesome, increased vascularity is enhanced when lean. The muscle fullness created from the great workout supplied by the NZProtein Nos product gives satisfaction that results are imminent
This company is fantastic! Always high quality, effective, cost-effective products that do exactly what they say they will. Intensity, pump, and repair? Delivers on all fronts! Another great product I highly recommend.
The taste is good, not too sweet. I can feel it working and would buy again (James)
Click on a flavour to see the nutritional information.
Serving size: 10g (one scoop)
Servings per pack: 30
| Name | Ave Quantity Per Serving | Ave Quantity Per 100g |
| --- | --- | --- |
| B-Alanine | 2500mg | - |
| Caffeine | 150mg | - |
| Niacin | 20mg | - |
| Creapure Creatine | 3000mg | - |
| L-Citrulline | 500mg | - |
| L-Arginine AAKG | 1000mg | - |
| BCAA 2:1:1 | 400mg | - |
| L-Glutamine | 2000mg | - |
Ingredients: Other ingredients: Flavour, Sweetener (Sucralose). Contains caffeine.
Allergen warning: BCAA contains traces of soy lecithin.