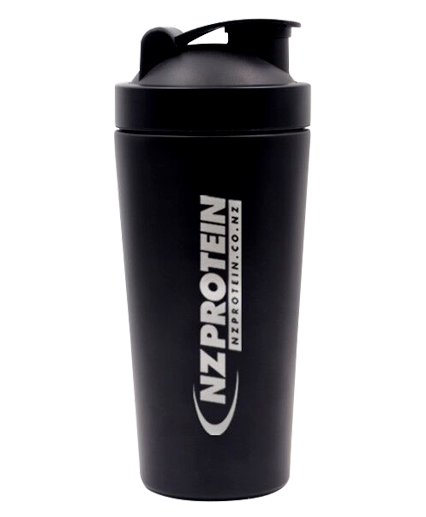 Stainless Steel Shaker
Sometimes You Need to Give Things a Good Shake.
Stainless Steel Shaker NZ
NZProtein's stainless steel shakers are built tough. With a rigid steel body, you can rest assured that if you need to toss your shaker across the room or stand on it that it'll hold up better than a plastic one.
They're slick looking too. Keep it on display and carry it around the gym with you because they look better than regular shakers.
They have a 750ml capacity so can shake pretty much any protein shake that you need to make.
These shakers are the business.
Benefits
Tough steel body
They look better than plastic shakers
Big 750ml capacity
Please note that due to this product being stainless steel, some black may peel off the body in some cases if placed in the dishwasher.
---
Rated
4.62
/
5
Based on
21
customer reviews.
Really simple to use and clean, does as product describes
Goes hard
Nice bottle - easy to use and like the stainless interior.
it's black and it shakes stuff - cool huh? until you find that a normal pot brush is a PITA to clean the bottom with and you need a good scrub on the lid too. I do find this nicer to drink from than a 'normal' shaker, however it still leaves quite a lot of leftovers at the bottom, requiring much tipping to get all that sustenance in.
Sleek looking sturdy bottle that is perfect for a clumsy idiot like me who always drops their bottle. Unfortunately the lid is made of plastic and not steel. Other than that it keeps the liquid nice and chilled and is decently easy to clean -- I find getting in between the 'blades' of the lid to be a tiny hassle.
Stainless shaker is perfect, delivery was hyper fast.
Would have been good to show a picture of the inside of the lid, because this is where the mixing blades are and It can get difficult to clean.
Absolutely love it! Great design & perfect functionality, easy to clean, highly recommended!
Have used this for a while, works well and has lasted. Hasn't leaked. Note that I haven't put it in the dishwasher for fear of peeling like in a previous review.
"you can rest assured that if you need to toss your shaker across the room or stand on it that it'll hold up better than a plastic one" lol
Sturdy, keeps drinks cold and doesn't start to smell like some plastic ones I've used. Don't think I can go back to plastic after stainless stee. No issues with damage as some people have said, but then again I haven't put in a dishwasher.
Great product. Would be better if it came with the mixing ball
Shakes well
Peeled as expected on the lid support but really unhappy that the actual shaker is peeling by just the second wash.
Works amazingly well for lump free protein shakes. Much bigger than I was expecting, probably should have got a mini!
Shipping is super fast! Product arrived next day. The shaker is ok, only the cup part is metal and it is single skinned so doesn't hold its temperature and condensates quite a lot if you put cold liquid inside.
Love the shaker, no lumps in the shakes and super strong yet lightweight shaker. Easy to clean.
Awesome shaker! Love that the lid is also the blender. The design is great—looks slick.
Ordered at 9.30am and was delivered before 2pm that same day. The quality seems fantastic and the shaker looks good as well. I have no idea why it has taken me so long to move to stainless steel shakers.
They are good Quality
Solid construction, easy to close or remove lid, and it has some propeller like vanes inside the lid that seem to help with shaking up protein drinks. Seems to be quite easy to mix a protein powder and remove all the lumps. Looks pretty cool in black too.
All good
Though I'd grab one just to see what they are like and I'm very impressed... great quality... keeps water just that little bit colder, just as I like it