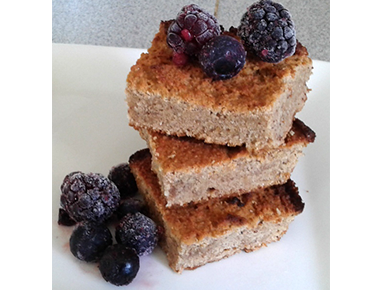 Ingredients
• 1/2 cup unsweetened applesauce
• 1/2 cup almond or cashew butter
• 1/4 cup coconut flour, sifted
• 1/4 cup NZProtein Whey or Casein in gourmet vanilla flavour
• 2 T maple syrup
• 1 teaspoon cinnamon
• ¼ teaspoon nutmeg
• Optional coconut palm sugar + cinnamon and nutmeg to top to form a small 'crust'
Instructions
Preheat the oven to 180 degrees.
In a large mixing bowl, combine all the ingredients and mix well with a spatular until a very thick batter is formed.
Spread the mixture into greased or silicone baking dish. The size does not matter just spread the mixture into a square shape until approx 2.5 to 3 cm thick and gently smooth the top. Bake in the oven for 20 - 30 minutes, or until the top is golden.
Remove from oven and allow to cool completely. Refrigerate for at least an hour before slicing.
Serve warm or cold with berries and unsweetened yoghurt. Store in the fridge.