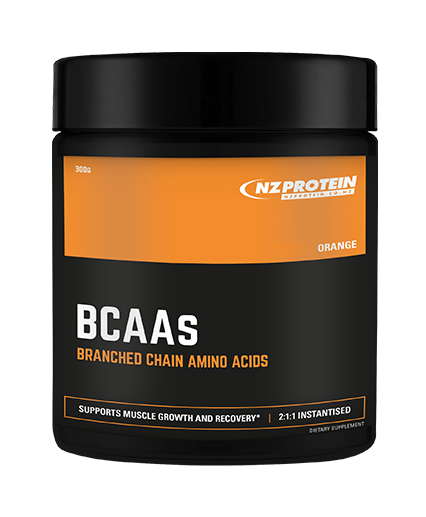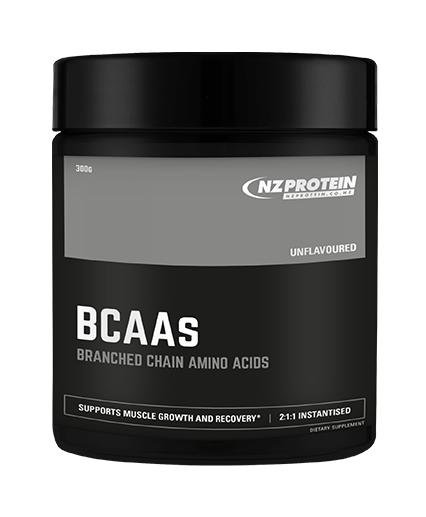 BCAAs 300g
Branched Chain Amino Acids are Essential Fuel For the Athlete.
BCAAs NZ
NZ Protein's Branched Chain Amino Acids (BCAAs) is a 2:1:1 blend of the amino acids L-Leucine, L-Isoleucine, and L-Valine respectively.
Amino acids are the building blocks of proteins and these three branched chain amino acids make up about 1/3 of amino acids present in our body. The body cannot produce them so they must be obtained from dietary consumption.
While other amino acids are metabolised in the liver, branched chain amino acids are metabolised in muscle.
BCAAs can be depleted from muscle under intense training or dieting, and a deficiency in any one of them may cause muscle loss (catabolism). Exercise can increase BCAA requirements.
This product is vegan - all amino acids are derived from plant source.
Branched chain amino acids may be beneficial for muscle gains and reducing muscle breakdown and soreness after intense exercise.
Branched Chain Amino Acid Benefits
Essential Fuel For the Athlete
Because branched chain amino acids are metabolised in skeletal muscle they may provide fuel (energy) for muscle during exercise.
BCAA supplementation may also fight fatigue during exercise too - BCAAs compete with tryptophan in the brain. Tryptophan is converted to serotonin in the brain, a chemical that can increase fatigue. During exercise BCAA levels reduce, which allows more tryptophan to enter into the brain.
This study from the Journal of Sports Medicine and Physical Fitness in 2011 found that BCAA supplementation provided energy and reduced fatigue by 17% compared to a placebo group.
Therefore, supplementation with BCAAs during prolonged exercise may help to provide more energy for muscle and fight fatigue.
Reduce Muscle Waste
Muscle proteins are constantly broken down and re-synthesised. The amount of protein in muscle is the net balance between the rate of breakdown vs re-synthesis. This is called the Net Muscle Protein Balance (NBAL). Muscle mass = protein synthesis - protein breakdown. Wasting of muscle occurs when muscle protein breakdown is higher than the re-synthesis.
This is especially the case when dieting as decreased energy intake can cause the body to use muscle to provide energy (catabolic).
Supplementing with branched chain acids during these times may help to slow or even prevent muscle waste by increasing protein synthesis and reducing breakdown.
Reduce Muscle Soreness
Some studies have found that BCAAs taken just prior, during, and/or immediately after exercise may reduce exercise induced muscle damage - also known as Delayed Onset Muscle Soreness (DOMS).
This is because branched chain amino acids can reduce the impact of the enzymes creatine kinase and lactate dehydrogenase after prolonged exercise. These enzymes are associated with muscle damage.
Therefore supplementing with BCAAs just prior, during, and/or immediately after prolonged exercise may assist with reducing damage in muscles and soreness. Results tend to vary with diet, gender, and level of physical activity.
Muscle Building
BCAAS have anabolic (growth promoting) effects in muscle as they stimulate muscle protein synthesis, and help again protein breakdown. This is especially for leucine, which is primarily involved in muscle protein synthesis for muscle growth and recovery. Studies have shown leucine to be the most anabolic (growth promoting) amino acid for muscle growth and recovery.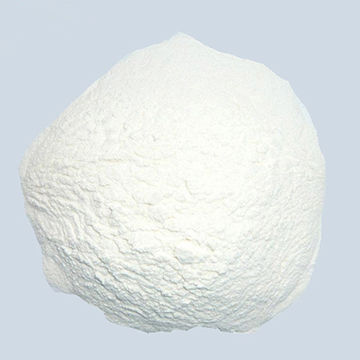 When Should I take BCAA?
Protein powders already contain naturally occurring branched chain amino acids. Whey protein in particular has high BCAA content, so when can taking a BCAA supplement help (if at all)?
BCAA supplements are free form amino acid powders - in other words, they get absorbed by the body without having to be digested first. Protein powder, on the other hand, must be digested first for the amino acids to be absorbed. They should not replace protein powder, as protein powders generally contain all of the essential and non-essential amino acids needed for growth and development. Rather, because BCAA supplements are much faster acting, they may help to maximise recovery and protein sythesis after prolonged exercise.
If your protein intake is not high enough, or if on a calorie restricted diet especially, then supplementation with BCAA may assist against muscle protein breakdown.
Branched Chain Amino Acid Foods
Food sources of each BCAA includes:
Leucine - red meat, chicken, pork (pork has the ideal ratio of BCAAs), nuts and seeds, soy.
Isoleucine - meats, eggs, fish, cheese, nuts and seeds, seaweed.
Valine - soy, cheese, fish, meats, vegetables.
BCAA Side Effects
BCAAs are generally well tolerated without side effects for most people. Those with Amyotrophic Lateral Sclerosis (ALS) or maple syrup urine disease should not take BCAAs.
BCAA toxicity is nearly impossible and total dosages of 15-35 grams per day (including foods) seem generally safe.
For its potential anti-catabolic benefits during intense training or when dieting, take one serving immediately before, during, or after exercise and possibly one other serving while fasting (ie before bed or in the morning on an empty stomach).
Directions
Mix one scoop (~5g) in 250-500ml of water or other beverage, or use as directed.
BCAA Ice-Blocks
With warmer weather fast approaching why not get a bit creative with your supps. BCAA ice blocks. Simple, delicious and good for the gains.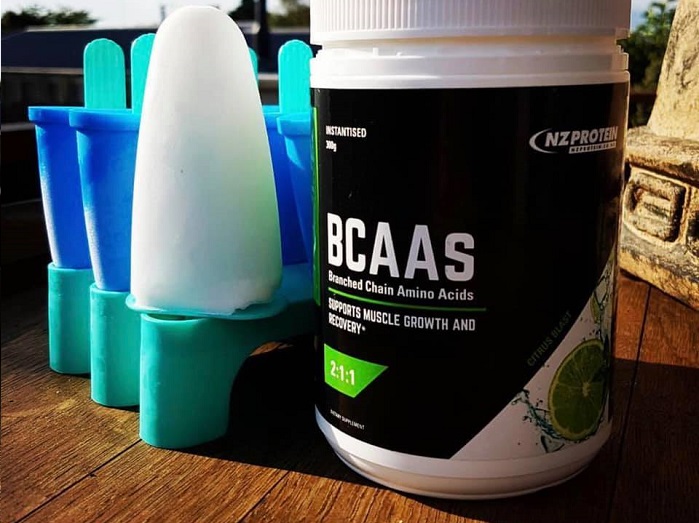 Verdict
Branched chain amino acids may be beneficial for muscle gains and reducing muscle breakdown and soreness after intense exercise.
BCAAs are found naturally occuring in protein foods and there are conflicting studies on their benefits but exercise can increase BCAA requirements. BCAAs can be depleted from muscle under intense training or dieting, and a deficiency in any one of them may cause muscle loss (catabolism).
BCAA supplements are free form amino acids meaning they don't need to be digested and are absorbed very rapidly - and much faster than with protein powders, so may be beneficial to have immediately before, during, or immediately after prolonged exercise for maximum gains.
Please note that this product is processed in a facility that also handles milk, egg, soy, peanut, and gluten ingredients.
---
Rated
4.66
/
5
Based on
136
customer reviews.
Love the fact that I can buy unflavoured bcaas. I dilute in a full water bottle and find that though there is a slightly unpleasant aftertaste it's no worse than flavored varieties.
Mixes well, I have this in a litre of water and drink throughout my workout - flavour is a bit plain but it could be because I dilute it too much.
delivered super fast
I'm sure it does what it needs to but I got the flavourless version because I wanted to put it in my protein shake. It tastes horrible lol. I even tried to just 'shot' it after I blended it into about 100mls of water, almost vomited. Its so nasty. My husband uses it in his protein shake and just puts up with it but definitely going to be getting the capsules or the flavoured one in the future :)
This stuff doesn't like to mix. A teaspoon straight in the mouth with a gulp of water works.

I added it to my post workout supplement so can't say if it does much on its own.
Orange flavour is ok, peach tastes better
Always prompt Delivery of Product. Find BCAA helps with Recovery and been 50yrs need all that goodness. Ova
I add the powder to my water bottle, shake it well & sip throughout my workout. Orange flavour is yum & helps to relieve muscle tension post strength training.
Great product not much of a fan of the pineapple flavour but will definitely try another one
Great product
First time trying BCAAs from nz proten and it did not disappoint, good value for money and the peach flavor is amazing, will definitely be buying more
great taste and no ugly after taste. mixer easy as instructed and helps with recovery
These are a game changer! I can't believe I never used these before. I'm a 50 year old woman and need to push hard to build and keep lean muscle mass. Since I stopped using whey protein powder, I was looking for something to supplement the faba bean powder leucine levels. When I drink these, my brain feels clearer and sharper, I have more energy and they taste delicious. I use these before and after training and already seeing positive changes in my physique - I'm actually getting leaner while in peri-menopause! It IS possible ladies! Lift heavy shit, ditch the steady state cardio with SIT and get your leucine (and lots of real food too of course!)
The peach flavour tastes amazing! Will definitely be buying again
Ordered the lime by accident (I normally hate lime but figured I'd just suck it up and finish it then order my normal again) but best mistake I ever made! Tastes fantastic! Kind of reminds me of Mountain Dew? (Or something similar) anyway new favourite for sure!!
Bloody beautiful. Mixes well, tastes great & very economical. Will be getting more soon. Can't wait for more flavours to come out. NZPROTEIN REPLY: (new orange flavour).
Disappointing to say the least given the peach flavour was really good.
Also leaves a bad taste in drink bottles. NZPROTEIN REPLY: we are sorry you didn't like the lime flavour :(
Peach flavor has an awesome taste, lime flavor not so much. Bad thing about putting this in any drink bottle, is it leaves a bad taste in your drink bottle that doesn't seem to disappear with washing.
Tastes great, mixes in well, easy to drink, and I guess it works. Certainly I've noticed less sore muscles after long training sessions leading to faster recovery.
Love this product and the taste. I drink more water because of it.
Got the new orange flavour from your recommendation and holy moly this is the best ever. Well done
Yummy!!! I add it to my 2L water bottle for the day. It makes getting enough fluids really easy.
Well done team. The new orange is amazing
Loved the BCAA's, got it I'm grape flavour and it tastes delicious not only that I can see a major difference in my muscle growth after starting to take the BCAA powder
Honestly, undrinkable. I love all nz protein products but this I just could not stomach. It's extremely grainy and chemical tasting. Sorry.
Great taste and flavor. Drinking this daily supports my fasting keeps me hydrated and supports my recovery I have found I don't get lactic acid build-up.
Seems great, helping with recovery and prevention of dehydration which i struggled with.
Awesome product. Timely shipping. Have been using their products for nearly 5 years now.
I get the feijoa flavor and I find this one is less sweet than the other popular amino supplements on the market. Great value in terms of amino content; NZprotein isn't packing in any other bits like caffeine and electrolytes so percentage wise you get more out of a couple scoops of the supplement. Price per gram is very competitive as well. Quick and free domestic shipping, any questions are always answered very quickly!
Has a horrible chemical smell to it and the taste is very similar. Can't drink it. NZPROTEIN REPLY: it's a natural flavour which we import from the UK as it's the best we had found, sorry you don't like it.
enjoying the feijoa flavour
Tasty and I have definitely noticed improvement in muscle soreness after workouts
Great taste - from a great company!
Best value, best BCAA ratio and best taste.
Good product great flavours
Been using for about 2 weeks now & certainly helping my mature 😉 body out.
Wouldn't say Tangy orange more bitter but now use to the taste.
I enjoy this product when I'm in the gym. Good taste and value ++
I really like the new grape flavour! Tastes like those aloe vera drinks. Goes great with the L-carnitine supplement too.
Taste horrible ( I have citrus flavour), also didn't notice any change after taking it, waste of money
Loving the new grape flavored BCAAs! Super tasty and easy to use.
Good clean taste and priced better than others I've tried before. Not sickly sweet. Orange my favourite so far
なんだよ?taste like medicine
Fast efficient service. Love the product not to sweet, good value for money.
Didn't like the grape flavour. To be fair it's not terrible but I was hoping it would taste like the brand "crystal light" that I used to drink a lot when I lived in the usa.
Fejioa flavour is great.
Better tasting than other bcaa supplements I have tried, seems to work well as a pre-workout and at night as a muscle recovery aid.
Flavour's good, but 1scoop's volume is much low. Need more volume of the powder so that it will taste better with 800ml of water. NZPROTEIN REPLY: we have new flavours coming and they're formulated to put in a whole drink bottle
I take pre and post work out with whey and l-glutamine to help reduce muscle soreness. I definitely couldn'tt train as hard without it. Powder mixes really easy and, for me, no unpleasant after taste(natural flavor). NZ Protein communicate and ship ultra quick
Great products, prices and exceptional speed of delivery. Highly recommend!
I'd read that BCAA helps prevent delayed onset muscle soreness (DOMS) which I have suffered from a lot. It worked much better than I could have hoped for. The effect was almost immediate. Can't recommend this powder highly enough.
Tastes pretty good too (Citrus Blast flavour)
Tastes good and mixes well
Delicious BCAAS, fejioa flavour is just like the fruit
good flavor, no issues with clumping, easy to use, no side effects that I have had with other brands. Good effect on my training
Really flavoursome - love the feijoa flavour!
Really yummy flavor - Tangy Orange.
Good size container, BCAAs seem to be working.
Great product fast delivery
Good product. Dissolves well. Still has that slight BCAA taste that haunts me from worse products, but drinkable daily instead and without as much crap as the ones where you can't taste anything but 'blue raspberry'!
Mixes well, tastes good
The citrus flavour is waaaay better than the feijoa. I wasn't really sure if this helped much, but after forgetting to take it during 1 workout after months of consistent use, I was WAY more sore the next day than I usually would be. Such good value for money and I also love that it's not too sweet and pumped full of artificial colours.
I can't believe how much my after workout aches are reduced with taking this! Amazing. My only disappointment was to find it had artificial sweetener in it. So sad it's not sweetened with stevia or erythritol when we're trying to be healthy.
Great taste. Excellent value.
Selected the Tangy Orange, love it.
Mixes well, excellent product and service. Thankyou.
Great product!
Love this flavour
Best BCAAs
I was a little sad when the Citrus Blast sold out because that flavor is 😜
But my god, the Tangy Orange is pretty damn good.
Had great results with nzprotein BCAA in the past and it's helping me with new goals. Tastes great, mixes well and has the right balance of bcaas that you want. Great price. Really nothing negative.
Great Product
I find it so hard to find good flavoured BCAA's but this one is so good and refreshing! I wanted to try the tropical flavour but it was out of stock, so I went with the citrus. Will try tropical next time :)
I was very unsure if I need BCAA. I workout 6 days a week (combo of HIIT with weights) and my calorie intake is around 1200-1400kcal. I get sore sometimes after heavy workouts. I started to take the BCAA after workout. Not a huge fan of the Feijoa flavour, so I only add 200ml of water. And WOW! My body is recovering so well and I am not sore next day. Def recommend it to anyone who is challenging their bodies on different levels.
Great product and great taste
Great product !!
Really easy to drink, dissolves completely in water and has no funny aftertaste. Feijoa flavour is really realistic and doesn't taste synthetic at all. I feel like this really helps me prolong my workouts and I'm not as sore the next day. Great product!
Both flavours are amazing, super fresh, dissolves really well.
Easy to drink, not too sweet but the watermelon is so delicious!
Got feijioa flavour excellent flavour was happliy surprised that it really tastes like feijioa... looking forward to trying the other flavors.
Delicious! Almost didn't get it as someone left a comment saying it leaves a funny after taste but I disagree. If you love feijoa you'll love this! Highly recommend
Amazing!!
Yum, Tastes Good.
Easy to drink. Very economical too
Super fast delivery thanks
Tangy orange is definitely my favourite flavour, so so good!!!
Amazing taste
5 stars
Awesome. Affordable
Mixes well, is comparable to other brands. Not keen on the feijoa flavour, citrus is ok but will be buying tangy orange. Hint.hint
Love these bcaa's. Always adding to my water. Mix well, great taste
Ordered the watermelon flavor based on the reviews but not a fan of it. It has a weird after taste to it. Should possibly try another flavor next time. Any recommendations on flavor would be helpful
I'm a newbie to NZ Protein. Super impressed with my first experience. Great website, easy to navigate, good info on products. Good info on serving size and servings per pack which is often missing from other sites. Order arrived quick smart.
BCAA Watermelon - yummy flavor, mixes well.
Tastes great and quick to arrive
Great product love using it
An enjoyable BCAA - I got mine in Citrus as the Feijoa was sold out. Not too sweet and easy to drink!
I just love this product. I am on to my fourth or fifth one now. Never get sick of the taste.
Great feijoa flavor
Love the watermelon...not too sweet and mixes well
I definitely noticed the difference when I was training, my body wasn?t as sore as it usually is after taking this BCAA. There is a strange & not very nice after taste though, that?s probably my only thing I don?t like about it
Love this stuff!! Great taste and mixes well. Huge amount of serves in tub too! Does the job well and an awesome price - highly recommend!
Very high quality compared to other brands and excellent priced.
Mixes well, tastes good, seems to do the job.
Great product and price but flavours are limited and often out of stock. Also would be great to see larger packs so I don't have to throw out yet another plastic container every few weeks.
Tastes great and serves my purpose perfectly
Love this product, great taste mixes well, fantastic flavor
Like that it mixes easily and it's a great price
Very fast shipping and citrus taste is really good. Very citrusy flavour
Amazing product
Tastes great and not real sweet which i like. Probably prefer the orange over the citrus flavour
Love this product. Very clean, great flavor
So far I've had watermelon and fejoa, and both are amazing. They're clean, easy to drink and not too sweet or artificial! Highly recommend
Love the feijoa, it actually tastes like feijoa and mixes really well. I also got the unflavoured and mix it in my post workout smoothie, again it mixes well and wouldn't even know it's in there.
Got myself the feijoa flavour and it tastes amazing!! Literally tastes like the fruit! Mixes extremely well and doesn't have an obnoxious colour like some of the other BCAA's I've tried in the past. Very highly recommend!
Half the price and twice the taste of the imported big brands. Another A+++
Bought the Citrus flavour and loved it. Great product, cheap and effective.
A curious taste, not too dissimilar to the after taste left in my mouth when our dog farts within the confines of our car. Definitely one to avoid.
The feijoa bcaa actually tastes like feijoa. Delicious. Wouldn't use more than 300mL of water though or else the flavour would become too subtle and diluted.
Best BCAAs ive tried not sickly sweet like most, nice and fresh (citrus flavour)
I'm sure it's a great product, and delivery was fantastically quick but I was rather disappointed that there was no scoop, meaning I have to find an old one that measures up to the right serving.
Bought both the citrus blast and tangy orange bcaa's, they both mix really well and taste amazing! The citrus blast is a bit sweeter than tangy orange but still both are awesome products. Keep the new flavours coming nz protein I can't wait to try them all :)
Fantastic product! Mixes really easy into water, don't even need a shaker, just dump into your workout drink bottle. Definitely wake up less sore after workouts so must be doing it's job!
Love this product. Fantastic price and the texture is great, can't even tell I've added it into my shakes. Keep it up NZprotein!
Bought unflavoured and it mixes really well with post workout shakes, can't taste it's even there. Would buy again
Great product. Good price and good taste. I have Citrus. Love it, as it's not sickly sweet.
Great taste especially lime, will be buying more.
Great bang for buck, less than half the price of other bcca's. Tastes great also!
Best bcaa's I've had! Blends easily just by shaking, love how the flavoured ones are clear too so it just looks like water! Definitely recommend this product!
Amazing product!!! Mixes extremely well and is delicious! Definitely recommend trying this!
I have used many BCAAs before and this is by far the best! Easy mix and tastes great! And super fast shipping
Great product. Mixes well tastes great. Awesome service
Great taste, mix perfectly. Product is the same as all the over priced one. Definitely a winner!
5 stars because the product tastes and mixes fantastic, and the service is A+. Dave and the team were very helpful and the order was dispatched straight away.
These are really good!!! (Joe)
Flavour's nice and there's no colour so I don't feel like a douchebag in my water bottle (Nicholas W)
The lime bcaa are superb. Thanks guys. (Vaneet)
Very nice flavour, not sour at all. 5/5 because i paid and it arrived within in 2 hours, i may have just been lucky but 2 HOURS.
Awesome product used twice a day and noticed huge gains, value for money awesome
Good value. Worth noting this is unflavored (doesn't seem to say in the product listing) - so you definitely need to mix it with something to make it palatable.
Cheap, effective and worth your money. Very easy to contact and fast delivery, if you're looking to invest in a BCAA, look no further.
Fantastic product , great value , taste and mixes well. Service is always fast, the product is great and the prices are unbeatable!
Good value, recommended
Click on a flavour to see the nutritional information.
Serving size: 5g (one scoop)
Servings per pack: 60
| Name | Ave Quantity Per Serving | Ave Quantity Per 100g |
| --- | --- | --- |
| L-Leucine | 2.5g | 50g |
| L-Isoleucine | 1.25g | 25g |
| L-Valine | 1.25g | 25g |
Ingredients: Amino Acid Blend (L-Leucine, L-Isoleucine, L-Valine, Soy Lecithin E322).
Allergen warning: Contains soy lecithin.
Serving Size: 5.75g
Servings per pack: 52
| Name | Ave Quantity Per Serving | Ave Quantity Per 100g |
| --- | --- | --- |
| Energy | <10kJ | 124kJ |
| Calories | 2 | 30 |
| Protein | 0g | 0g |
| - Gluten | 0g | 0g |
| Fat - total | <0.1g | 0.5g |
| - Saturated | <0.1g | 0.1g |
| Carbohydrate | 0.3g | 5.8g |
| - Sugars | <0.1g | 0.4g |
| Sodium | <5mg | <10mg |
| L-Leucine | 2.5g | - |
| L-Isoleucine | 1.25g | - |
| Valine | 1.25g | - |
Ingredients: Amino Acid Blend (L-Leucine, L-Isoleucine, L-Valine, Soy Lecithin), Natural Flavours, Citric Acid, Natural Colour (B-Carotene, Beetroot Powder), Sweetener (Sucralose).
Contains soy lecithin.
Serving size: 5.75g (1 scoop)
Servings per pack: 52
| Name | Ave Quantity Per Serving | Ave Quantity Per 100g |
| --- | --- | --- |
| Energy | 10kJ | 180kJ |
| Calories | 2 | 30 |
| Protein | 0g | 0g |
| - Gluten | 0g | 0g |
| Fat - total | <0.1g | 0.4g |
| - Saturated | <0.1g | 0.1g |
| Carbohydrate | 0.5g | 0.8g |
| - Sugars | <0.1g | 0.8g |
| Sodium | <5mg | <10mg |
| L-Leucine | 2.5g | 43.5g |
| L-Isoleucine | 1.25g | 21.75g |
| L-Valine | 1.25g | 21.75g |
Ingredients: Amino Acid Blend (L-Leucine, L-Isoleucine, L-Valine, Soy Lecithin), Flavours, Citric Acid, Natural Colour (B-Carotene), Sweetener (Sucralose).
Contains soy (lecithin).