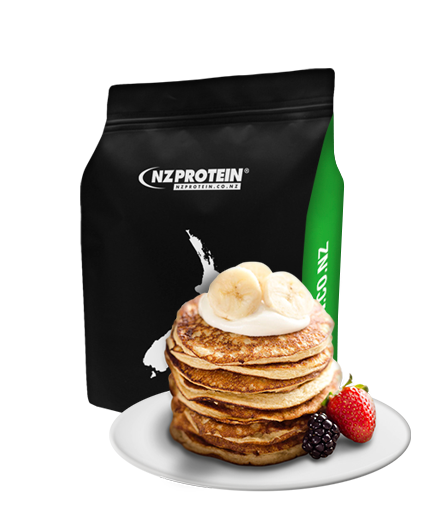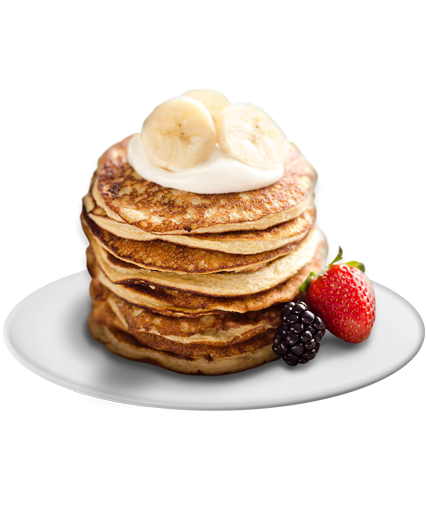 Protein Pancake Mix 500g
Can Also Make Protein Balls, Bars, Cookies and Waffles.
New and Improved - More Protein and Easier to Make.
Improved Recipe
Our protein pancakes are now better than ever. We've improved the recipe in the following ways -
Protein is up! It's increased from 8.8g per pancake to 9.9g per pancake.
Carbs are down to just 10.2g per pancake. Over 20% of this is also dietary fibre too!
Some people told us that the pancakes stuck to their pans so we've reformulated the recipe and made them less sticky. We still recommend a non stick pan but they're better than before!
We've also changed the packaging. Previously this product was sold in a box with an inner bag but now we're just putting it in a ziplock pack to save on waste.
Protein Pancakes NZ
NZ Protein's Pancake Mix is great tasting, quick and ridiculously easy!
Its blend of slower release proteins (micellar casein and egg white) and low Glycemic Index (GI) carbohydrates provide a sustained energy release to help fuel you throughout the day. With nearly 10 grams of protein per pancake they're a great protein food to have at breakfast - or any time really because they're pretty guilt free!
They won't dry out either. We've used ingredients that bake well - casein and egg white don't tend to dry out like whey does when cooked, as with the combination of coconut flour and oat flour.
Our protein pancake mix is super economical too. At just $0.85 per pancake we're pretty confident that we've got the cheapest protein pancake mix in New Zealand. At this price why muck around getting all the ingredients, measuring them out and trying to get it right when we already have?!
It can also be used to make crepes or waffles!
Makes 20 protein pancakes
High protein - each pancake has ~9.9g of protein
Low GI formula - oats and coconut flour
Super economical - only $0.85 per pancake
Easy - just add water or liquid egg whites, mix and cook!
Can also make crepes or waffles
Low sodium - only 64mg per pancake
Pancakes can even be chilled or frozen
Pancake Mix - Just Four Steps!
1. To make one medium sized pancake get 1x packed level scoop of our pancake mix.

2. Add to 50ml of water or your preferred milk. TIP - the water can be replaced with 50ml of liquid egg whites for a higher protein hit.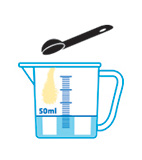 3. Mix gently in a bowl with a spoon until there is a smooth consistency.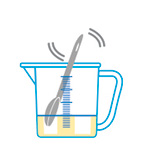 4. Add to a non-stick, medium-heat pan and cook until able to be flipped. Cook on each side.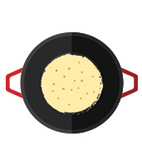 Recipes
Please note that this product is processed in a facility that also handles soy, peanut, and gluten ingredients.
---
Rated
4.81
/
5
Based on
26
customer reviews.
I love these pancakes they are fluffy and tastes great. Good ingredients.
Great product
Tasted great. first one didn't stick. second one did, so I guess more butter is needed each time
So easy and delishious. Highly recommend.
Absolutely love this product. Have tried many of the protein pancake mixes on the market and this is by far the best. Easy to mix, lump free and taste and texture divine.
Really nice and easy to make
Great product. Love the taste and texture of this pancake. It's so quick and easy to make. I would recommend it.
Delicious! My new fav pancake. Goes well with the low calorie maple syrup!! Mixes up easy and a good breakfast treat!
Really yum and filling and tastes really good too!
Love these pancakes. Only just got them recently. Easy to make and so quick, they taste so good and I find easy to get that protein intake as well. It helps having a good pan to cook them as well. I get at least 3 decent size out of 1 scoop
🙌🙌🙌
Nice mixture easy to make and healthy...
Tried a few different brands of protein pancakes now, keep coming back to these though! They taste so good. A lot less hassle using an included scoop than having to measure each time too.
I like to use the mix to make a microwave mug cake - 2 scoops as directed and a minute in the microwave makes a great breakfast or snack on the go. Flavour and consistency are great.
I wasn't expecting much and was very surprised. Great texture, nice and fluffy with good macros. Thank you
My absolute favourite! I could have these pancakes for breakfast, lunch and dinner every day!
Very tasty and easy to make
Love Protein pancakes nix. It's so filling, delicious and so easy to use.
For a exrtra boost I add about two tsps of whey power ( flavoured or plain ).
Hint do not add more water than stated or there will be a big mess and no pankcakes
It's alright
Not the biggest fan - I've had the Flapjacked ones before and their mixture held together way better in the pan, when I made these ones they just fell apart :(
Fantastic product! High protein and great taste. Easy to make, never fail and can be sweet or savory.
These are great! I have them all the time for breakfast. Recommended because they don't dry out
Dave recommended this product and he was right on! Thank you for creating a great product.
The pancake mix is a winner! So easy to mix with water or milk and it tastes delicious! Will buy more again.
Wow made these last night and had them for breakfast this morning with berries! they were yum - will be having these again for sure.
Very nice!!!
These are so easy to make and moist (not dry even in the slightest) - very impressed guys, a regular for my mornings! (Ben)
Serving size: 25g (one medium sized pancake)
Servings per pack: 20
| Name | Ave Quantity Per Serving | Ave Quantity Per 100g |
| --- | --- | --- |
| Energy | 375kJ | 1502kJ |
| Calories | 90 | 359 |
| Protein | 9.9g | 39.5g |
| Fat - total | 1.2g | 4.6g |
| - Saturated | 0.5g | 2.1g |
| Carbohydrate | 10.2g | 40.6g |
| - Sugars | 1.6g | 6.6g |
| - Fibre | 2.2g | 8.9g |
| Sodium | 64mg | 250mg |
Ingredients: Oat Flour, New Zealand Micellar Casein, Coconut Flour, Egg White Protein Powder, Baking Powder, Flavour, Sweetener (Sucralose)
Contains milk and egg. Oat flour may contain gluten.