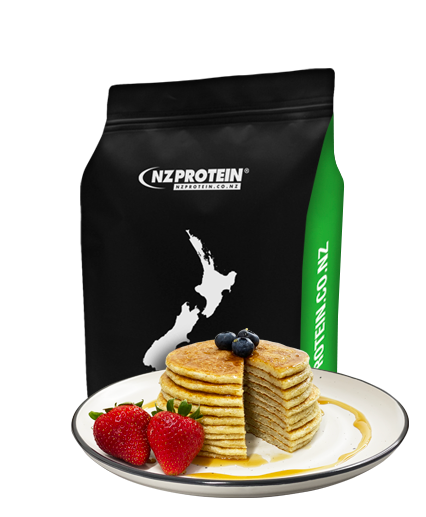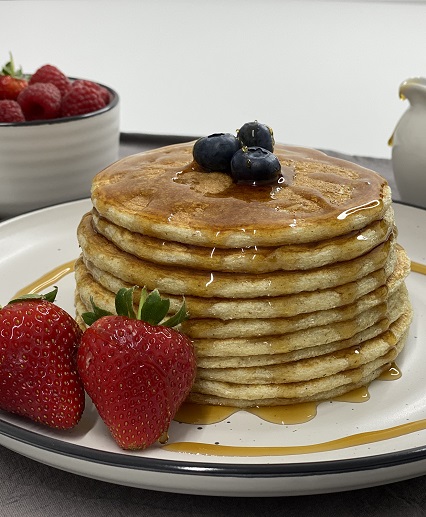 Protein Pancake Mix 500g
Can Also Make Protein Balls, Bars, Cookies and Waffles.
Protein Pancakes NZ
NZ Protein's Pancake Mix is great tasting, quick and ridiculously easy!
Its blend of slower release proteins (micellar casein and egg white) and low Glycemic Index (GI) carbohydrates provide a sustained energy release to help fuel you throughout the day. With nearly 10 grams of protein per pancake they're a great protein food to have at breakfast - or any time really because they're pretty guilt free!
They won't dry out either. We've used ingredients that bake well - casein and egg white don't tend to dry out like whey does when cooked, as with the combination of coconut flour and oat flour.
Our protein pancake mix is super economical too. At just $1 per pancake we're pretty confident that we've got the cheapest protein pancake mix in New Zealand. At this price why muck around getting all the ingredients, measuring them out and trying to get it right when we already have?!
It can also be used to make crepes, waffles, bars and cookies!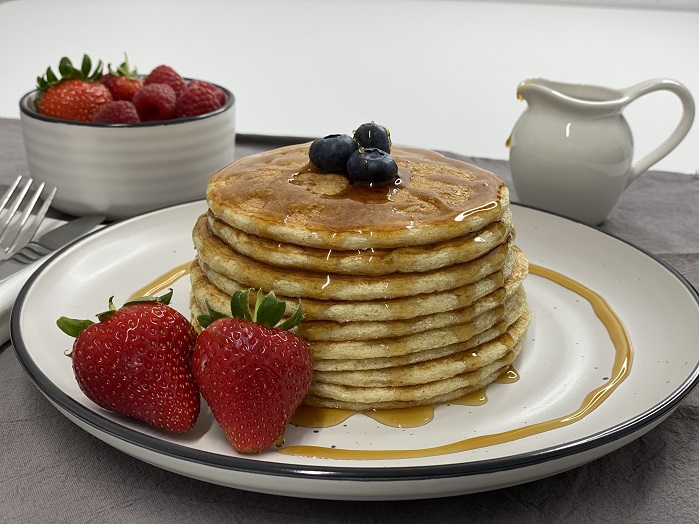 Makes 20 protein pancakes
High protein - each pancake has ~9.9g of protein
Low GI formula - oats and coconut flour
Super economical - only $1 per pancake
Easy - just add water or liquid egg whites, mix and cook!
Can also make crepes, waffles, bars and cookies
Low sodium - only 64mg per pancake
Pancakes can even be chilled or frozen
Pancake Mix - Just Four Steps!
1. To make one medium sized pancake get 1x packed level scoop of our pancake mix.

2. Add to 50ml of water or your preferred milk. TIP - the water can be replaced with 50ml of liquid egg whites for a higher protein hit.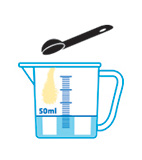 3. Mix gently in a bowl with a spoon until there is a smooth consistency.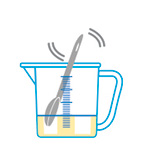 4. Add to a non-stick, medium-heat pan and cook until able to be flipped. Cook on each side.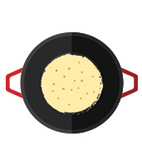 Recipes
Please note that this product is processed in a facility that also handles soy, peanut, and gluten ingredients.
---
Rated
4.71
/
5
Based on
113
customer reviews.
This pancake mix is delicious with other protein foods i.e. protein marshmellows + protein ice cream or mousse.

Add some freshly sliced fruit like bananas or golden kiwifruit and you have the makings of a delectable treat.

Filling and nutritious, a winner in our household
Super fast shipping and the chocolate moose and caramel sauce are to delish!!
Love this! An easy breakfast, I add banana and a bit of extra protein powder and it's delicious and filling!
Not a fan, very bland and falls apart when cooking.
The best protein pancakes I've ever had.
I don't eat pancakes usually but these are a enjoyable treat when I feel like something sweet for a snack or breakfast.
I love the pancakes and they even make good wraps too
These pancakes taste delicious, the texture is awesome. My only issues with them is the sucralose as a sweetener - not healthy for you. Would be amazing if these were made without that. But otherwise, these are such a treat.
Best tasting protein pancakes I've tried so far. Just wish they didn't have sweetener in them
loved it............ really nice texture and taste.. .. i use them as a sandwich, so I make a double scoop batch....
Been using this mix now for around 3 months and I can't speak more highly about it. I've used it to make Protein Muffins, Cookies and now the Pancakes themselves (which I wish I did sooner). The mix is perfect, the bag seals back up perfectly and I'm getting the protein in that I need. I've got a few of my friends to try it and they have also been amazed. Will continue to purchase on a monthly basis.
I use this as a mug cake with sugar free maple syrup. It's quick and awesome
These taste awesome and overall I'm very happy with them. Only issue is the mixture is a little bit difficult to make perfect pancakes with - falls apart a little bit. But no biggie.
Great product fast delivery too which is even better
yummy!
Nice
This product is so easy to use you just add water or milk and I add a few drops of vanilla extract and make into crapes so yummy.
These are tasty and easy to make if you just need to upt your protein intake and are eating the same old things again and again. I made mine with water and they have a great consitency and flavour.
I love these with egg whites as the liquid. Topped with Greek yoghurt and some berries and I have a delicious breakfast. Recently discovered I can make them in a sandwich press which has been a gamechanger and means I can make them at work and be the envy of the lunchroom.
Was Great thanks and yummy
Great tasting but sometimes hard to get texture correct. !
Good way to either have breakfast or snack with good protein. Mix does take a little long to cook. Definitely stick to quantities, otherwise mix does not work well. Would be great to purchase in bigger pack.
Best on the market!
very impressed with the quick delivery with this product (only ordered yesterday) - makes smooth pancakes.
Pancake mix is absolutely awesome. Great way if getting in some extra protein while enjoying a delicious breakfast. Mix well. Cook well and taste great.
Amazing pancake mix. Texture turns out better with water instead of milk.
Excellent product. Makes smooth pancakes that taste great. Also used it in the waffle maker with great results.
Absolutely love your pancakes cooked with butter 😋😋😋
So light so fluffy so delicious especially with the caramel sauce and berries - highly recommend!
Definitely the best protein pancake mix I have tried. I need two though and don't go past the maple syrup!!!! Really easy to make and they turn out perfect every time.
I look forward to this twice a week as a breakfast treat. So yummy fried in butter, no topping just pure delish on its own ❤️
Great option for a quick breakfast or snack. I have been adding vanilla and cinnamon along with almond mix. I find them a little difficult to flip over when they are large so I make smaller ones. I'd give it a 5 if I could get them to look like the pic.
great taste and high protein content at a great price. you'll need to whisk it quickly and pour it in the pan asap else it solidifies pretty quickly. nothin major, just need to add more milk/water and whisk again.

Pro tip: must mix blueberries in before whisking.
Love this! So easy to use, I use it for mini waffles - delicious and easy
Delicious, easy to cook. Gotta be quick to get them into the pan before it gets too thick, but that's coconut flour for you.
Best protein pancake mix I've tried and suitable for bariatric patients
Marshmallows are tasty but the xylitol can give you a tummy ache even with a small portion
Great nutritional profile. Tastes great, now a staple every weekend. Try with some blueberries added in!!
So so yum!!!!!!
My favourite go-to office lunch.

Was previously making protein pancakes from scratch, but by the time I had everything ready to cook, my break was almost over. I've found this is the easiest way to make protein pancakes, without sacrificing flavour.

I use a protein shaker to measure out my milk, mix in a bowl and use the sandwich press to cook. Too easy! Cooking kudos from colleagues is an added bonus.
Best of all the protein pancakes I've tried and great for bariatric patients 👍
Love love love this product. I make with calci trim milk and simply serve with butter. So yummy 🤤🤤🤤🤤
Tastes great, easy to make. I think they're better if the mixture isn't spread too thin in the pan.
Love this pancake mix! Really delicious, especially with some frozen berries and protein yogurt! Already onto my third pack!
Fluffy without egg whites very yummy
Not only is their mixes tasty and delish they get it out for delivery so fast that I have the products in no time ☺️
I absolutely love the pancake mix. Tastes devine, good protein hit to start the day
Tasty and easy
Love the pancakes! Delish ☺️
So yum!
Great products
Great mix! best with egg whites as it holds its texture a bit more & it's an extra protein hit. Love it for my brekky on weekends. Have also used the mix to make microwave pancakes in a mug when I'm feeling lazy… great for a quick & healthy dessert!
Need more liquid than what is recommended to get the right consistency
Really nice taste and nutrition profile. Personally I find that milk instead of water and adding a whole egg is a fantastic way to have these if you like it a bit less dense. Loving your range, cheers team.
Very flat and difficult to make without breaking the pancake
So yum ad so easy to whip up! I use egg whites instead of water to get protein up and tastes just as good. recommend!
Soooo good. Taste is amazing so easy to make and fills you up pretty easy.

Thanks a lot nz protein
Fantastic tasting and super easy to mix. I can't rate this product enough.
Love this mix, blends well and great tasting. Usually throw in some PB powder with it. Will def be ordering more
Probably the best protein pancake mix I've bought. Taste great
Love theses protein pancakes. Need to make sure you use exact measurements and I mix at least five minutes before cooking so they keep their shape while cooking.
Great taste and really easy to add other things to it such as berries
DELICIOUS! - I mix this with the mug cake for chocolate pancakes and they are the business! Best baught protein pancakes I have had by miles :)
Took a bit of experimentation with different liquids and how much to spread out the mixture in the pan, but once you find your preference, this is great!
I ordered this (and the mug cake) at 11:08am on a Monday... It was packed and dispatched less than 2 hours later! And it arrived the next day. Really impressed. The pancake mix comes with a scooper inside and it's simple to follow the cooking instructions. I've been using MyFitnessPal and a single serving (1 pancake) is equal to 377KJ so it's super easy to fit within a caloric deficit.
It also tastes really good :) 5/5
These are the boom so enjoy these protein packed pancake for a change up in my breakfast work really well for me since i have had weight loss surgery
Love the pancake mix. Taste so good
great product, easy to make, great flavor.
Ok so while I didn't have low expectations, I didn't expect to be this blown away. These are seriously , soooo good. Mixes really easily, let it settle a minute and cook away on medium. Better than any other premix and I'm considering never making my own again and just having these!
Very easy to make, and great flavour.
So quick and easy to make in the morning and when in a rush. Delicious taste and texture. Also delivery on all products is insanely fast, I ordered and received in the same day
Purchased pancake mix and a brownie. As usual yummy, good value and fast service. Highly recommend anything from nz protein.
Really yum have tried it with lite blue milk and they've turned out really well yet to try them with egg whites. Recommend topping with their low calorie fibre syrup!
Easy to make, a little bland in flavour but easy fixed with a little vanilla.
Awesome pancake mix, tastes devine.
Love this product. I use it for Waffles and just add 1 table spoon of olive oil for each scoop of pancake mix to give it that extra crispness. Not 100% like your cafe served waffle, more like a half pancake, half waffle step-brother, but still really good with real maple syrup, blueberries and whipped cream
Love this pancake mix. Easy and convenient and tastes great paired with sugar free maple syrup. I am a bariatric patient and this is a great protein alternative for me instead of eating eggs all the time. I also love the fact that the instructions are suited to make one pancake as that is all I can eat at the time. Another awesome product from NZ protein.
Best pancake mix I've had so far, not grainy like others.
Great protein pancakes with a spongey texture, even when made with egg whites instead of water. I prefer this mix over FlapJacked!
Love these - cook beautifully and taste amazing !
very tasty I had to add a bit more water than suggested.
Tastes great, instructions are a bit off in my opinion and could use a fair bit more water / egg white to get a decent pancake than is suggested.
Easy to mix and tastes good. I added slightly more water to it though, other than that it was great.
I've tried all kinds of protein pancake mixes and this is by far the best!
The pancake mix gets points for being quick, easy, and filling. The texture isn't as good as regular pancakes but that's not surprising.
Loved it! Super easy to make and great texture. I usually top it with some maple syrup and frozen berries.
I love this stuff so much I've been having it for breakfast almost every day since I got it. It's quite unsweetened but kind of tastes like french toast and is so good with the low cal maple syrup
I love pancakes but I'm restricting my carbs. These are a perfect replacement and every bit as good as a traditional pancake. On my third packet and that will not be the last 😁.
meh.
I love these pancakes they are fluffy and tastes great. Good ingredients.
Great product
Tasted great. first one didn't stick. second one did, so I guess more butter is needed each time
So easy and delishious. Highly recommend.
Absolutely love this product. Have tried many of the protein pancake mixes on the market and this is by far the best. Easy to mix, lump free and taste and texture divine.
Really nice and easy to make
Great product. Love the taste and texture of this pancake. It's so quick and easy to make. I would recommend it.
Delicious! My new fav pancake. Goes well with the low calorie maple syrup!! Mixes up easy and a good breakfast treat!
Really yum and filling and tastes really good too!
Love these pancakes. Only just got them recently. Easy to make and so quick, they taste so good and I find easy to get that protein intake as well. It helps having a good pan to cook them as well. I get at least 3 decent size out of 1 scoop
🙌🙌🙌
Nice mixture easy to make and healthy...
Tried a few different brands of protein pancakes now, keep coming back to these though! They taste so good. A lot less hassle using an included scoop than having to measure each time too.
I like to use the mix to make a microwave mug cake - 2 scoops as directed and a minute in the microwave makes a great breakfast or snack on the go. Flavour and consistency are great.
I wasn't expecting much and was very surprised. Great texture, nice and fluffy with good macros. Thank you
My absolute favourite! I could have these pancakes for breakfast, lunch and dinner every day!
Very tasty and easy to make
Love Protein pancakes nix. It's so filling, delicious and so easy to use.
For a exrtra boost I add about two tsps of whey power ( flavoured or plain ).
Hint do not add more water than stated or there will be a big mess and no pankcakes
It's alright
Not the biggest fan - I've had the Flapjacked ones before and their mixture held together way better in the pan, when I made these ones they just fell apart :(
Fantastic product! High protein and great taste. Easy to make, never fail and can be sweet or savory.
These are great! I have them all the time for breakfast. Recommended because they don't dry out
Dave recommended this product and he was right on! Thank you for creating a great product.
The pancake mix is a winner! So easy to mix with water or milk and it tastes delicious! Will buy more again.
Wow made these last night and had them for breakfast this morning with berries! they were yum - will be having these again for sure.
Very nice!!!
These are so easy to make and moist (not dry even in the slightest) - very impressed guys, a regular for my mornings! (Ben)
Serving size: 25g (one medium sized pancake)
Servings per pack: 20
| Name | Ave Quantity Per Serving | Ave Quantity Per 100g |
| --- | --- | --- |
| Energy | 375kJ | 1502kJ |
| Calories | 90 | 359 |
| Protein | 9.9g | 39.5g |
| Fat - total | 1.2g | 4.6g |
| - Saturated | 0.5g | 2.1g |
| Carbohydrate | 10.2g | 40.6g |
| - Sugars | 1.6g | 6.6g |
| - Fibre | 2.2g | 8.9g |
| Sodium | 64mg | 250mg |
Ingredients: Oat Flour, New Zealand Micellar Casein, Coconut Flour, Egg White Protein Powder, Baking Powder, Flavour, Sweetener (Sucralose)
Contains milk and egg. Oat flour may contain gluten.