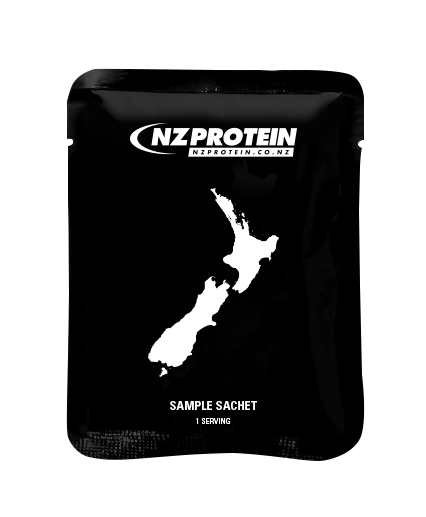 Beef Protein Sample Sachet
Good Alternative to Milk and Pea Proteins.
NZ Protein's beef protein powder is a complete muscle building protein that's great tasting.
Hypoallergenic and good alternative to milk (whey), egg white and pea based protein sources.
98% protein (unflavoured) with virtually no fat or carbohydrates.
Complete source of protein containing all essential amino acids needed for muscle repair and development.
Amino acid profile represents beef and resembles human muscle tissue.
Mixes easily and has a neutral flavour (Double Chocolate flavour tastes great).
Easily digested with a medium to fast digestion speed.
Doesn't need cooking or preparation so it's incredibly convenient and economical.
High in naturally occurring collagen which has a raft of benefits.
Promotes growth and recovery of lean muscle.
Halal certified.
Made in Europe.
High in protein and collagen. Virtually no fat or carbs. Great dairy free option.
Directions
Beef protein isolate is not instantised but it still mixes easily in water, milk, or your favourite liquid without lumps. It can be mixed in a handshaker or with a spoon. (Remember that it's always best practise to add the liquid before the powder).
Each sachet contains one serving (31.25g). Add the entire sachet to ~200ml of water or milk in a shaker. We recommend mixing it with less water/milk than you'd traditionally mix whey with as this will give it a creamier texture.
Supplement Information
For more information on the beef click here.
Please note that this product is processed in a facility that also handles milk, egg, soy, peanut, and gluten ingredients.
---
Rated
4.45
/
5
Based on
31
customer reviews.
Great taste, very mild. Blends well.
Loved the taste
Good Stuff! Creamy and virtually tasteless was a perfect addition to my smoothie, will definitely purchase again. Also amazing service delivered up North overnight 👌
Tasted amazing and I think I will happily convert from whey products I've used in the past. I have a very sensitive stomach and this hasn't affected me one bit. The chocolate flavour is amazing, like chocolate pudding or a nice strong hot chocolate type chocolate taste. The caramel I really like too, just tastes like your average caramel milkshake flavour though for some reason found that one didn't mix in as well as the chocolate but that may have been something I did differently without realising. Either way I highly recommend it, if you like chocolate it actually tastes like that (compared to other protein products I strictly avoid that flavour because it's awful haha)
the salted caramel definitely the best flavor of beef protein good mix with almond milk
My fave flavour is the chocolate, has a great taste and is not gritty like pea protein can be.
I drink this after swimming and it really helps recovery, I'm less tired the next day and also helps my muscles feel less achey!
Defo recommend the beef protein. Extremely fast delivery too.
One of the best tasting non-dairy protein powders. I didn't even know this existed so had to try it. Will get this when my egg white protein runs out. The chocolaty flavour went great in my oats, like dessert for breakfast.
Kind of like the non vegan version of pea protein.. weird aftertaste.. I couldn't drink it
Omg yum
I got unflavoured to try and detect the beef taste, couldn't notice it at all. then mixed with some vanilla essence and coconut cream and it was absolutely delicious!
Works well with my gut - double choc tastes great
Amazing product. Glad I got the samples first so I could which flavor to order..definatly the salted caramel. It's amazing
Really good that you can get samples. The vanilla beef protein isn't a strong/sickly vanilla so it's really drinkable. I have yet to try the mousse protein. I will be purchasing 1 of what I purchased a sample of. Good service too. Fast delivery. Prompt email to say order received etc.
Best protein for my diet
I bought sample packs of each flavour and measured out half serves and tried each with water then mixed in a smoothie (banana, greek yoghurt, water and frozen cherries).
Unflavoured tastes like watery gravy lol I mean I like gravy but it's a little odd. When mixed with the smoothie it wasn't super noticable but still enough to be like huh?...
Salted caramel I found that because it's salty it tastes more artificially sweetened. In the smoothie the salt taste was super noticable, I'd prefer regular caramel or vanilla.
The double chocolate was the winner. The cocoa taste is strong and it's not too sweet. I'm not a big fan of cherry and chocolate together but it tasted fine.
All of them mixed well and with little effort into both water and a thick smoothie. I like the option of sample packet so I don't have to use glad bags or containers and risk them exploding in my bag.
Delivery was fast and had tracking updates. All in all happy as and keen to stock up on the double chocolate.
Very nice and easy to take
this does not give me sore stomach taste is good
surprised how good this one was - expected it to be weird but it was quite tasty (chocolate)
Great taste and easy on the tummy
Love this! Doesn't upset my tummy like whey. I love adding this to my coffee and mixing it in the blender with creatine and salt for a yummy pre workout drink.
Doctor told me to stop having milk so I tried this and the pea and the egg. I really like this one, I think the chocolate is really nice. It tastes virtually the same as the chocolate whey and it mixed well in my shaker.
The smell is so nasty! It smells like unflavored gelatine.

The initial and main taste is fine, and the texture is fine but the aftertaste is quite unpleasant. Very au de hoof.
no instructions on sample sachet as to how to use it. Tasted great though
Not my cup of tea at all, maybe made a bad decision picking unflavoured. But this tasted like watered down meat in a shake, very very strange. NZPROTEIN REPLY: unflavoured beef may take more getting used to after having come from whey. We have flavoured versions available that taste better.
Disgusting, tastes terrible, nothing compared to the whey protein offered here which is actually delicious
I absolutely love this stuff,the sample sachets are great to keep in my bag and work desk. Mixes well and tastes great!!
Surprisingly tasty! I was a little skeptical when it was suggested, but it has a nice taste, doesn't repeat on you and you don't feel bloated after drinking. Will def be ordering in a bigger size :)
I am a huge fan of NZ protein, quick and efficient . I get the sample sachets to carry around in my bag. Love the taste and easy to blend! I have been having it in my coffee and it's been working a treat! Cheers guys
Super tasty and mixes easier than any other protein I?ve used. Would order again!
very nicely flavoured and i like the saltiness too

next time i'd just go with the unflavoured version
I thought I would try this before I went ahead and purchased a large bag of it. I'm loving the profile of this and the super chocolatey ness of it. It is a thinner consistency when mixed with liquid, which it easily does. I went ahead and got the big bag too since this is such a great alternative, with no milk products!! Thanks guys for such a great product at awesome prices