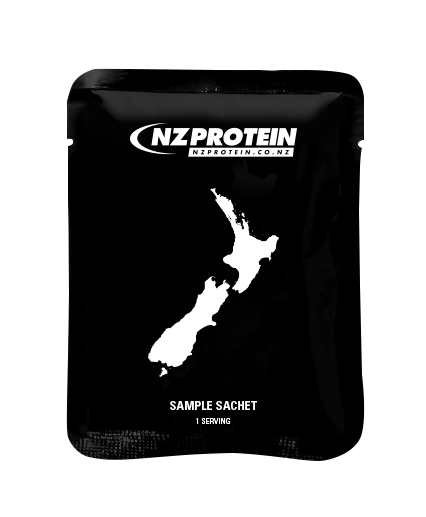 Beef Protein Sample Sachet
Good Alternative to Milk and Pea Proteins.
NZ Protein's beef protein powder is a complete muscle building protein that's great tasting.
Hypoallergenic and good alternative to milk (whey), egg white and pea based protein sources.
98% protein (unflavoured) with virtually no fat or carbohydrates.
Complete source of protein containing all essential amino acids needed for muscle repair and development.
Amino acid profile represents beef and resembles human muscle tissue.
Mixes easily and has a neutral flavour (Double Chocolate flavour tastes great).
Easily digested with a medium to fast digestion speed.
Doesn't need cooking or preparation so it's incredibly convenient and economical.
High in naturally occurring collagen which has a raft of benefits.
Promotes growth and recovery of lean muscle.
Halal certified.
Made in Europe.
Directions
Beef protein isolate is not instantised but it still mixes easily in water, milk, or your favourite liquid without lumps. It can be mixed in a handshaker or with a spoon. (Remember that it's always best practise to add the liquid before the powder).
Each sachet contains one serving (31.25g). Add the entire sachet to ~200ml of water or milk in a shaker. We recommend mixing it with less water/milk than you'd traditionally mix whey with as this will give it a creamier texture.
Supplement Information
For more information on the beef click here.
Please note that this product is processed in a facility that also handles milk, egg, soy, peanut, and gluten ingredients.
---
Rated
4.75
/
5
Based on
4
customer reviews.
I am a huge fan of NZ protein, quick and efficient . I get the sample sachets to carry around in my bag. Love the taste and easy to blend! I have been having it in my coffee and it's been working a treat! Cheers guys
Super tasty and mixes easier than any other protein I?ve used. Would order again!
very nicely flavoured and i like the saltiness too

next time i'd just go with the unflavoured version
I thought I would try this before I went ahead and purchased a large bag of it. I'm loving the profile of this and the super chocolatey ness of it. It is a thinner consistency when mixed with liquid, which it easily does. I went ahead and got the big bag too since this is such a great alternative, with no milk products!! Thanks guys for such a great product at awesome prices