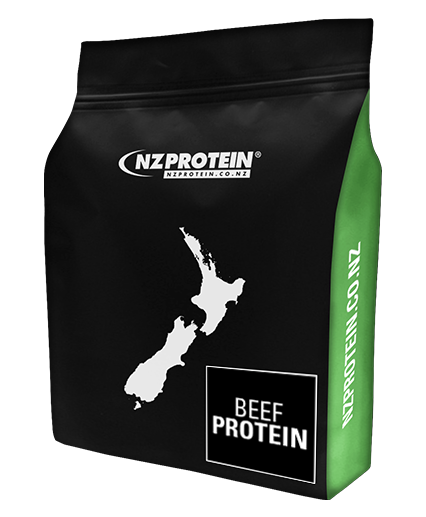 Beef Protein Powder 1kg
Great Tasting Muscle Builder. Up to 98% Protein!
Beef Protein Powder NZ
NZ Protein's beef protein powder is a complete muscle building protein that's great tasting.
Beef protein mixes and digests easily and has a much higher protein level than other sources; Where whey, egg white, and pea typically have around 80% protein, and whey isolate has a little over 90% protein, beef protein powder has 98% protein (unflavoured). That makes this product more economical and as a bonus there's virtually no fat or carbohydrates!
Beef protein is naturally hypoallergenic meaning it's free of milk, egg, soy, lactose, gluten, sugars, and other things* that can cause gut irritations. Eliminate the gastro side effects without comprising results!
A number of people have been turning away from the traditional milk based protein powders in favour of pea and egg protein powders but we feel that this product is a much more satisfying alternative - the Double Chocolate flavour tastes great!
High in protein and collagen. Virtually no fat or carbs. Great dairy free option.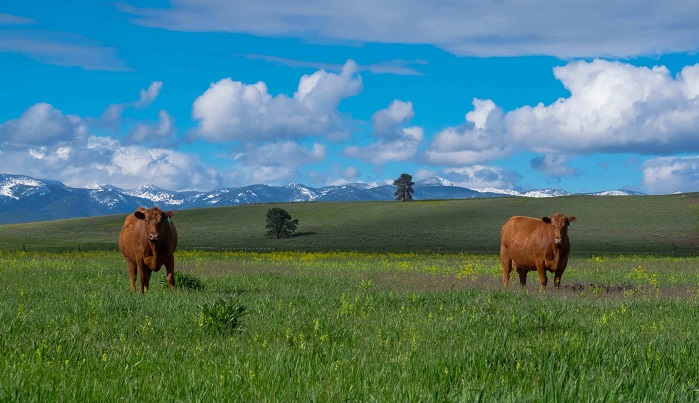 Beef Protein Benefits
Beef protein has a number of benefits:
Hypoallergenic and good alternative to milk (whey), egg white and pea based protein sources
98% protein (unflavoured) with virtually no fat or carbohydrates
Complete source of protein containing all essential amino acids needed for muscle repair and development
Amino acid profile represents beef and resembles human muscle tissue
Mixes easily and has a neutral flavour
Easily digested with a medium to fast digestion speed
High in naturally occurring collagen which has a raft of benefits
Promotes growth and recovery of lean muscle
Halal certified
Made in Switzerland - this product is Hydrobeef. Some other competitors claim that it is grass fed but we have been unable to confirm this status.
Beef Protein Per 100g
Raw beef contains 20-25g protein per 100g. When cooked the water content lessens so the protein level increases to around 28-36g per 100g.
By comparison beef protein isolate powder has 98% protein (unflavoured) because virtually all of the moisture, fat and carbohydrates are eliminated. This includes the saturated fat and cholesterol often associated with the negative effects of consuming beef.
The amino acid profile of beef protein powder is still of beef and resembles the amino acid profile found in human muscle tissue. This means that beef protein isolate is well suited for muscle recovery and development.
This product doesn't need cooking or preparation either so it's incredibly convenient and economical.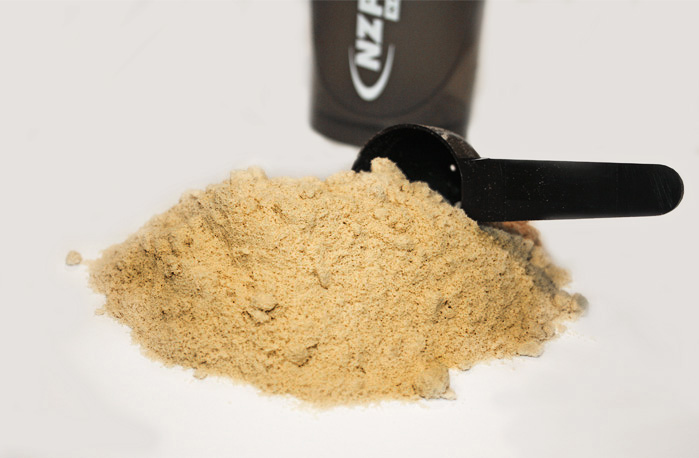 Digestibility
Protein digestibility is a measure of the proportion of protein that is absorbed by the body. Beef protein scores 94%.
Biological value is a measure of the proportion of absorbed protein that's retained for growth and maintenance. Beef scores 80.
The Protein Digestibility-Corrected Amino Acid Score (PDCAAS) is a rating that determines the bioavailibility of a protein. The maximum score is 1.0. Beef scores 0.92 on this scale.
Beef Protein vs Whey
A number of people have been turning away from the traditional milk based protein powders (such as whey) in favour of alternatives.
One serving of our beef contains 128 calories and ~30 grams of protein (unflavoured). One serving of our whey concentrate contains 130 calories and ~25 grams of protein, so both have similar calories and beef has more protein.
Beef is lower in L-leucine than whey. Leucine is one of three branched chain amino acids and is primarily involved in muscle protein synthesis for muscle growth and recovery. It also contributes to the regulation of blood-sugar levels, growth hormone production and wound healing.
The leucine content of beef is ~3.7g per 100g, and in whey ~9g per 100g, so whey may be better for muscle development. Though this could be easily overcome by having a Branched Chain Amino Acid (BCAA) supplement with the beef isolate.
Though whey has a better amino acid profile for muscle development, the amino profile of beef resembles human muscle tissue. Both are complete proteins containing all essential amino acids. Whey is fast digesting and beef protein isolate digests at a medium to fast speed. Both are excellent tasting and beef makes a good alternative to whey for those who want a great tasting shake.
Protein Per 100g

~98g

(BCAAs: 8.4g)

Lower BCAAs but resembles beef. This can be increased easily by adding a BCAA supplement if required.

~80g

(BCAAs: 19.8g)

We don't add any fillers (or "processing aids") to dilute the protein level.

Key Attributes

Good alternative to whey. Very high protein with virtually no fat or carbs. High in collagen.

Faster digesting. Best amino acid profile for muscle building.

Bioavailability

80

>100 (highest)

Speed of Digestion

Contains

Hypoallergenic so unlikely to cause stomach upsets.

Milk and lactose which can affect those with stomach sensitivities and cause some people to experience bloating or other upsets.

Great Tasting

We think beef protein tastes as good as our NZ whey. It has a smooth texture and is more pleasant than pea and egg white.

Our whey is clean tasting and has a natural creamy texture. We don't add any thickeners to modify the texture.

Mixes Easily

Not instantised but mixes easily in water, milk, or your favourite liquid without lumps. It can be mixed in a handshaker or with a spoon.


It's better with slightly less water than you'd mix whey with.

Instantised (spray dried with lecithin to improve mixability).

Mixes easily in water, milk, or your favourite liquid without lumps. It can be mixed in a handshaker or with a spoon.

Use

Depending on your nutritional requirements take 1-3 servings daily at breakfast, between meals, post workout, or before bed.

Depending on your nutritional requirements take 1-3 servings daily at breakfast, between meals, post workout, or before bed.

Samples

Not sure which flavour protein shake is for you? Try our beef samples here. Each sachet is one serving.

Not sure which flavour protein shake is for you? Try our WPC samples here. Each sachet is one serving.

Cost

The cost is slightly higher cost than whey but it has a higher protein level.

Slightly lower cost than beef.
To see how beef compares to our other protein powders see which type of protein is for me.
Beef Protein vs Collagen
There are some myths found online that beef protein is just collagen. Though this product is high in naturally occurring collagen, it is not collagen.
Collagen does not have a complete amino acid profile whereas beef does.
Collagen is made primarily of three amino acids - proline, hydroxyproline and glycine. In collagen the glycine and proline are 10-20 times more concentrated than in other proteins. Beef protein has reasonable levels of these but they're at nowhere near the levels of the collagen protein.
As such collagen has a unique structure that can't be found anywhere else.
Our collagen is also from cows but is separate product, extracted via a different process and sold separately.
How to Use
Depending on your nutritional requirements take 1-3 servings daily at breakfast, between meals, post workout, or before bed.
Beef protein is not instantised but it still mixes easily in water, milk, or your favourite liquid without lumps. It can be mixed in a handshaker or with a spoon. (Remember that it's always best practice to add the liquid before the powder).
We recommend mixing it with less water/milk than you'd traditionally mix whey with as this will give it a creamier texture - just add a serve to ~200ml of water or milk in a shaker.
Beef Protein Side Effects
Beef allergies are uncommon. Those with allergies to beef should avoid this product.
This product contains virtually no saturated fat or cholesterol. It is not a 'processed meat' product and it is not extracted or cooked with high heat.
Our Verdict
We think beef protein powder makes the best alternative to whey if it's taste you're after. Every protein powder has unique benefits - beef protein tastes good and has a smooth texture so is easier to drink than pea and egg white protein.
Beef protein contains all essential amino acids and is a complete protein. Though the BCAA level is lower, the essential amino acids in beef isolate resemble human muscle tissue and the collagen levels are higher. BCAA levels can easily be increased by supplementing with a small amount of BCAA powder per serving.
Recipes
Please note that this product is processed in a facility that also handles milk, egg, soy, peanut, and gluten ingredients.
---
Rated
4.6
/
5
Based on
161
customer reviews.
I have fibromyalgia and during a flare up I get bad muscle fatigue. Day 2 of having Protein and I was experiencing energy and no burning muscles!
Nice and easy on the stomach. Good (not great) taste.
I really like this protein. It doesn't taste beefy at all, it's nice and sweet and chocolatey, and I love the price. By happy accident I discovered that it makes an amazing high protein/low carb hot chocolate - just a serving of this with boiling water, topped up with a little bit of milk. Perfect winter evening treat.
Amazing team! My tummy is happy and I can stomach it down lol I've tried the double chocolate flavour don't a fan! Prefer this flavour
Mixes well, good taste, very filling
Once again NZ Protein demonstrated that not only do they offer a great product but the service is exemplary and the delivery faster than any other on-line product I purchase. I can rely on them getting me my order within 1-2 days. It is consistently of a high quality and the double chocolate is amazing flavour. Brilliant as a straight protein drink, in smoothies, as a hot drink and makes up the best protein pancakes of any protein powder I have tried.
Great work NZ Protein, keep showing them how its done
great taste, no chalky after taste left in your mouth, easy to drink too
Tastes great and way easier on stomach than pea protein. Definitely the best dairy free option on here
Great tasting well priced (When you buy bulk) protein that doesn't bloat me up and produce slightly lactose intolerant outcomes. You do need to shake it for a bit longer than whey, to avoid lumps but the small additional effort it is worth it. I'd always go for the Choc flavour.
Love this beef protein powder! Trying caramel this time which is pretty good but the chocolate is still my favourite.
Good protein, easily digested. Only negative comment is the taste is a little too bland and I rely on the additional ingredients (usually mix with porridge or chia seeds with a flavoured yoghurt) to make it more pleasant.
Delicious
Not too sweet mixed with full fat milk it takes like chocolate ice cream
Problem is now I want to have a shake with every meal!
Fast delivery as usual :). Excellent product for good price.
I gave the double choc a crack, expecting it to be average. I was pleasantly surprised. If all cows tasted as delectable as this rich and chocolatey delight we wouldn't have vegans. I mean, how could you say no to a hunk of dark choc eye fillet? Don't know where they grow these cocoa bovines but keep doing it because this powder is the biz.
The salted caramel flavour has a beefy flavour which is hard to get used to. The description mentions the powder is harder to mix but I want to emphasise JUST HOW HARD it is to mix. The mixture also froths and foams ALOT when used in a protein shaker. More than half the liquid turns into foam. I won't purchase this flavour again. NZPROTEIN REPLY: we apologise for the temporary change in beef protein. The regular beef protein is back soon in approx May 2022.
Mixes well, great taste, HALAL, speedy delivery. Can't complain.
Great protein powder, very creamy and almost a coffee taste which I love. I add it to my normal smoothie and it adds a great consistency and flavor. This is the only protein powder I can tolerate, so if your prone to gut issues I would definitely recommend. Will definitely purchase again. Just too add amazing service, overnight to Northland 👍nearly unheard of up here 10/10 👏
Great tasting, and great for you
Fast delivery. Super service. Great product for me (no dairy)
I used to love the beef protein from NZ protein but the lastest batch is sticky, clumpy and mixes poorly. I'd hold off on this stuff until they get a better supply. Emailed customer service but no reply 🤷🏼‍♀️ NZPROTEIN REPLY: we can't find an email, have emailed you :)
I have had tried the chocolate flavor and tasted good and mixed really well.The salted caramel flavor on the other hand tasted good but does not mix well at all unfortunately! I tried stirring it into a glass of water but just went thick and gluggy like glue and wouldn't desolve into the water. I then tried a shaker in which it did desolve but throthed up so it wasn't in liquid form and unable to drink straight away, I had to wait an hour for the throth to go down back into a liquid to be able to drink it.
Great tasteing, easy to mix. I recomend this.
Great tasting, great results
This beef based protein powder is the best! I love it and use it most days. It is chocolate goodness that ticks all the boxes for me as animal proteins are my preference. And NZ Protein ships its stuff faster than a speeding bullet. Thank you for the goodness!
Grey dairy free protein powder. I add some decaf coffee powder to both plain and chocolate to mask the beefy hint.
perfect
Love the protein and it's great for my kids
Let's face it Sucralose is pretty bad for you, thus the chocolate flavour Beef protein is off the menu.
But with a bit of experimentation with, milk, water, chocolate powder and a smidge of sugar we have created a very drinkable and palatable brew. NZPROTEIN REPLY: we wrote a blog about sucralose here - https://www.nzprotein.co.nz/article/the-truth-about-sucralose called "The Truth About Sucralose". Worth a read!
I was a big fan of your beef protein given my intolerance to dairy. Unfortunately it appears you no longer make the beef protein, so I ordered two kilos of your whey protein in the hope that it may not cause the issues I've experienced with other brands of whey protein. Unfortunately I am having reactions to your whey protein, so I'll have to source another brand of beef protein, which is disappointing as your beef protein was exceptional. NZPROTEIN REPLY: we are so sorry that we are not able to ship this to AU any more :(
Great taste we use this all the time in shakes and smoothies and nut ball recipes. Easy on stomach and good for dairy allergy.
Chocolate flavour tastes delicious! The best tasting protein powder I have come across yet.
I have tried variety of protein powder, but this one tasted by far the best!
Hi this is my second bag of the beef protein
The first bag was great. This bag I have been having it for a week but the powder doesn't dissolve. I'm using the protein shaker same steps as per the site and what I used the first time.

It froths a lot but doesn't mix so it just feels like I'm drinking froth.

If there something else I can try it's a lot of protein powder and don't want to waste it

Thank u.

Happy new year
Parizad
NZPROTEIN REPLY: please see our note about the current batch of salted caramel flavour, which is hydrolysed due to availability :)
Love this protein powder, I have a dairy intolerance and its perfect for me. Love the caramel the best it goes great in a smoothie with peanut butter and collagen powder for my breakfast, of course chocolate is good too!!!!! Works in perfectly with my Keto diet.
This is a great protein powder! Great price! Tastes ok but I would prefer a richer sweeter more chocolate flavour. The flavour is very mild but still ok. Awesome that it's made in NZ!
Love Nzprotein. However either my product is contaminated or I have an allergic reaction to something in it. I don't have any food allergies by the way. I break out with itchy tiny pimples all over, even if there are less pimples my entire body starts to itch. Not sure what to do with the remaining powder as I won't want to give it away if it is contaminated.
Have you guys had any issues like this before?
Great taste
.. I mix with plaon yoghurt makes a very nice dessert
Great price, great quality & fast delivery. What more could you want.
Love my chocolate beef protein, have been buying it for a while now. 🙌🏽🙌🏽❤️
More flavours please. NZPROTEIN REPLY: working on it currently - not an easy one!
Chocolate is yummy and I like a clean (no milk) protein for easy digestion.
Thanks for supplying this for us!
This is my third purchase of the beef protein. I have gut issues which are aggravated by milk products, and I personally think that for me plant based proteins are worthless. The beef protein mixes well and doesn't cause me any gut problems. I do a shake post workout and mix it with Greek yoghurt at night for a healthy desert. Would recommend this protein.
Had been using other non flavoured high protein percentage powders before giving this a try. It has an almost chocolate taste which I tried to tell myself as I drunk it. Got more used to it as time went on but have gone back to the other format and realised I much prefer the other unflavoured whey options over this
Delivery is great, product as advertised. Tastes good and easy on the stomach which for me is really important as dairy based products have always been an issue for me
Love this protein powder. I am lactose intolerant and this works brilliantly for me and the flavour is great. I love the Salted Caramel flavour with peanut butter in my protein shake. I also add the collagen powder and my nails have grown so much. Delicious!!! I also love the chocolate flavour.
Awesome quality
Tastes good, mixes well, no beefy vibes at all haha. Zero bloating, gas, or weird feeling stomach afterwards. Highly recommend for anyone and everyone. Especially those with gut issues.
I'd enter 4.5/5 but I can't haha. Fantastic alternative to Whey for those who can't have dairy (myself included). Haven't had any issues with digestion, and the flavour is 100% better than pea / hemp protein, in my opinion.

I have only tried double chocolate which goes down a treat with a healthy dose of peanut butter. The flavour, though fantastic, isn't quite at the level of dairy powders, which is why I rate this a 4.5/5, but it isn't far off. Highly recommend.
Double choc tastes great! Works well with my gut.
Good Stuff
The smell and after taste of this product makes me feel sick
So good!! I have tried beef protein before, but was pleasantly surprised by the quality of NZprotein beef protein! There's no odd flavour, it is easily digestible and mixes easily with water. I ordered the Chocolate and it tastes like hot chocolate powder. It is definitely my new favorite protein
I bought this protein many times, Highly recommend !
Best protein powder I've used
Good shit. No soy. It dissolves much easier than whey protein. I have been mixing it with milk or water. In my opinion, it works way better than whey protein for my muscle building.

It tastes like beef stew / creamy beef stew if made with milk.

I will be getting this alot probably.
I didn't like the after taste of this product and it mixes thinly in oats and smoothies. I prefer pea protein as it thickens when I mix it with my oats. I wouldn't buy this product again. NZPROTEIN REPLY: not all protein powders work in oats. Each have their own uses, which is why we stock various types.
Great product. Nice taste and good quality grass feed beef. NZPROTEIN REPLY: the beef is from Europe and we cannot confirm the grass fed status.
Double chocolate tastes great and I don't feel bloated like I sometimes get with whey protein.
Bestselling protein
Salted caramel is yum..low carb and high protein. Great for keto. Tastes amazing too
Pretty good, great for doing my keto and it's actually drinkable (not quite as chocolatey as others but for the macros it's amazing!!!) Will definitely continue to buy this product
Nice & lightly nutty smell & taste,
Best protein ever!!! The double chic is such a great flavor and unlike other proteins this brand is by far the best. Very quick shipping and effortless ordering. Keep up the good work.
By far the best protein I've had, it tastes great and mixes well. I have a sensitive stomach and other protein powders that are dairy or plant based don't go down well, so the beef protein has made a huge difference. Buy it, you won't regret it 🤙🏼
salted caramel flavour is smooth as, highly recommend
Brilliant I love it!
Love this protein. I can't eat egg or dairy so this was an option for me. It mixes really easily and even in porridge doesn't have the powdery texture pea protein does. Oh also no beef taste incase your wondering lol
Taste good but if you drink it hot, there's a little after taste. I like to drink with unsweetened almond milk as chocolate is on the sweeter side.
Got this for my wife who has very specific dietary requirements (She's a coeliac with IBS).

Amazingly no upset stomach/bloating/etc.

Beef protein mixed with water is a game-changer for her.
I got the chocolate flavour which has a great taste.
The beef protein has an unpleasant taste i wish i had brought a sample of it before buying a 1kg. I have tried the double chocolate. Wont buy again
Purchased the double chocolate and tastes great, mixes well and is such a great alternative for those who are lactose intolerant like myself.
I've been using the beef protein for 6 weeks now and am really happy with it.
Since changing over from whey i've noticed a reduction in body fat and vascularity/definition has increased markedly.
Using the beef protein is the only change i've made to my diet and i'm very pleased with the results i'm getting.
Choc is definitely my preferred flavour for shakes but i'm also really enjoying the unflavoured made with hot water, especially on these cold winter mornings.
Love this product and the ultra quick delivery
Having tried many protein powders before, NZ has the best yet. It has no nasty chemicals and leaves me feeling with zero inflammation or digestive issues like bloatedness.
Great flavour not as sweet as normal proteins. Chocolate is the best
This is excellent and I got the plain which doesn't taste of anything specific and I mix it in with my morning oats to get the required protein. It keeps me full for 4 hours. I am not lactose intolerant but the Whey protein gave me a headache and made me feel nauseous so if you are sensitive like me then give this a go.
I love it tasted yummy thanks😄
I bought sample packs of each flavour and measured out half serves and tried each with water then mixed in a smoothie (banana, greek yoghurt, water and frozen cherries).
Unflavoured tastes like watery gravy lol I mean I like gravy but it's a little odd. When mixed with the smoothie it wasn't super noticable but still enough to be like huh?...
Salted caramel I found that because it's salty it tastes more artificially sweetened. In the smoothie the salt taste was super noticable, I'd prefer regular caramel or vanilla.
The double chocolate was the winner. The cocoa taste is strong and it's not too sweet. I'm not a big fan of cherry and chocolate together but it tasted fine.
All of them mixed well and with little effort into both water and a thick smoothie. I like the option of sample packet so I don't have to use glad bags or containers and risk them exploding in my bag.
Delivery was fast and had tracking updates. All in all happy as and keen to stock up on the double chocolate.
The beef protein is awesome I'm really enjoying it. The delivery time is outstanding and the way you are kept informed about your order via email is fantastic it would be fair to say I'm a fan, cheers
Was a bit cautious about trying this as have always only had whey, however after reading such positive reviews and wanting to try decided to give it a go. Well it's bloody delicious, no funny aftertaste and easy to digest. Love this and the choc flavour is fab! Definitely ordering again. Thanks so much!!
Unflavoured revue... Love that its beef. Not plant based
This is the first time trying Beef protein. I got all 3 flavours, personally preferring choc, i find the salted caramel just a bit too salty for my liking.
Its early days but really enjoying the change from whey, i like that its not as creamy and i actually find it easier to drink post workout.
Think i've found my new protein
Super yummy and great to add to anything to top up on protein throughout the day. Mixes in smoothly without lumps which I've found lots of other protein powders are terrible for. Will definitely buy this one again! Can't wait to try the salted caramel 🤩
This is the smoothest, tastiest protein powder i have ever used. Hard to believe that it has no dairy. It mixes well and tastes great.
I am dairy intolerant but I have absolutely no issues with this stuff as there's no lactose in it! Best flavour I've tried from any protein mixture too (double chocolate).
I really enjoy the chocolate but I put less water in it because it only needs a tiny bit to mix, then it has a creamy texture and real good taste +
So I received the Double Chocolate today and just made a Hot Chocolate with it- YUUUMMMMMMM!!!!!! Yep! Delish! I can't have dairy and I am low carb so this product is fantastic... GREAT Flavour.. easy to mix in hot.. absolutely fab... I've got some samples of the unflavoured ans also the Salted Caramel so let's see how they go🤩
Thanks so much for this great product...
Double Chocolate is off the hook, yum! Palatability is 100%. Mixes so easily too. (Using wave shaker) You will not regret buying.
Got the double choc, taste is poor. Mixes okay, doesn't cause bloating or cramps so good if you can't do whey.
Nz protein used to sell the unflavoured version only for awhile. So glad they now have different flavours. Double chocolate yum! Salted caramel a bit too sweet for my liking. But both mix well and don't have that after whey bloated feeling. Good clean feel protein powder. And, staff always let me pick up especially when I order last minute. Thanks guys!
Tried both flavours and love them. Tastes great and dissolves easily. Also ships very fast. I've ordered from nzprotein multiple times and it always arrives the next day. Great product and great service
As this product was very recently purchased I have only made up 2 protein smoothies with it but I already know I love it. It smells just fine, very similar to my whey protein. It blends really well and tastes amazing. It is not like drinking beef at all - I have mine with full fat milk and blueberries. I got the double chocolate as I really enjoy this flavour. I have only positive comments with this protein powder and have already told several people about it. Looking forward to my next smoothie!
This was the first protein powder I've ever bought and honestly could never go back it's so good and I could easily drink these all day.
Yummy tasting double chocolate, keep coming back, very speedy delivery too.
Tastes OK although the salted caramel flavour could be stronger. It blends well I have found that it is easily digested. I usually take vegan powder as I am lactose intolerant - this is a good alternative, although I am a little creeped out by the concept of a powder made from boiled up beef bits!
The chocolate is good, the salted caramel was a little too "beefy" for me. Good protein if whey gives you issues. Not too sweet which I prefer too.
Liked that it's not gritty like other protein powders
Best protein powder I have tried. Double choc is delish!
Great taste (salted caramel) smooth texture, mixes well. Fast delivery.

Usual great product and service, will keep on using.
Great tasting Protein Powder which mixes very easily.
It's nice good flavour and works very well I recommend it to anybody that works out
My two favourite things together, chocolate and beef, it's like a nutritional Hudson and Hall combo!
I've only tried the chocolate flavor - tastes really good and mixes well.
Amazing customer service. Always so professional and efficient.
Recommended for rehab on my body after chronic illness and surgeries. purchased samples to try and liked the taste of the salted caramel.
Tastes good with no beef aftertaste. Also not too sweet.
I feel great using this beef protein. I chose this over plant protein because it's more bioavailable and I'd rather not have too much dairy with a whey protein. NZ Protein knocked it out of the park with this one!
Love it!
Yummy protein drink, little too sweet for my taste. I mix mine with coffee for a yummy moccachino.
great stuff! superior to egg & whey protein powders, imho
Great taste, very smooth
It's unflavoured beef protein powder so yeah smells and tastes like beefy broth. I can handle it is smoothies with bananas and hot chocolate powder but cannot enjoy on it's own.

In saying that it's an excellent way to up my protein intake and is easy to digest. The packaging and scoop are good.
Good stuff, much better protein source along with pea, no allergic reaction to worry about and like the high percentage of protein per serve. Not gritty and doesn't smell like beef.
Easily dissolves to a creamy mixture. Taste is mild and sweetness is low. Most importantly, it doesn't appear to be associated with the bloating of whey, which is my reason number one for trying it.
Happy so far.
Whey protein causes bloating issues for me. I tried egg protein but it's very fine grained and doesn't mix very well.
Beef protein is ideal. It tastes great, mixes easily and does exactly what it's supposed to do.
Love this stuff
Love this protein, just wish it had a more natural sweetener like stevia/monkfruit etc NZPROTEIN REPLY: then it probably wouldn't taste very nice!
Chocolate flavour is great. It isn't sweet which I really like as the American beef protein powders all seem to be really sweet. My kids both loved it too (2 & 5 yrs) best if you try not to smell it while mixing or drinking.
I'm happy with this so far.
Milk/whey is troublesome for me, I probably have some milk allergies.
I wonder if it's NZ beef, grass-fed? It wasn't clear to me. NZPROTEIN REPLY: it's from Europe
.
Love this clean product!
Mixes easily into smoothies and thickens sauces.
Tastes neutral so can be mixed sweet or savory.
Perfect 👌🏻👌🏻
taste is nice you might feel that it is beef based but definetely was not that horrible as I have seen in couple of comments. No bloating and easy mixing with fluids.
Good cal/ protein ratio.
Love love this protein!
No taste of beef. Just yummy. Doesn't get clogged up and mixes well. Great alternative for me as I cant eat dairy or eggs.

Would love a vanilla flavour!
Taste good, dissolves in water easily and doesn't upset my stomach like whey or whey isolate. Ordering in easy and delivery is very quick. 100% satisfied.
Great product for growth an those with digestion sensitivity. - Dan C
The chocolate flavour is really good. Mixes well and doesn't f my stomach up like whey does. Only protien I buy now.
The best
Ordered the double chocolate, love the taste! Very smooth. Especially with a milk substitute instead of water (oat or almond both work really well). Blends up very easily, no chalky aftertaste.
I find it gives no gas or bloating, which is great after a hard training session.
Will definitely be buying again!
Love this flavour slightly weird smell but a great shake will be buying again
Taste only average
Great flavour thanks
Great product tastes good the smell is abit weird but would buy again.
Chocolate is great tasting, I do mix two scoops of beef protein with one scoop of pea protein in my after training smoothe. Price is also a bonus
Great taste and really quick delivery. Thank you.
I have noticed since taking Beef protein improvement in my energy levels. Im 62 years old train at the gym and walk daily. At least once a week do over 10 k walk up hills.
I have recommended the Beef Protein powder to a number of friends who have all noticed a difference with energy levels. My husband who cycles has also noticed more power on the hills.
Your sales should have improved from the Christchurch, South Island, Happy customer :)
I bought the unflavoured because it Jason?s ingredient in the making. Nothing too complicated and no nasties. This is a mixed review:

PROS:
- does not make me gassy or bloated. This is a huge PRO as I workout in the morning and I work in a tight office environment. Only so many people you can blame that rogue fart on.
- mixes well; put the Liquid in first
- recovery rate is good
- added benefit of collagen
(I also buy unflavoured collagen from NZ protein- I would say best in the market in NZ at a good price)

CON:
Have you ever tasted a fart! Oooweee Some people say it is an acquired taste. Interesting. If I hold my nose though I can get this down. Mix this with anything but water unless you are one fo the people who have acquired a taste for farts.
I wouldn?t drink this in public -
side effects: involuntary gagging face.

Would I buy this again? Yeah I would unless they come out with the same qual prod without the smell. I think that is what gets to me. It?s so strong.
I have bought bone broth powder before though and it smells the same, so must be how it?s supposed to be.
has a very odd taste, not very pleasant. I wasn't aware that i bought beef protein, wouldn't buy again.
Need more flavours please
Very easy to mix and drink
very tasty, mixes very well,quality product.
I'm dairy intolerant and on a bulk diet this protein is totally my saviour.
Great for all of those doing Keto! Much easier on the stomach than whey - no bloating gassy feeling. Highly recommend this product.
Really nice product, would buy again. Would love to see more flavours. Perhaps strawberry
Quite nice however it doesnt blend well as the powder sticks to the side of the cup. NZPROTEIN REPLY: always add wate first, then the powder.
Double chocolate taste great mixes well
Unflavoured beef protein you have to acquire a taste for this, I mix it with the Double chocolate or in a smoothie
Tasty, epic with water and mixes better than other sources
Tasty and a great non dairy alternative
It's good. You don't feel. Blown up after you had it just need some more flavors as everyone doesn't like the double chocolate. Otherwise it's great
Was on the hunt for beef isolate protein in NZ, finally found it. And it is unflavoured and unsweetened! Jackpot! I will faithfully keep purchasing from NZ Protein so long as there are unflavoured unsweetened options. Thank you for this product, you've made this woman very happy!
Really great product
Love it - such a great taste!
Great tasting protein powder, will defo purchase again
Great product, tastes great, mixes well. Works well for me as I am slightly lactose intolerant so have been using pea protein up till now....the beef protein tastes much better.
Magic powder. The unflavoured powder mixes good with some flavoured milk. Yet doesn?t froth or thicken. Never seen a powder like that before. 10 out of 10
We really like the product but find it a bit difficult to mix. The taste is ok but not fantastic. Not a problem because we usually add green veggies and berries to our smoothies.
Excellent protein to carb ratio!!
Mixes well, tastes great
I struggle with most dairy products and even though whey protein doesnt affect me hugely im glad ive found something similar in price, taste and consistancy because i dont like pea or rice protein. I mix this with lactose free milk or water and both taste really good. Hopefully they make a salted caramel beef protein!
Another awesome and delicious alternative for those of us who can't drink whey.
Ok as a shake, but really yummo with oats
I have been having gut issues with Whey Protein and don't like the Pea or Egg proteins.
Bought the 1kg Chocolate and find it is great, no digestive issues and as am doing Keto, much better fit than Whey. Would be great if it came in a Mixed Berry or Strawberry flavour (just for a change of pace!!)
I purchased few sachets of unflavored beef protien to try. Just mixed using a spoon and mixes 100%. I am allergic to a1 dairy products ( all whey), gluten and starch. I have had no issues comsuming this. Recovery is good. Taste is not the best and is bit salty. But flavoured beef protien is .4 grams less protien a serving hence sticking with unflavored. Over all excellent product.
Click on a flavour to see the nutritional information.
Serving size: 31.25g (2 heaped scoops)
Servings per pack: 32
| Name | Ave Quantity Per Serving | Ave Quantity Per 100g |
| --- | --- | --- |
| Energy | 539kJ | 1723kJ |
| Calories | 127 | 405 |
| Protein | 26.9g | 86g |
| - Gluten | 0g | 0g |
| Fat - total | 1.2g | 3.8g |
| - Saturated | 0.7g | 2.3g |
| Carbohydrate | 1.2g | 3.9g |
| - Sugars | 0.1g | 0.2g |
| Sodium | 189mg | 605mg |
Ingredients: Beef Protein Isolate, Cocoa, Flavour, Sweetener (Sucralose)
Serving size: 31.25g (2 heaped scoops)
Servings per pack: 32
| Name | Ave Quantity Per Serving | Ave Quantity Per 100g |
| --- | --- | --- |
| Energy | 547kJ | 1750kJ |
| Calories | 128 | 410 |
| Protein | 30.6g | 98g |
| - Gluten | 0g | 0g |
| Fat - total | 0.5g | 1.5g |
| - Saturated | 0.3g | 0.9g |
| Carbohydrate | <0.3g | <1g |
| - Sugars | <0.1g | <0.1g |
| Sodium | 220mg | 700mg |
Ingredients: Beef Protein Isolate
Serving size: 31.25g
Servings per pack: 32
| Name | Ave Quantity Per Serving | Ave Quantity Per 100g |
| --- | --- | --- |
| Energy | 539kJ | 1726kJ |
| Calories | 126 | 405 |
| Protein | 29.4g | 94.1g |
| - Gluten | 0g | 0g |
| Fat - total | 0.5g | 1.4g |
| - Saturated | 0.3g | 0.9g |
| Carbohydrate | 0.8g | 2.7g |
| - Sugars | 0.1g | 0.2g |
| Sodium | 272mg | 872mg |
Ingredients: Beef Protein Powder, Flavour, Salt, Sweetener (Sucralose)
(mg per serving - unflavoured)
Branched chain aminio acids:
| | |
| --- | --- |
| Isoleucine | 530 |
| Leucine | 1160 |
| Valine | 940 |
Other essential aminio acids:
| | |
| --- | --- |
| Lysine | 1190 |
| Methionine | 280 |
| Phenylalanine | 720 |
| Threonine | 660 |
| Tryptophan | 110 |
Non essential aminio acids:
| | |
| --- | --- |
| Histidine | 340 |
| Alanine | 2750 |
| Arganine | 2340 |
| Aspartic Acid | 1880 |
| Cysteine/Cystine | <100 |
| Glutamic Acid | 3440 |
| Glycine | 6250 |
| Proline | 3750 |
| Serine | 1060 |
| Tyrosine | 410 |
| Hydroxyproline | 3190 |