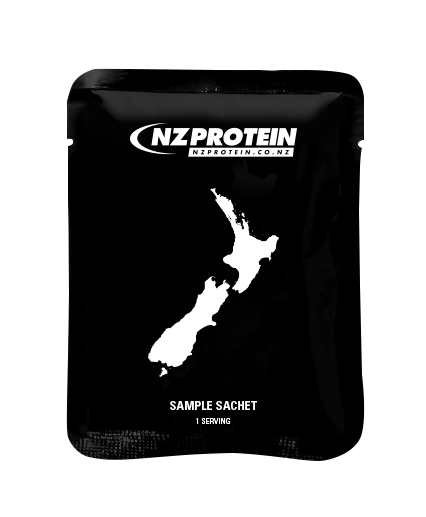 Faba Bean Sample Sachet
Plant Based Protein That's Functional.
NZ Protein's faba bean protein isolate powder is a newer plant based protein that's more pleasant than some other types of plant proteins, and it makes a good alternative to pea.
It's clean tasting and has less gritiness that's often associated with plant proteins.
Faba bean is high in protein (85% - unflavoured) and is a complete protein with a good amino acid profile. That means it's suitable for muscle growth and development and is comparable to other high quality sources of protein.
Like with other plant proteins, faba bean is vegan, GMO free, and naturally free of dairy, gluten, soy, and other allergens*.
Lastly, and perhaps most interestingly, it's functional. That means faba bean is likely to perform better in recipes and baking applications. It's heat stable too so works well in soups and casseroles.
Directions
Faba bean protein isolate has more of a neutral taste than other plant proteins. The texture is cleaner and not so grainy. It blends easily into other foods and with other flavours.
Faba bean is formulated to mix with water, but other liquids (such as almond milk and yoghurt) can be used. It mixes slightly thicker than whey but not as thick as pea protein.
Each sachet contains one serving (31.25g). Add the entire sachet to 300-400ml of water or your favourite milk in a shaker or blender. Blend with fruit to make it into a smoothie or bake it into cafes, muffins or biscuits.
Supplement Information
For more information on the faba bean click here.
Please note that this product is processed in a facility that also handles milk, egg, soy, peanut, and gluten ingredients.
---
Rated
4.88
/
5
Based on
16
customer reviews.
Love this product. Sample packs are so handy to have in my bag, or work drawer, for protein in a hurry.
Tastes better than soy protein. Good choice of tastes too.
Keeps me full and well-fed.
No insulin spikes like from whey protein, so I've lost a few more pure fat pounds while using your plant based proteins. Good choice for people who wants to loose weight. You will never achieve such results while using whey protein.
I loved the texture compared to a pea protein, really nice
It just works 😊
One of the best vegan protein powders I have tried to date, no earthy taste. The chocolate one when mixed with oat milk tastes just like chocolate mousse!
Tastes clean and pure and is very easily digested. Customer service first class also. Dave is super passionate and helpful and answered my many questions.
Awesome flavour. Reminds me of Jaffa almost
Banana faba bean protein is TOPS! Def ordering this as a kilo next time! Tastes like banana nesquik 😋
Having never tried faba bean protein before, I was very pleasantly surprised at the great texture, mixability and taste of this! Mixed well with yoghurt and berries and actually had a nicer consistency I thought to pea protein.
I tried the banana and choc flavours, both great!
I'm not really a person who likes orange that much, but orange faba bean was really good! It was just the right amount of orange flavour so I would definitely buy this one again.

I really really hope more flavours in Faba Bean keep coming out. I'd probably buy them all.
Faba bean is just amazing! It ticks all the boxes for me (creamy smooth texture, great flavour, mixes really well in a smoothie and so gentle on my stomach) I have it multiple times a day, everyday! Thank you NZ Protein for making this available.
I bought an unflavored one. It tastes savory like a rice cracker. I don't feel bloating after having it. Only thing that could be a downside is that it creates foam layer like beer. I don't bother though some might need to be aware before purchasing.
Loved being able to purchase a sample of something I'd never tried before, let alone even knew existed. I was very impressed by the Faba Bean protein and will continue to buy this product in the standard size. I prefer it to the slightly grainier pea protein and the Double Chocolate is a lovely flavour.
best chocolate flavor and texture ever, just amazing and absorption was instant
So yummy! Much prefer compared to the pea protein (even though it was good too) mixes in nicely to a great texture and tastes great! Just like chocolate milk ;)
Yum
Tastes great, easy to drink