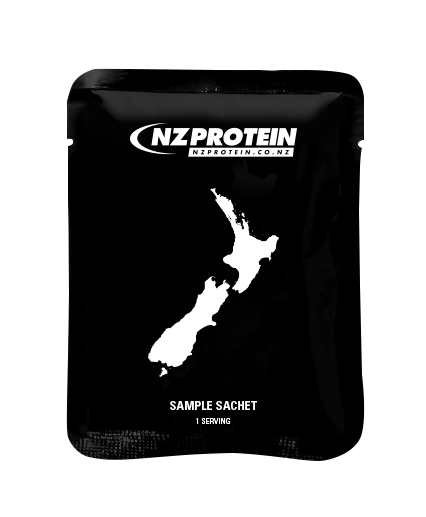 NZ Whey Sample Sachet
Made From Clean NZ Dairy, We Have Some of the Best Flavours Available!
What's in My Shake?
Some of our flavours have inclusions:
Cookies n cream - cookie crumbs
Orange choc chip - chocolate chips
Blueberry yoghurt - freeze dried blueberry pieces
Butterscotch caramel - hokey pokey pieces
Choc peanut - roast peanut pieces and no flavouring
Supplement Information
Whey is a high quality protein powder that's rich in amino acids and Branched Chain Amino Acids (BCAAs). It comes from milk and is a by-product of the cheese making process. It has a naturally creamy texture and is the best tasting protein.
Whey protein is fast digesting and easily absorbed by the gut. It's highly nutritious and, coupled with its concentrated amino acid profile, is one of the most beneficial dietary sources of protein for muscle growth and repair - especially for pre and post exercise.
Our whey is the most popular supplement choice for athletes, fitness models, bodybuilders, and those wanting to lose weight or just add more protein to their diet.
Not sure which flavour shake is for you? Double Chocolate or Mixed Berry? Gourmet Vanilla or Banana?
We believe we have the best tasting protein on offer because we use better ingredients, and our recipes have been fine tuned from years of feedback received. We do not add fillers, thickeners or 'processing aids'.
Mixing Instructions
Each sachet contains one serving (31.25g). Mix entire sachet with ~200-250ml of chilled water or milk depending on desired taste.
Limits
Please note that we are unable to fulfill continuous orders for sample sachets. They are intended for sampling and trial purposes and limits apply.
*The cookies n cream flavour contains gluten
Please note that this product is processed in a facility that also handles egg, soy, peanut, and gluten ingredients.
---
Rated
4.85
/
5
Based on
286
customer reviews.
They are great to try flavors before buying the larger bags
Great to try the taste before you buy bigger size
All 5 the flavours I tried are yummy! I drink it with water :) my favourite is boysenberry. Also White choc Raspberries
Taste was great.
Great way to taste different flavors and see which one you like before committing to a bag.
I tried the lime flavour and really enjoyed it. I would definitely consider buying this flavour at some stage for a change from chocolate and caramel.
Hands down THE best protein flavours EVERRR!!! Got a number of flavours for hubby to try as a healthier alternative to ice cream (butterscotch, lime, pineapple cake, lemon tart, choc mint) and while he enjoyed them all, boysenberry was by far his favourite. He would mix 1/2 a sachet with 1&1/2 cup of unsweetened greek yoghurt, 99% sugar free choc chips, whole almonds & frozen blueberries. Will be trying other flavours when we purchase the 1kg boysenberry soon 🤗
Brought 5 flavours: jellytip - was amazing, apricot cobbler - was nice, cinnamon donut - was ok but not my favourite, mango - wasn't for me but nice enough, and mocha - was yummy. All mix well.
Awesome products great flavours
Love having the option of trying out different flavours through the sample sachets! Have tried the cookies and cream, lime and mango and all of them taste like an ice cream version of the flavour (just had with water).
Great way to try without spending too much and getting a flavour you don't like!
Sample sachets are the way to go! Try the vast range of flavours and find a fave or 3.
Great to try flavours and product
Amazing service !!! Nice tasting protein powder
bought the samples for my daughter to try to get more protein in her diet - they arrived in 24 hours, and she loved them!! Her favourite is the Jelly Tip as it tastes JUST like the icecream!
Awesome samples, really like being able to try all the flavours before committing to the full size. They mix really well in smoothies and with just milk. My favourites were gourmet vanilla, cinnamon donut, salted caramel and raspberry white choc. Super fast delivery as well, arrived within 2 days of ordering! I bought the full size of vanilla but will keep ordering small samples for when I want to mix it up.
Great quality and amazing taste
Very fast delivery! Ordered 1 Kg Whey on Tuesday and it arrived on Thursday! Had tried out a few sample sachets before and decided to start with Orange Choc. Yum! A great place for seniors to explore flavour preferences and other interesting products as well. Yup, gotta bulk up, regain muscles and improve on strength.
Fast delivery and love this protein, mixes well and low sugar
I've been struggling to find a nice flavoured protein in so long (especially one that didn't jar the same texture as play dough), I gave up on taking any supplements.

Finally given the chance to sample a whole lot of flavours, I'm sold on NZ Protein! I loved the Jelly Tip flavour (legit tastes like it) but stoked that all flavours I tried were smooth and easy to down with just water. Highly recommend 🙂
Love the sample sachets so you can have a variety of flavours rather than buying a 1kg bag. Delivery is super fast and everything is boxed.
Love all their flavours
Yum greats flavors super affordable to buy
I tried the mango, salted caramel and lime flavours. The salted caramel was by far my favourite! It was soo delicious and tasted just like the caramel flavoured Swiss Maid dairy food I used to eat as a child!
Great products! Nice to be able to sample different flavours before buying a whole packet! Gourmet vanilla whey is delicious. Quick delivery service, same day or next day in Auckland depending when order was made. Will be ordering again. Thank you!
These mix well, and have really nice flavour too them, without a bad after taste.
Love being able to try samples before committing to 1kg of one flavour!
Great flavour, not like any other whey I've had before. Definitely getting the bulk pack next time.
Great taste and texture. I usually buy the expensive famous swordsman brand from the grocery store. This is far better tasting without a grainy texture
My partner and I love getting the samples so we can try each of the flavours. They're really easily mixed in a shaker, keto friendly and taste so good!! Such quick delivery too. My last order I did late one afternoon, it was here the next day!
Awesome size for travelling, mixes well in my shaker I have in my travel kitchen bag
Great way to find what flavours you like, delivered quickly and without fuss.
Thanks these are great - we are new to all this and being able to try the flavors is great! Thanks again
Tried most flavours, and all are really tasty!
Thought I would try some sample sachets of the other flavours of whey protein and have enjoyed the variety so have a better idea of choice for future purchases.

Many thanks for efficient service and quality of product.
Flavour and consistency was lovely
I love being able to try the flavours first as a sample size as I like to have different flavours but not sure which ones I will like so this works great for me!
Great tasting product - in fact one of the best I reckon. I was a disliker of protein powder but I really enjoyed the samples that I ordered. I am now ordering the bigger bags - hard decision to which flavour is my favourite though - they all taste so good. Easy to use and mix and highly recommend.
These are awesome
Always happy with anything I order from NZ Protein
These are so yum, all the flavors. I've never tasted a protein powder that's actually nice!
Samples are a good way of deciding what flavors I like and don't like without buying 1kg.
Great tasting and easy to mix. Have been now purchasing the large packs for my done and I. The service and delivery is very prompt. 👍
Easy to buy, great range of products to select from. Great that I could buy samples too.
Great so many samples to try and find out what flavours you like ,If your like me nearly all of them lol
These make it super easy to try different flavours before committing to a large bag. My favourite so far are banana, choc mint, and mocha.
Was great to be able to get several sachets of different flavours to try. Excellent product so have now bought the big bags!
Great convenient ways to add protein to food when you need to up your levels. Nice texture and mixed well when added to a shake. Definitely be back for more.
Love the Whey protein sample packets. I love that you can sample all different flavours to find out what ones you like without buying the big bags. I have had a flavour I didn't like. Definitely recommend.
Super helpful lil packets for figuring out flavour preferences, especially if you're indecisive! I started buying NZ Protein in the first place because they offer samples (I've had to force myself through too many unpleasant-tasting containers of meal supplement and protein powder before, so I really appreciate that Try Before You Commit To A Whole KG is an option. I do wish the banana choc nib meal supplement shake had sample packets too--I'm always hunting for a meal supplement powder, but can't risk being stuck with a whole kg of something I dislike).

IMO, best whey flavour is blueberry yoghurt (I bought a kg of this) followed by mango and cinnamon donut. For some reason blueberry yoghurt tastes like an Asian melon milk tea to me? It's great, anyway. Banana and strawberry shortcake are fine; pineapple cake unfortunately tastes like pineapple + cheese to me, although YMMV. I usually put this in a smoothie with milk, fruit, spinach, LSA and chia seeds; having a drinkable meal at hand is helpful when you're the forget-to-eat type.

Also, shipping is super fast. I've recommended these guys to multiple people now; they have sample options, lots of flavours, lots of helpful info about the products (love the comparison table!), transparent communication about what's going on with them, and fast inexpensive shipping. What's not to like?
Pinapple cake wasn't fir me. NZPROTEIN REPLY: thanks for the feedback but just curious why you only posted feedback for the one product you didn't like and not the others that you get more frequently from us?
The absolute GOAT protein powder. Cookies and cream, double chocolate and Mocha and 10/10 :)
I used the protein powder to make a keto batter. I used it with gurnard and I had very good fish tacos for tea.
Great whey to see if you like the flavours. Picked up a couple (lime/jelly tip) and was impressed with both.
Really impressed dealing with this company.
Fast and efficient hassle free transaction.
Sample size options great for trying the various flavour options, along with convenience - am planning on taking a few with me while travelling so still getting good protein despite long haul flights and airports!

Also service has been exceptional - great quick email responses and help - thanks NZProtein!
Incredible product, mixes well and tastes great.
I've had weight loss surgery and this is the first product that I can tolerate, as most proteins are too sweet.
Will def keep buying NZ Protein products.
So good to be able to try a few flavours before committing to a big size
Great product
BEST way to try out flavours without investing in a whole KG
the flavors are great
LIME- Not a fan tastes like lemon juice squeezed in milk I was hoping for a more vanilla lime shake flavour

BUTTERSCOTCH- delicious! But be careful as the hokey pokey pieces are super sharp and I swallowed one and it hurt haha

CHOC MINT- YUM !

CHOCOLATE ORANGE- my favorite combo !

JELLY TIP- another goodie !
Enjoy the variety of flavours available. The whey protein mixes well with fruit, berries, water. And when added to a milk of choice, it is very creamy!
Soo good.
Flavours are delicious
Great way to try all the different flavors.
Absolute quality stuff here. Got to me quickly and was ready to go in the first 15 minutes of me placing the order. All the flavors are great, my personal favorite in vanilla. Will definitely order again
Mixes easily and is flavourless enough to drink any time of the day.
Pretty good
Love the different flavours of the sample packs
Great flavours
Banana is one of my favourites. Good amount of flavour, well balanced. I buy this in bulk now.
White choc and Raspberries was just not as flavoursome enough for my taste. Hence 4 stars. Great to be able to sample flavours before I purchase in bulk. Thank you. NZPROTEIN REPLY: we have a new version of this coming soon!
Very yummy and tasty. Quick service 😀
great product, good taste
Amazing product/ service and such a wide range of different types of protein. very helpful information on all products and definitely helps when buying new products. NZ Local 💯 best ingredients .
Tasted like cinnamon, very sweet however and would not buy a kilogram
Yum
These little sample sizes are so great, gives you the chance to try the fkavour before you commit to a bigger size. Love them in yoghurt
Got a matcha and a mango sample. Great way to test flavours and not worry about having to choke through a whole kilo of bad tasting protein!
Very good product and service
Love NZ protein. Always great to be able to buy samples before I commit to a bag
Loved it
Handy little packs - I bought these to decide on my favourite flavour but ideal too to take along with you.
easy to mix and tasty
Love the product, flavors are yummy shipping is quick and notified every step.
I bought one of each flavour of the Whey sample sachet and I was not disappointed.
Honestly can't find fault with any of the flavours because they all tasted so good. I really liked how subtle the flavours were too with no nasty after taste.
The price is also incredible compared to some other brands I've tried.
This is definitely my new go to protein powder.
These sachets are amazing if you are wanting to try flavors, so far the mixed berries is my favorite, iv still got a few to try but so worth it.
These sample packs are awesome, not only do they taste great. It allows you to try the flavors first so you can pick the ones you like best. Nothing worse than getting something and it tastes like crap.
Great taste, helps smooth out appetite during the day and recover from workouts while being healthy.
Delicious & Dissolves quickly in water in shaker bottle.
Really nice protein, great price and good quality. I tried several different flavors. Blueberry yoghurt and double chocolate are my favorites. Blueberry yoghurt blended with plain Greek yogurt and water is my perfect shake, not too sweet but good flavor. The chocolate is great mixed with milk. Mocha is nice but not very strong coffee flavor, I personally like the plain Chocolate better. Maple Syrup pancake is extremely sweet but really delicious. Reminded me of American birthday cake flavour. I would love to try the Chocolate peanut butter eventually.
Strawberry shortcake was very nice like a strawberry milk shake, not overly sweet.
4 for the maple syrup one, as a little sweet for my liking.
Taste like drinking a McDonald's ice cream
Taste is so good and easy to take
I use them for a shake at work. like the fact that I can experiment with different flavors. Mixes well.
Quick shipping, good price to try flavours out before buying a tub
Great testing protein powder & super fast delivery.
Jelly Tip, sounded good bit a little too sweet for and overpowered the other stuff in the shake too much. It wasn't for me
The flavors i picked were banana, cookies n cream, mocha, strawberry shortcake and salted caramel. All of these flavors mixed really well in the wave shaker and all tasted pretty damn good. my tier list for the flavors (worst to best) would be salted caramel, cookies n cream / strawberry shortcake, banana, mocha to anyone who is having a hard time finding a good flavor i hope this review helps you :)
Love the flavor
Taste good so handy to try different flavours without committing to a full size. Mixes well in a shaker cup. Highly recommend if you want to try new flavours or travel sized servings
The Strawberry Short Cake flavour is just like strawberry milk shake. It's not overly sweet and strawberry flavour is subtle and not over powering.
Great flavour, love it :)
Tried the new choc peanut( i generally enjoy the taste of peanut butter) and I loved the flavour, could taste the chocolate and peanut, I found it tasty and sweet but not overkill.
Nz protein have the best tasting protein I have ever tried. The sample packs are a great way to try new flavors without buying a big pack
Love the samples
I'm usually a Nutra Tech customer, but since they discontinued their Bcaa 4:11 formula, I decided to buy from NZ Protein, along with a sample of their White chocolate raspberry, whey protein which is believe me really good, not too sweet, would definitely start buying their proteins again at some stage👍🏻😊
Bloody delicious - get onto it!
Sample sachets are such a great idea to test the flavors before getting a bag. They all taste delicious though so hard to choose. These have helped us to fill up growing tween boys. Great for a smoothie after school or breakfast on the mornings we are short for time. Boys thought the vanilla one tasted like Pavlova.
Full of flavour, very quick delivery.
The cinnamon doughnut flavor was very nice. However, i also ordered a white choc raspberry flavour and received Mocha instead…
I've set it as my mission to try all of these eventually. Banana - a classic - love it. Butterscotch Caramel - a new one - pretty good Mint Choc Chip - another new one- Oh god it's awful, I'm finishing it and never ordering it again - tastes better if you blend it as opposed to using a shaker but it's still terrible - it's like toothpaste with stuff in it - Everything else NZ protein has ever sent me has been good and I'm sure there's some crazy person out there that'd like the Mint Choc Chip - but I am not that person.
Love that I can sample flavours before buying the full size. The only problem is which flavour to buy a tub of - the ones I've sampled so far have all been delicious and mix really well. Great product - I will definitely be a repeat customer.
Ordered a few of the flavour sachets to try out and the mocha was my favourite. The protein powder itself is always consistently great. I've tried a variety of other brands and this is always my preference when it comes to flavour and consistency.
Delicious! My favourites are vanilla, cinnamon donut, green tea, banana and the caramel flavours. Great flavour and such low sugar!
These samples are amazing and were super handy (while I was able to order them)
Great because I could just throw into my lunch bag for work and so nice having a variety of flavours. Top flavours would be cookies, Donut & Vanilla. Blends up beautifully and goes really well in oats, protein pancakes etc.
Great little sample packets, they are perfect when your travelling! Highly recommended.
White chocolate and raspberry..yum
This is my first try of protein powder, sampled the berry, vanilla and natural flavours and all tasted great in my smoothies! No grittyness, mixed in well and got that boost of protein needed. Will be buying more.
Quite literally the best tasting protein powder I've ever tried and I'm a really fussy person when it comes to taste, most taste like fake sweeteners or the texture isn't nice but nz protein is lovely and very satisfying. Highly recommend.
Very very yummy, easy to make
Love the sample pack option for getting to try a flavour without having to buy 2lbs. The flavours have been absolutely delicious and great in my protein oats
Perfect for trying new flavours, or carrying in your bag for work or a trip away. The best protein I have every tried, the flavours are nice , no horrible sweetener aftertaste and super smooth! Have tried nearly every flavour and it's impossible to pick a favourite
Mixed well, good flavour (mint choc chip) that I found refreshing, so unlike the cloying taste of artificial mint flavours. I was surprised to find actual chocolate chips in the shake. Fun!
Finally a company that does samples of their flavours! I love being able to try before I buy :) Butterscotch caramel whey was absolutely delicious
Fantastic flavours - makes the protein shakes almost a real milkshake!!
So yummy. Taste like a naughty thick shake. But its a healthy protein shake
Awesome service and really fast delivery thank you
Awesome flavours!
Simply the best protein powder I've ever had in my shake and it's good value for money.
Great sample size, worth it to find out if the protein is right for you.
I bought 10. I have tried 2 and they are very good. Once I have decided the flavour I like, will be purchasing in bulk. Highly recommended.
Good for travelling if you need small portionable amounts, and also for taste testing the extensive range of whey flavours (what I used them for).
Love this product, lovely flavor too
5 Stars
It taste great, it's light fluffy and not too sweet. Best of all it's clean ingredients and NZ produced.
I've had a lot of different brand proteins this is the best so far hands down, thanks NZ protein!!
Loved it!
loved the berry flavored sample and the new blueberry which is my new favorite will be buying it again. Just waiting for a passionfruit flavored protein powder and i will be in heaven
Really good flavour, easy to mix. Will be getting this one in my next order.
I have now tried quite the variety of these sample whey protein flavors! Brilliant tasting, and easy to mix. A great go to after my workouts. I recommend people to have a try!
Loving these flavours! Nicest protein powders I've tried.
Blueberry yoghurt taste good. The flavour isnt too strong nor is it weak. And the real blueberry pieces are a nice touch
The taste was great, but I am not sure if I mixed it correctly as the flavor is quite plain. Overall, it is a good flavor and product
Fantastic product! Great tasting and awesome flavours! Will definitely be purchasing them in the future in larger quantities 😊
Great way to sample the flavours before purchasing a big bag of product.
Yum!!! So good and such quick postage
Best tasting protein I have ever had. Brought most flavours in the samples and there hasnt been one I havent liked.
First time ive ever had a protein shake and this was so delicious,thick and creamy with awesome flavor!! Yum
Never had before but it was very nice, especially with non sweetened Almond Milk
These single serve packets are an excellent way to sample flavours before deciding on which larger bag to purchase. They're also extremely handy to have in your bag when out and about/travelling. Excellent choice of flavours, they taste great and give you an excellent feeling of satiety.
Tasted almost all of these. Have all been great. Much nicer than other brands I've tried.
Delicious, filling and easy as a meal replacement on the go.
Excellent service. Literally bought it the night before it arrived. Fast delivery. Will come back
I love how you do the sample sachets. Its great to be able to try the flavors and find which ones you like the best. I loved the banana and lime, they were my favorites this time. I also liked the flavors in the jellytip, but it was too sweet. If you made the jellytip a little less sweet I would be sold. But all in all I love your protein powders. They are the best tasting, lowest carb ones that I've tried. Now the whole family like them too.
Tried a few of these with milk:
- Lime: Tastes like a green primo, kind of a compromised after taste though 7.5/10
- Orange choc: Tastes exactly like orange chocolate chip ice cream. Could get sickly but it was great 10/10
- Jaffa: Tasted like a choc orange thin 10/10
- Banana: Pretty much a banana primo. 10/10
Jellytip: You can't convince me it's not a powdered jellytip ice cream 10/10
Bought a few different flavours to try and I thought they were great. Love the fact there is no added fillers etc will be swapping to this brand from now on.
I bought a bunch of these sample sachets to try and decide which to get a KG of and so far they are all so delicious! My favourites at this point are probably jaffa, jelly tip and salted caramel, but I still have a few to go and I can see myself working my way through KGs of all of the ones I have tried so far. The best selection and taste I have come across. I just make them with water and they are still nice and creamy in a shaker.
Love the protein powders so much! I would high recommend especially for the price😲👌🏻
Tastes awesome
Excellent product, quick service
Great that I can taste the product as a sample before I buy, great delivery service- arrived quickly. 👍👍👍
Great way to decide which flavour to buy at an awesome price. Taste amazing too
The best!
Love the sample sachets. Such a great way to try new flavours before buying in bulk. They are yum!
Love all the flavours, can't decide on my favourite. Thanks
Great way to try all the flavours before buying a big pack.
Tastes like lime at first, then a bit soapy like liquid hand soap. In saying that, I'll probably buy the flavour again because I like lime!
Great whey products, high quality and good price! I love the cookies and cream flavour. Excellent customer service.
Good test before committing to a whole bag.
Great flavours and handy single serve size
Great tasting product, fast and friendly service
Whey is so so tasty, so much better than the pea protein, whey protein actually makes your shake taste better
Recommend! I tried the below flavours, opinions beside each.
Overall good consistency, (no grainy texture), mixes easily and tastes good (even with just ice and water)

NZ Whey Sample Sachet Banana - Yum!! this one reminded me of a banana milkshake (I had to by 2kgs of this)
NZ Whey Sample Sachet Salted Caramel - Second fave of the bunch, tastes exactly as you'd imagine.
NZ Whey Sample Sachet Cinnamon Donut - This surprised me, having a shake that tasted like a cinnamon donut was a different experience. Tasty, but a bit strange for my liking!
Really loved the cinnamon donut flavour!! Love the consistency and doesn't taste artificial. Nothing worse than a thick gluggy fake tasting protein. Being able to taste the flavours is super awesome! Happy I've found an nz brand that does it right without all the frills
They are the best and your delivery time is simply the best. Great customer service. Love all your sachets because it gives an opportunity to try before buying the lot.
Grabbed a bunch of samples to try, so far have tried Orange Chocolate Chip, Jelly Tip and Lime, all of them have been really good! So impressed! I normally buy Optimum Nutrition, but will be changing brands to NZ Protein
Loved it
Cookies and cream, Matcha and chocolate mint is really good. Weird bitter after taste in some of the other flavours
I ordered about 10 different flavours to try & so far I've loved them all! It's great that you provide the option to try a sample of each flavour as I've bought so many different brands of protein powder in the past & had to purchase a full size & then not liked it. Also your service was amazing! I think I placed my order at about 3pm & it arrived the following morning (even though I'm on rural delivery & parcels normally take longer than this to arrive). Thank you - I will definitely be ordering from you again.
Great way to try the flavours before buying! Love the chocolate & vanilla so far, can't wait to try the others. Delicious, easy to mix, no lumps! Tastes great with water or milk.
Delicious!
I brought a couple of the whey/ protein sample sachets and all of them were amazing, the taste was yum, I cannot pick a favourite
A great way to try a flavour before committing to a bigger size
Locally made with local products great tasting. Way better than any American Protein supplements out there. I urge fellow Kiwis to try this product. I have sampled Chocolate and Banana both great flavors. Keen to try others before I purchase a larger quantity.
Such amazing flavours, mix really well (including just shaking it). I've even used them with a couple of eggs to make pancakes. Awesome service too!
Will buy more
So good for trying out a flavour before getting a full size bag!
Amazing. Great quality and flavours. I loves it.
Amazing taste and amazing service!
Banana was super yum and mixes well.
By far the best tasting whey protein I have ever had, chocolate is my favourite
Best clean flavour taste
The cookies and cream flavour is really good! 😊 Great value too!
Fantastic taste and quick delivery!
Cookies and Cream is a nice flavour. I liked it.
Cinnamon Donut was okay - probably would stick to other flavours though imo
Jelly tip flavour was the first NZ protein I tried and it was amazing. So creamy and lush and not too sweet. I used unsweetened almond milk and some frozen raspberries. Will purchase again !
Sample sachets are so good....
Gives you the chance to try other flavors without having to buy the big bag....
Wife loved it, I didn't think it was that great tho
I find them to sweet so I always mix them with unflavored. Perfect
It's been a while since ive purchased my protein shakes, I missed them so much, never a disappointment.... very nice..
Not sure what flavour this one was but let's say it was the cookies and cream one. Was soooooo yummy! Trying out a few flavours before I commit to one but this flavour is so far in the lead.
I've tried a few different protein powders in the past, including pea based but have to say this is the best ever!! Mixes great (even in shaker), creamy texture and delicious variety of flavours. Most importantly for me, the sweetener is not too overwhelming, I counteract a little further by adding De Winkels yoghurt. Exceptional product and kiwi made!!
Fastest service ! Yummy sample sachets. Great to take in bag for lunches.
Thanks
I love the fact that you can get samples, so good. I liked all the flavours I tried, and had to order the rest to try. So far chocolate is really up there and so is lime.

Easy to mix, tastes really good and great pricing.
I tried the cookie and cream which I found very sweet and wasnt my favorite flavour.
I ordered the jaffa flavour and again I was a bit disappointed, it wasnt as rich as I was hoping.
The orange flavour wasnt as strong as I was hoping.
So impressed with this product. Smooth to blend, flavours are great. I use as protein supplement for Keto diet. Have already ordered again
Loved this. Great texture protein, not grainy. Not too milky as I?ve found with others. Going to be buying a larger bag!
Great taste and really smooth consistency
Love the flavour
My daughter and I are trialing a lot of your sample flavors, we are loving them.
Great taste. Fast delivery
Nice flavours,easy to mix
Love the fact I can try before I buy.
First time buying protein powder not from supermarket, my daughter and i chose 5 samples to try, very surprised how good they taste, thoroughly recommended, will be buying more.
The green tea & matcha flavour is fantastic
Amazing taste, mixes really well & fast delivery. Very happy overall
Fantastic protein shake - not grainy and lots of flavour - thanks NZ Protein - will order again
Absolutely love your protein, flavours are delish and doesn?t leave a horrible after taste.
Best on the market!
I've just started the keto diet and was needing more protein. These Whey sample packets are really great if you are unsure which flavour your wanting. Each flavour is far better tasting then any other protein powders on the market. Highly recommend trying a few or all flavours.
Thank you for my order. Very fast shipping!! Love what I have tasted already. I will be a regular customer
Great service - product was here next day - absolutely love this protien powder :)
I am doing Keto and finding it difficult to eat as much meat required for protein count, this product boosts it. And it tastes fine, which I didn't expect
Purchased pretty much all flavours as samples. So far haven't tried any we didn't like. Really yum!
Excellent service prompt delivery great price.
Great to be able to try a few flavours before committing to one. Tastes great too.
I have been trying a variety of flavours of the samples and they taste really good! Ordering was easy and delivery prompt. Thank you!
Love it the best flavoured protein I have used, and low Carbs! ideal for supplement to Keto.
Love it the best flavoured protein I have used, and low Carbs! ideal for supplement to Keto.
Amazing taste, definitely purchasing again
I really enjoyed the sachets I tried as I have been searching for a good protein powder for a while now
AMAZINGLY quick delivery and really great product, love that you can "try" before you buy - what a great idea! AND great tasting Whey Protein, the Whey Isolate was also great tasting, but not as thick as the Whey - but they do tell you this in their blurb.
Amazingly fast service. Protien is delicious.
Delicious! Fast shipping! Marvellous!
Love the idea of sample packs so that you can try out new flavours!
Great flavours , very quick and easy to use. Prompt delivery.
Excellent service, I thought because I ordered so close to, actually two days out I would not receive till after Christmas, yet I got these amazing products almost overnight. I love your Protein and I will keep ordering as I can afford. I have left a dysfunctional relationship and have been left high and dry this is why i find the convenience of the single packets affordable for me at present which I love.
Orange choc chip tastes like jaffa...so good
Love them so easy .. I add ice and water, coconut milk or cream and blitz .. it's like an iced frappe
I love the NZ Protein and I will purchase more. I have tried other proteins and have had an allergic reaction and felt bloated, NZ protein I have not had a bad reaction. I recommend and I will be purchasing more. Postage was fast literally overnight. 5 *****
Yummy and even good with just water ,great shaker too
Great taste. Great that there are little samples to try the different flavours.
Tastes way better than I expected and very close to a proper milkshake!
Used in a smothie with calcitrim and fruit - tasted good , have had recent bariatric surgery so works well for getting enough protein.
This is absolutely the best tasting protein powder every single flavour is delicious and you cant beat that price!!
Im on the go all the time so need something that mixes well with water as well as milk
Great taste..mixes well
I love the samples. Banana and gourmet vanilla are my favorites!
Perfect for when I travel to ensure I get my daily protein requirement.
Great tasting, mixed easily
Really tasty, so creamy!
Great to be able to sample the flavours before buying a bigger bag, they are all really delicious, not sure how I'll choose!!
Great product, fast delivery, highly recommended!
Loved the Mint Chocolate flavour!
Great way to try samples and all flavours.
Just Need instructions on how to mix and mls. of water/milk needed on sample packets.
Tastes great
I ordered a bunch of samples and I have to say as a bariatric patient who was losing hope in protein powders as my small tummy just was not tolerating them. This has been the best by far, it's consistency is smooth and the flavors are delicious, while I wasn't big on the cinnamon donut it was still palatable. Loving the orange jaffa and white chocolate and raspberry!! You just found a new loyal customer.
Great way to try out all the flavors before buying a big bag. Aslo great when heading away
Lovely when made up with almond milk and ice.
Love the flavours of these protein powders very tasty indeed
Love the salted caramel protein sachets
I love the whey samples. Flavoured and even the unflavoured ones are great too for adding to my morning smoothies without that funky grainy taste you can sometimes get from unflavoured protein powders. I am a very satisfied customer
Excellent product, very fast and hassle free and you can add what you like to it. The super fast shipping is brilliant, absolutely awesome and highly recommend
Best tasting protein around !!
I absolutely LOVE your flavours. So far its been the best taste in protein powder I've ever had.
Was very tasty made a smoothie with avocado very yum
I tried white chocolate and raspberry and it was delicious. Can?t wait to try other flavours, will definitely order from here again!
Perfect size to try the flavours before committing to a larger size pack. And so yum!
Have purchased a few different flavours to try and have not been disappointed. The orange Jaffa is so good as it?s different. Vanilla is also an easy winner to put with anything!
Great variety and taste. Very low carb.
Fantastic product, love the fact that you guys sell samples. They were all so good that I've already ordered a 1kg of the cookies and cream plus more samples to try the flavors I missed out on with my last order. Shipping was super fast! Delivery to Christchurch within 24 hours! Also super stoked with the prices which are way lower than most I've seen. You've got a new loyal customer.
I used as a meal replacement.
I enjoyed the taste, even though made up with water and was pleasantly surprised as I didn't taste the aftertaste as with some drinks.
Absolutely loved my samples of this! Mixed Berry was my absolute fav and will be buying this one! Looking forward to trying others at a later stage.
I love that you can order sample packs so that you can try before you buy the big pouch and they are also handy to throw in your bag for emergencies. I now have a box of these little ones so that I can have a different one each morning. No chance of getting bored. Will be buying more.
I NEVER write reviews and don't often contact companies but just had to let you know how fantastic your whey protein flavours are. All the sample sizes I've ordered are YUM. Easy to mix and so tasty. I'm super impresed with your fast shipping too. I'm recommending your company all over the place.. Thank you and keep up the great work!
I love sample sachets as I hate committing to a bag for a few months when I dont like the flavor. So handy to try before you buy.
Arrived 1.5 working days after ordering. Really liked the banana and mixed berry flavours but vanilla takes the crown. My only criticism would be that when I opened the sachets I would loose some powder that went over the floor and counter top. Its not much but it is wasted. Other wise good product and a good "whey" to find out what you like.
Salted caramel is THE BOMB! It is the BEST flavour protein i've had, bar none. Keep up the great products team look forward to whatevers coming next. Ben
Excellent service, super fast processing and delivery, I?m highly impressed!
Delivery was incredibly prompt, which I'm not used to so fantastic job there. The vanilla is really nice. I was worried it would be a bit too rich or sweet, but it's just right. As is the cookies and cream. They mix and taste really nice with water or milk, though I tend to lean towards milk. I'm really impressed with the size of the samples as well. Overall, this is a really good product and I'm definitely buying the bigger products.
Good product and great to be able to try all the flavours first, however every one else's reviews are saying the flavours aren't very sweet. But for me they're still far sweeter than I expected, the caramel in particular is very sweet and fake tasting. I'll be sticking to the plain option! :)
Really handy to be able to taste test to pick a flavour! I've tried chocolate, vanilla, orange choc chip and cookies and cream! Love all of them and can't wait to try the others!
Great idea to be able to try the different flavours before committing to a full bag!
Also helpful to keep these sachets on hand to take with you if you need to have more than 1 shake and only have 1 shaker.
Same day service and tastes great, well done!
Prompt replies at all times of the day, excellent service!
Have tried the dark chocolate and lemon+lime so far using water
The flavours are subtle but really good - Probably stronger in milk

Lime/lemon tastes really good and is worth trying, pretty much a lime milk shake but not as strong

Dark chocolate tastes like a slightly weaker Wave chocolate milkshake
I received my samples today ( got 1 of each flavour) tried the lime one first and surprisingly it wasnt as bad as I thought it would be, it actually tasted really nice for such a strange flavour protein! I will be testing the rest of the flavours over the next few days and can hardly wait! Cheers guys!
Received Vanilla sample today and was very impressed with the taste and deliciously creamy texture using milk and an electric blender.
I've tried many protein powders and this is definitely amongst the best tasting!
Just received the sample today and I can honestly say it's the nicest tasting protein powder I've ever had. I have a very weak stomach and cannot stand the taste of powders generally. I gave up on whey a long time ago until I saw that you guys were giving out the samples, and thought I may as well try a local one. I'm drinking it now and it's fantastic. (BEN E)
tastes great, and awesome shipping i'm sold!