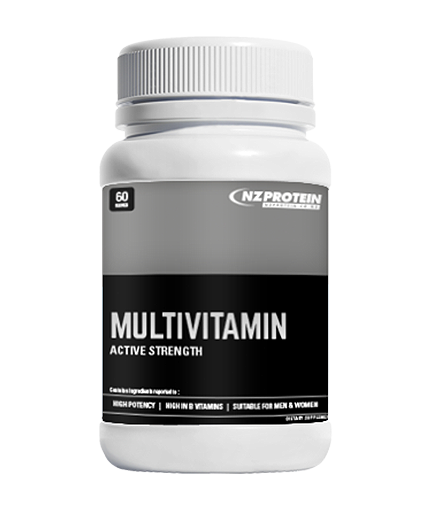 Multi-Vitamin 60 Serves
Active Strength Multi-Vitamin. High in B Vitamins.
Multi Vitamin NZ
NZProtein's active strength multi-vitamin contains a potent and comprehensive range of vitamins and B vitamins, nutrients and antioxidants packed into a daily formula.
Suitable for men and women, it works to support energy levels and the immune system, help against the damaging effects of stress, and aid general health and well-being.
All-in-one daily formula
High potency
High in B vitamins
Suitable for men & women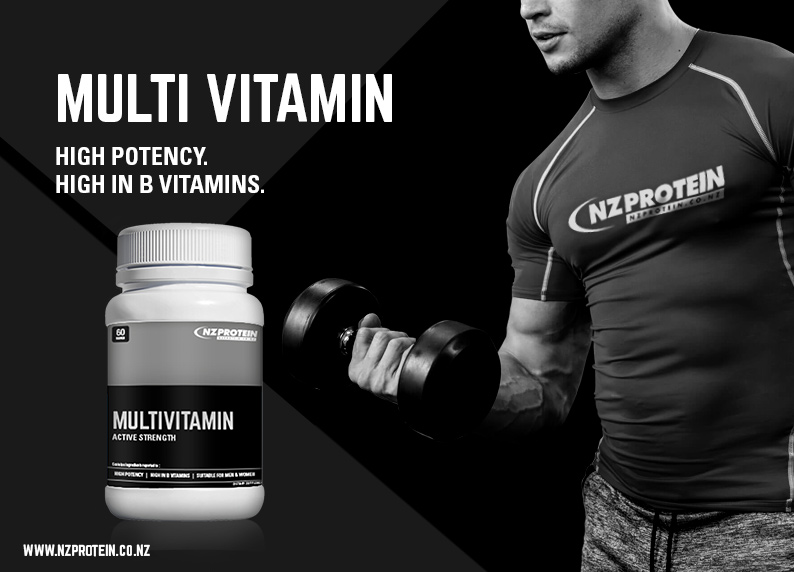 Multi Vitamin Benefits
NZProtein's Multi-Vitamin contains vitamins and minerals which are essential for health and well-being.
Vitamins and minerals are used for many bodily chemical reactions including cell maintenance, growth, reproduction and performance. Each vitamin and mineral has a different function and many of them are considered essential, meaning that they must be obtained from diet.
Though these nutrients should be obtained through diet, athletes and those who lead active lifestyles need more nutrients than the average person who isn't active.
A deficiency in any of the essential vitamins or minerals can cause a break-down in bodily metabolic reactions which can negatively affect performance.
A multi-vitamin can therefore be beneficial for those who are active and for those who want to ensure that they are consuming enough nutrients in their diet.
B Vitamins
NZProtein's Multi-Vitamin contains high levels of B vitamins.
B vitamins are responsible for an array of bodily functions including the conversion of blood sugar into energy, the production of amino acid proteins and fatty acids, and in metabolic processes in red and white blood cell production and in the heart and nervous system.
They're found naturally occurring in beans, peas, leafy green vegetables, and protein foods such as eggs, meat, chicken, fish and milk products.
B vitamins mostly can't be stored by the body and need to be consumed regularly. These types of vitamins can be damaged by alcohol and cooking. Processed foods can lack in these vitamins and those with poor diets may end up with a deficiency in these essential vitamins.
Supplementing with B vitamins may be beneficial for active athletes and those who do not obtain enough from their diet.
Directions
Take one capsule daily with food or as advised by your health care professional.
---
Rated
5
/
5
Based on
11
customer reviews.
A staple in our house, have been buying these for years now.
This is a great multi vit. Have purchased multiple times.
Great product good price and has a lot of vitamins!!
Great product good price and has a lot of vitamins and the amount of it compared to other products.
Great value and quality!
Has all the essentials for keeping your immune system pumped during the covid all in one capsule. Do not forget to find supporting foods to support each vitamin also for best results.
After trying several different brands the NZProtein Multi is superior in quality, noticeable effectiveness and value. Highly recommend to anyone seeking daily optimal nutrition.
Great value, great product
Excellent multi vitamin
Great value for money!
Great value for money. High dose rate tablets that are effective and affordable.
Serving size: 1 capsule
Servings per pack: 60
| Name | Ave Quantity Per Serving | Ave Quantity Per 100g |
| --- | --- | --- |
| Vitamin A (beta-carotene 900mcg) | 3000IU | - |
| Vitamin C (ascorbic acid) | 250mg | - |
| Vitamin D3 (cholecalciferol 25mcg) | 1000IU | - |
| Vitamin E (d-alpha-tocopheryl succinate 20mg) | >29IU | - |
| Vitamin H (biotin) | 100mcg | - |
| Vitamin B1 (thiamine) | 40mg | - |
| Vitamin B2 (riboflavin) | 30mg | - |
| Vitamin B3 (niacinamide) | 40mg | - |
| Vitamin B5 (calcium pantothenate) | 30mg | - |
| Vitamin B6 (pyridoxine) | 30mg | - |
| Folic Acid (Vitamin B9) | 300mcg | - |
| Vitamin B12 (methylcobalamine) | 20mcg | - |
| Boron (chelate) | 10mg | - |
| Calcium (marine) | 96mg | - |
| Chromium (nicotinate) | 30mcg | - |
| Copper (gluconate) | 1.5mg | - |
| Iodine (kelp extract) | 100mcg | - |
| Iron (chelate) | 3mg | - |
| Magnesium (oxide) | 90mg | - |
| Manganese (chelate) | 2.5mg | - |
| Potassium (chloride) | 90mg | - |
| Selenium (chelate) | 150mcg | - |
| Silica (bamboo extract) | 14mg | - |
| Zinc (chelate) | 10mg | - |
Ingredients: Other ingredients: Encapsulating aid (magnesium silicate and gelatin).