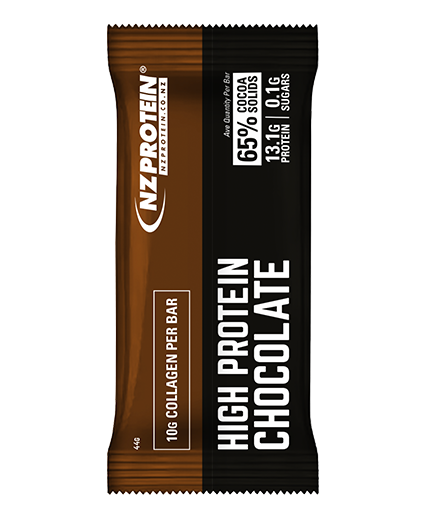 Protein Chocolate Bar
High Protein Chocolate Bars.
High Protein Chocolate
NZProtein's high protein chocolate bar is a dark chocolate with 65% cocoa solids. This is one of our finest products and we think we've hit the perfect balance.
Each 44g bar has 10 grams of hydrolysed collagen and only 0.1g of sugars.
The total protein per bar is 13.1g so it's pretty guilt free.
Each bar of protein chocolate contains:
Dark chocolate with 65% cocoa solids
10g of hydrolysed collagen
Virtually no sugar (0.1g)
13.1g of protein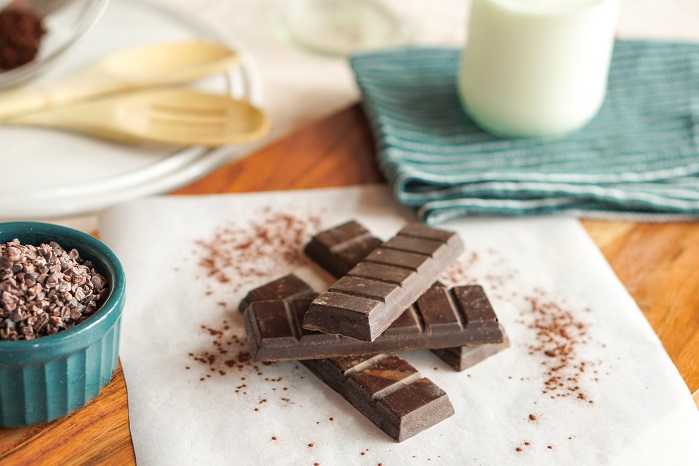 10 Grams Collagen Per Bar
NZProtein's Chocolate is packed with premium hydrolysed beef collagen - a concentrated supplement for joints, bones and skin - commonly used in anti-aging products. It is an excellent source of high-quality protein (>90% by weight) with no fat or carbohydrates.
Collagen is the connective tissue that accounts for up to 30% of proteins in our body. It forms the elastic netting that supports the protective tissues in joints, and is essential to giving skin elasticity and strength.
Collagen Hydrolysate provides a unique combination of amino acids in concentrated levels which are specifically needed by the body to support connective tissue structure and maintain healthy cell function.
It may be beneficial for:
• Joint tissue health and reduced inflammation
• Healthier skin and hair, and stronger nails (anti-aging)
• Bone density
• Gut health and improved digestion
• Improved sleep
Sugar Free
Cane sugar is out; this product contains only 0.1g of sugars per block.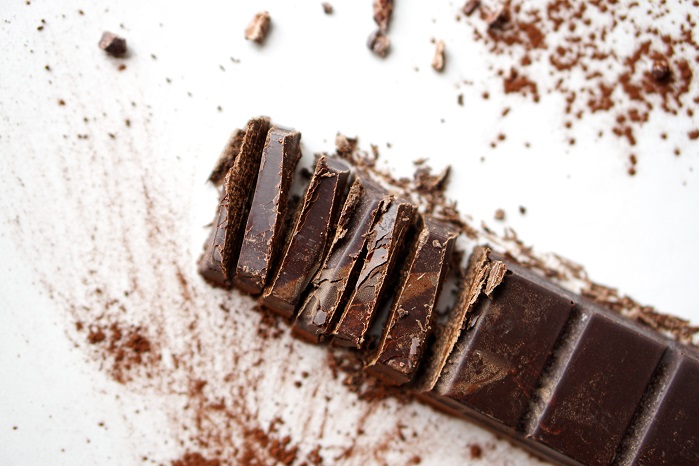 Hypoallergenic
NZProtein's Chocolate uses collagen as the protein source. We have tried to keep it as clean as possible and so we have not added milk or whey powders or gluten ingredients. (Please note, the cocoa solids provided by the manufacturer state that they may contain milk).
Recipes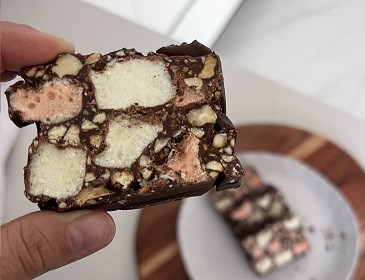 Protein Rocky Road
It's rocky road and it's high in protein - what more needs to be said?!
View Recipe
May contain milk
---
Rated
4.89
/
5
Based on
35
customer reviews.
These will definitely become a staple in my pantry!! Don't need to head for the normal chocolate, as this satisfies my chocolate cravings, and taste just like normal dark chocolate. Very happy with this product!
These are a great replacement for a chocolate craving
Absolutely delicious
Sooo yummy! A perfect little treat (If you can stop yourself eating the whole thing!)
Really nice!!!!,Definitely ordering again next time i need more powder!
Really nice! Don't feel guilty eating it, definitely ordering more.
I like dark chocolate, but this one is too mild even it has 65% cocoa solids. I will not buy it again
Tasty
Being somewhat of a chocoholic, I absolutely love this new addition to your range. Normally I can polish off a whole kingsize bar (my guilty pleasure) but I find after 2 or 3 pieces, I am totally satisfied and the taste is amazingly good. I'm now a total fan and have ordered this twice over increasing the amount each time.. lol nearly extinguished my current supply and will be on my 3rd order shortly. :)
I was looking for a protein bar without soy-based ingredients, and found the Protein Chocolate Bar manufactured by NZ Protein a great solution for my need.
The best tasting protein choc out there IMO. It actually taste like real choc, doesn't really have that fake choc taste like most protein bars.

Taste wise it taste more like dark choc than milk choc, so if you like dark choc definitely one for you.
Best chocolate bar ever! I LOVE these..
Tastes amazing! 👌🏽 Please don't ever stop selling these!
Very good chocolate, lots of collagen in it, No sugar, very impressive
This is the best thing I have ever seen. Have already recommended to all my friends A+
best taste chocolate, 2 serving of collagen - i will always eat this and not feed bad
WOW!!!!!!!!
Soo good.
This is so rich and tasty, will definitely buy more. My only negative is it doesn't come in a larger size!!
Great taste and softish texture. Will definitely be buying again
Simply brilliant. onto my next 10 already haha
Very good dark chocolate and well priced
Good dark chocolate. I buy it for my pre-school daughter as her skin reacts to sugar. I had a taste and she scoffed the rest with no complaints.
Wow! I'm not quite sure what I was expecting when I got this, but it tastes absolutely amazing. The texture is definitely a bit different to 'regular' chocolate, but I actually like it even more. Too expensive for an every day snack, but definitely a good treat for every once in a while. Decent macros, fantastic taste and texture. Would highly recommend everyone tries this bar at least once :)
Was a bit skeptical about how it would taste, but its actually really good! Not too sweet - probably flavour closer to a 60 - 70% dark chocolate. Great way to have a treat and get some extra protein in. Will be adding it to my tramping staples!
Tastes like dark chocolate 👌
It's a good healthy alternative treat. I'd definitely buy these again. NZPROTEIN REPLY: it IS dark chocolate!
This tastes great! Theyll become a staple part of my pantry for "just in case" :)
The chocolate tastes amazing!
Really good chocolate! Highly recommend
Chocolate was very nice! Zero issues with quality of the product itself, only thing I found was the bar itself was much smaller than I was expecting and the packaging was completely different than advertised. Compared to on this page, the bar was actually in a transparent plastic wrapper and it was smaller than your average single serve chocolate bar. Other than that, another stand out product from NZ Protein. NZPROTEIN REPLY: it's a 44g bar which is quite a good size for one serving. Roughly half of a block you'd find in the supermarket. It's stated above that is in temporary packaging - we're just waiting for the packaging to arrive (currently on a boat in the ocean). Cheers
Very good, real chocolate
The chocolate bar is on another level. All the other bars I have tasted over the years have a real artificial flavor. Well done
Holy smokes, it's actually so good. I shared a couple of pieces with my work mates and one didn't like dark chocolate but really liked it. Thought it was well balanced. I do love dark chocolate though so I think it was perfect.
These bars are a must for people who love chocolate and want to avoid sugar, or eat for nutritional ketosis. They taste amazing! ...not bitter at all like some dark and low sugar alternatives.
These bars have a smooth creamy texture, highly recommended for those who like dark chocolate
Serving size: 44g
Servings per pack: 1
| Name | Ave Quantity Per Serving | Ave Quantity Per 100g |
| --- | --- | --- |
| Energy | 942kJ | 2136kJ |
| Calories | 225 | 510 |
| Protein | 13.1g | 29.7g |
| - Gluten | 0g | 0g |
| Fat - total | 15.9g | 36.1g |
| - Saturated | 9.6g | 21.8g |
| Carbohydrate | 2.6g | 5.8g |
| - Sugars | 0.1g | 0.2g |
| Sodium | 66mg | 149mg |
Ingredients: Cocoa Solids (65%), Hydrolysed Collagen (Bovine Origin), Birch Natural Sweetener (967), Emulsifier (Sunflower Lecithin, 476), Vanilla Flavour, Sweetener (Sucralose). May contain milk.