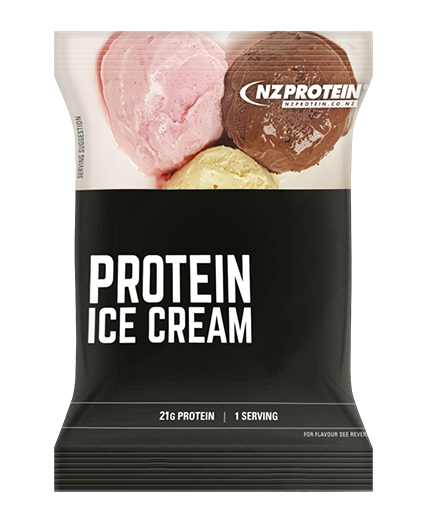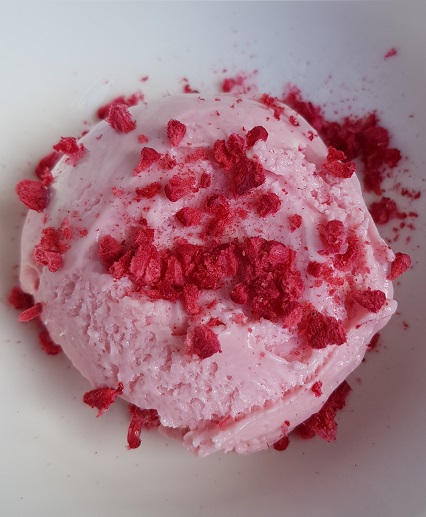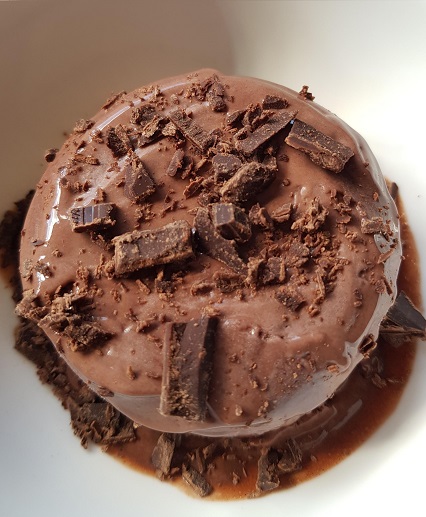 Protein Ice Cream Mix
Real Ice Cream That's Loaded With 21g Protein.
This product is real ice cream but with 10x more protein! It is a bit of a cheat treat (post workout ice cream is a thing).
Protein Ice Cream NZ
NZ Protein's Ice Cream Mix is real ice cream that's loaded with 21 grams of protein per serve - that's around 10 times more protein than regular ice cream!
This product is seriously tasty and makes a very satisfying treat.
Because it's ice cream it's delicious on its own, with berries and other treats, or however you choose to have it. It also goes well with our mug cake, pancake mix and our other treats for a mega protein recovery hit.
Now post workout ice cream is finally a thing - the protein comes from whey isolate so it's fast digesting and has a great amino acid profile suited to muscle repair and development.
It comes in a single serve sachet so you can keep some at home, have some in the car, or at work, or take them away with you.
Our protein ice cream is super easy to make too - just add 1/4 cup water, give it a mix-up and then freeze. That's it.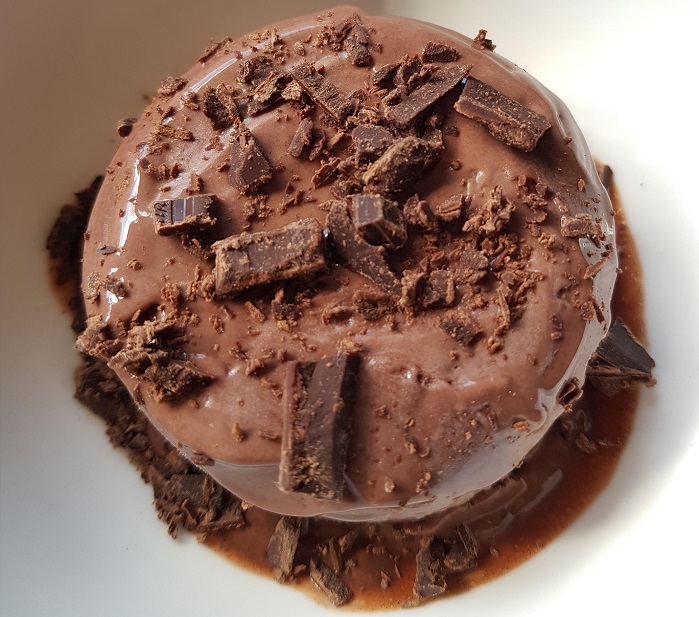 Benefits
Real ice cream but with 10 times more protein
Seriously tasty and can satisfy sweet tooth cravings
Post workout [protein] ice cream is now a thing
Quick and easy to make
Low cost so it won't break the bank
Sachets are convenient to have at home, work, and away on trips
Goes well with our mug cake and pancake mix and for a mega protein recovery hit
Directions
This product comes in a single serve sachet that's quick and easy to make in just three steps.
1. Pour entire sachet into a bowl.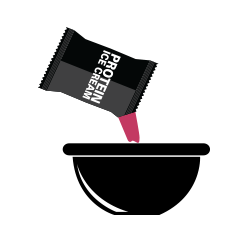 2. Add 1/4 cup (60ml) of water and whip for 1-2 minutes with an egg beater or whisk.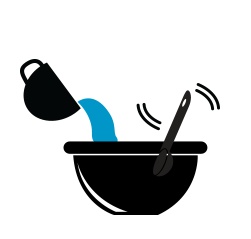 3. Freeze for at least two hours.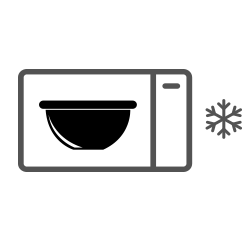 **Cookies n cream flavour contains gluten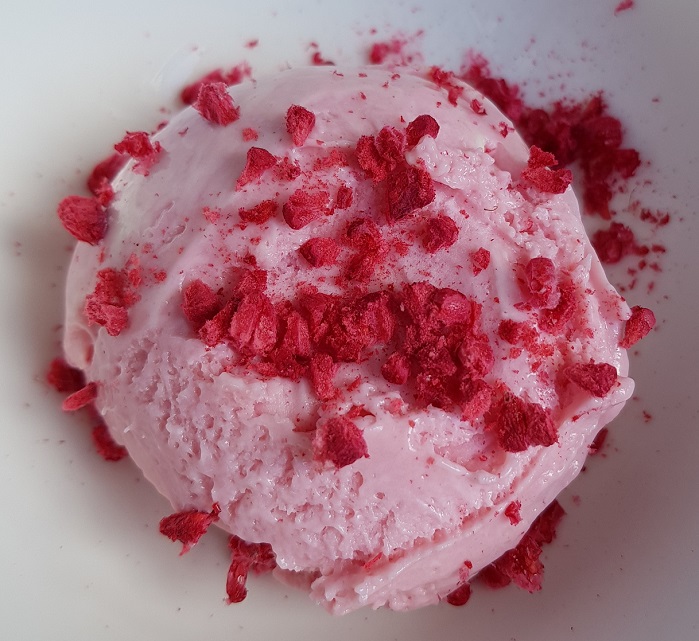 ---
Rated
4.75
/
5
Based on
69
customer reviews.
Cookies & Cream or Chocolate are regular staples on our dessert table.

Fantastic when dropping a dollop or two on a Protein Pancake/Waffle - add a Protein Marshmellow and some fresh fruit and you'll wonder how eating healthy could taste this good.

Recommended ++
So easy to make, beautifully soft & creamy, tried the Butterscotch flavour A++++ YUM!!
Easy to make,love the caramel flavour, you could easily serve 2 with one packet but why share...
All delicious, but enjoy the butterscotch the most.
Bought Cookies and Cream for the first time and it tasted amazing! Couldn't get enough so I've just ordered a bulk buy of them :)
Absolutely awesome !!! Nothing bad to say at all
Yummo...the Butterscotch is darn good icecream! It's rich, has a great texture and you don't need much to feel totally satisfied...loving it :)
This product I highly recommend. Tastes very much like ice cream without the guilt!
I think these are great ice cream alternatives!
Would buy again. All have a great smooth and fluffy texture.
Caramel: very sweet but I love sweet so that was my favourite
Cookies and cream: very nice
Chocolate: also very nice, not too sweet
Absolutely delicious!! I add frozen berries to the top of mixed berry favour, so yummy 🤤
Love the Berry. Whipped it up in no time and was enough for 2 servings.
Yum! Tried cookies & cream and was pleasantly surprised! Tasted delicious and was just like normal ice cream. Will definitely purchase more when I buy my next lot of protein powder.
Was dubious about trying this one but as the other products I had ordered tasted so good thought I would give it a go and very happy that I did. Super easy and so yum - perfect serving too. These products are so good for bumping up your protein intake - highly recommend!
Berry - 4/5 just because it has a really strong aftertaste that is bitter but still like it.

Cookies and cream - 4/5 same as above, but tastes closer to regular cookies and cream ice cream.

Chocolate - 5/5 tastes exactly the same as tip top chocolate ice cream. No aftertaste!

Definitely worth the buy. A single serving is huge so I usually eat half at once, needs more than 2 hours in the freezer though!
Love this product.
A quick and easy treat - fav flavours are berry and chocolate.
Just wish it came in bigger packs rather than just single serves.
Just not to.my taste.
Thanks
I have tried all 4 flavours. I really enjoyed them all except I felt the Butterscotch was lacking in flavour. I also found this to be an issue with the protein powder. The flavour was really weak. Otherwise this would have been 5/5 stars.

I still can't get over how much its like real ice cream in texture. It's incredible! Would love more flavours of this.
Loved it
Loved the cookies and cream and chocolate. Butterscotch had a slightly weird after taste.
Absolutely delicious
Cookies and Cream - tastes like the real thing. Wouldn't eat much in one sitting - pretty sweet. Have ordered the chocolate to try!
Excellent love them all. Would buy again.
I really enjoyed the ice cream will be ordering more
Absolutely yummy, and order the product that afternoon and it arrive the following morning.

Thank you
This is a great snack but I pour each sachet into two freezer containers and have just half a serve at a time :) Best flavour is chocolate
I forgot I ordered this sachet with my last protein powder order, found it yesterday and made it up. I had butterscotch because that's my favourite protein flavour. When I made it, I thought the amount it made was quite small but oh my gosh!!!! Just the right amount and sooooo good!!!!
The best tasting ice cream I've ever had. You'd never know it was low sugar or high protein. Could eat this daily
Ice cream is great. My best midnight snax. Love ❤️ it
This is delicious. It is kind of rich so one sachet is plenty.
These are easy to make and freeze just like icecream. Not icy.
I did find a slight after taste. But all and all very edible, and a nice treat.
I had the cookies and cream flavour and loved it! The consistency was like ice cream - it didn't freeze rock solid. So tasty, would definitely recommend!
Yummy yum yum 😋 delicious snack
Had the butterscotch flavour, really yum! Great texture, not gritty just lovely and smooth and not fake tasting or overly sweet. Can't wait to try the other flavours!

Also super fast postage, cheers!!
Easy to make and yummy for a treat - just not big enough!!!
Delicious! For a treat I have the butterscotch ice cream on pancakes. It tastes better than most regular ice cream :)
All 8 products that I've tried are very tasty and definitely the healthy option, especially the protein marshmallows those are a 10/10
I purchased the berry flavour-easy and fast to make, a great taste and fast shipping! 5/5 would recommend :)
Butterscotch flavour is seriously amazing - ordering more
really good ice cream, goes well with your mousse. But i leave it to set for a good few hours
So easy to make and tastes just like normal icecream. Love the caramel, my favourite!
.
I tried the mixed Berry. Really simple and easy to make. Didn't set fter 2 hours though, but I couldn't help myself and ate some of it before it was ready. Really delicious flavour, will purchase again.
Was sceptical about this ice cream but I was very pleasantly surprised as to how good it is. I had the vanilla ice cream with the protein mud cake and all I can say is WOW!!!!!
Easy to make, tastes great and a good alternative to those craving deserts but struggle to fit it in with more restrictive diets.
The ice cream was Delicious I loved it
So easy to make and love the taste
Quick delivery, yum product
Loved the taste and texture of this icecream. It was easy to whip up and (as long as I remember) I could make it before work and it will be ready for dinner that evening. There isnt the temptation of large amounts of icecream in freezer.
Really like it - i pop it in a shallow dish so easier to eat when it goes to max hardness after about 24 hours. taste and texture good
Love the ice cream rich n creamy...can I get some free samples lol
This is addictive and so easy to make. Yummy with the chocolate syrup!
The vanilla ice cream was so smooth and creamy and very easy to mix. We loved it. One serve was enough for 2 of us for a treat.
They are yum, way better than the other sugar free ones.
You must try this! Nice smooth consistency and sweet.
I care for my mum who doesn't have much appetite and she had half of the chocolate one - absolutely loved it. I'm glad and relieved that she would have had some protein intake from this.
Will be purchasing other flavours too.
Thank you for making these!!
Its taste like ice cream.. but abit too sweet
Yummy! I was hesitant to try this, as I didn't think it would have a nice consistency and thought it would harden and turn out icey but wow I was pleasantly suprised 😍 this icecream is absolutely delicious, creamy, just like any choccy icecream and sweet enough for me and I definately enjoy my sweet treats. I can't believe you just add water! I've just ordered all the other flavours to try 🤤😋 can't wait until they arrive. I think I like the ice cream more than the mousse now.
Just tried the berry flavour, yum! Super creamy and great texture.
Very Tasty!
Doesnt make much and not that great tasting
OMG - the taste, the texture : ) Pure bliss
Yum! And a nice treat every now and then!
Hands down the nicest tasting protein product I have ever tried, and I've been using supplements for 5+ years. So yummy, worth all of the cals in the portion!
The nz protein ice cream range far surpasses any of the crazy priced supermarket versions, hands down! I'm always recommending this to people. Think I need a referral code or something!?
I love all 3 flavours tbh and buy this regularly along with the mousse. Great Rich flavours, perfect creamy texture with a protein hit. Love that it's in a portioned pack too.
Quick and simple dessert. I prefer this over Halo Top
I have found my new snack obsession, this is excellent for a protein ice cream, better than anything at the supermarket claiming to be high protein, low fat etc. I got chocolate and vanilla and ate them in the first 2 days I made them.so I have stocked up on quite a few packs...this is yummo
Had the double chocolate flavour yesterday. It was amazing. It is so rich and tastes great! Certainly will add his to my cart with my future orders.
Yum! Nice smooth texture, tastes just like normal icecream. So good!
hey just tried the double chocolate icecream. at first I though what? 253 cals for only 67g serve... (I'm a pig with chocolate stuff) but OMG. totally worth the cals....its devine, and really rich and not icy like other high protien icecteams - I even shared some with the hubby
Click on a flavour to see the nutritional information.
Serving size: 67g
Servings per pack: 1
| Name | Ave Quantity Per Serving | Ave Quantity Per 100g |
| --- | --- | --- |
| Energy | 1061kJ | 1584kJ |
| Calories | 253 | 378 |
| Protein | 20.7g | 31g |
| Fat - total | 10.2g | 15.3g |
| - Saturated | 7.2g | 10.7g |
| Carbohydrate | 11.5g | 17.1g |
| - Sugars | 8.4g | 12.5g |
| Sodium | 149mg | 223mg |
Ingredients: Milk Powder (Contains Soy Lecithin), Whey Isolate (Contains Soy Lecithin), Birch Natural Sweetener (967), Cocoa (Contains Sunflower Lecithin), Vegetable Fat, Glucose Syrup Solids, Flavour, Emulsifiers (471, 472a, 322), Stabiliser (340ii), Whole Powdered Eggs, Gelatine, Flavour
Contains milk, egg, soy (lecithin). Excess consumption may have a laxative effect.
Serving Size: 64g
Servings per pack: 1
| Name | Ave Quantity Per Serving | Ave Quantity Per 100g |
| --- | --- | --- |
| Energy | 1158kJ | 1809kJ |
| Calories | 276 | 431 |
| Protein | 21.1g | 33g |
| Fat - total | 11g | 17.2g |
| - Saturated | 7.8g | 12.2g |
| Carbohydrate | 15.1g | 23.5g |
| - Sugars | 11.7g | 18.3g |
| Sodium | 170mg | 265mg |
Ingredients: Milk Powder (Contains Soy Lecithin), Whey Isolate, Birch Natural Sweetener (967), Whipping Fat (Vegetable Fat, Glucose Syrup Solids, Flavour, Emulsifiers (471, 472a, 322), Stabiliser (340ii)), Hokey Pokey Pieces (Sugar, Glucose, Vegetable Fat (Palm Kernel Oil), Maize Starch, Water, Sodium Bicarbonate, Gelatine, Salt), Whole Powdered Eggs, Natural Flavour, Natural Colour (Beta-Carotene).
Contains milk, egg, soy (lecithin). Excess consumption may have a laxative effect.