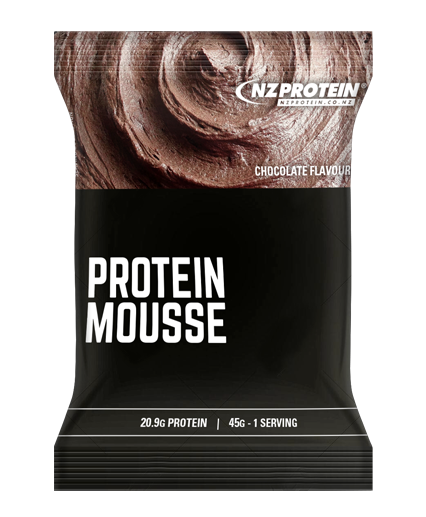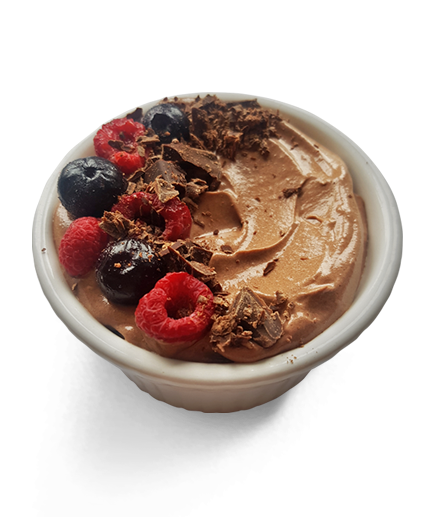 Protein Mousse Mix
Guilt Free Protein Dessert With 20.9g Protein.
New mixing hacks are below!
New Mixing Hacks:
Here are some awesome mixing hacks that'll make your mousse next level:
Our protein mousse has a better texture when mixed in milk (coconut, almond, rice, cows', etc) than in water.
Using an electric beater gives a better aerated texture. Use the electric beater to whip it for 1-2 minutes until the product changes colour from a dark brown to a lighter brown, indicating that it's fluffy and full of air.
After being whipped you can put it in the freezer for 15-25 mins rather than in the fridge for a whole hour.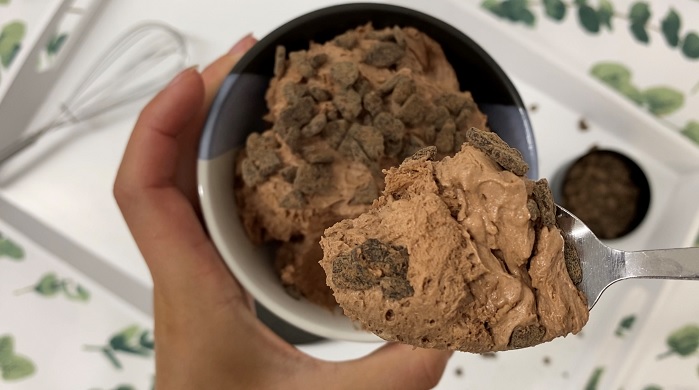 Bulk Quanties
We're often asked whether we can sell our protein mousse in bulk 1kg bags but this product needs to be fairly exact (45 grams).
It's too difficult to use a scoop to measure out 45 grams because scoops have a degree of inaccuracy, so this product is just sold in a pre-measured 45g sachet.
Protein Mousse NZ
NZ Protein's Mousse mixes easily in water or milk to make an amazingly rich chocolate mousse dessert that's guilt free and has a huge 20.9 grams of protein per serve.
Protein mousse makes an ideal treat for increasing protein intake while satisfying sweet tooth cravings. There's only 2.7 grams of sugars per serve and the fat is lower too, containing only about one third of regular mousse.
The protein is from clean New Zealand dairy and is a blend of slow digesting casein and fast acting whey isolate to ensure maximum absorption of amino acids for muscle development.
The best part? You won't even know it's protein-based. These are our most popular product and for good reason.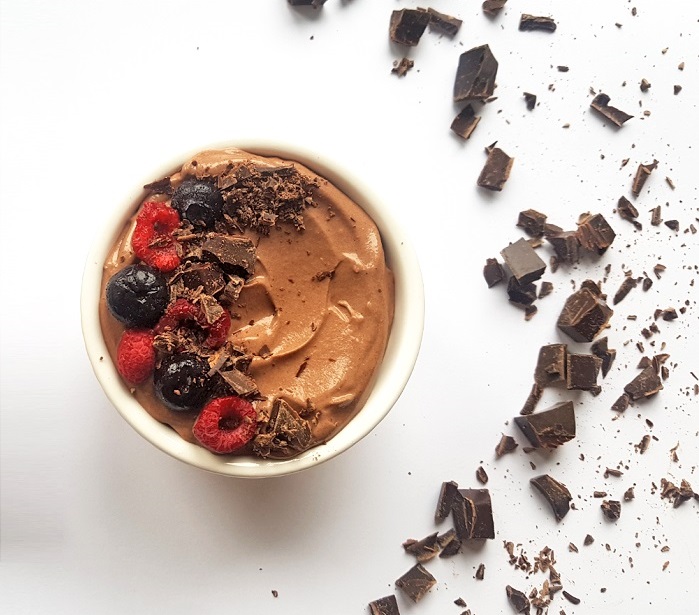 Benefits
It's mousse and who doesn't like mousse?
A rich chocolate dessert to satisy sweet-tooth cravings
20.9 grams of slow and fast release proteins per serve for maximum gains
Guilt free with only 2.7 grams of sugars and 1/3 of the fat of regular mousse
Quick and easy - just add water or milk, whip, and refrigerate
Comes in a 45 gram sachet so no complicated measuring is needed
Low sodium with only 100mg per serve
Our most popular product
Directions
Our protein mousse mix comes in a 45 gram sachet that's quick and easy to make in just three steps.
A couple of hints - remember that the more it's whipped up then the more air gets in and the better the texture. And don't go over 100ml, even if it doesn't seem like much:
1. Add the entire contents of the sachet to 100ml of water or milk (like with any milk based protein powder, mixing with milk always improves taste).


2. Shake or whisk for 1-2 minutes. For best texture, whip with an egg beater. While it can be mixed in a hand shaker, this method doesn't really get as much air into it as with a beater or whisk.


3. Refrigerate for one hour before consuming.


Protein Mousse Recipes
Please note that this product is processed in a facility that also handles egg, peanut, and gluten ingredients.
---
Rated
4.8
/
5
Based on
179
customer reviews.
For a quick treat, this is lovely as it's smooth and tasty.
First time trying this and enjoyed it so much I placed an order for more straight after eating it! It's delicious.…would never have guessed this was a protein mousse; so smooth, no graininess and nor was there a powdery texture. True chocolate flavour and no artificial sweetener aftertaste. 1 sachet made more than enough to fill 2 small ramekins for me. Served with some fresh fruit salad, it made a filling and yummy sweet treat for us.
Satisfying alternative treat. Perfect serving size.
Omg this is so good. I can't fault it. I made it with milk and used an electric beater to mix it, in the fridge and two hours later……just delicious. Great product, I wish to heck I'd ordered more when I put my order in this afternoon!
Enjoying all your products thanks. Nice to have treats that match what you've been used to.
Great taste
Very smooth and chocolatey. No nasty after taste.
really good for healthy desert
Tastes just wonderful!
Not a bad taste, but for some reason it burns my throat, which isn't brilliant. Drinking some straight milk afterwards seems to help so maybe it's a little too acidic?
Not sure if I'll keep buying this one however.
Repeat buyer of this tastes so good and quick and easy to make.
It's delicious and filling and just tastes like an amazing choccie mousse, I would have no idea it's got protein in it! I whip it for longer than the packet says to get it super light and fluffy.
It's delicious and super easy to make.
Great texture and taste. I mixed with just water and the it was great, next time I will try milk or even coconut milk and add some sugar free caramel syrup and peanuts for a (hopefully) great tasting deconstructed Snickers bar dessert.
Very nice, love it.
Love the mousse!!! Absolutely getting a light but decadent treat without too many cals and great protein!! Would be great to have different flavours and also to purchase in bigger quantities.
Lovely texture and good taste. Get a little bit of after taste but even my fussy kids like this!
didn't even get to taste it! Was demolished by the teen and the husband before I got to it but I'll take it as a win. Would be happier with it personally if the carbs were lower.
I just love this mousse. It doesn't taste like full on chocolate mousse and does have a "I contain protein" kind of aftertaste, but if you don't mind that, then you will love this chocolatey treat!
So easy to mix up, great taste and really filling. This is my go-to work lunch. Great value for money too.
The protein mousse is the ultimate indulgence! My wife wanted more and she's not even macro-conscious! Top marks and will definitely be ordering more.
I didn't let it sit for long enough but tastes good and mixes good lol, always get one as a little treat whenever I'm buying more whey protein
Absolutely love this mousse!. Very satisfying especially for those with a sweet tooth and wanting a healthy option. Can be added to so many things. Highly recommended!
Always yummy, a nice treat that actually tastes naughty!
So so yum!
This tastes amazing! But I'm not buying the reasoning for no bulk quantities for a second, because we all own kitchen scales.

Give the people what they want NZ Protein 🙃
Delish, even the kids love it. Not quite as nice as a normal choc moose but still rather delicious.
Bought Nz protein powder as wanted to support local, but unfortunately it mixers terribly, it foams up that much it just about jams the blender otherwise taste is ok
Surprisingly delicious! Actually tastes like chocolate mousse. Definitely getting this again.
This mousse is lovely. Nice and sweet. High in protein so great for a sweet treat after bariatric surgery when it's important to meet the protein requirements and great for a sweet fix. Mixes well. Not gritty or anything and really nice flavour.
Absolutely delicious. Really enjoyed this mousse. Felt very decadent and smooth. YUM
This is delicious! Fluffy creamy mousse that tastes like chocolate. Yummy with raspberries
Best protein mousse there is, especially mixed with almond or oat milk.
I'm not a fan of the taste of this product. It thickens well and super easy to make but has a weird after taste.
This mousse when whipped with milk (i use almond milk), is SOOO GOOD. It totally tastes like normal chocolate mousse.
I usually split 1 packet into two serves and have it with frozen sliced strawberries, choc chips and marshmallows as some sort of ambrosia.
Delicious, just really wished nzprotein did big packs of it
So good
As well as being great for muscle recovery from gym training, I've found these are also a nice treat on overnight tramping trips while at the same time promoting muscle repair for the next day's adventures. I sometimes add dried fruit, nuts or crumbled chocolate on top to make them taste even better and provide more calories.
Great product whipped up with almond milk a few extra bits of dark chocolate. YUM! Great treat with the extra protein.
Lastly excellent fast service keep the great work up!
Delish!
This stuff is amazing, really hits the spot when you just need a chocolate fix! Love that it also does not take long to set.
Wow this is so delicious - was skeptical at first but have reordered some of these. Easy to make easy to eat :)
This mousse is easy to make, so creamy, light and delicious!
This stuff is freaking amazing. One packet makes enough for my lunch at work, and I throw in a few frozen raspberries or blueberries. The taste is phenomenal and I can't believe how much one packet fills me up. One of THE BEST protein products I have been introduced to.
quick, easy, fluffy, and creamy!!!!! Dude this is so yum. It was super fast and easy to whip up. Keen to try the plant one next!
This was nice wish it had abit more wow taste.
Delicious! Love these as a treat (Bariatric)
Easy to make, great flavour, will definitely purchase more.
Yum!!
Absolutely delicious and easy to make. 5 stars ⭐️
nice
Taste is great and mixes well
Super creamy and delicious! I've found using cold water makes it even thicker. Absolutely love this, it's my new favourite snack
Great taste
The chocolate mousse is delicious!
Definitely my favorite treat without any guilt
This mousse is yum! I always use milk to make it extra creamy
This mousse is so creamy and light. It's amazing and low in fat, calories so everyone can have a nice treat. Have brought more
A great way of having a tasty treat: full of nutrition, without sugar. Perfect for post-workout or on a tramp. You just need to beat it well for it to fluff up and set.
Honestly waiting for this stuff to come in a big bag with a scoop similar to the pancakes or like protein powder
Absolutely love the Protein Mousse Mix!! It tastes amazing and so light and fluffy ❤
I make my mousse with calci trim milk to add even more protein and split into 2 desserts and sprinkle sugar free chocolate on top. Yum as!
Tastes pretty good, would prefer it have a stronger chocolate flavour
Rich and yummy
Really rich - I've added more milk to the recipe - so nice.
Tastes pretty good for a protein mousse. Will order again.
Pretty yummy, esp as a nice little protein filled treat!
I'm hooked on the stuff! I'm a real dessert person and this hits the spot. So smooth and chocolately. Made with milk it's over 25 grams of protein!
Yummy AZ!!
Absolutely love this mousse. It's so fluffy and light and so tasty
Amazing and I now buy it by the box. Closest thing to mousse you can get while having 21g protein in each serve. Goes great with coconut milk. Would be nice to get in larger portions than individual sachets if possible to reduce the packaging.
We Love this guilt free dessert with mixed berries. Amazingly smooth and light texture when whipped with almond milk. You wouldn't know it is a protein dessert. And Not too sweet. Time to order more.! 😀
I used a mix of water and cream to make mine as I'm following a keto diet.
This was delicious, just like the real thing.
I love the mousse! I have to limit to twice a week as it's just too yum!!!
Great tasting and easy to mix
Super easy to make, lovely taste and most importantly great texture!
Bloody love this mousse! Tastes devine,light and fluffy ❤️
Had the great product just last night was so full of flavor and loved the texture was not gritty i really enjoy all your products and so great for someone like me who has had Gastric surgery
Really tasty, easy to make and filling.
Very nice texture and taste, makes me happy whenever I feel like something sweet

I add only 80 ml instead and gets more consistent

Prefer to mix with with vegetable milk.
Water does the job too.
I love this mousse it has so many uses for dessert or breakfast for a change
So delicious, I have mine with Greek yoghurt. Perfect combo
This is really super tasty. I mixed it with coconut milk and it was delicious
Fantastic product! So tasty and so easy. Thank you nz protein. Your products are always amazing
Delicious & super filling. I've had VSG just over a month ago and I have about half per serving. This is a nice treat while keeping away from high sugar and carbs!
Great tasting. Love these as a snack or treat. Add sugar free chocolate drops for a real treat
Absolutely loved the flavour and the texture was so smooth. Nice with raspberries
Love this one. My go to sweet treat without feeling guilty I have to always buy at least a weeks worth from now on
Perfect dessert 🤩
I bought 2 sachets and made the first with water, which to be honest, I didn't enjoy that much... but still ate it all in a couple of goes because it was a guilt-free chocolate fix. I made the second one with milk and YUM, what a difference it made! So creamy and delicious, I struggled to wait for it to set properly. Definitely will buy this again.
Actually really good! You need to best it for a while to get the right mousse texture so maybe rethink if you don't have an electric beater, but taste wise it is legit.
I followed the hacks left on the facebook page the mousse is super fluffy and so good
The chocolate mousse was Devine .took away the craving for chocolate .
Yum, would love a low carb, sugar free option though. NZPROTEIN REPLY: it is pretty low!
These are the best mousse packs available - better than even the sugar ones. My definite go to
Tasty, and a great way to curb that sweet tooth.
We buy this for our 4 year old daughter because her skin breaks out if she has sugar. She loves this, her sugar free mousse.
Simple to make desert style protein hit.
Yum
Love this Mousse, its exceptional! Buy it regularly. Amazing with Milk, and still tastes good even with water if you're a more calorie conscious person.
It's very satisfying and it tastes so good! Perfect if you're in the mood for something sweet but want to eat healthy.
Very nice taste!
The chocolate mousse was very nice but could've been a wee bit sweeter
Can't believe this stuff is packed full of protein because it just tastes too good to be good for you. Such a delicious mousse, thank you guys! Fav way to eat it at the moment is mixed with unsweetened almond milk and placed to set on frozen blueberries, place in fridge overnight and it never makes it past 0830.
Bloody love this mouse! I use 2 packs and whip using half cream half water, chill for as long as you can. Add frozen raspberries! Bliss!!
The perfect sweet treat that's easy on the macros.
This stuff is so yum! Easy as to make and even easier to eat
Great taste. Super easy to make.
Great tasting and mixes well. Pair this with the Maple non-calorie sauce and you've got youself a yummy dessert!
Best protein mousse on the market! Amazing texture, just like real choc mousse. Not overly sweet either.
Love this mouse! It is perfectly chocolately and deserty to cure all those cravings at the end of the day and helps me reach my protein goals!!
Loved it!
Pretty tasty! It's not masterchef, but you're not exactly expecting that anyway are you. It's yum. Good enough for me, hits the sweet spot and the protein needs.
This is the BEST protein mousse on the market. Good flavour and AMAZING texture
Love this mousse, rich and creamy. I would have given 5 stars if it came in a pack rather than single serves. NZPROTEIN REPLY: Just because 45g is difficult to measure out and it needs to be fairly precise
I love this mousse. Finally a sweet desert I can have every night. It tastes great and it's not bad for me and I get a protein boost. Amazing.
So yum!! A real treat. Definitely recommend making it with milk and chilling for a few hours. I'm hooked.
Simply delicious. Lifehack: If you don't want to wait two hours for it to set in the fridge, just overwhip it when you first mix it up, and it's ready to eat straight away! 👍
Soft, light and yummy. I make mine with water.
The mousse is divine! It needed quite a bit of mixing to get rid of any smalls lumps but it well worth it!
This is similar to the Hansells chocolate mousse but better! Mixes well and tastes great!
LOVE this mousse
NZ protein products are the best products out! Definitely recommend
Loved it and a great serve of protein.
This mouse mix makes really delicious chocolate mousse. Just make sure you follow the directions and whip it well to get it to set.
Taste absolutely amazing! Highly recommended!!
Sooooooo yum!!!
Creamy and tasty, ready in seconds if you blend it with an electric blender! Nom.
Great alternative for those concious of what they are eating but want a treat
Really nice product awesome taste but only problem I found is the sucralose, my guts don't like much.
This mousse is the best! Delicious dessert treat, even my two year old enjoys it and it fills her tummy. I do think milk is better though, not as nice with water. Would be keen to try some other flavours, jaffa would be amazing or pineapple choc. Can you buy the mousse in a bigger size?
Really nice moose a good chocolate flavour! I had it for dessert with canned fruit. Will be buying more
Delicious and very smooth
Really tasty!!! Such a treat when your trying to avoid sugar and carbs. Would recommend!
I was sucked in by the reviews but after sharing a sachet with my daughter (mixed in milk) I also found the aftertaste to be quite unpleasant, as another reviewer has claimed. Couldn't quite work out if it was bitter, all I know is water was required to wash away the taste. Daughter also did not enjoy it. Maybe its like the coriander argument? Wouldn't buy again. :(
Delicious could do with more in a packet!
Absolute beaut! Eating one of these in bed for a NAUGHTY treat is good for the soul :)
This is so yum
Awesome product, mixes well, low calorie, high protein & tastes devine. Thumbs up from the family too.
Took this tramping. Shook it up in my lidded cup , and then put it in a river (with a stone on top) to cool it. Great result, very yummy and satisfying but not too sweet
I love the mousse. It?s a healthy protein rich treat for the end of the day
AMAZINGLY quick delivery and really great product, love that you can "try" before you buy - what a great idea! AND great tasting Whey Protein, the Whey Isolate was also great tasting, but not as thick as the Whey - but they do tell you this in their blurb.
Great taste and texture. (Pro tip - use a stick blender to mix, and after a couple of mins it's ready to eat, no time in the fridge needed!)
Yum, quick and easy. Would love other flavours.
This mousse is really good! I made it with cashew milk and it was great, nice texture. Will definitely be ordering more!
Delicious. Helped with the chocolate craving. Will definitely buy again.
We made it with milk very satisfied as a dessert & not hungry in the morning. Hope it comes in a bigger size as we would have this a couple night's of the week
Myself & Daughter really liked the mousse mix.
Does it come in a bigger size please
Easy to mix. Tastes amazing. Only thing I would improve is the $. If your craving a Delicious dessert this is for you.
Fast to make, low in carbs, tastes delicious.
Quite enjoyed it! Flavour good, consistency great. Although contains soy leithicin and sucralose. So not likely to repurchase. If it changed to sunflower leithicin and their was an unsweetened version i would buy it again. I like to control sweetness myself, with what and how much i use. Also avoid all artificial sweeteners and stevia - aftertaste is horrid.
Easy to make, tastes great, brilliant to use as a sweet treat
So quick and easy to make and oh-so-yum. Very impressed for my first introduction to 'protein-foods' Will definately be ordering more
Love this product and NZ protein!!!! Very yummy and not too sweet. Have been ordering products from NZ protein for 2 years now. I love the incredible service, very fast shipping to Dunedin (overnight) and have been very pleased with every product I have tried.
my family love it but can you add other flavours
I've been buying this mousse for a year now. It's so bloody good! I make it with water to keep calories down, admittedly it does taste amazing with milk. I opt for less calories & it's still tasty. Great chocolate taste with a protein hit, what's not to love!
Mixes easily, tastes great.
I was skeptical because most protein products that arent bars or powders taste terrible but this mousse is really good! I just put it in my shaker and then chuck it in the fridge, dont even need an egg beater
Definitely a yummy healthy alternative dessert when you're trying to be "good". I like mine with coconut milk.
I feel lied to, all the reviews said it was so nice! I though finally i had found a protein powder based product i'll like, but i hated it. It had a bitter aftertaste and just wasn't good, the texture was nice but i couldn't get past the taste.
My partner however did like it and ate it for me.
I guess my search will continue.
Amazing dessert. Used my protein shaker and it just came out perfectly. Should try this if you are looking for a light healthy dessert.
This mousse is NAILED. 5/5 recommended to everyone
I wish I could give this a higher rating than 5 stars. This mousse deserves all of the stars in existence. 10/10 - would sell a kidney for this mousse.
I wasn't expecting much taste wise to be honest, as I have been let down in the past with similar products from other brands. I'm so happy I decided to purchase this. So unbelievably tasty and delicious. I wish they came in more flavours. I mixed mine with almond milk, was so so good. Super quick delivery, super happy customer.
Oml this is the best tasting mouse I have ever tried! Amazing taste, perfect consistency, super quick and easy to make and amazing with raspberries! 10/10 recommend! Shipping was overnight too! Very happy :)
Seriously delicious!! Great flavour and texture with forgiving macros for a nice treat.
The only thing I could think about when indulging in this delicious dessert was Shit, Mum was right!
If you were on the fence, or even on the other side of fence about religion, you will find your faith after trying this.
After finding religion, you will you find you will be removed from the faith after you begin to indulge and the naughty thoughts start to flow... ;)
Its the equivalent to having Idris Elba, Tom Hiddleston and the Thor wrapped up in a dessert. Theres the delicious chocolate flavour, the sweet and creamy texture, and the rough and rugged protein perfection to really hit it home.
Best dessert ever my whole family are getting it for Xmas little do they know ha ha. Love the flavour and texture. like others I struggle not to make up a new one as soon as I have finished the first one and eat the second one too. Great nicely chilled on a hot summer night like we are experiencing right now.
I love this protein mousse! Such a good texture, delicious chocolate flavour and no bad aftertaste 10/10. I will be buying this product again for sure, really good for when you feel like something sweet!
Wow! This product has changed the game. Gutted I only got one sample and will definitely be stocking up! So smooth and velvety, super rich flavour and no strange, protein powder after after taste. The most satisfying thing for those sweet cravings. Love it.
If you haven't already bought this and tried it out you definitely have to add it to your cart. Such a smooth and sweet flavor and doesn't have any bad aftertastes whatsoever. So good for a sneaky little desert here and there when im craving chocolate
Seriously, I wish I had have known about this mousse sooner! I won a free sample through the NZ Protein Facebook page and have been buying it ever since! It's so smooth and creamy, and makes a perfect after gym protein snack, especially after leg day! Can't wait to put my next order in so I can get more of this! 10/10 for sure
If you haven't tried this mousse, you really need to because you are missing out!
I made mine with milk and OMG, it's so light and smooth. It tastes amazing! It took all my willpower not to make another packet straight away. Such a yummy treat or dessert.
Seriously you MUST try this asap!
I have been looking forever for somebody in NZ that sells protein mousse. I brought thison Friday night, it arrived today and I whipped up a serving straight away. Couldn't even wait the 1 hour to eat it, made it to 40 minutes haha. It was AWESOME! Only let my partner have a small mouthful because there was Noway I was sharing! :)
Had a similar taste to chocolate dairy yoghurt - but that could be due to mixing it with water instead of milk. it was still nice to have as a protein kick before bed and after dinner. super easy to make - I made it in my protein shake. I'm thinking I maybe adding some mint to my next one!!!
This is bloody amazing!!! A desert that tastes so good that is should be bad but it not. This is always good to have in those days where u feel crap. Thanks so much for this amazing brand of protein :)
Finally a dessert I can have without the guilt.. tastes superb, the texture is definitely better when using an electric beater though. Easy to make in minutes and tastes just as good as regular chocolate mousse! Very impressed with this product.
This is delicious, comes out with a smooth texture, simple to make, and indulgent way to end the night that isn't going to mess with your diet.
Absolutely LOVE this Protein Mousse. It is a perfect after dinner snack.
It was good in water but really good in milk! (Brent)
Click on a flavour to see the nutritional information.
Serving size: 45g
Servings per pack: 1
| Name | Ave Quantity Per Serving | Ave Quantity Per 100g |
| --- | --- | --- |
| Energy | 849kJ | 1887kJ |
| Calories | 203 | 451 |
| Protein, total | 20.9g | 46.4g |
| - Gluten | 0g | 0g |
| Fat, total | 8.5g | 18.9g |
| - Saturated | 7.5g | 16.7g |
| Carbohydrate | 9.2g | 20.4g |
| - Sugars | 2.7g | 6g |
| Sodium | 100mg | 222mg |
Ingredients: New Zealand Whey Protein Isolate (contains soy lecithin)*, New Zealand Milk Protein Concentrate, Cocoa, Vegetable Fat, Glucose Syrup Solids, Flavour, Emulsifiers (471, 472a, 322), Stabiliser (340ii), Sweetener (Sucralose).
Allergen warning: contains milk, soy lecithin.