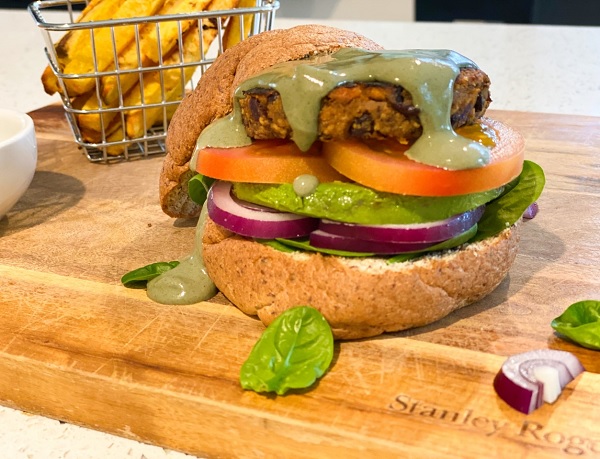 A protein packed, plant based burger, with a powerhouse superblend sauce that's great for you. Curb those cravings without losing your gains!
Ingredients - Patties
1 can black beans, drained
1 egg
1/4 cup NZProtein LSA
1/2 red onion finely chopped
1 carrot shredded
2 cloves garlic, minced
1 tsp cumin
1/2 tsp garlic powder
1 tsp chilli powder
1 tsp paprika
1 tbsp NZProtein Nutritional Yeast Flakes
1 tbsp NZProtein Chia seeds
Salt and pepper as desired to taste
Ingredients - Sauce
2 tbsp tahini
2 cloves garlic, minced
1 tbsp lemon juice
3 tbsp water to thin
1 tbsp NZProtein Superblend
Salt as desired to flavour
Ingredients - Other
Keto burger buns (or desired alternative)
Tomatoes
Baby Spinach
Avocado
Red onion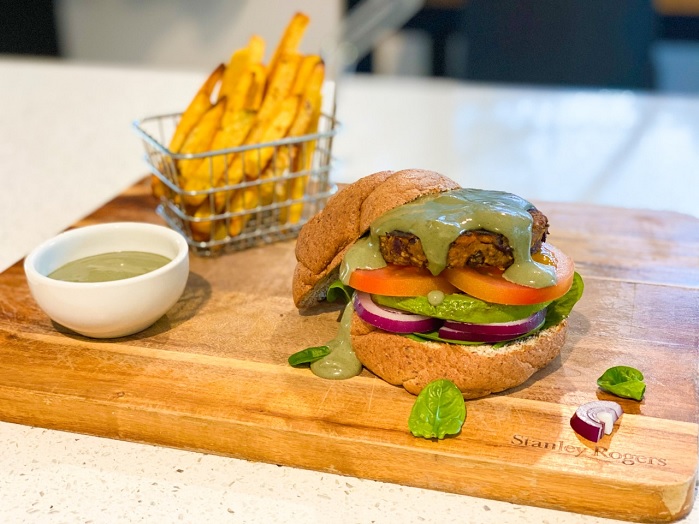 Directions - Patties
1. Place a pan over medium heat and add oil. Once hot add onion, carrot and minced garlic; saute for 5 minutes.
2. Transfer to a bowl and stir in spices cumin, garlic powder, paprika, yeast flakes, chilli, chia seeds, salt, pepper.
3. In a blender pulse the black beans until well blended, a few chunks are fine.
4. Transfer to the bowl with the spices, add the LSA and egg, and mix well.
5. Divide mixture into 4 patties, put on a plate, cover and place in fridge for 10-15 minutes to firm.
Directions - Sauce
1. While patties are in the fridge make the sauce by mixing all the ingredients in a small bowl.
Finishing Touches
1. Once firm place a pan over medium heat. Add oil and once hot add patties.
2. Cook for 3-4 minutes on each side or until golden brown.
3. Place on buns with desired toppings and drizzle with sauce, or have as an open burger.