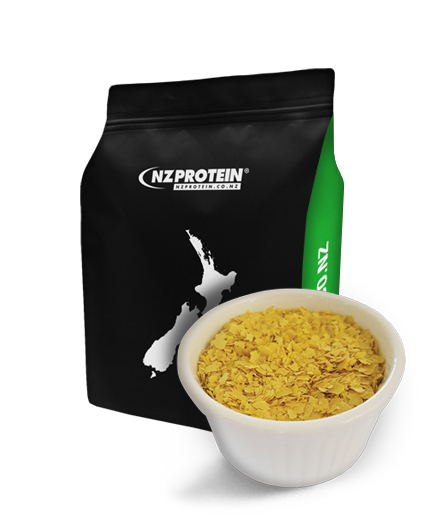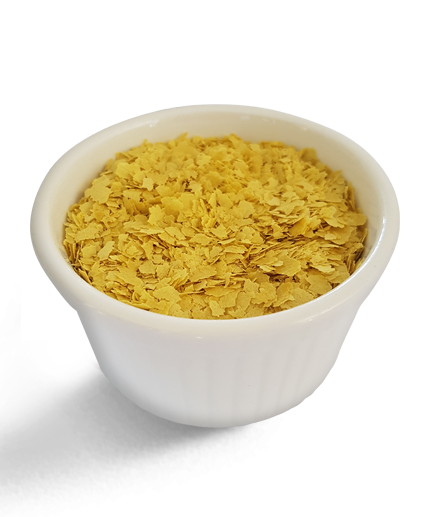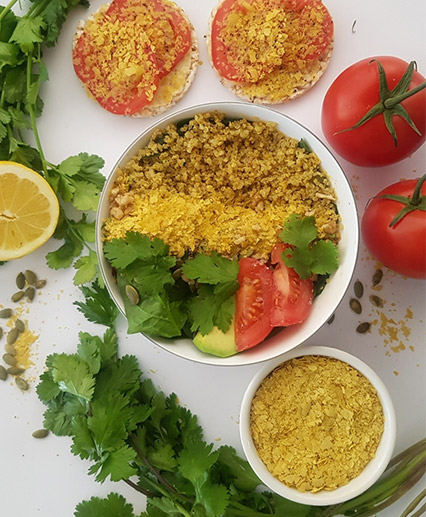 Nutritional Yeast Flakes 100g
Highly Nutritious, Complete Protein Food. Think Flavour Seasoning.
Nutritional Yeast Flakes
Nutritional Yeast is a versatile and highly nutritious complete protein food. It has a "cheese-like" flavour and makes a healthy delicious seasoning when sprinkled on salads, soups, potatoes, rice, and other foods.
It has various health benefits and is:
A complete protein, providing all essential and Branched Chain Amino Acids (BCAAs)
High in BCAAs (second only to whey)
Easily digested
A significant source of dietary fibre
Naturally rich in highly bioavailable micronutrients, including B complex vitamins. It is also fortified with vitamin B12
Vegan and hypoallergenic
Slow digesting
A non-GMO, all natural product. Not irradiated
Uses
Using Nutritional Yeast Flakes as a seasoning is an easy way to add extra protein, flavour, and nutrients to your diet. Some suggested uses:
Sprinkle it on salads, potatoes, rice, etc
Add it to scrambled eggs
Sprinkle it on roasted or steamed vegetables
Toss it into salad in place of cheese
Stir into soups or stews
Sprinkle it onto kale, beetroot, sweet potato, or zucchini chips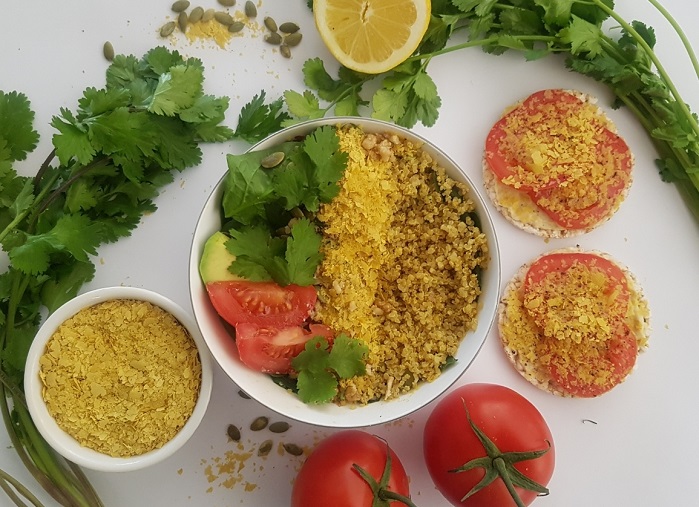 Recipes
---
Rated
4.9
/
5
Based on
40
customer reviews.
Good quality product
Really good value and fast shipping
Love the nutritional yeast flakes, delicious. I use them to replace cheese in my salads without sacrificing taste.
Good reliable Nooch =)
Very tasty, and quickly dispatched. More vegan food like this, please.
Exactly what I was after! It's pretty hard to find this amount at a great price in store! Thank you
Love this product, I use it a lot on my salads and I make a cheesy flatbread with it as it is so full of flavour. I like the fact that is is flakes as opposed to the powder.
Fresh as! Will purchase again!
Tastes great, it's like parm cheese. I have mine on pastas and eggs
Excellent stuff. My favorite thing to have on eggs. Super tasty.
Great product at a great price!
Great product ...have purchased previously & will continue to do so!
Very good! Tasty and nutrient
Fast service
Love it. It makes my salad taste so much better.
Great nutritional yeast - will definitely be reordering again!
delivery and communication was fantastic!
great product! we're using it in all sorts of dishes. tastes great
As a Vegan this is most common in all my Pasta dishes and Spreads 😁

Love the Fact I can add it to my orders without having to sell the Kitchen Sink! Haha 🫶🏾
Tastes great, and such a bonus that it is fortified with B12. Speed delivery as well.
Fast delivery, fair price, and top product full of nutrients would give more than 5 stars if I could.
Yum, great flavour
Wasn't sure what to expect, but surprisingly tasty. NIce texture and flavour, and the nutritional profile seems good. Definitely a product I plan to continue buying in future
Excellent product, will order more. But I could not confirm if this contains any artificial folic acid (synthetic vitamin b9). Nutrition list on the packet mentions folic acid, but inactive yeast only provides folate(natural form of b9). Ingredients list only inactive yeast and fortified b12.
Fast delivery and yummy flakes
Really fantastic product. I enjoy sprinkling this on scrambled eggs, pasta, salads...gives food a savoury, cheesy taste and its good for you!
Fast delivery and great quality product.
Thank you for the good deal!
Great product, awesomely fast delivery BUT I bought this because I thought it was made in New Zealand. I can buy imported yeast from any supermarket but I prefer to buy NZ made products. NZPROTEIN REPLY: we don't make it here, as far as we're aware.
Great service. Item arrived within a couple of days.
Good value, fast shipping. Tastes good.
Doesnt have the really cheesy flavour I was expecting but is still good!
Lovely the cheesy flavour, delicious.
The yeast is great over stirfrys, pasta and on toast! Over pasta it actually tastes like cheese - yum!
Fantastic product, well priced nd next day delivery was very impressive. Will order more in the future. Thanks.
Highly recommend nzproteins nutritional yeast.. Its flavoursome, has a good cheese flavour and being in a flake form makes it easy to sprinkle into food.
Great tasting flavour. Not lumpy and blends in easly.
Really delicious and easy to add to meals and dishes. Yum!
Very delicious
Love this product, I put it on everything. Best price and super fast shipping. Will definitely be buying again.
These are yum, I have been putting them on everything! They go well on my vegetables
Serving size: 5g (1 tablespoon)
Servings per pack: 20
| Name | Ave Quantity Per Serving | Ave Quantity Per 100g |
| --- | --- | --- |
| Energy | 82kJ | 1651kJ |
| Calories | 20 | 392 |
| Protein | 2.4g | 47g |
| - Gluten | 0g | 0g |
| Fat - total | 0.2 | 4.8g |
| - Saturated | <0.1g | 0.9g |
| Carbohydrate | 2g | 40.3g |
| - Sugars | <0.1g | 12.4g |
| - Dietary Fibre | 1g | 20.5g |
| Sodium | 16mg | 315mg |
| Calcium | 4mg | 75mg |
| Iron | 0.2mg | 4mg |
| Zinc | 12.4mg | 247mg |
| Thiamine HCl (B1) | 0.7mg | 14mg |
| Riboflavin (B2) | 2.8mg | 55mg |
| Niacin | 13.3mg | 266mg |
| Pantothenic Acid | 5mg | 99mg |
| Pyridoxine (B6) | 1.2mg | 23mg |
| Biotin | 1.2μg | 23μg |
| Folic Acid | 108μg | 2150μg |
| Cobalamin (B12) | 5.4μg | 108μg |
Ingredients: Inactive Yeast (B12 Enriched)