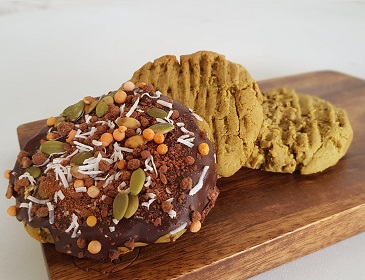 These protein cookies are made from our pancake mix and a few other ingredients. They're high in protein and don't tend to dry out when baked.
Ingredients
125ml coconut oil
100g coconut sugar
3 tbsp maple syrup
3 tbsp nz protein peanut butter (see instructions on packet)
1 tsp vanilla essence
1 cup nz protein pancake mix
1 1/2 tsp baking powder
3 tbsp nz protein matcha or superblend
100g walnuts
Directions
Beat coconut oil and sugar. Add maple syrup, peanut butter and vanilla, mix well.
Add pancake mix, baking powder, matcha and nuts. Mix together.
Roll into balls and place on lined tray. Press with a fork.
Bake at 150 degress for 12 to 15mins or until slightly golden.
Top with your favourite topping or enjoy as-is.