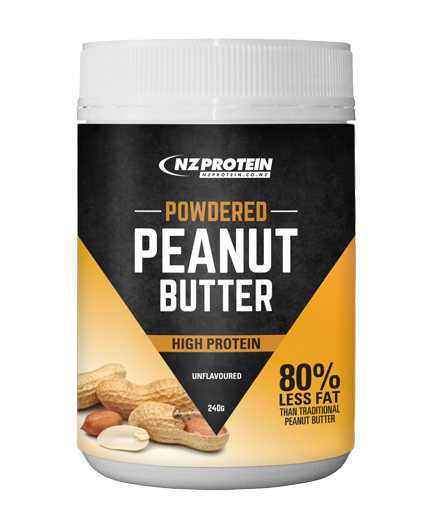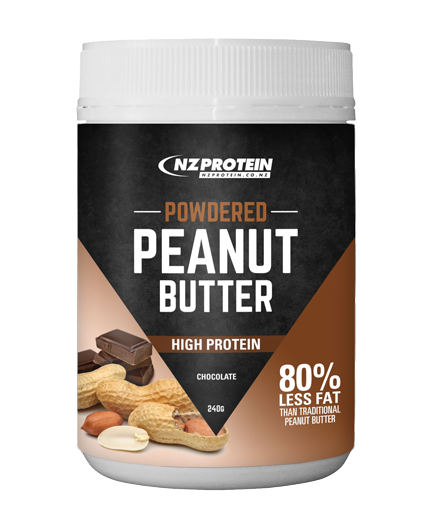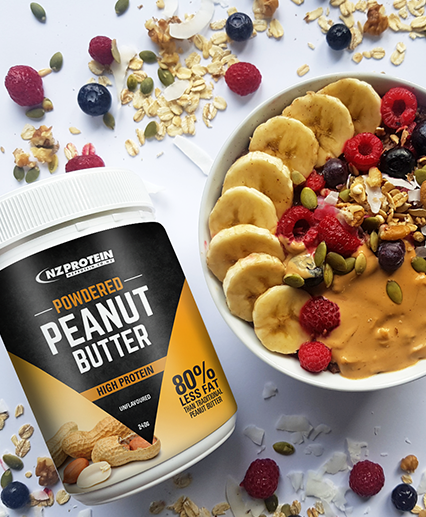 Powdered Peanut Butter
High Protein and 80% Less Fat Than Traditional Peanut Butter
High Protein and 80% Less Fat Than Traditional Peanut Butter
NZProtein's Powdered Peanut Butter is made by slow roasting and pressing peanuts to remove 80% of the fat and oil. The result is a lower calorie product that has a full roasted peanut butter flavour and about twice as many proteins per gram than its traditional counterpart.
This product has the same consistency as full fat peanut butter and can be used as a natural alternative to traditional peanut butter. It is very versatile - just mix with water to make a high protein spread that can be used for toast, or add it to smoothies or to any recipe that uses peanut butter.
NZProtein's Chocolate Powdered Peanut Butter has Dutch cocoa added for a full rich flavour.
High protein with >5g per serve
80% less fat and calories than typical peanut butter
No added cane sugar
High in fibre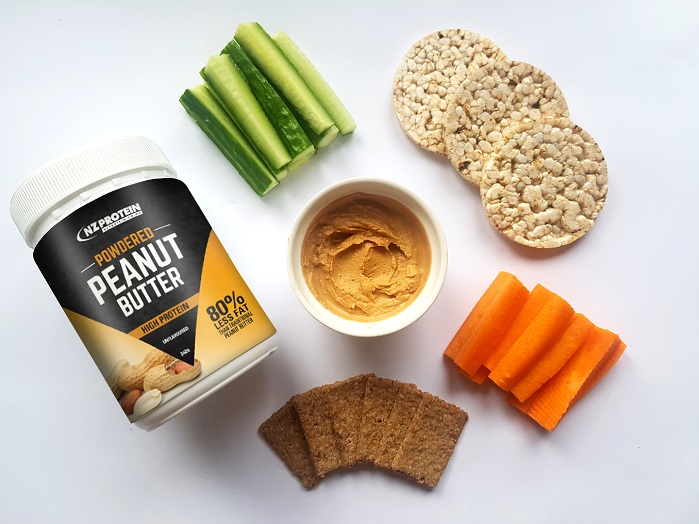 Directions
Mix 2 tablespoons of NZProtein's Powdered Peanut Butter with 1 tablespoon of water and stir until smooth. Adjust amount of water to achieve desired consistency.
Rated
4.67
/
5
Based on
3
customer reviews.
I just tried the chocolate flavoured peanut butter powder.
It tastes more peanut-y and less chocolate-y , but I am fine with that.
It mixes very well too.
Only tried natural so far but will be buying another one of each! This is epic. Perfect on my oats and added it to my protein shake and it completed nailed the PB Flavour. Was like a post training cheat meal. Soooo delicious! If your undecided give it a try!!!
Nailed the flavour! Chocolate flavour has a nice subtle dark chocolate taste.
Click on a flavour to see the nutritional information.
Serving size: 12g
Servings per pack: 20
| Name | Ave Quantity Per Serving | Ave Quantity Per 100g |
| --- | --- | --- |
| Energy | 220kJ | 1837kJ |
| Calories | 53 | 439 |
| Protein | 5.8g | 48.8g |
| - Gluten | 0g | 0g |
| Fat - total | 1.4g | 12g |
| - Saturated | 0.2g | 1.8g |
| Carbohydrate - total | 4g | 33.1g |
| - Sugars | 1g | 8.4g |
| - Dietary Fibre | 1.9g | 16g |
| Sodium | 23mg | 194mg |
Ingredients: Peanuts
Allergen warning: contains peanuts
Serving size: 12g
Servings per pack: 20
| Name | Ave Quantity Per Serving | Ave Quantity Per 100g |
| --- | --- | --- |
| Energy | 212kJ | 1763kJ |
| Calories | 51 | 421 |
| Protein | 5.5g | 45.8g |
| - Gluten | 0g | 0g |
| Fat - total | 1.4g | 11.8g |
| - Saturated | 0.3g | 2.2g |
| Carbohydrate - total | 3.7g | 30.5g |
| - Sugars | 1g | 8g |
| - Dietary Fibre | 1.7g | 14.3g |
| Sodium | 58mg | 486mg |
Ingredients: Peanuts, Cocoa (Contains Soy Lecithin), Salt, Sweetener (Sucralose)
Allergen warning: contains peanuts, soy (lecithin)