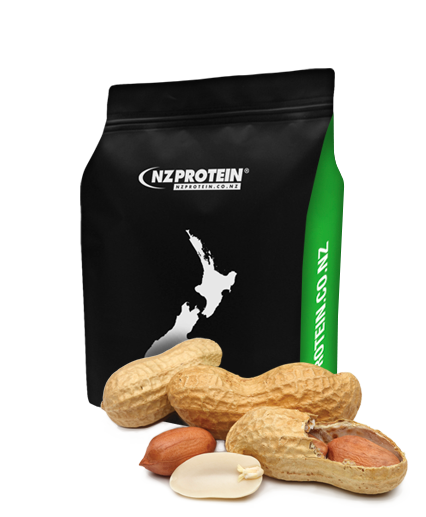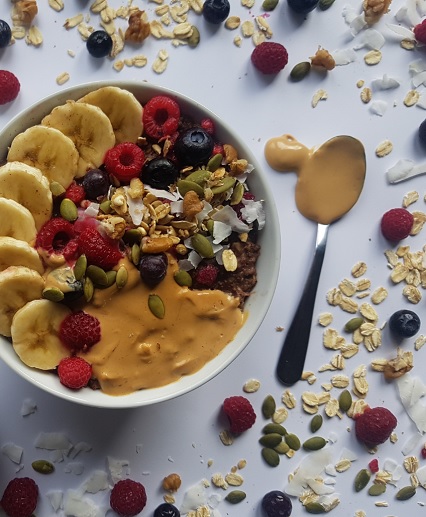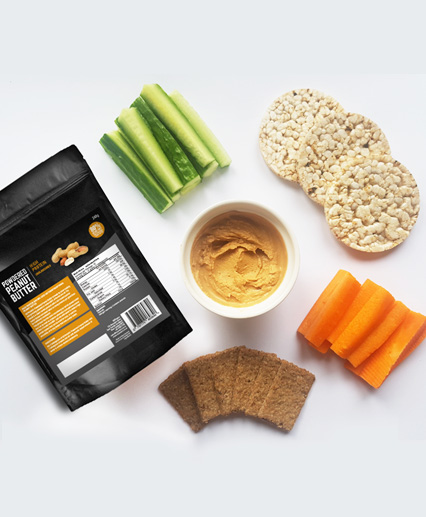 Powdered Peanut Butter 240g
High Protein and 80% Less Fat Than Traditional Peanut Butter.
Powdered Peanut Butter NZ
NZ Protein's Powdered Peanut Butter is high in protein and has 80% less fat than traditional peanut butter.
It's made by slow roasting and pressing peanuts to remove most of the fat and oil and the result is a lower calorie product that has a full roasted peanut butter flavour with about twice as much protein per gram than its traditional counterpart.
This product has the same consistency as full fat peanut butter and can be used as a natural alternative to traditional peanut butter. It is very versatile - just mix with water to make a high protein spread that can be used for toast, or added to smoothies or to any recipe that uses peanut butter.
Because most of the fat is removed, it doesn't clump so it goes into smoothies, desserts, oats and other foods very easily.
We haven't added extra salt to this product. If you want salt then we'll leave that up to you - just add a touch it in when you make it.
Powdered Peanut Butter Advantages
High protein with >5 grams per serve
80% less fat and calories than typical peanut butter
Same taste and consistency as full fat peanut butter
High in fibre
Works great in recipes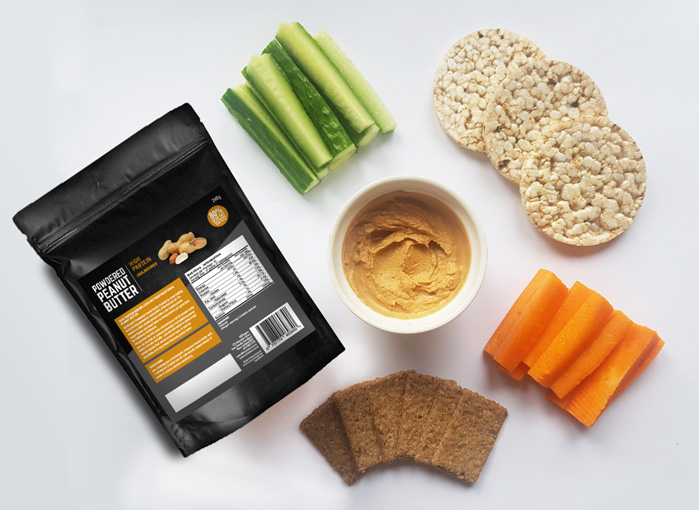 Suggested Uses
Stir into oats (or protein oats)
Stir into yoghurt
Add to recipes that require peanut butter, or recipes that you want to add the taste of peanut butter to
Substitute some flour with it and add herbs and spices for baking mixes including savoury muffins, seasoning mixes for meats, cookies, pancakes, waffles.
Add it in with our pancake mix for extra protein and a natural peanut butter taste
Add water and eat is straight from the pack!
Directions
Mix 2 tablespoons of NZProtein's Powdered Peanut Butter with 1 tablespoon of water and stir until smooth. Adjust amount of water to achieve desired consistency. Alternatively it can be added to smoothies or to any recipe that uses peanut butter.
Powdered Peanut Butter Recipes
We've got a range of powdered peanut based recipes available on our recipes page. Here are some favourites:
---
Rated
4.68
/
5
Based on
125
customer reviews.
This has been a frequent purchase for me and I love it. I add the powder to my protein shakes and it mixes really easily and tastes great. This is much easier than adding actual peanut butter which can get quite sticky and messy. Couldn't recommend this product more, definitely give it a try if you're on the fence, helps that it's pretty cheap for the convenience. Bonus, nzprotein has insanely quick delivery times as well, thanks guys!
Great texture but no sweetness at all. Needs a small amount. Great for weight watchers diet
Love the powdered PB! So versatile, I use it as a spread, in baking, and in desserts.
Not much flavour
Love this peanut butter, easy to make up the consistency you want and tasty.
Really nice to use in baking and making homemade protein bars :)
I LOVE peanut butter but the fat content just doesn't fit with my nutritionists recommendations. I was so excited to discover there was a powdered version with a fraction of the fat but all the flavour! Now I can have my peanut butter and still lose weight.
Early days yet. Bought more for my joints along with the beef bone broth so I have a couple of options what to take each day. Will do another review when I purchase more as I'd like to give this product at least 3 months or so to see what I notice a difference in. NZPROTEIN REPLY: (collagen)
Yum
Nice flavour, fresh & nice packaging.....
Love this powder! A banana and pb powder smoothie is delicious and its great in baking. Highly recommended and very happy that it only has a fraction of the fat you'd get in peanut butter.
Used it in a peanut/green smoothie. Not a lot of peanut taste but pleased with the product thanks.
Mixes well with liquid, and is best used in smoothies or baking. It definitely needs salt if you plan to use it as a spread!
I liked that the ingredients are 100% peanuts. No fake flavours. No offensive flavours, mild on the palate. Mixes up easy, visually looks like peanut butter but in a lighter almost souffle texture.
I expected from the ingredients being only peanuts that the peanut flavour would be stronger. The flavour is somewhat bland - a very mild peanut taste. This makes sense as fat is flavour. When trying actual peanut butter after having the powdered stuff it makes your tastebuds realise you are getting a stronger calorie hit so it has made me savour real peanut butter much slower and in smaller quantities than before.
Love the taste and price is better then others, do you do a crunchy one. NZPROTEIN REPLY: this product only comes in smooth, thanks!
Creamy and yummy when mixed and it makes a really nice drizzle on fruit bowls.
Great tasting powdered peanut butter. Adds extra yummy protein to overnight oats and smoothies.
Very popular at our place.
Love the whey protein! The flavours are delish, there's plenty of variety to suit different tastes.
BEST ONE ON THE MARKET BY FAR. I've tried heaps but always come back to this one. Would love bigger sizes though
Great product. Use it to make your own lower calorie peanut butter, without all the extra calories.
Also used to make my own overnight protein oats and it works great.
It's perfect to taste
Not going to lie, I had high hopes. In a smoothie or baking, it's really good. On its own or with just an apple or banana - it tastes very organic but not in a great way
Love PB, if a crunchy powedered version was possible... I'd be in heaven.
This is a little sweet, but mixes well with water, milks, or added into curries/recipes for lower-fat/calorie options where traditional PB would be used.
YUM!
Love it! Great in porridge, and smoothies and I intend to try it in place of peanut butter in a satay curry very soon.
Product is what it says on the packet. Peanut Butter powder. Easy to use. Best of all was the speed of delivery. Highly recommend.
Not a fan of the taste or texture. Great to use in smoothies though
The product is good quality, it is what it says it is. Not the same as the spreadable version but great for dipping slices of fruit / vege, in places where peanut butter is called for. I like it. Super fast delivery. I ordered yesterday afternoon, recieved parcel today and thats Sth Island!
Great taste, texture and packaging
Amazing to add to mug cakes, oats or to spread on a pita bread. Add some salt while making it to spread and tastes amazing
Yum
An excellent alternative to peanut butter but I do miss the fat! Hopefully in time I'll get used to this. Not bad in a smoothie and looking forward to baking with it.
It's great in recipes, flavour gets a little lost if you just have it on toast
Is ok and fills the spot but def is a different taste
I add powdered peanut butter to so many things. Love it. Add it to yogurt, smoothies, baking. Its my favourite.
Found the product very tasty and easy to prepare.
Perfect for what I wanted, great in smoothies and shakes.
Great by itself or to thicken and spice vegetable smoothies.
Yum, appealing packaging, super prompt delivery
Excellent

Too many emails though
Great product!
Easy to prepare, nice flavour. Perfect to use in smoothies; and one package seems to last for a long time.
Fantastic service. Product arrived so fast! Got a notification that the item was sent within 20 minutes of placing the order. It arrived the next day! Thanks a lot.
Best ever - I am SO impressed !
I mean, it's not peanut butter but it's definitely the next best thing. Takes a little getting used to but mix it with some Greek yo and spread on bread/toast/protein mug cakes and it hits the spot. Comparable to the'leading' brand but half the price, can't go wrong really. It's a thumbs up from me.
Your peanut powder is one of my favourite things to keep in my cupboard. Just love it.
This peanut butter powder is awesome. Use it in smoothies most days
1 frozen banana
Chocolate protein
Peanut butter powder
Greek yogurt
Soaked dates
Milk
Water/ice
Don't like the flavour with only water mixed, personally don't think it tastes like peanut butter (possibly the water). However, it does have the right consistency of smooth peanut butter and it will probably be better on toast and in baking recipes where an added peanut butter flavour would be nice.
Absolutely love this product. I use it on toast, to drizzle over oats or to make a satay sauce. So many other ways to use it too. I have tried other powdered peanut butters but they all add sweeteners and other ingredients. I love that this product just tastes like peanuts.
Great product - mixes beautifully to a smooth consistency and tastes great, highly recommend!
Very versatile. A little goes a long way. Have been using in pancakes, smoothies and oats.
Such a great powdered peanut butter.
Excellent value and taste! I do add salt to make it taste a bit more like normal peanut butter though!
I'm sorry but it tastes awful! I can't use it.
Great tasting and blends well 👌.
Love this stuff. Had been looking for a peanut booster for my shakes and this was perfect!!!
I like this a lot! Goes great with my smoothies and also with sliced apples and a sprinkle of cinnamon. Mixes easily and I like the low fat content along with the taste - really good.
I mix it with almond milk, choc protein pwd & half a banana. It gives me a protein shake with 53gms of protein. Well on my way towards my daily allowance & incredibly filling.
Great product, lot easier to spoon out than the product in a jar.
Tasty!
This stuff is so good, its such a convenient way to add extra protein into meals throughout the day.
great smoothie addition, and for dipping wet dried apricots in,
Love this peanut butter mix. I use it for a desert. I mix up a few tablespoons and add a small bit of real peanut butter and almond butter. I also love to add it to a shake. Highly recommended.
Love adding this to my smoothies 🥤
So glad I found your powdered peanut butter same taste and texture as others I have tried, Love how fast you deliver will continue to buy from here.
Wow! Super fast delivery have only ordered it last night and got it delivered this afternoon. First time trying the product and love it. Tastes just like peanut butter and I am in love with this product will definitely order again when I run out. Great job NZ Protein.
Love that it's just peanut powder, no sugar.
Really enjoy this product. I use it to make these: https://northernnester.com/low-carb-peanut-butter-cups/.
I thoroughly enjoy this powdered peanut butter, it is hard to find things without weird additives in them, and htis is just straight up peanuts, I mix it with hiney and water and at it to my yogurt and BAM, yummalicious (:
I put this in a smoothie and it's great. Adds an excellent peanut butter taste with none of the added oils. When my first packet ran out, I bought two more! Will definitely be a return customer.
Easy to mix, but it doesn't taste good at all.
I love this! Once you add the water it can taste 'watery' to get a runny consistency. But I'm gonna try add a tiny bit of oil in it to make it taste more realistic. Great product. Once you get used to it it becomes just like peanut butter! Great macros and protein source. If your vegan like me
Spot on peanut butter. Can feel a little too smooth at times but if you like peanut butter you won't care
Great peanutty flavour - good for sweet keto treats :)
I am a fan of this PB powder, it has no additives and is straight powder, I personally add a dash of honey to sweeten it a little bit, but I like the choice between adding honey or eating it as is. the price is also more reasonable compared to other pb powder brands in NZ. (:
Delicious peanutty goodness. Great stirred into my porridge oats and making a satay. I'm yet to try it as a spread for toast, as I'm a crunchy peanut butter fan.... I'll hold any judgement until I try it! ;)
Doesn't store in the fridge as well as ppb and kind of separates with the water coming to the top!
Also like to add salt to this one for a bit of extra flavor. All in all I will definitely be buying it again!
This is a great way to add a peanut flavour and some protein without the fat. Will definitely be purchasing this again
Great, versatile product. I use in my overnight oats and also on rice cakes as more of a peanut butter substitute. I like that it's just straight peanuts with no other stuff so you can add what you like or have as is. About to purchase my second bag.
First time buyer of this product! Wow! I will be back for more. The real PNB taste that comes through in my smoothies is fabulous! On the hunt for otherbways I can use this great product!
Love it, wouldn't have it plain by itself but mixed together with other stuff you could never tell the difference
Amazing nut powder for my own protein powders.
As a peanut butter substitute you'll be disappointed as it has a bitter taste which needs balancing with added sweetness or fat. However it's excellent as a flavouring to shakes and cooking. Very powerful taste, a teaspoon is all you need to add peanut flavour.
I just love your peanut power. I like the fact that it's defatted and has no added sugar. This is important. I have several recipes that I use this in to make wonderful, healthy treats. Five stars from me. 👍🏻
Surprisingly good taste and love the ultra-low fat content.
Awesomeness!! Literally a game changer!
I love this more than real peanut butter. I added a tiny pinch of salt and it is perfect on corn thins - my new favourite snack. I need to get more and I haven't had a chance to add it to other foods yet!
Doesn't quite have intensity of flavour of ordinary peanut butter but still a great peanut taste and perfect to dip my carrots in with just the right amount of calories!
This is a game changer. Delicious in a smoothie & oats. I'm so glad I found it..
Super quality lower calorie and higher protein alternative to my beloved peanut butter which I love oh so much so will most certainly continue to get this product thanks team
I love peanut butter so this is perfect being lower in fat great in smoothies mixed into yoghurt or into porridge amazing taste
Amazing, love it
Lovely, smooth flavour. Not sweet, not salty - which makes it very versatile in baking, shakes, and whatever else you need it for.
I have been using this with chocolate protein powder in my shakes and it's like drinking a Snickers bar.
Blends easily, haven't tried in a shaker yet because I use a Ninja blender for everything.
Will be buying again!
Tastes good, added it to my liw carb porridge.
I have tried PB2 and there is no difference except the price point for the NZ protein is much cheaper.it blended well into everything I put it in and tastes like peanut butter
Great natural tasting Peanut Butter Powder! Mix with a dash of salt and water and it is perfect as a Satay Sauce, in Oats or on Pancakes. Great for PB lovers (like myself) in a diet.
Am totally obsessed with this it is so good there are so many different ways to use it.
Excellent for dieting and tastes great!
Smooth and fine texture...wonderful
Didn't realise it was natural, unflavoured... very healthy but lacks taste.
Great website, easy to use....quick, fast delivery, & quality packaging!
it's easy, light and yummy! I add it to my smoothies for extra protein.
Awesome product. Tastes amazing and very easy to mix with water
Fined Powdered and taste good when mixed with Protein shake...Good quality👍
It's okay but not the best peanut powder I've come across - this one tastes a little more like peanut flour. A tiny bit of peanut butter and salt mixed in makes a difference. Good for baking.
Tastes great and so versatile. Both flavours are great!
Great texture when mixed with water (smooth PB texture) and mixed easily. Will transfer into a screw top glass jar as it is easier to store in my pantry than a bag. As I prefer a little salt in my PB I am finding I need to add a very small amount of salt to each serve I make. Apart from that it is excellent.
Love this for adding to smoothies or just adding a bit of soy milk for a low fat snack.
Love the fact I can have peanut butter without all the fat calories!! Price is great too. I add it to my smoothies, make protein bliss balls, have it with sliced banana or apple and chia seeds.
Too sweet! I have used it twice and couldn't finish it either time. Might be the sweetener? I'll stick to pb2, slightly more processed but edible.
Best powder ever, will always buy this!!!!
Made my sickly sweet protein shake a bit more palatable. Hooray for peanuts!
Amazing product. Perfect in smoothies and porridge. Delicious and healthy.
Great flavour. I add it to shakes.
Great taste, mixes well, awesome product.
Great service from NZ Protein, easy to deal with, fast delivery
Really tasty. Just like adding peanut butter to your smoothie/cereal but blends in much easier
Good pb powder but not the best I?ve had. It mixes well and is really good for making Satay?s with. Just a little bland.
The best solution to my peanut butter addiction, you only make as much as you need!!
I'd come across a few different recipes needing Powdered peanut butter so was very happy when I found you supplied it. I made some chocolate peanut butter cups (from scratch, so cacao butter, cocoa, sweetener plus the PPB and peanut butter) and the powder added a great depth of flavour.
Perfect for all sorts of recipes .. Does taste just like peanut Butter, but I'm yet to master the right consistency. Thanks NZ Protein for making our lives easier by having something better for us, but the same good ol peanut Butter.
Goes great with oatmeal
Very versatile, very tasty, and at a great price. Highly recommend powdered peanut butter from NZ Protein
Amazing product, very nutty flavour and easy to adjust the consistency to your liking. Highly recommend the natural version.
Yummmmm I love this stuff! All the peanut butter taste, easy as to make!!!!
This one goes great on my oats!
This peanut butter is yum! I used to get the PB2 one but it's hard to find it NZ and this one is even nicer and a little bit cheaper. Goes on my oats and in all my baking really well. 5/5 recommend to everyone.
I just tried the chocolate flavoured peanut butter powder.
It tastes more peanut-y and less chocolate-y , but I am fine with that.
It mixes very well too.
Only tried natural so far but will be buying another one of each! This is epic. Perfect on my oats and added it to my protein shake and it completed nailed the PB Flavour. Was like a post training cheat meal. Soooo delicious! If your undecided give it a try!!!
Nailed the flavour! Chocolate flavour has a nice subtle dark chocolate taste.
Serving size: 12g
Servings per pack: 20
| Name | Ave Quantity Per Serving | Ave Quantity Per 100g |
| --- | --- | --- |
| Energy | 220kJ | 1837kJ |
| Calories | 53 | 439 |
| Protein | 5.8g | 48.8g |
| - Gluten | 0g | 0g |
| Fat - total | 1.4g | 12g |
| - Saturated | 0.2g | 1.8g |
| Carbohydrate | 4g | 33.1g |
| - Sugars | 1g | 8.4g |
| - Fibre | 1.9g | 16g |
| Sodium | 23mg | 194mg |
Ingredients: Peanuts 100%
Allergen warning: contains peanuts
Pack size: 240g