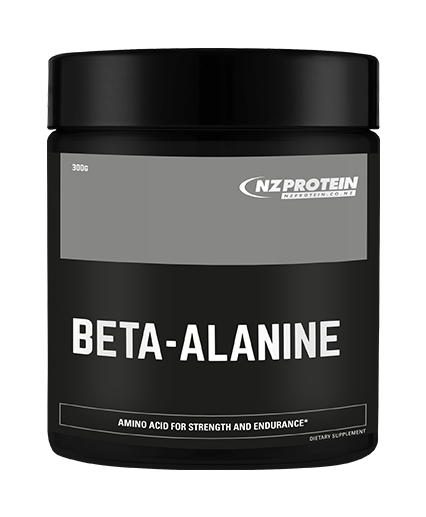 Beta-Alanine 300g
Amino Acid For Strength and Endurance.
Beta Alanine NZ
Beta-alanine is a naturally occurring amino acid that is reported to significantly increase strength, lean body mass and muscular endurance by helping to manage the pH of the muscle cells.
In other words, it helps buffer the acidic buildup that can occur in muscle, which allows you to maintain your strength, speed, and power for a longer period. In essence, you may be able to train harder and longer because of it.
It is reported to be incredibly synergistic with creatine and BCAAs. Therefore, when used/stacked properly, this supplement may be an amazing tool to help you take your training to new levels, resulting in new personal records and added lean muscle.
Increase your muscular endurance with a scoop of beta-alanine.
Beta Alanine Tingles
Beta-Alanine is responsible for 'tingling' or 'itch' skin sensations that you may experience. This is called paraesthesia and lasts up to 60-90 minutes.
This is the most common side effect and paraesthesia is not harmful in any way.
Beta Alanine Dose
Add 5 grams (1 scoop) to 250-300ml of water or other beverage.
Take a serving before or during training, or use as directed.
---
Rated
5
/
5
Based on
2
customer reviews.
Great quality
Great product for an affordable price. Mixes well, has no taste, and I love the tingle. Works really good for me.