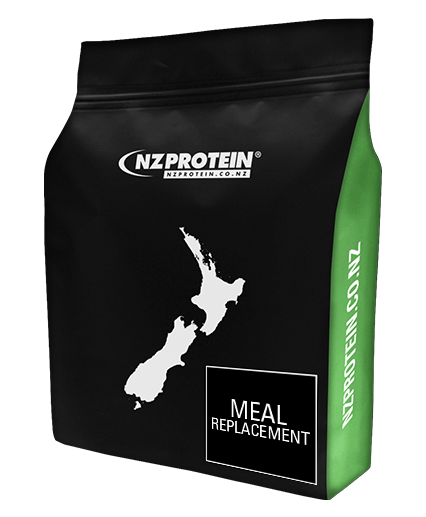 Meal Replacement Shake
A Super Food Blend and Formulated Meal Or Smoothie Booster.
Meal Replacement NZ
NZ Protein's Meal Replacement Shake is a superfood blend and is a formulated meal or smoothie booster.
A formulated meal is a legal term for a product that contains not only protein but fats, carbohydrates, vitamins and minerals. This differs from a protein shake which just typically provides protein.
It can therefore be used at any time of the day to replace meals.
Ours is Better
Our Meal Replacement Shake (MRP) is of much higher quality than other MRPs available on the market because the ingredients used are better.
NZProtein's MRP contains quality protein from hemp, fats from cacao, nuts and seeds, and carbohydrates from green bananas.
Here's how it compares:
Legal Product Type

Meal Replacement Shake.


Meal Replacement Shake.

Protein Source, Typical

Organic hemp protein.


Hemp is a superfood. It's a rich source of protein, essential omega fatty acids, dietary fibre, minerals, antioxidants and phyto-nutrients that can benefit your health.

It's slower digesting to provide a sustained release of protein.

It's plant based and vegan too.

Whey protein.


Don't get us wrong - whey is amazing and we stock the grass fed type from NZ which is the best of the best.

For a meal replacement however - whey is fast digesting, not vegan, and natural lactose can cause some to experience feelings of bloat.

This is nit-picky though. The real clincher is in the fat and carbs below.

Fat Source, Typical

Hemp powder, cacao nibs, almonds, linseed and sunflower seeds.

All of the above are superfoods and each serve of our MRP has over 5 grams of essential fatty acids.

Vegetable oils.


You know, the kind that we get told to avoid. The kind that are high in omega 6 fatty acids and are polyunsaturated, meaning that they can break down easily to form harmful compounds.

Carbohydrate Source, Typical

Green banana flour.

Another superfood due to its resistant starch - a type of fermentable fibre, which means that it isn't broken down and converted to sugar.

It's good for blood sugar levels, is diabetic friendly, aids in digestion due to the prebiotic fibre, and is loaded with vitamins and minerals.

Maltodextrin.

Maltodextrin is cheap to produce and is often used as a filler in processed foods.

It's higher on the glycemic index scale (GI) than regular sugar. It can spike blood sugar levels after consumption so may be useful after intensive exercise, but not during the day as a meal.


Usage

Depending on your nutritional requirements take 1-2 servings daily as meals. MRPs aren't to totally replace your diet or be used as a sole source of nutrition.

Depending on your nutritional requirements take 1-2 servings daily as meals. MRPs aren't to totally replace your diet or be used as a sole source of nutrition.

Speed of Digestion

Slower digesting for a sustained energy release.

Slower may be more beneficial as this product is designed to be able to replace meals.


Fast digesting.

May not be as beneficial as slower digesting sources.

Taste

Typical for superfood sources. Whey and maltodextrin type MRPs will taste the best, but our MRP is pleasant.

Whey and maltodextrin taste the best.

Suggested Use
Mix three heaped scoops (50g) in 500ml of chilled water, milk or into a smoothie.
Depending on your nutritional requirements take 1-2 servings of NZPROTEIN Meal Replacement daily as meals. It can be used at any time of the day to replace meals. This product must not be used as a sole source of nutrition, or as a total diet replacement.
Please note that this product is processed in a facility that also handles milk, egg, soy, peanut, and gluten ingredients.
---
Rated
4.07
/
5
Based on
76
customer reviews.
Really happy with this product. Found it easy to mix, isn't overly grainy, and the flavour is exactly what you'd expect given the ingredients. I personally like the flavour and crunch of the nibs. I feel like anyone who is disappointed with this product is expecting it to be like the other types that have 20+ ingredients in them to make them taste like milkshakes. Sure, those are tasty, but this one is way less processed and better for your gut in the long run.
By far the most filling meal replacement shake I have ever had and tastes so good too. Love it!
Toffee flavour is horrible!

Would love another flavour option for sure as i do like the banana/cacao option though :)
I love the banana flavour and enjoy the crunch of the cacao nibs. Great to keep a portion on hand, with milk powder added then ready just to mix with water anywhere any time. My fussy daughter loved it too.
Will definitely be buying again.
Great product, really happy. Enjoy the crunch of cacao.
Would love there to be no scoop in bags though.
I would avoid this product. Very average taste, doesn't dissolve well and you'll choke on a layer of random peanut chunks that float on the top every time you take a sip. NZPROTEIN REPLY: we're sorry you don't like the taste, it is plant based. The chunks are cacao nibs - there are no peanuts.
Must be blended into a smoothie. Too gritty just mixed into water. Blended with a banana, berries and whatever else it makes for a great quick and easy meal replacement.
Banana / cacao flavour is great, love the cacao crunch factor, real ingredients and mixes fine in their hand shaker - I'm using it functionally, I'm not after fine cuisine
Excellent product. Perfect to replace a meal when your busy and keeps me satisfied and energised for a solid few hours. Definitely recommend it and will be buying it regularly from now on.
Toffee flavour not the best unfortunately
Great replacement drink easy to make in my Vitamix
It's filling and it has the nutritional value so its a 5 star for that.
Only problem is the Banana flavour doesn't taste too good in my opinion. Gotta scull it to get it down.
Thanks for the product though.
Sorry Toffee favour is gross, I would rather have the other favour
I wasn't so keen on it. Took aged to shake up and it still had lumps in it
Takes a while but you will get used to the taste. Need to try their new flavor.
2nd order, very happy with this product and will continue to purchase. Highly recommended. NZ protein needs to get their act together and offer a few more flavours, that is my only complaint. NZPROTEIN REPLY: This product is very difficult to flavour and no other flavours work with this product currently. We have tried many...
Works well, feels great. Not keen on the wee nibs though...
Great tasting, and keeps you full throughout the day
I emailed you on your product there was no reply so service is nil. The product put weight on me instead of shedding it.
It seemed healthy produc t but the GI is useless and no reply on the query.
Useless and waste of money product.. I found a better one that doesn't put weight on that I can fast with. NZPROTEIN REPLY: sorry that it may not be for everyone. We do our best.
I was reluctant to try this given some negative reviews. However after trying it l really can't understand what the fuse is all about. Blends easily, (in a nutri bullet) taste better than ok, but the main advantage is the natural formula. I would recommend it as a meal on the go. I could understand that mixed with water in a hand shaker results would not be great. It also loses a star due there is no choice in flavours.
Lovely taste. And filling
Yuck
Tastes better than I expected and keeps the hunger pangs away all afternoon at work. Great product.
I like this, it's filling enough that I can successfully replace lunch at work without feeling too hard done by. I'm not 100% sold on the flavour though so dropped a star. It's drinkable but not something I would actively choose
It would be awesome to have a selection of flavours in this range so I could cycle through them, at the moment I feel like by the end of the bag I'm never going to want to see another green banana as long as I live ;-)
I really didn't enjoy the choc chips in the protein shake, don't taste like chocolate at all and they're so hard…. They ruined the whole shake for me. NZPROTEIN REPLY: they're cacao nibs. They're a superfood but are bitter by nature.
Product tastes pretty average but is very filling and helps me on night shift stops me from massively over eating
LOVE THIS COMPANY!!!! Always professional with the best products and free gifts :). I only buy from this company as I think you have the best flavour profiles. Unfortunately I wasn't a big fan of this specific product and the flavour. Excellent product as always just found that the taste it left in my mouth wasn't great. I decided to go back to my whey protein. Anyways...I'll keep on testing new products and love the work you are doing. Keep it up.
Great taste and a superior meal replacement whether you are in a rush or simply want a quick fix. A must for all the plant based individuals.
Great protein, good flavour and mixes wel to give a good texture in a smoothie. Doesn't leave a grainy after taste like others can
Surprisingly yum! The banana taste is quite subtle and natural, and I actually really like the crunch of the cacao nibs - kinda like eating sprinkles. It's definitely a thumbs up so far.
Have been having this for breakfast for months as "nutritional insurance". Great flavour and everything you need!
Very nice flavor and not artificially sweet like others I have tried. Blends very well and does not end up grainy. Will definitely purchase more.
Easy to mix and nice flavour! Great for a quick meal.
Firstly just love Nzprotein. Love to you guys. At a crossroads with this product. Can you make a chocolate flavour as well?
I've been struggling to eat enough due to new medication suppressing my appetite, and a lot of the common meal replacements aren't vegan, so finding this has been really helpful for me! It's pretty tasty and has a good range of stuff in it which helps me get what I need
❤️ First time trying this product and I was blown away from the flavour 😊🙏 And I love
[email protected]
I could mix this with the other products such as the double choc faba beans protein and the Super Greens powder, SO good... 🤤 I made it a feast! 😈
Love this product! I drink it every work day for breakfast straight after my 7.5km run to work and keeps me full until lunchtime. I also run home so it's fair to say I'm not a light eater either.

Super convenient to keep in the locker at work and is the easiest way to get a super healthy breakfast in if you're time poor (start work at 7am so no time to muck around with making a blender smoothie after the run).

I mix the NZ protein green super blend product in (just pour it straight into the bag and shake to mix the powders) have actually found it improves the flavour and makes it that much more nutritious and is a super convenient way to supplement my green veggie intake.

As a vegan the ingredients are ideal with the hemp protein and LSA providing essential fatty acids I would usually get by supplementing my shakes with linseed oil in absence of fish in my diet.

If convenience and nutrition trump taste this is definitely the product for you. If you're looking for low quality but tasty I suggest another brand.
This is my second order, after reading the other reviews I have to say the cacao nibs are the best bit about the shake. Love chewing them! The banana flavour is subtle. Filling but good on the gut.
Overnight delivery - super quick. Expected to be ready to add something to this to improve the taste but I love it just with water! Will be my new go-to and will be ordering again :)
Great health benefits of this shake! And no upset stomach! Taste can improve, though. The chocolate nibs need to be grounded so it doesn't get stuck in the throat. Plus, this needs to show health star rating, which would be ideal.
I was pleasantly surprised by how tasty these meal replacements are. I am allergic to animal milks and so I need to carefully select anything that I ingest. I have tried brands across the pricing spectrum and this by far is the best, and is a very cost effective option. There's no weird texture or after taste, it's just yummy. Shipping is lightning speed too. I ordered it on my lunch break one day and the next day when I got home it had arrived. I highly recommend this product.
Been using the shake for a few weeks now, replacing one meal per day. Sufficient as a meal replacement. I like the vanilla flavour, but the chocolate nibs not really that great. (swallow it without chewing is the best option). I would love the shake without the nibs or even a chocolate shake but it does what I bought it for, so happy with the product.
Had to get used to the taste at first but love it now. Fills me up at breakfast. Great value at this price.
The taste is good and the consistency too.
The only thing that really is bad is the chocolate ships.
When drinking from a bottle they can get stuck and is very unpleasant to drink and stop to bit them.
Please jus add Choco powder and remove the chips.

Keep the good work.
Excellent product, very nice tasting, easy to digest, doesn't give you gas. I really like the cacao nibs they make this product something special and I look forward to the shake because of this great little ingredient. I will definitely buy this again.
I have tried so many protein/meal replacement shakes and they are grainy and disgusting and I give up on them. This one is genuinely nice! It's a vegan protein miracle!
Really not my thing. I retried a number of times, mixing it with other stuff but I cannot appreciate it. I could force myself past the banana-ish flavour but I dislike the cacao nibs. I tried to pass on to friends but haven't found any of them keen to accept the free offer I'm willing to make them, so I'm afraid I'll have to cut my losses on this purchase. I do love other NZ Protein products but not this one. I would probably try again if unflavoured and without those nibs.
Don't waste your money, extremly disappointed. The only reason I gave a 2 and not a 1 was the banana flavour when you can taste it is actually nice but the nibs completely ruin it and make it inedible for me without gagging on the flavour. I tried to sieve out the nibs but it managed to make the nib flavour more potent unfortunately. Take out the nibs and I would purchase again though. NZPROTEIN REPLY: cacao nibs are a bit bitter but are a superfood!
It is a satisfying meal replacement. Mixes well in a shaker. I like the banana flavour and the crunch of the cacoa nibs.
5 stars from me.
Not bad. It's filling, tasty, everything it needs to be. The banana nibs aren't my favourite, though - I'd have left those out or blended them up (though you can still do that yourself).
Great product, would like to see some variety in flavors
What attracted me to this product was the quality ingredients and amount of Protein per serve.

I like to have this most mornings along with Eggs on toast, I add half a banana and it tastes superb.

Keeps me full for longer and a great kick start to by day.

Highly recommend !!!
I like the flavor and the meal replacement don't make me feel too hungry during the day. I would like to see other flavors though. I did find really nice to receive an hand written thank you note with the parcel.
I have been using your protein powder for a few years now and had never tired the meal replacement before. I was looking for something for when you are busy and on the go and reach that 'I am starving but there's nothing healthy to eat' scenario. And..... this product hits that spot perfectly. I dont know if it is coincidence or not but I had a shake for supper and the next morning my 5.30am workout I was on point and had a lot more energy. This shake tastes nice, fills a gap and mixes well with oats in blender etc ...
Very happy customer
Not too bad
Due to finding out that I have become lactose and gluten intolerant and a result of pancreatic cancer I need a breakfast replacement. Mixed with fruit in a smoothie works
Tastes pretty good and is filling. If I could change anything it would be the packaging, it's a bit of a messy job getting the powder out, especially when it's running low, and it would be great if it was able to be recycled here, or else was biodegradable.
Initially thought the flavour was average. 3 heaped with water. Next day tried it with milk, some frozen berries, and a vitamin C tablet, no issues at all. Only 4 stars as I agree with other posts, could be more flavours.
I was a little hesitant about the flavour as I don't particularly like banana flavoured things but it's actually really nice! I like the cacao nibs, the variety in texture is nice. I hope they are able to add other flavours to the range soon. I will still buy this one as well but it would be nice to mix it up sometimes. The powder mixes well in a regular shaker. I do wish it was a little thicker but also appreciate that it's not full of fillers to achieve that.
It pains me to write this as I love your protein powders, but this Meal Replacement Shake is hideous!!! The cacao nibs are disgusting, and about an hour after I drank it, I threw it up :-( I wasn't ill in any other way, once my body purged it I was fine. I am so disappointed, as it worked out a lot cheaper than other MR shakes.
I found the meal replacement great, my only concern is that it only comes in 1 flavour. Please give us additional flavors as this stuff is great. Would certainly recommend to my friends if the flavour range was larger.
Great stuff.
A protein boost with nutrients. This is ideal. I have one a day. It ya Tate's awesome as well.
Great meal replacement for me being lactose intolerant. I've never been able to stomach pea protein and I have had no issues with this. Taste is pretty good, the only downside is that I'm not a huge fan of the Cacao nibs. Would recommend anyway.
Easy on the guts (I have IBS so it can be hard to find food that is OK), made from real food, filling and tasty (even though I don't like bananas). I find the cacao nibs a bit bitter but overall a great product
+2 stars for nice taste
-1 star for cacao nibs—not sure about them and they don't really add flavour
-1 star because it turns out very watery when mixed with water (surprise, surprise!)—kinda wish it had thickened up after leaving it overnight in the fridge, but it was the same.
-1 star for not having any other flavours to try!

Will try with milk instead or maybe blended with ice and other fruit, but if it doesn't work out after this packet, probably will look elsewhere.
I am blown away by this product. It tastes incredible. I could drink this all day. Love it !
Personally I really hate flavour of vegan protein powders. So I was sceptical. However I need a simple replacement that is lower in carbs and also fats ( pancreas malfunction). This ticked all the boxes. Really, really filling, amazing flavour and texture :)
Great meal replacement, I like the crunchy nibs, fills me up for a good 2-3 hours at lunch until my next snack. Would love to see more flavours
This shake is amazing - flavour is just right and full of goodness will definitely be buying again once in stock.
My favourite product so far - this is yum and filling, have it for breakfast each day.
I have struggled to find a protein that I can enjoy as well as consuming multiple healthy nutrients, in a protein shake! I struggle with IBS and am dairy intolerant, this protein only made me feel better, more active and alive ! Flavour is great ! Also works well as an ice cream with frozen bananas. Would highly recommend! Please bring out more flavours ! NZPROTEIN REPLY: thank you! We'll consider more flavours in future if demand grows. Note that due to the superfoods in this product the flavours don't all work and can be a bit limited.
I like the cacao in it and grain texture. I prefer a ripe tasting banana to the green banana. I found the green taste rather strong. Excellent communication and quick delivery! Especially to rural address.
I really like the taste, some may be put off by the texture (crunchy bits), but on the whole I was impressed.
Fantastic !
Tried out this new product for breakfast, it tastes wonderful.
I was never keen on breakfast, but now look forward to my next morning shake !
Also, I only felt like eating something 4 hours after my shake, really fueled me up.
Hope this gets popular and there may be more flavor to choose
I look forward to a shake after gym time ??
Click on a flavour to see the nutritional information.
Serving size: 50g (3 heaped scoops)
Servings per pack: 20
| Name | Ave Quantity Per Serving | Ave Quantity Per 100g |
| --- | --- | --- |
| Energy | 861kJ | 1722kJ |
| Calories | 205 | 411 |
| Protein | 21g | 42g |
| Fat - total | 8.4g | 16.9g |
| - Saturated | 2.4g | 4.8g |
| - Essential Fatty Acids | 5.3g | 9.6g |
| Carbohydrate | 13.6g | 27.2g |
| - Sugars | 1.9g | 3.8g |
| - Fibre | 4.8g | 9.6g |
| Sodium | 141mg | 283mg |
| Potassium | 557mg | 1114mg |
| Vitamin A | 180ug | 360ug |
| Vitamin C | 10mg | 20mg |
| Vitamin D | 2.5ug | 5ug |
| Vitamin E | 2.6mg | 5.1mg |
| Vitamin B6 | 0.31mg | 0.62mg |
| Vitamin B12 | 0.5ug | 1ug |
| Thiamin | 0.25mg | 0.5mg |
| Riboflavin | 0.5mg | 1mg |
| Niacin | 2.5mg | 5mg |
| Folate | 50ug | 100ug |
| Calcium | 135mg | 270mg |
| Iodine | 40ug | 80ug |
| Iron | 5.5mg | 11mg |
| Magnesium | 60mg | 120mg |
| Phosphorus | 225mg | 450mg |
| Zinc | 2.2mg | 4.3mg |
Ingredients: Organic Hemp Protein, Cacao Nibs, Green Banana Powder, Modified Tapioca Starch, LSA (Linseeds, Sunflower Seeds, Almonds), Vitamin Blend, Flavour, Salt, Sweetener (Sucralose), .
Contains tree nuts. May contain gluten.
Serving Size: 50g
Servings per pack: 20
| Name | Ave Quantity Per Serving | Ave Quantity Per 100g |
| --- | --- | --- |
| Energy | 861kJ | 1722kJ |
| Calories | 205 | 411 |
| Protein | 21g | 42g |
| - Gluten | 0g | 0g |
| Fat - total | 8.4g | 16.9g |
| - Saturated | 2.4g | 4.8g |
| - Essential Fatty Acids (EFA) | 5.3g | 9.6g |
| Carbohydrate | 13.6g | 27.2g |
| - Sugars | 1.9g | 3.8g |
| - Fibre | 4.8g | 9.6g |
| Sodium | 141mg | 283mg |
| Potassium | 557mg | 1114mg |
| Vitamin A | 180ug | 360ug |
| Vitamin C | 10mg | 20mg |
| Vitamin D | 2.5ug | 5ug |
| Vitamin E | 2.6mg | 5.1mg |
| Vitamin B6 | 0.31mg | 0.62mg |
| Vitamin B12 | 0.5ug | 1ug |
| Thiamin | 0.25mg | 0.5mg |
| Riboflavin | 0.5mg | 1mg |
| Niacin | 2.5mg | 5mg |
| Folate | 50ug | 100ug |
| Calcium | 135mg | 270mg |
| Iodine | 40ug | 80ug |
| Iron | 5.5mg | 11mg |
| Magnesium | 60mg | 120mg |
| Phosphorus | 225mg | 450mg |
| Zinc | 2.2mg | 4.3mg |
Ingredients: Organic Hemp Protein, Cacao Powder, Green Banana Powder, Modified Tapioca Starch, LSA (Linseeds, Sunflower Seeds, Almonds), Vitamin Blend, Flavour, Salt, Sweetener (Sucralose).
Contains tree nuts. May contain gluten.
(mg per serving)
Branched chain aminio acids:
| | |
| --- | --- |
| Isoleucine | 710 |
| Leucine | 1180 |
| Valine | 880 |
Other essential aminio acids:
| | |
| --- | --- |
| Lysine | 620 |
| Methionine | 450 |
| Phenylalanine | 800 |
| Threonine | 620 |
| Alanine | 740 |
| Aspartic Acid | 250 |
Non essential aminio acids:
| | |
| --- | --- |
| Histidine | 510 |
| Arganine | 2420 |
| Cysteine/Cystine | 250 |
| Glutamic Acid | 3190 |
| Glycine | 770 |
| Proline | 600 |
| Serine | 920 |
| Tyrosine | 610 |
| Hydroxyproline | <50 |
| Ornithine | <50 |
| Taurine | 240mg |