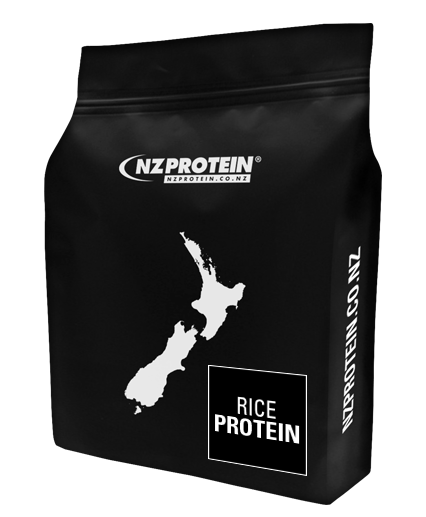 Rice Protein 1kg
Alternate Source that's Easy to Digest and GMO Free.
Rice Protein is Hypo-Allergenic and Easily Digested, Ideal for Vegans or Anyone With a Sensitive Stomach
NZProtein's Rice Protein is an excellent alternative for vegetarians, vegans, and anyone with a sensitive stomach - whether lactose intolerant or allergic to dairy. It is carefully extracted from brown rice, resulting in a protein powder supplement that has an excellent amino acid profile, yet low in carbohydrates and fat. And it's GMO free too.
This product is ideal for athletes, vegans, and those seeking a healthier lifestyle:
• Gluten free, dairy free, GMO free
• High protein / low carbs & fat
• Contains all of the essential amino acids
• High in Branched Chain Amino Acids (BCAAs)
• Mixes easily
• No added flavours or sweeteners

Taste and Mixing
Rice protein has a thick texture when mixed and a natural 'grainy' texture. For best results mix in a blender with fruit. Also goes well in baking.
Suggested Use
Consuming high quality protein at regular intervals throughout the day can encourage a positive nitrogen balance, aid recovery, and help to increase metabolism.
Depending on your nutritional requirements take 1-3 servings daily at breakfast, between meals, post workout, or before bed.
Recipes
Please note that this product is processed in a facility that also handles milk, egg, soy, peanut, and gluten ingredients.
---
Rated
4.22
/
5
Based on
9
customer reviews.
Mixes well, but it has a strong taste
Smooth, but the rice flavor is strong when mixed 50/50 with other flavored products
I have been using this product for aprox 3 years and have made many gains. High in protein, low in carbs and fat. Doesn't taste great....but I prefer over pea. I drink it fast, it works for me in regards to my muscle gains/maintenance. I think of the benefits rather than the actual flavour. Also NZ Protein are so great to purchase from, great affordable products and super fast delivery! Have never let me down, a big thanks to the NZP team!
A really excellent product. I have had whey for years as part of my diet when competitive bodybuilding and power lifting. I went off whey because of the heaviness, and wanted some lighter alternatives.
If you are used to having flavored powders that you just add to milk, you might be in for a bit of a surprise. But once you find what it works with, it is fantastic - it might take some experimenting, so be patient!

I find it to be a really light shake without the heavy feeling. I enjoy having it with a 40g scoop of rice protein, 100g of frozen berries, about 250ml of cold water, and 50g of banana - super refreshing and hydrating. Give it a good go before passing judgement :)
Very good.
An unpleasant flavour that was not easily masked even when blended with other strongly flavoured ingredients. Plus, resulting in a thick unpalatable texture so needs to be heavily diluted. Would not buy again.
ZZZZZZZING!

Best protein thus far. Prefer this to pea protein as it does not have much sediment that collects at the bottom. Blends well in nutribullet w just water. Tried the flavoured salted caramel based on other reviews. Recommend - is not overly sweet like other brands.
This is a great non-dairy alternative. It has a neutral flavour and none of the usual sweeteners and flavourings that my stomach can't handle. I've been buying it here for a while now and it's the perfect protein supplement for me. I recommend it to anyone who has allergies or sensitive digestive systems.
Great alternative to using dairy products. Goes well in a smoothie with frozen berries and banana. Gentle on the stomach and great for someone who has a lot of "allergy issues" A+
Click on a flavour to see the nutritional information.
Serving size: 31.25g (2 heaped scoops)
Servings per pack: 32
| Name | Ave Quantity Per Serving | Ave Quantity Per 100g |
| --- | --- | --- |
| Energy | 502kJ | 1607kJ |
| Calories | 120 | 384 |
| Protein | 25g | 80g |
| Fat - total | 1.7g | 5.3g |
| - Saturated | 0.8g | 2.5g |
| Carbohydrate - total | 2g | 6.3g |
| - Sugars | <0.2g | <0.5g |
| Sodium | 21mg | 68mg |
| Calcium | 131mg | 419mg |
Ingredients: Rice protein powder
(mg per serving - unflavoured)
Branched chain aminio acids:
| | |
| --- | --- |
| Isoleucine | 1220 |
| Leucine | 2630 |
| Valine | 1800 |
Other essential aminio acids:
| | |
| --- | --- |
| Lysine | 1010 |
| Methionine | 950 |
| Phenylalanine | 1830 |
| Threonine | 1190 |
| Tryptophan | 280 |
Non essential aminio acids:
| | |
| --- | --- |
| Histidine | 820 |
| Alanine | 1770 |
| Arganine | 2400 |
| Aspartic Acid | 2830 |
| Cysteine/Cystine | 850 |
| Glutamic Acid | 5640 |
| Glycine | 1380 |
| Proline | 1430 |
| Serine | 2600 |
| Tyrosine | 1600 |