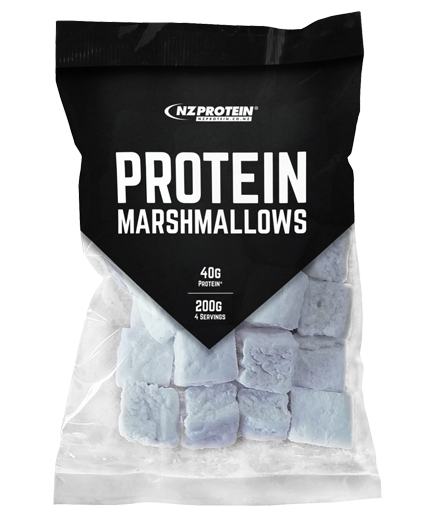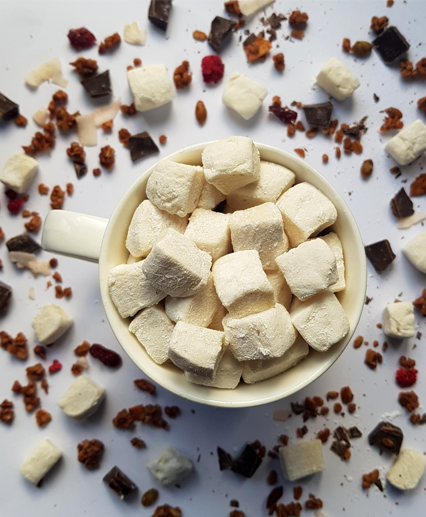 Protein Marshmallows
The Only Marshmallows With Gains
Protein Marshmallows NZ
NZ Protein's Marshmallows are just that... high protein marshmallows that taste awesome and are ready to eat straight from the pack.
Each 200 gram pack provides 40 grams of protein from clean New Zealand whey! Since they use our whey you know that the amino acid profile is spot on too.
They have hardly any fat or sugar too, with less than 1 gram of fat and 1.1 grams of sugars per serve. In fact, in the whole packet there's under 4 grams of fat and under 5 grams of sugars.
Don't hold back because they're the only marshmallows with gains. If you end up binge eating then at least you won't feel too bad about it.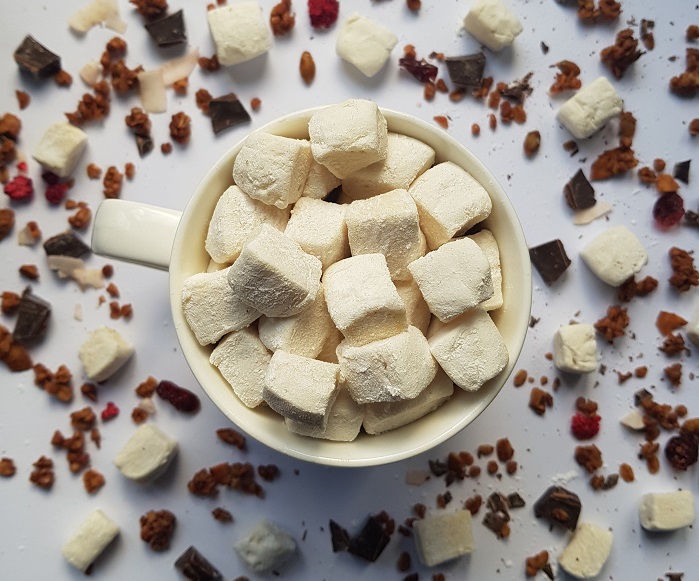 Beat Sugar Cravings
Cravings can be hard to fight - we all have cravings from time to time. But now the fight is over.
This product primarily uses natural birch sweetener (more commonly referred to as xylitol) instead of common sugar that you'd find in supermarket marshmallows. Unlike regular sugar, xylitol is a sugar alcohol that has no effect on blood sugar levels. It's better for your teeth too!
Suggested Use
For breakfast with a hot drink.
For dessert (obviously)!
Between meals to count towards total protein intake.
Post workout instead of a shake (or...with a shake)?
To combat sugar cravings.
With our protein ice cream mix.
With our protein mousse mix.
Any time. They're the only marshmallows with gains.
Please note that this product is processed in a facility that also handles milk, soy, tree nut, and gluten ingredients.
---
Rated
4.25
/
5
Based on
4
customer reviews.
Best things ever! Kick those sugar cravings right in the bum! Sweet tasty and creamy just like they should be!
Looks and feels like a marshmallow but has a really weird taste that's difficult to put into words but I would describe as a mixture of old beef and sugar. Not even sure if I can eat one serving much less finish the packet.
Amazing!!! Better then normal marshmellows!! Definitely keeping a pack in the cupboard all the time!
Surprisingly amazing taste! Great snack
Serving size: 50g
Servings per pack: 4
| Name | Ave Quantity Per Serving | Ave Quantity Per 100g |
| --- | --- | --- |
| Energy | 506kJ | 1012kJ |
| Calories | 121 | 243 |
| Protein | 10g | 20g |
| - Gluten | 0g | 0g |
| Fat - total | 0.9g | 1.8g |
| - Saturated | 0.6g | 1.3g |
| Carbohydrate | 1.3g | 2.7g |
| - Sugars | 1.1g | 2.2g |
| Sodium | 20mg | 39mg |
Ingredients: Birch Natural Sweetener (967), Whey Protein Concentrate (Contains Sunflower Lecithin), Glycerol, Gelatine, Microcrystalline Cellulose (460), Flavour, Sweetener (Sucralose).
Contains milk. Excess consumption may have a laxative effect.