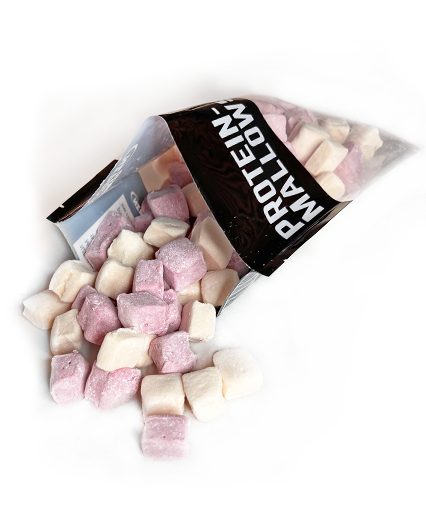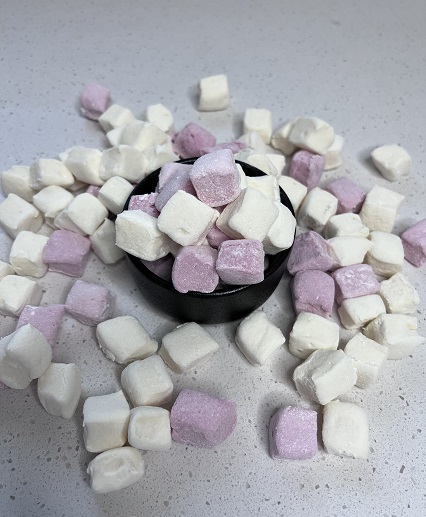 Protein-Mallows
The Only Mallows With Gains.
Best stored in the fridge.
All new Protein Marshmallows v2!
Our protein-mallows have been redeveloped and are better than ever!
We have replaced whey protein with collagen peptides. (This product no longer contains milk).

As a result the protein is higher and the fats and carbohydrates are virtually non existent.
They're also super fluffy and like little clouds of goodness!
Protein Mallows NZ
NZ Protein's mallows are just that... high protein marshmallows that taste awesome and are ready to eat straight from the pack.
Each 200 gram pack provides 47 grams of protein from hydrolysed collagen peptides.
They have hardly any fat or sugar too, with less than 0.1 grams of fat and 1 gram of sugars per serve.
Don't hold back because they're the only marshmallows with gains. If you end up binge eating then at least you won't feel too bad about it.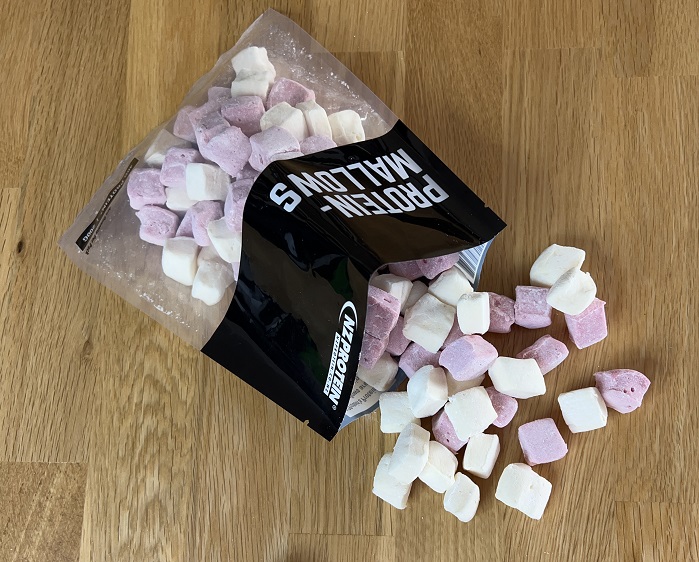 Beat Sugar Cravings
Cravings can be hard to fight - we all have cravings from time to time. But now the fight is over.
This product primarily uses natural birch sweetener (more commonly referred to as xylitol) instead of common sugar that you'd find in supermarket marshmallows. Unlike regular sugar, xylitol is a sugar alcohol that has no effect on blood sugar levels. It's better for your teeth too!
Suggested Use
For breakfast with a hot drink.
For dessert (obviously)!
Between meals to count towards total protein intake.
Post workout instead of a shake (or...with a shake)?
To combat sugar cravings.
With our protein ice cream mix.
With our protein mousse mix.
Any time. They're the only marshmallows with gains.
Shelf Life
These are a fresh product so they don't have a huge shelf life. We recommend keeping them chilled and expect around 4 weeks.
Recipes
Please note that this product is processed in a facility that also handles milk, soy, tree nut, and gluten ingredients.
---
Rated
4.8
/
5
Based on
205
customer reviews.
So yummy to snack on or melted in a hot chocolate. No bitterness or graininess, like you can get from some sweeteners. A great low carb, high protein treat when you're craving something sweet.
One word. Yummy. These are my now number one marshmallows.
Definitely need to be eaten chilled but even then was a bit of a struggle for me to get a serving down, gonna try cuttin em up and sprinkling over jelly or ice cream
Absolutely amazing, taste and feel exactly like traditional marshmallows, and you don't need to eat very many to feel like you scratched that sugar craving itch.
These marshmallows are simply one of the best keto-friendly products I have found. Not only are they absolutely delicious and taste exactly like the real thing, they are high in protein, super low in carbs and fats, and make the perfect snack. As a former sweet tooth who has eliminated sugar, these have been a total game changer for me. Surprisingly filling, particularly if eaten directly from the fridge (which i highly recommend), they completely satisfy any and all sweet cravings, without any of the negative health consequences associated with consuming sugar. Great product from a great company.
So good, the risk is eating to many.
Tastes delicious, and people super friendly
I really love this product. Delicious soft marshmallows, high protein and low carb. What's not to love. Many thanks for the excellent service and speedy delivery.
Good as treat
The best tasting marshmallows, I love them in my coffee & with yoghurt for dessert.
TASTE SO GOOD! Better than standard marshmallows, maybe? I wish I had purchased more of them!
I throw some on top of my coffee or I grab a handful and throw them directly in my mouth. Can't go wrong. highly recommend everyone
Yum! Addicted to these now!
Awesome marshmallows - gives me my sweet fix without the sugar. I am a diabetic and do lazy keto so these are perfect 🥰
Delicious, perfect sweet treat without all the sugar. The kids loved them too!
Love these had to wait for them to come back in as they are often sold out. 3 packs are awesome value
Delicious and super filling when you are looking for something sweet
Best mallows I have ever tried, great in hot chocolate or just to eat on the go, if you have not tried, I suggest you do..big thumbs up and five stars ⭐
Convenient way to top up protein, but way too sweet for my taste.
So much better than regular marshmallows 😋
I just love these marshmallows. I note that the packing now suggest storing chilled. I've done this, but once I've opened the packet, I prefer leaving them at room temperature, as the are lovely and soft then. Great do think I'm eating protein and not sugar. Excellent service and delivery as always.
Great for snacking on when on the keto diet - absolute yum
Me and my partner loved them, such a yummy treat
The new formula for the protein mallows is much better than the old one.
I make keto rocky road using it, it tasted so good!
By far the best marshmallows I've ever had! High protein, no sugar. Soft, tasty, even better than the real thing. The new ones retain their softness and are an absolute hit in my household.
These are actually delicious - amazing texture and flavour!
These are delicious! I keep a bag in the freezer for a sweet treat
Fastest delivery ever!!! Usually have it within 24hours! Delish mallows
Great way to get protein in with a healthy sweet hit too
Nice "treat"
I love these they taste so much like regular marshmallows 😋 they're so good
These marshmallows are perfect. Soft and fluffy and I honestly can't taste the difference between these and everyday marshmallows. They taste great in hot chocolate, on their own and thrown into yoghurt. High in protein so really easy to eat on the go to help meet protein targets.
Ordered them to make those protein mallow crunchies they suggest. Worked really well in it and even marshmallow by itself was really tasty. Would buy over supermarket ones anyday regardless of the health advantages of these protein ones. 10/10!!
Very moreish! I ate three bags in under a week, watch out... they're that good!
So DELICIOUS!!! My friend & I were suprised how good the texture & taste were. Will definitely be buying more! 5+ Stars
Awesome, I shared with friends and we were all super surprised!
My snack for life. Tastes no difference from normal ones but this is definitely much better for you. Trick is not to over indulge!
I actually bought these for my father who has stage 4 pancreatic cancer. The cancer has caused diabetes and these allow him a low sugar high protein snack. His diabetes nurse was very impressed when I showed him. I think perhaps you should promote them to hospice staff, the district health nurse system and GP's. They are also nice for the rest of the family to pinch!!
Yum. Soft, delicious, better than chocolate! They taste better than any other marshmallows.
They were OK before but the new improved version is awesome! I add into yogurt, protein mousse, ice cream, oats - YUM!
Lovely taste and texture, very surprised that they are so good
When they're good they're good, but often they seem to not have been dried enough before packaging, and then they discolour in the unopened, unperforated bag, and smell funny on opening.
Delicious and fluffy just like the real thing! Highly recommend!
These are yummy great with hot chocolate
great option for keto...loved them
You don't need to think twice about buying these! YOU WILL NO REGRET BUYING THESE! I put a few in with my avalanche sugar free drinking chocolate for a good sweet fix!
Just like real marshmallows!
Tastes way way way better than any other marshmellows I have tasted - SO GOOD!
I am not a fan of Marshmallows but Dude! this one is a killer. so delicious!
These marshmallows are SO yummy in hot chocolate, low carb Rocky Road and by themselves to melt in the mouth.
Very nice marshmallows. Great in the rocky road recipe!
The protein marshmallows are fantastic......as is the ice-cream (so easy and tastes so good - way better than any of the other commercial low sugar brands I've tried). The mousse is also phenomenal! 1 sachet of mousse or ice-cream makes 2-3 portions. Excellent value for money.

Also LOVE that you don't charge freight....I only buy direct from you (not other stockists of your products) for this reason.

Thanks
I don't even like regular marshmallows so I'm not even sure why I bought these but they are addictive! I could eat the entire packet in one sitting. Such a good snack, no weird aftertaste. They just taste like a slightly more dense, better tasting regular marshmallow!
Still yum but I prefer the old ones better
Don't just stop with just one packet stock up on more bags of protein-mallows and gobble down the goodness.
Great wee treat that tastes amazing.
These are soo good! The smell was a bit weird at first but once you taste them it's easy to ignore. Totally satsifies a sweet craving, just 3 or 4 at a time is enough for me but could see how a pack could disappear easily. Love them, hope there are more products in the snack/confectionery protein, sugar free area coming!
Thanks.
Light fluffy and super yummy, just the right amount of sweetness. A firm favourite.
I love these so much. I am Keto and these are the perfect sweet treat.
I was sceptical about how they would taste, but they are just like regular marshmallows, and even the kids love them.
Amazing product!
As a marshmallow lover, these are great, especially knowing they contain protein and are way better for me without all the sugar.
Were really nice for a treat.
Delicious and perfect for a treat to curb wanting sweets and great in my coffee
OH MY GOD THERE SOOOOOO GOOD!!!!
Love the marshmallows they are heaps better
Well done the new ones are fantastic. S
Super Yum! Great sweet hit with all the benefits of protein and no sugar
Just like everyday store bought marshmallows with a just a subtle hint more texture (slightly chewy).
Eaten directly from the bag or added to hot drinks; Both a winner.
Would and will buy again.
I liked the old mallows but these are next level. They are like little clouds!!! So yum!
Omg am in love with new mallows, wish they came in single serve bags because I'm incapable of controlling myself and always end up eating the whole packet in one go!
So yum in a lollie cake and with my yogurt
Best 'healthy' mallows ever!
I keep buying these every week. I put them on my coffee or hot chocolate every morning. These are quite sweet. Great for homemade rocky road.
LOVE THESE. Tastes great, will buy again.
Love making the marshmallow rice crispy treats with these. Makes a delicious snack for on the go!
Great flavour and texture. Super quick delivery.
Always a face of mine. Get them as a little treat
These are the best . I have them in my Sugar Free Hot Chocolate. Yummmmmm
Very nice taste and texture. Price is good.
I really loved these! Tasted pretty similar to normal marshmallows- probably a bit sweeter in my opinion, I'm a sweet tooth so great.
Super yummy
Would recommend them to people
Great flavour and yummy. Texture wasn't fluffy but great for a treat and hot chocolate. Would purchase again.
Not your typical marshmallow texture (slightly more dense - reminiscent of puffy-gummy japanses candy) but great.
Helps me meet my macro target and satisfies my sweet tooth.
Great service & delivery . Protein marshmallows are versatile , we use them in our bliss balls for extra protein . Also lovely in a hot chocolate .
Just amazing. You will never go back!
Delicious- will definitely buy again
Love these! Great with a sugar free hot chocolate to boost my protein intake
Absolutely love these - delicious and a perfect snack. Delivery super fast as always! Will order again.
These are so amazing like real marshmallows. Totally yummy great to use when making sugar free Rocky Road
Love them, just works with my sweet tooth
A nice firmer texture that I actually prefer to a standard marshmallow, these are delicious and I will definitely buy them again.
Satisfied with protein Marshmellos ,taste good and the texture is better than the normal ones ,cheers.
Love me some protein marshmallows :D
Same taste as normal supermarket ones and slightly firmer but I like that
Did not love them, I really want to like these but I love the idea, would rather go without marshmallows than eat these again, portion was too large for me too.
These are so good! cross between marshmallows and Turkish delight, I only need 3 to crush the evening sugar cravings - yum!
I get these regularly. Perfect for a late night sweet snack!
Really delicious! Tastes very similar to regular marshmellos , just with a bit of a different texture. I brought 1 bag, and then placed another order for 3 more bags after eating them 🙈😂 . So if you're looking for a healthier substitute , this is where it's at !
These are amazing! The taste and texture is better than normal marshmallows. Please never stop making these!!! They melt in hot choc too just a little bit so you can eat them gooey at the end. 10/10
So yummy! Very sweet so can only handle a few at a time but they freeze so well so it makes a great treat.
I love these, great source of protein and nice and sweet
Yummy , always get these for a treat
These are very very bad... in a good way. I add them to a hot chai or heated casein custard - just the best and hard to resist not eating the whole packet!
They satisfy my need for sweet treats.
Yumm - the perfect sweet pick-me-up!
These are legit - taste and feel just like regular marshmallows! I was honestly skeptical as most proteiny/"healthy" alternatives to treats are absolute rubbish, so I'm pretty gutted these are absolute fire as I will now be spending all my money on these. And, being protein-full, you can't eat the whole bag at once unlike regular marshmallows (well, you COULD - but I can't and I can usually knock back a bag of anything), so this is a huge win. If I could grade higher than a 5 I would.
Got these today and they are so yum! Not the same texture as normal marshmallows but taste just the same. They are quite filling from the protein so a single serving (1/4 pack) is more than enough. Will definitely buy again!!! Such a yummy treat.
Yum. Thanks
THese are awesome. Much better since you guys re-did them and now my go to for cravings
Absolutely delish!! Made a Keto Rocky Road.. perfect to fix the sugar craving.
I really enjoyed the Protein-Mallows. It's lovely to have a guilt free sweet treat!
Delicious! The texture is a little more solid than regular marshmallows but the taste is just as good. Incredibly filling and a great treat - will definitely repurchase.
These marshmallows are pretty much how i am keeping myself sane while on a weight cut. Taste amazing in casein pudding with some low-cal syrup and fresh berries!
Another amazing product. Slightly firmer than your usual marshmallows but just wow on flavour
Really tasty and not strong artificial flavor! Awesome for topping on a smooth bowl, protein oats, or a yoghurt!
I love these. Tastes exactly like marshmallows, the texture isn't 100% accurate but it doesn't takeaway from the fact that these are some of the best marshmallow alternatives you can get.
Always a hit in our house! Much nicer than the nasty sugar free marshmallows in the shops.
Incredible. Normally replicas of high sugar products never hit the mark, there is always a nasty texture or a weird aftertaste but NZProtein have nailed these marshmallows along with their other products. The texture and taste is almost identical to that of a 'real' marshmallow. Goes so well with the mug cake!
The new beetroot pink is much better! Love these.
The Protein Mallows are so so good!
Awesome!
Love these Marshmallows I follow Keto and these just perfect when I feel like a sweet treat !
Love this product soft and tasty marshmallows
These are yum AF! Do deadlifts - eat marshmellows - repeat :D
Makes great Keto Ambrosia which is typically made by adding all the ingredients and letting them sit and meld in the fridge. I will be making this again for Xmas for sure but will add the marshmallows just before serving as sitting in the cream, yoghurt and berries for a couple of hours they started to re-crystalise. 10 out of 10 for flavour !!!
These are delish!
A good alternative
I love these marshmallows, the texture is more firm than a regular marshmallow which makes them even better in my book! Amazing to snack on as a sweet treat and also great in my sugar free homemade Rocky road.
The marshmallows were the best have to get some more
Love them. Always have a pack in the cupboard for a sweet treat!
love the taste, when you have one it's hard to stop eating them
Great alternative while on keto. I add to baking and hot drinks!
Yummy. Nice texture. No after taste. Far too easy to eat!!! Not a bad price if you make them last!
Will buy again.
Delicious - covers that sweet craving and tastes delicious
The new recipe is the shizzzzzz!!! Well done team. Cheers
The marshmallows are really lovely tasting and even better they're made with protein. I have used them with baking and they have kept their shape well.
Delicious,sweet,easy to eat. Texture is great.
Delicious! Way better than normal marshmallows. Delivery was amazingly fast too
Hey Team Protein NZ, I think these marshmallows are super tasty and I was very pleased with my purchase.
However, I seem to have a small allergy to something in them, as I got very itchy on the roof of my mouth immediately after eating them.
I do have allergies to things now and again but would love to know if others have had the same experience and if you may know which ingredient may cause allergies.

Thanks,
Sandy
Delicious! Great tasting, I always try out products before listing them on our website and these have been a huge hit!
The best treats for anyone on a Keto food plan. Love them!
great for a sweet treat, low sugar so not spiking insulin and eating a whole bag
Delicious!
DELICIOUS!! Way nicer than ordinary marshmallows
They are so yummy. Closest flavour to regular marshmallows Ive found but denser. I love them and will keep coming back for more.
The protein mallows are better than the supermarket brands. Love them for a Devine treat!
Would love to see some other flavours.
- Chocolate or Banana pleeeeease.
Great tasting marshmallows which really surprised me. I'd definitely purchase again
These are great on their own as a snack or treat, but also work well mixed with other things. I've been adding it with yoghurt and cottage cheese to make a healthy ambrosia. Texture is denser than a standard marshmallow but this just makes them more satisfying.
So yummy, i expected them to have a funny taste but love them!
Nice chew and flavour without the sugar, plus the bonus of protein. A little heavy on the cornflour coating, but I guess you can brush that off.
These marshmellows are amazing! Best textured marshmellows I've eaten.
So tasty I've had to hide them from the kids! Definitely try these
Taste amazing. Better than the other sugar free marshmallows out there, just the texture is a bit different but all in all love these marshmallows
So yumm
If there was an 100 rate it would be 100!! It is amazing and our whole house hold loves it! Wont be stopping anytime soon!
Great flavour! Not a soft marshmallow though, and a lot of powdery something (to keep them from sticking together I suppose) but they do taste good!
Delicious without the sugar! Great for rocky road
Yummy, tasty - reminded me a bit of turkish delight. I really enjoyed these - not marshmallows that you might expect, but actually nicer
Wow. I can't believe these! They taste amazing, delicious and with virtually no sugar and protein. I love these !!!!!
Easy to eat
Love them especially the texture not a fan of normal ones but will def buy these again
Such a guilt free delight. So many uses.
Awesome snack, texture is a little off but perfect protein snack
Great taste and texture, highly recommend
These Mellows are amazing!
Speedy delivery and awesome product!!!
These are amazing! So perfect for a sweet treat without the sugar and carbs
Love these - not as fluffy as 'normal' marshys but perfect for me, as I'm on keto
They really are like a marshmallow. So delish.
For a marshmallow, they are denser than normal, but for a protein hit that feels like a treat they are awesome!
Love this ones is the closest ones to the real ones, without the maltitol. I'm in keto diet and this are amazing for me to make rocky roads and cookies.
Cheers.
I absolutely love these. Part of my ambrosia routine
Really yum
Great product. My 90yr old mother is trying to heal a wound on her arm. We give 5 marshmellows at morning and 5 at afternoon tea - that's 10gms of her target 46 gms protein per day. Great supplement to protein in food and powder.
A really tasty protein treat.
These are so yummy I'm going to have to hide them. My daughter says the flavour of the pink ones are spot on to the original sugar loaded marshmallows of old and the white ones taste just like milk bottle lollies and they do soften in a hot drink. Will definitely be buying these again.
Super fast delivery! Nice product! Will definitely come back for more!
Three packets ...two gone in two days you cannot stop they are so delicious!! Texture wise and flavour is the best!!!
Awesome product!!! Surprisingly tasty and sugary, just what you need with a hot cocoa during winter in the mighty Waikato ❤️👌🙌
Loving these Marshmallows! Firm consistency but delicious. Will definitely buy again.
These are delicious! I've been mixing them into my yoghurt. I was pleasantly surprised because usually protein treats don't taste very nice, these are great!
Read the reviews before purchasing and wasn't expecting much, but these are amazing! Denser and harder than normal marshmallows and slightly different taste, but delicious. These are like the old Pascall's Eskimo lollies (sorry to the Eskimo culture, but don't know any other name for these)
Taste wise amazing ! So nice buying a product that is not full of maltitol or all those nasty chemicals! Would highly recommend and be buying regularly!
OMG, these are so damn good, I'm going to have to purchase 2 packets next time! Would be cool if they came in a 1kg bag :o)
Don't expect these to melt in your hot chocolate! These are a much more solid than the average marshmallow. The flavour is on point though, and make a great sweet treat.
Yummy!!!
These are yum. Really only need a couple as they are sweet. Texture is chewier in comparison to the normal marshmallows but I'm not mad about it. Perfect with a SF hot choc.
Very sweet, and a bit more chewy than your average marshmallow - smaller than I expected too.
Overall a nice addition to our dessert, they softened up a bit after being warmed.
I used them in a keto rocky road, the dark unsweetened chocolate balanced out how sweet these are, so it was a winner recipe!
These are amazing! Dense and so yummy without the aftertaste typical of a high protein product. I've already bought more!
Yum!! Would definitely buy these again. Great treat option
WOW these are amazing me and my partner ate the whole bag I one hit 😋 soooooo good
Pink ones are my fav!
Hah amazing, not even made from sugar love them
The new marshmallows are much better. The pink ones are the best and they're good for my sweet tooth
These has easily become my favourite snack. If I am lacking in protein for the day, or need an afternoon pick me up, these are the best! With all that protein, they are actually pretty filling compared to regular marshmallows. The texture is a bit different but they still taste great. They also are amazing in a hot chocolate. Definitely help curb my sweet tooth!
Kudos to the wizard that came up with this. How they managed to make something taste so good with virtually no fat and low sugar I'll never know.

pro tip: this + the low calorie maple syrup = heaven
Texture is a little bit different to regular supermarket marshmallows but then again there isn't sugar in them so to be expected. The taste is good and I put some of your syrup on - then they're really great. D
The perfect guilt free quick fix for a sweet tooth like mine. High in protein and no sugar
Not quite like a real marshmellow but I good alternative. I liked it with raspberry and white chocolate protein powder mixed with coconut milk to make an instant pudding (it's like a healthier ambrosia)
Can't say I'm a fan. Tastes weird. Expiry date seems to be very short. Wouldn't be able to eat them all in a week.
Wouldn't repurchase. Taste is weird, it's more the awful sweetener taste i can't stand. Just say no to artificial sweeteners. Fitness products shouldn't be so ridiculously sweet. NZPROTEIN REPLY: BUT WOULD YOU RATHER WE USED SUGAR?
Yum. Taste a bit like the old milk bottle lollies - in marshmallow form. Will buy again
For a protein-based snack these taste bloody fantastic! Not quite the same taste as a normal marshmallow but that's to be expected and it's a good way to get that extra protein in!
Best things ever! Kick those sugar cravings right in the bum! Sweet tasty and creamy just like they should be!
Looks and feels like a marshmallow but has a really weird taste that's difficult to put into words but I would describe as a mixture of old beef and sugar. Not even sure if I can eat one serving much less finish the packet.
Amazing!!! Better then normal marshmellows!! Definitely keeping a pack in the cupboard all the time!
Surprisingly amazing taste! Great snack
Serving size: 50g
Servings per pack: 4
| Name | Ave Quantity Per Serving | Ave Quantity Per 100g |
| --- | --- | --- |
| Energy | 484kJ | 967kJ |
| Calories | 115 | 230 |
| Protein | 11.7g | 23.5g |
| - Gluten | 0g | 0g |
| Fat - total | <0.1g | <0.1g |
| - Saturated | <0.1g | <0.1g |
| Carbohydrate | 0.4g | 0.8g |
| - Sugars | 0.3g | 0.7g |
| Sodium | 61mg | 77mg |
Ingredients: Xylitol, Collagen Peptides, Glycerol, Gelatine, Flavour, Xantham Gum, Sweetener (Sucralose). Set on corn starch. Other flavours may contain cocoa and/or colour (natural beetroot powder, beta carotene). Excess consumption may have a laxative effect.