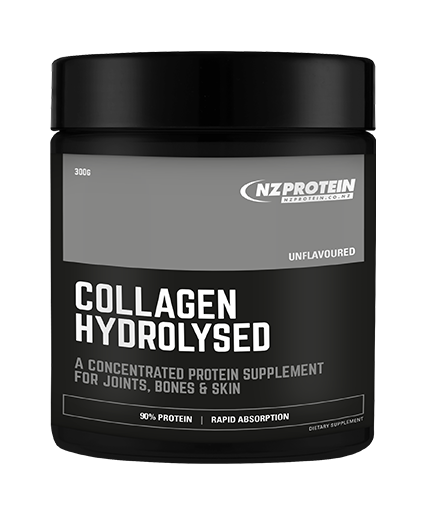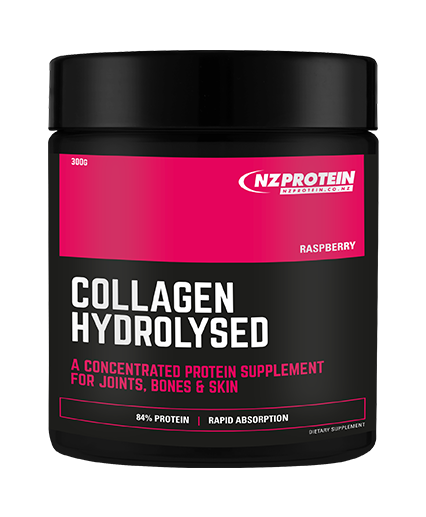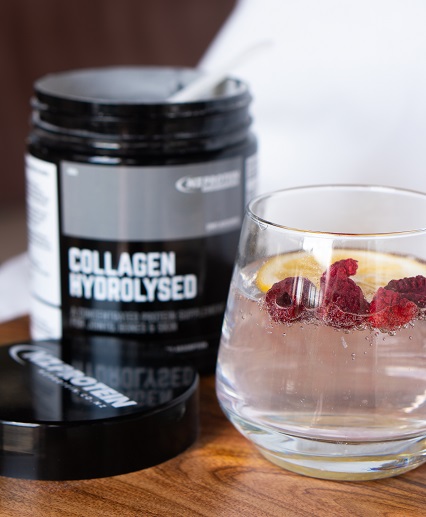 Collagen Powder 300g
Hydrolysed Collagen Peptides For Joints, Bones and Skin.
Flavoured versions are sometimes referred to as "Protein Water".
Collagen Powder NZ
This product is hydrolysed collagen peptides. Collagen is the connective tissue that accounts for up to 30% of proteins in our body.
It is the most important structural protein in our body and the primary protein in connective tissue such as bones, tendons, ligaments and cartilage. Collagen makes up 90% of connective tissue, 90% of organic bone mass, and 70% of our skin.
Collagen is made primarily of three amino acids - proline, hydroxyproline and glycine. Glycine and proline are 10-20 times more concentrated than in other proteins and collagen has a unique structure that can't be found anywhere else.
This unique structure means collagen protein has unique functional properties over other proteins such as whey and casein, partially attributing to joint health, gut health, muscle growth, and an overall glowing appearance.
Collagen Benefits
Collagen peptide supplements are relatively new but offer many benefits for joint and gut health, muscle growth, and skin appearance.
Collagen production naturally begins to slow from our early 20s and by the time we are in our 60s collagen levels are around half. This can give way to joint stiffness, weaker bones, more wrinkles, saggy skin, and thinner hair and nails.
There are 16 types of collagen in our body and this product is type one and three which are the most common types and accounts for 90% of collagen in our body. It is made of densely packed eosinophilic fibres which form skin, tendon and connective tissue, ligature, organs, and the components of bone.
Type one collagen is very important for wound healing, giving skin its stretchy and elastic quality, and holding together tissue so it doesn't tear. Type one collagen fibrils are stronger than steel, gram for gram.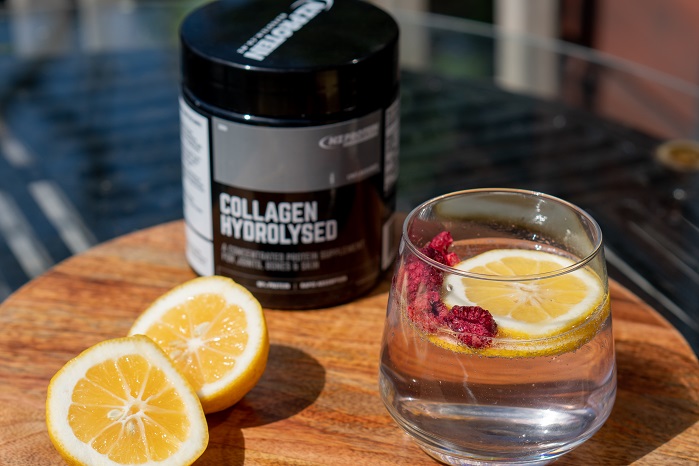 Collagen Protein Powder
Hydrolysed collagen peptides are an excellent source of high-quality protein (>90%) with no fat or carbohydrates. Because the collagen is already broken down into peptides it's easily-dissolvable, rapid-digesting, odourless and tasteless (unflavoured).
Supplementing with it is an easy way to increase protein intake to assist with joint and connective tissue repair.
It can be taken anytime of the day. It can be mixed with water and sipped throughout from a drink bottle, combined with a NZProtein shake, added to hot beverages, and/or smoothies. It also performs well in baking.
Collagen contains 18 amino acids, including eight out of nine essential amino acids. Because one of the nine essential amino acids is not present (tryptophan) it is not technically a complete protein. Therefore it may not be the best protein shake to have after exercise if trying to achieve maximum muscle development.
Due to the way your body uses amino acids to build muscle, bone, cartilage, skin, hair, connective tissue, etc this product is better thought of as a supplement for supporting connective tissue and joint strength.
Joint and Skin Health
Collagen forms the elastic netting that supports the protective tissues in joints and is essential to giving skin elasticity and strength.
In this study 147 athletes suffering from activity-related joint pain were given collagen hydrolysate as a dietary supplement and experienced reduced joint pain when resting, walking, lifting, standing, and carrying objects.
Studies have shown that hydrolysed collagen is absorbed in the gut and then delivered to skin and joints through the blood stream. As you age, your body produces less and lower-quality collagen. One of the visible signs of this is in your skin, which becomes less firm and supple. Cartilage also weakens with age.
Collagen may help to prevent stretch marks from forming by increasing skin elasticity.
Collagen peptides may also help reduce signs of aging like wrinkles, dryness and sagging skin. In this study 69% of people saw visible reductions in their facial lines.
Hydrolysate and Peptides
This product is collagen from bovine (beef) hides/bones that have been hydrolysed into an easily dissolvable, rapid-digesting form.
Hydrolysed simply means that it's been broken down into smaller pieces called peptides that are easily absorbed by the body. Therefore collagen hydrolysate, hydrolysed collagen, and collagen peptides are all the terms for the same product.
Because it's hydrolysed it's also tasteless and odourless.
Gelatin and Bone Broth
Gelatin is basically the cooked form of collagen, ie - collagen that's been only partially hydrolysed. The partially hydrolysed chains retain water which cause gelatin to gel, which is why it's used as an agent for thickening stews and desserts.
When collagen breaks down it becomes gelatin. Because gelatin is derived from collagen they both contain the same nutrients.
Gelatin and collagen are found naturally occuring in bone broth and cuts of meat that contain skin and bone (such as chicken skin and pork skin).
Bone broth is made by slowly cooking bones and cartilage to form gelatin. Collagen peptides are more readily absorbed into the bloodstream than gelatin, which can be harder to digest.
Some people may find taking hydrolysed collagen easier to take than gelatin because it's quick and convenient, cold-water soluble, and easy to digest.
Gut Health
Collagen is found naturally occuring in the connective tissue of the gut. It may help to support the protective lining of your digestive tract against leaky gut, where particles bypass intestines into the bloodstream. More research on this needs to be conducted.
Bovine vs Marine Collagen
Collagen is an animal product and may be extracted from various sources such as cows (bovine), chicken, or fish (marine). It is structurally all the same, though the amino acid ratio and concentration may vary between sources.
Bovine and marine sources are the two most common types sold on the market and this product is bovine collagen.
Marine collagen has a lower particle size and is thought to be up to 1.5 times more bioavailable than other types, but the cost is nearly double. We stock marine collagen here.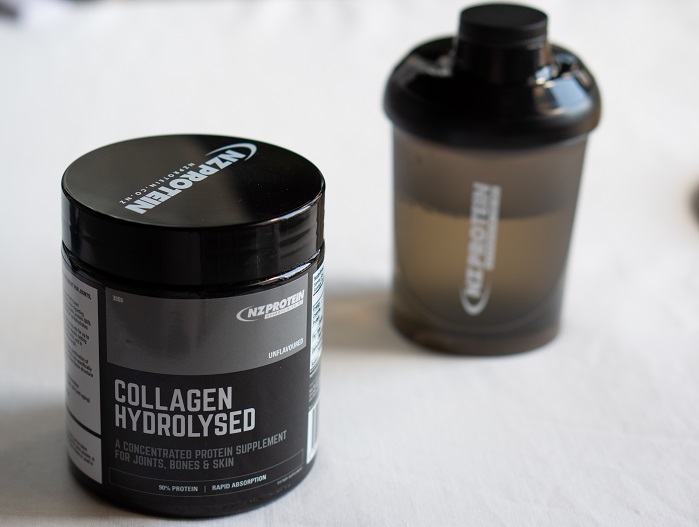 Side Effects
There are not many known risks for taking hydrolysed collagen. It may cause feelings of fullness and heartburn.
Not enough is known about safety during pregnancy and breast feeding.
Collagen is an animal product and is not vegan friendly.
Recipes
Please note that this product is processed in a facility that also handles milk, egg, soy, peanut, and gluten ingredients.
---
Rated
4.75
/
5
Based on
421
customer reviews.
Love the product
Blends well with protein
Did go off it to see how my joints would feel and notice bones,joint pain slowly going away now I'm back on it .
Quiet knees (ymmv)
As you age we don't produce collagen as much as in youth. Supplemental collagen quietened my knees, after three months of daily supplementation. I'm a fan
As a newcomer to collagen powder, I rated it 4 stars out of 5 for the reason I believe in the product and its versatility. I chose the unflavoured collagen powder for its ability to be easily incorporated into meals. I'm quite happy to continue with the product, thank you.
Definitely value for money, and great taste. Have it mixed with my Protein shake and creatin and adds a lovely thick and creamy taste. NZ Protein is very efficient in processing orders, receive it within a few days of ordering.
This is a monthly item on my grocery list and NZ Protein is the only place I order it from.
A great product and amazing value for money. This will definitely be a regular purchase for me in future.
Tastes pretty good & mixes fairly well
I got the summer berry flavour and it is delicious! 10/10 would recommend. Really great price as well.
I have been taking collagen powder for about a week. I haven't noticed any changes, but the flavor is good.
Still early days but the shoulder pain I've been experiencing has decreased.
This is an amazing product. My husband is 69, when he knocks his himself he bruisers very easily, When he takes NZ Collagen, the bruising stops. Had tried another NZ product but didn't stop the bruising, so it was back to NZ Collagen. Excellent product & price. We have been using it since 2020.
Tastes great and mixes well with my protein powder or just with water. Good value for money, I will continue to purchase.
Great tasting collagen powder. Mixes super easy. Love it
Very easy to use
Quick delivery
Product easy to use dissolves without any lumps
Value for money
I have noticed my nails are so much stronger, hair is healthier, my skin is clearer, and hopefully my bones are also stronger.
Good product,good price,good service
Great price, fast delivery and it tadtes much better than the product it replace.
Thank you NZ Protein
I usually SWEAR by this powder but the most recent one I've received tastes like poison! I usually put it in my tea, so I replaced my tea bags and that didn't fix it. I then tried it just in water and it was horrendously bitter and chemically. Really hoping it's a one off! NZPROTEIN REPLY: we haven't changed it!
Taste good. Quick delivery.
The taste is a bit strong but better than some other products.
Excellent product and extremely fast supply.
My go-to, favorite collagen powder to add to my post-workout hydration. Tastes incredible and makes it easy to consume that important collagen intake. Been purchasing this now for around 2-3 months and will not go elsewhere.
Excellent service great product. Thank you nz protein
Great products, been using it in my smoothies daily for past couple of weeks. So far Ive really noticed the differences it is making on my gut health.
Early days but flavour awesome
A really great product. I am a regular user. Service and delivery are super quick thanks.
Reasonably priced and quick delivery.
Being flavourless, I have been adding it to black coffee and even water with ease.
Tasteless and dissolves easily in water, have been taking for a couple of months now on a daily basis and people have been saying they notice a difference in my appearance so must be working :)
Lovely flavor to add to smoothies as well as drink on its own. Mixed well.
Nice flavour, smooth mixing, good value
This collagen is so easy to use, dissolves really well and no taste. I put it in all my hot drinks for a boost of protein during the day. Waiting desperately for the hot chocolate collagen to come back in to stock…..Amy buying sugar free from supermarket and putting in this collagen, it's doing the trick in the meantime.
Since using your Hydrolised Collagen powder, my joint pain has decreased, skin clearer, nails growing and the pain (from a netball knee) has almost gone, unbelievable!! Love this product, just about to order some more 🙌
Great service regarding postage, followed the whole way, hoping to re build lost cartilage in my knees, here's hoping
It seems like a good product.Dissolves easily,reasonable price and prompt delivery
Beautiful collagen powder, so smooth and tastes great.
Clean, no heavy metals
First pot so early to say, but i do believe the cracking of my knees is reduced. Still waiting on surgery to correct alignment
Amazingly fast delivery. Great product 😊
The most effective COLLAGEN powder I have ever had. Shipping is also AAAAA plus!
Keep up the good work guys!
Great price and works well in hot drinks. Doesn't have a gross taste like some other branded collagen powders do.
Easy to use in any drink, dissolves perfectly :)
I had a few thickened toe nails that I was unable to cut - had to use a strong file! After nearly a year of taking hydrolysed collagen, I was able to use toenail clippers again!
Tastes fine. NZ Protein delivers very promptly.
Been purchasing this product for ages and will continue to. Lovely strong nails and bones!!
The powder seems to work. Tastes ok too
Can b
Never decide between pineapple or raspberry as
both are awesome. Thank you. Always fabulous fast service which is always appreciated for someone who leaves it to when I have nothing left😅
Excellent product. Absolute integrity, it does exactly as described. My energy, hair, nails and general body health and diet is optimised by taking this product every morning. I 100% recommend this collagen as the best on the market.
My routine now, I think this is my 3rd purchase of this product, I like it a lot.
As always, great service, great product and great delivery.
I love this product. No taste so I have it in my coffee each morning. Notice a different with eyelash growth, hair texture and growth and am sure it's doing wonders for my 50yr old skin (which is why I take it).
Great product! Great price! Tastes good…
Love this product & the service is amazing.
The service received while purchasing this product was excellent. I am taking the protein powder each day mixed in with my berry tea and I honestly am starting to feel the benefits already - thank you guys!
Great Product, helps 68yr old decreases the skin from old age purple brushing. Excellent Service, is very fast.
Awesome product, has helped my hip issues
Unflavored is the best, really helping to improve gut health and can be added without changing the drinks flavor at all.
Great product, great results, love it, definitely recommend.
Easy to use as I just put scoops in with my protein shakes which I take post bariatric gastric bypass surgery. Will give it a five once I reach a few more months post op and confirm it has helped prevent hair loss!
Good price, very prompt delivery. Mixes well in milky coffee and with oats for breakfast. Has improved my nails, skin and hair. What's not to like?!
So far great take it with my protein shake
Super easy to order - it arrived overnight. Dissolves easily in morning coffee
Collagen mixes in completely. No bad taste. Works. Best value
Great product
Great product, has really helped with condition of hair and strength of nails. Totally tasteless in shakes, easy!!
Collagen Powder 300g.
ordered Orange flavour but got Mango - great flavour- much lumpier than the plain or the raspberry, really gotta blend a lot in 100 ml water or liquid before adding to something.
will hopefully be sent orange next time
Collagen Powder 300g.
Pineapple flavour- great flavour- much lumpier than the plain or the raspberry, really gotta blend a lot in 100 ml water or liquid before adding to something.
Unflavoured is good. The Pineapple is a bit too much like cordial juice.
To be honest I have no idea what this product is doing for me, but was recommended it by a dietician, so presume it is doing good. I go for the unflavoured and put it in my tea instead of milk. I can't taste it at all so I'm very happy to continue taking it. Service is very prompt and always arrives in no time. Happy, happy.
Got pineapple because of reviews, I will be getting the plain next time, tastes like a weak tea. But the benefits are there, easily dissolves, just not fan of the flavour, but that is my personal taste
Has been incredible at healing my 'brittle tendons' on my archilles due to menopause.
These were pretty bad and it was painful to walk or use. I'm now pain free and back to running
I thought the raspberry was good and was disappointed when I had to order pineapple instead but omg, the pineapple is my new fav!Great product does the job and tastes awesome👌
Love this product has helped my my skin issues love putting in my evening coffee nice to unwind with . Makes my coffee richer in flavour
The new pineapple flavours amazing!!!
Doesn't mix very well
Been taking this collagen for a few years now and swear by it. Creaky knees are healing and I can now walk downstairs front on. Hair and nails are growing well and my rosacia has all gone. Going to keep taking it to see if that's the reason I am not wrinkly (I'm 67).
Pineapple is my new favourite flavour. It's a really good one. I also love the raspberry.
Nice product, I got the tasteless option and put it in my shakes, mixes well but not noticed any differences using it yet
It's collagen. It does collagen stuff.
Love the collagen powders, great flavours, mixes brilliantly in water and so easy to drink.
Very Good product. I can see it in my nails hair and skin. Love it!
Great collagen. This is now my go to. It's just a shame you can't get it in bigger containers!
Great product, no flavour so easy to add to other foods.
Works for sure...my nails are growing faster than they used to pre-taking of product. Tasteless so you dont notice anything. Price slowly creeping up but isnt everything else? Shipping and service is consistently efficient and prompt.
Mixes well, no taste when adding to my coffee, great price 👍🏽
Great product, easy to mix goes well in my coffee
Stores well- easy to dissolve
Have been taking this for years - not sure what benefit it is having as would need to stop & not keen to do that!
Love it Thankyou
Love it if it came in a bigger tub, aside from thats it's great
No reduction in knee pain, however I have only been taking hydrolysed collagen for 12 days. Have heard that you need to take it for 5 months to get a measurable increase in cartilage. So ask me again in 6 months! However I can confirm that delivery was quick and hassle free.
Great product. Also - the BEST service - easy order - quick delivery.
Great product. Would really like a caramel/toffee/hazelnut/vanilla flavour as we put this in our morning coffee and the raspberry is OK but could do better!
many thanks
The taste isn't that good
Great value for money
Great taste, mixes easily, love the results from it.
Exactly what I was looking for (and its unflavored)!
Very happy with this product and the delivery/service.
Will be getting other products on this site as well after checking it out.
Thank you Team.
Tasteless, and great in morning coffee, better when added last after the milk.
Very happy, skin, hair and nails immediately improved in quality. exactly what I needed.
Love it. My wife has hers in her porridge and I have mine in my morning coffee. We've both noticed a lot of our old aches and pains going away, especially in our shoulders.
Tasty, easy to drink and I sense it's helping my overall stiffness - thank you
Great product. No problems and good price
Tastes great, it's lighter than a lot of other supplements I've had. Been taking it for about 1.5 weeks and my skin seems to be a lot healthier already which is great!
This is great for healthy hair, bones and nails. I think it's an all round healthy product.
Great product easy to dissolve
Great product I add it to my coffee in the morning.
Great value for money. A bit sweet but better when I add more water. Always a super quick service from you guys, thank you! NZPROTEIN REPLY: thank you! The flavoured collagen is made to go in a big drink bottle of water (ie, with more water).
Dissolves easily and seeing results
Initially I found the raspberry flavour a little too sweet, but mixed in my 1L water bottle with some lemon juice, I'm hooked!

I also bought unflavoured and it mixes well in my hot cuppa.

Will definitely be purchasing again!
The one thing that I notice when I'm taking this regularly is that my hair stops falling out so much. Which is great!
Service was excellent. Hopefully this stuff is good too :)
I bought 2, raspberry and the plain, I always get the plain and just chuck it in everything! But t he raspberry is great, really good in a berry smoothie and even better in sparking water
Love the Raspberry Flavour, yummy in soda water and warm water.
Fabulous product - 4 days after taking I feel so much better
I buy the collagen all the time Ive tried a few I find that this is the best on the market and a good price
Delicious flavor
I have been using Collagen Powder for nearly 6 months now and enjoy the raspberry flavour. My skin is smoother, especially on the back of my hands where there were scaly spots from sun damage.
Great product!, love that I can now find quality products in nz.
Shame it's only in 300g pottles
Love this. Very tasty raspberry flavour so nice as a hot drink or added to herbal teas. Have purchased now several times.
Yum! I drink this through the day. Peach and raspberry are both super but I couldn't say which one is better
No comments to make on it's effectiveness as a supplement. I'm a doctor and I still can't quite understand why there is any additional benefit taking collagen over protein/other amino acids, or in conjunction with them. In simple terms, these all get broken down and reassembled into proteins by the body anyway. Collagen is also more expensive than WPI too. I would suggest that there is significantly more evidence that fish oil protects your joints/cartilage than collagen and it's more cost effective. This product is tasteless and mixes well with water. A note of caution that it clumps into a very unpleasant mess if you mix it with anything warm, such as your oats in the morning.
Love this product and have bought it several times. The only down side is that there's not a larger package (1kg). But will continue to use it as the benefits out weight that small factor.
Thanks NZ Protein for a high quality of product and at a great price point.
Great product
This has helped my joints and pain immensely, and I move more freely ,and am more agile
I guess it is working??? Tastes good!
Great oroduct easy mix love the unflavored I add it to almost everything one of the best on the market and I have tried a few thank you
Love this product.
Great product for the price
Great product real value for money and super fast delivery which is brilliant
Easy to use. Mixes with anything.
Great product!!
Easily dissolving collagen powder! I add this to my coffee or my protein shakes. If you taste it straight, there is just a hint of a saltiness but nothing that overpowers my coffee. I haven't tried it in a green tea for example but it blends well in anything that has milk added to it - dairy or otherwise. My only gripe is the packaging - while the size is generous (300g) compared to other brands, I feel like there is a bit of wastage because of the packaging so I actually empty it out into a different container before use.
Awesome! Bit sweet. Might try the other next.
Feeling the benefits already after only two weeks, less pain in my knees, feel more agile, and skin looks good
Amazing fast service and quality products. Super impressed. 👌
Only into my second week of using this product but already feel the benefits definitely not as stiff and achy. I have rated 5 for the fast service and value for money being contributing factors. I will definitely be continuing to use this product in the long term.
Just started to use this product, so it's difficult to give a review right now. It tastes good. I got the unflavoured one. I add fruit and use as a meal replacement. So far so good.
Great raspberry flavour, I top up with this to get through the 330itis while in traffic.
Then go for any form of movement at the park.
Far far too sweet ! Doesn't mix well compared to other collagen brands I have tried. Overall I don't think I would purchase again. NZPROTEIN REPLY: we're sorry you don't like it, we do recommend mixing it with more water if you find it sweet and not mixing well because it's made to go in 500-600ml of water.
Great product! I have been purchasing this for a couple of years now and find it very consistent. No taste (that I can pickup on) which is great for adding to the morning cuppa.
Excellent product. Packaging is reusable. Always prompt ordering and shipping.
The natural/neutral flavour works with/on anything. I add it to my Greek yogurt in the morning, as well as mixing with a morning Berocca. Blend it with banana, 300ml water and the NZ Protein beef Protein powder. All really good, simple and delicious.
Love the raspberry flavour. My favorite thing to do is to add it to my unflavoured Greek yogurt. Adds flavour without the carbs.
Also great to just mix with water. Thanks NZ Protein!
so far helping with my arthritis and other pains .
Great taste and fast delivery from a really good company :o)
Perfect! Will definitely repurchase the Mango its Yum!
used for a long time now and it is my preferred collagen powder
Great service and great product
Love the taste. Mixes well. Pleased with purchase
Decent taste. Works well. Will definitely buy again
Great stuff, have tried most flavours and they are all good.
Great collagen, excellent value for money, I highly recommend this as my favorite collagen brand
Great product! Easy to use scoop and can add unflavoured to everything
I found the raspberry flavour to be quite sweet but still a great product. Mixes well in hot water, takes a bit of time to dissolve in cold water. Makes for a nice refreshing drink. About to try the peach and mango flavours.
Excellent product, easily dissolved and great results in a short time frame!
Great product. Dissolves easily in water. Neutral taste.
Love, love, love this product. Hair is thicker, nails are stronger and skin is healthier. Makes my coffee taste even better.
I really like the collagen, mixing it with something else makes it easier to mix. Sip on it over the course of the day.
Love the flavour, it's easy to mix and a refreshing drink to have in the afternoon. Can't wait to try the other ones
Love this product. Almost completely healed my creaky knees. Added bonus my hair is thicker, nails stronger and no-one can pick my age because of very few wrinkles on my 67yr old face. No turning into a wrinkly prune here 👍😆👩‍🦳🦵💅
Love it. I recently tore my bicep tendon and heard that collagen helps with recovery. Since starting, some of my old aches and pains have gone away and my recovery has improved. This has become part of my everyday routine. Totally flavourless.
Absolutely love this collagen and will definitely be purchasing again great value for money, cant rate it enough
Good..
Great range of quality products. Service is top notch. Highly recommended.
Good Flavour! No Regrets here.
Delicious to take. I think there are improvements with hair? Time will tell
Can't taste it and makes my skin, hair and nails lovely
This is my 2nd time buying this unflavoured Collagen Powder cos can't be without it! I use it in my morning coffee every day and it makes my coffee creamy & delicious!
Mango flavour is freaking delicious! By far the best one, will definitely be buying again.
good price for collagen powder, will bug again
affordable, easy, flavourless and combines well with smoothies, coffee and protein shakes.
I have noticed an improvement in my skin. Easy to drink/add to shakes or smoothies.
I'd really like a vanilla flavoured collagen product - like the other flavours you do?
Is there any chance that the summer berry flavour will return, as it is delicious? Also see a few reviews re the raspberry being weak in taste, has this been improved. NZPROTEIN REPLY: new raspberry is coming very soon, and a new mango!
My favourite flavour. Loves this!
Too soon to see if any results but it's great in smoothies - makes it thick and creamy! Love that it has no smell or taste.
I love the NZ Protein collagen. I add it to my coffee, smoothies, anything really. I've noticed a huge difference in my skin, hair and nails. The biggest change is not waking with stiff joints. Brilliant! I only wish it came in a larger container or pack. Less plastic would be fantastic.
Delicious!
Makes morning coffee a tiny bit creamier, but is otherwise odorlourless with barely an aftertaste, even with only water.
Best collagen on the market - no clumps
Ok so the peach is AWESOME!!!!! A+
Best price anywhere.
Great taste, affordable and super fast shipping! I can always count on NZProtein, thanks team!
Great product! We re order this every time one of our favs
l purchased the non-flavoured version. I really works well in my morning coffee, seems to make it slightly creamier. Other brands of collagen powder I have tried, even though non-flavoured left an after taste.
I will purchase again
Love the hydrolyzed collagen powder.
The only thing would live it in a bigger tub, as I usually order 3-4 300g tubs at once.
New raspberry has a nice flavour but is weak, please make it stronger. NZPROTEIN REPLY: OK will do!
LOVE the old flavors and unflavored, mix well and great taste. NOT a fan of the new raspberry flavour: doesn't mix well and tastes weak. Bring back mixed berry as it was.
Excellent product. Highly recommend
Good value. I bought unflavoured. I always mix it into my morning tea-- mixes well and I can barely taste the difference. Don't take the unflavoured with just water though-- I tried it and it was terrible.
Mixes well. Great flavours. Fastest delivery
I took this ritually for over 2 months and I can't honestly say I saw a difference other than perhaps stronger nails. Could just be me as others I know have seen results. Will try marine collagen perhaps.
I am very happy with my purchase. Flavour is so acceptable. This is my first time trying it so, it is yet too soon to see evolution in me. Hoping seeing soon to get a bigger one!
Great stuff. Nails growing back stronger and hair growing thicker. Also feels great when working out . will purchase again. It also has a great taste (rasberry)
Raspberry isn't the most enjoyable flavour but not too bad. Will stick to the tangy orange in future.
Mixes well with my mid-morning hot drink
Prompt delivery. Product tastes nice, I have noticed a steady improvement with toenails in particular.
Tried berry flavour. Good taste and mixes well with water.
Easy to make. Easy to drink. My nails have stopped breaking and are strong and white
Love it. My husband & I are in our 60's and have been using Collagen Powder 300g unflavoured, for about 18mths. Best thing is, my husband who has very fine skin, noticed that when he bumped himself, he used to get red brusing on his arms, legs etc, (as older people do) well all that has stopped & his skin was a very fine texture, is now in much condition, not so dry. And I think I'm looking better than ever too. We have a spoon full every day in our morning coffee. Brillant product, brillant price.
Hands down top product!
Love putting this in my smoothie or coffee - nails and hair never looked so good
Mixes well into coffee, no aftertaste, well priced. I'll be buying this for a long time
This is a must in my daily Smoothie. Strong nails, healthy hair, good skin.

Brilliant service from NZ Protein even in Lockdown!!
Delicious addition to my water to boost my collagen intake easily each day - love it!!
Totally recommend, love the flavours, make a mix for my drink bottle and find it mixes really well. I usually throw in a some frozen Blueberries to get the vitamin C to help collagen absorption.
Excellent product! Well priced, and shipping is always incredibly fast
mixes in easy with everything, high collagen content, good taste
I had previously tried this product from a family member and liked it but found it very beneficial especially for my skin and joints especially since i have joined the gym and i have stopped other supplements and i take it daily.
Easy to use, dissolves well and nice price!
Doesn't have any taste, can easily be blended and mixed into smoothies or shakes.
Mixes well into my morning coffee, has no taste.
Awesome product!! Hubby noticed his knees were not sore after one week of taking this which is fantastic!!
Used everyday for just over 2 weeks and already have noticed huge improvement in my nails and joints. Mainly my knees I have rheumatoid arthritis as well as bakers cysts behind both knees, they're not as tight or stiff anymore.
Dissolves in water and no difference in taste,, Cool... Worth buying..
My nail, hair and skin have never looked better. I add to my coffee, juice or whatever a couple of times a day. My nails were brittle and wouldn't grow, they looked nasty. Now I get compliments on how long and strong they are. Love my collagen.
Great flavor
I love this product. My hair is growing so thick my hairdresser is amazed. Skin is awesome too. Nowhere near as dry.
Just perfect for my skin and health. NZ protein is superfast w delivery and great communication.
Good peptide product and better priced than the competition, I recommend your company to everyone
Adds to everything easily.
Great tasting product. Noticeable improvement to nails and hair
I have found using Collagen Hydrolysed my wife and I are moving and walking more free with less pain,
best priced collagen ive found thanks nz protein
My nails grow daily: skin has even tone and god knows what other internal goodies happen!!
I use the unflavoured option as I put it in a protein Smoothie. I switched from Marine Collagen to this as the former(as stated in this current product's info, initiated hypercalcaemia) . That's why I went with this brand.
In terms of results: a visible difference in skin and hair. At least visible to me!! I'd recommend it as consistent delivery, results and product standard.
I take this product every morning and believe that it enhances my good health. I'm nearly 70. I have good skin and hair, I walk a lot and keep excellent health.
Nice
Love this to add to my smoothies 🥤
I take this product with juice and water and it is just delicious! And I am feeling more energetic since I started taking it over a week ago with improved movement and flexibility in all my joints. As a nearly-retired woman, having more flexibility and movement is just great!
Brilliant product
Only 5 days in but have noticed a difference already. Wish I had started taking this years ago. Well definitely continue with this and recommend to others ❤
Great product
Easy to mix and digest.
excellent service good product
Real good price, you guys have the best prices. Happy with product.
Completely flavourless, I can put it into anything without an issue.
Loving the Berry flavour as I add it to my Mixed berry smoothie - excellent service and quick delivery to Oz. - Thanks NZP
Love this collagen, its great for my skin, nails, hair and joints. Have been using Collagen for a couple of years since going Keto and it has definitely helped with skin elasticity.
Excellent service, the product arrived the morming after ordering online. I have noticed my hair and nails are growing and a lot more healthy after using this product for 6 weeks and my partner noticed the change in my skin looking more youthful. Highly reccommend!
Rating based on promptness of delivery, flavor (truly unflavored), and dissolvability. Too early to rate on effectiveness though. Will be updating the review after a few weeks of regular intake.
Nice flavour, easy to prepare. Overall amazing product and definitely recommend.
Best Collagen I have found, no fillers or flavours, so macros are excellent! 😊 Add into coffees and smoothies and can't taste it, dissolves well.
Not too strong of taste
Super product, brilliant service. Ordered at about 6.30am - received in the afternoon, same day! Top class
So good so far. Easy use and trusted supplier
Great unflavoured collagen, I can mix in with any beverage and is tasteless. Doesn't mix as well as other collagen that I tried before but eventually with some extra shakes/stirs it dissolves.
Great product and affordable, you can't go past this collagen. Easy to add to smoothies, tea abs coffee. Highly recommend.
The orange is bloody phenomenal, the best flavour yet
A bit hard to write a review after just a few days! But, I chose a berry flavour as I wanted to add it to a shake for flavour but found it way too sweet!! I will likely not use it due to excessively sweet taste.
I didn't read the ingredients before purchasing but if I'd seen sucralose was the sweetener I would not have purchased or bought the unflavoured as I do with the whey. NZPROTEIN REPLY: add more water - it's been made to go in a drink bottle and sip through the day.
On my third or fourth or fifth tub of this - love it! My hair, skin and nails are all stronger than ever and the price point and tub size are way better than other brands (and the ingredients are pretty much similar). I put two scoops in my coffee each morning (unflavoured, obviously) and it mixes super well - cant taste or see it. Highly recommend and have recommended it to heaps of people!
My family love using this powder. We put it in smoothies and OJ. It dissolves easily and is tasteless.
Can still taste in drink but its ok.
Good product, no taste, good price with fast delivery. Not quite as dissolvable as I anticipated in warm/hot liquid in comparison to previous product I was using.
I love this product, my hair has finally grown pass a length it never did before and my skin has never looked better. I have 2 scoops dissolved in a glass of water first thing every morning. I tried the Citrus Lime flavour but found it too sweet for me so went back to the unflavoured.
Good product and reasonably priced
I love that it easily dissolves into my coffee or cooking or even into water. Ive been using it for almost 2years now and just found amazing results
Great product . Have used it for a couple of years
Great
Have just started taking this, add the unflavoured to my morning coffee, zero taste so very impressed
Great product and service. Has helped my arthritis pain immensely. Ordered on-line and delivered same day.
Great product, I add the unflavored to my hemp protein to give it the collagen boost that its naturally lacking. Mixes well and doesn't affect the flavour.
love this stuff, stronger nails and clearer skin
Extremely quick service and delivery. Product is easily digestible and mixes well in hot drinks. Have been using this mix for 2 weeks now and have found slight inflammation in my knees have subsided somewhat. No after taste all good. Will happily buy NZ Protein products again, especially as I am a rural customer. Thanks for great service and product.
Great for skin, hair and nails !
Very yummy (I was pleasantly surprised!) though it would've been good to have a seal when new, quite a bit fell out when I opened the cap :(
I Love it with coffee
good stuff for my knee joints, they don't hurt as much when I take this
Have been adding Collagen to my Smoothies for some time. Really good product. NZ Protein service is brilliant.
This is great, dissolves easily into my morning coffee, with little to no flavour, just a bit of a thicker creamier texture.
Product seems good. I normally dissolve in a small amount of hot water before adding my cold drink I'm mixing it with.
Very fast delivery. Good value.
Love the product and dang you guys are efficient!!! Order placed and shipped consistently in less than 24hrs....love u guys!!!
Love the product, for a first time user the raste is not bad. Quick service too
I ordered the summer berry flavour collagen - it tastes pretty good. However I have found that it does not perform as it is stated on the package - the product does NOT fully dissolve in cold water. This is pretty disappointing. I would probably not buy it again for this reason. NZPROTEIN REPLY: the flavoured varieties can take 5 mins to mix in. Shake well in a bottle, give it a few minutes and another shake. They do dissolve fully.
I add this to smoothies or black coffee and so far I'm happy with how it's working out
Absolutely best collagen powder that I have tried, hands down.
I have tried a few and after seeing another friend using this brand, I decided to give it a try.
I use the unflavored in my coffee every morning and really miss it when I have run out, so now I buy 2 at a time haha!!
New Zealand made, affordable and delicious!!
Great service
Good quality product at reasonable price.
The Collagen is of high quality. I have Arthritis and it works well for me.
Despite this weeks TV Shows like The AM show and on TV 1 Sharp were its used was taken in doubt, i noticed that these commentators have very minimal Medical Scientific knowledge.
They were talking rubbish just to make a name on TV.
I have a Medical Scientific background ( now retired ), and do research on claims made on TV Adverts.
People are sucked into these products, which are extremely expensive. Some are $ 95,- for 300 grams to be used on a regular daily basis.
Again the origin of these Proteins are dubious. Not NZ Beef grass fed animals without hormones like your products.
Excellent product, easy to add to smoothies, no taste. Noticeable improvement in skin and joints. Highly recommend.
Fantastic delivery - fast and very well informed.

Great product and well priced. Just what old buggers need to keep joints going !!
Doesn't come sealed anymore, it just has a plastic security wrap on the outside, oh and the lid isn't brilliant either. Same great product, now with the added bonus of a wintery snow scene when you open the box.
Brilliant product.
This is an excellent product
Thanks for the excellent easy order system and really fast delivery ( within 24 hours!) I use the collagen every day in my bircher muesli and hope it helps my joints as I get older.
Awesome tasting product! I mix about two scoops in 500 ml of water it's really nice when your feeling snackish.
Great product. Not too sweet and mixes quite easily in water.
Excellent product that really works. You can't taste it at all in either water, coffee, tea, smoothies etc. This is my 3rd time purchasing and am now a convert to NZ Protein products!
Great stuff, blends is well with smoothies and to make protein oats, highly recommend
Good. Mix super well in the morning coffee
My joints are loving this stuff!
Superior in quality and value NZProtein Collagen Summer Berry is as tasty as cordial yet the most nutritious drink money can buy. Overtime daily use results in much noticeably healthier skin, hair, nails, joint support and mindfulness. Products and Service are excellent and never disappoint.
Great product, mixes well and as it's flavourless can be added to drinks.
Fast online service and delivery.
Absolutely love this, I have it in my morning coffee daily
Definitely assisted with nail strength and skin tone. I have bought more for my son who is currently recovering from knee surgery. Collegen comes highly recommended for joint and soft tissue recovery so i will let you know after he has used it for a few months
The flavoured product is delicious! Also does such a good job with helping the joints
The summer berries is a really nice flavour, easy to drink. Just mix with water and away you go.
Easy to mix, tasty berry flavour. Made up with extra water so it's not so sweet.
Great price, excellent service Thanks heaps. I have been using another product for 4 years but all of a sudden the product became very expensive. Yeah for an NZ alternative
Great quality collagen. Love the unflavoured, mix it into my shakes. Noticed a big improvement in my joints also! Tried other brands, meh...average. This stuff is great quality for the price! Will be purchasing from now on!
Good quality product at a reasonable price
Works very well and I notice a massive difference in my overall skin condition. Arrives fast and works fast too. I take it in my bullet proof coffee's and also with my green tea post runs. Love it!
Great price. Got unflavoured - which it is. Breaks down easily. I take it with APV in morning. Also put it in my oats and it makes them creamy. Halfway through a container and my nails are definitely stronger (very bendy and soft before)
I've really noticed an improvement in my hair, skin and nails!
Great product I've been using this for about 6 months now, i used to have very flaky nails but taking this has improved them dramatically. My favorite is the citrus blast, but the berry is nice to.
Easily dissolved with warm water.
I added two scopes into my chocolate and added soy milk and banana. Such a delicious shake. I'll be purchasing again. Also gonna try the egg white. Thank you team for a beautiful product.
Amazing been taking nz protein collagen powder for q while dissolves fast I take natural flavor so I can put in my coffee, food etc.
I'm a 60 year old woman and this makes such a difference to the condition of my skin and nails. great thanks.
easy to mix, good taste and NZ Protein's delivery was speedy
Best valued pure hydrolyzed collagen in the market. Did the reseach, other products don't come close, excellent kiwi product!
Thanks for the fast delivery
Love it. Put it in my shake everyday.
Love the stuff
Since I've been taking this product my nails and skin and hair have been amazing ! It's so smooth and creamy in my morning coffees it mixes wry well!! Highly recommend purchasing from NZ Protein !!
Great for so many things in the body. Unflavored I find better. berry too sweet
Great product
Love it! Add it to my coffee every morning & it's completely tasteless
I love this in my morning coffee, great for my joint pain and no aftertaste
Easily mixed. Tastes great. Super fast delivery
Powder dissolves quickly and truly has no flavour (unflavoured). I add it to my coffee and smoothies and can't even tell!

Delivery is super fast and the service is amazing. Highly recommend!
Collagen , flavourless flavour .

Ease of consumption is great . I add it to liquid foods or hot chocolate . There is a taste to it that I don't enjoy so i always add it in to something with a flavour which hides it well .

I have been taking collagen for nearly a year and can't say I've noticed a specific change but I feel ok and on paper it should be helpful . So I believe it is working " behind the scenes " and have faith .

Nz protein delivers the product fast which is great so thank you .
My favourite collagen powder, especially for my cold drinks. Awesome product, awesome results just after a few weeks! Highly recommend!!
I love this product
Love this product. It really is flavourless, so it's easy to add to hot or cold drinks without any flavour change. Benefits of improved skin, nail and hair condition, will keep me buying this. Awesome service and delivery from NZ Protein too.
The collagen is good but far too sweet.

Will use a mixture of flavoured and plain next order. NZPROTEIN REPLY: it's made to go in a drink bottle. Add more water.
Love both the Mixed Berry and the Citrus Blast
I've been using this product for a few months now due to an injury to my knee. It was recommended to me by my Physio, it has made a real difference to my rehab. Bonus is it tastes really good.
I have been adding this product to my morning yoghurt for some time now. Nails and hair grow like crazy and it must be doing other good things as well.
Brilliant service from NZProtein during this difficult Virus time.
Awessome Product Highly Recommended.
Great product love the flavour
100% this stuff is amazing! i hate coffees and all the "creamer" type collagens out there, i love cold drinks and this is brilliant for giving me my sweet drink i crave!! I've drunk it everyday for approx 4 weeks in my water bottle throughout the day, sometimes I've had approx 2 litres a day of fluid. i'm now onto my second tub. honestly I'm starting to see my nails are becoming strong (i have really weak thin nails but at the mo they are strong and in good condition and my hair is quite shiny too) = i say this is related to this powder as it is the only thing I've changed in my diet. i mix it up 2 scoops with a tiny bit of warm water in a 750ml bottle with ice plus cold water, otherwise its clumpy if i tip straight into water & that takes a little bit to break down but does dissolve, just gotta be patient. Good berry taste, similar to the Red Seal berry berocca, i add more scoops or less water to make it sweeter. would love to see other flavours come out. I'm going into WLS surgery soon and i can say this will be great for my post op recovery :)
Way to sweet for me. NZPROTEIN REPLY: make it up in a bigger drink bottle and sip it, that'll sort it
Love this product already! It mixes nice and smooth into my morning coffee with no taste at all!!!!
very good product
Great product! Will repeatedly purchase the unflavoured option.
I'm really glad NZ Protein started selling collagen powder. I had a bad experience buying collagen from another brand where I reacted badly to it. I know these guys sell nothing but high quality, good value products, so it gave me the confidence to try collagen again. I get the unflavoured one and mix it into my cup of tea or smoothie and can't taste a thing. I've been using it consistently for about 2 months now and didn't expect to notice any differences yet, but I have noticed that my nails are much stronger. I've always had weak nails, they break/bend/split on the daily. I had to cut my nails the other day for no reason other than they were too long and getting annoying - I can't remember the last time I had a full set of finger nails that needed cutting. Noticing differences like this already gives me even more confidence in what the collagen will be doing for my joints and the rest of my body. Ordered another tub recently, and even with the shipping delays from lockdown, I ordered it in the afternoon and it arrived at my door 7am the next morning. Just outstanding all round products, prices and customer service - couldn't recommend enough
Loved the lime flavor and now berry. Mixes well and tastes good, not super intense or sweet, kinda like flavored water.
I have only used this for a week, but i brought the plain and its the 1st time i have had one gthat really does have no taste so its great in my smoothies or just in water. looking forward to seeing the results
Super quick delivery, great service and communication :) great product!
Best value I have found in NZ, 5/5 recommend
Great product
Good way to get collagen as there no yucky taste to it, I used it mixed into cereal and baking so far, but it would be great addition to a smoothie also.
Mixes well, good value but will probably go for unfavoures next time as a little too sweet for me but otherwise great
I honestly don't know if it's working - just taking it.
Great tasting, mixes easy
Awesum stuff... will be putting in another order for it soon.. thank u
Great product
This is delicious! So impressed with the flavour and it mixes easily. Have just been taking it for a couple of days but looking forward to the results.
Great product! I chose the unflavored Collagen and it's perfect to put into my NZ Protein shakes as you dont even notice it's in there. Also quick shipping even in lockdown!
Easy mixing, very digestible,good product
Amazing product I got the no flavor did dissolve in seconds no lumps or clumps
Love this product, my hair has been thinning from stress over the past year and after taking it for a couple of months I've noticed my hair growing back thicker, my skin is more plump, and my nails are stronger. Wouldn't be without it now!
Easy to dissolve, I use plain in my porridge and my daughter uses the berry fruit flavour in her morning smoothie.
Helps with my sleep
Very happy with the unflavoured collagen. Dissolves easily in both hot and cold water.
Thanks for the super quick delivery during lockdown!
The unflavoured product tastes mildly like lamb shanks - yummy!
I love the taste when mixed with cold water!
Hi,
I have been taking your product for almost a month now, I still have wrinkles, and sore knees, but I like to believe at least the knees will improve. I have seen some changes in my digestion, and I intend to continue to take your product.
I do have question concerning other supplements I am taking, I have been taking calcium for 40 years (I have good bones!), also MSM for a few years which I find the most effective for my joint pain, and a probiotic, can I faze any of these suppliments out?
Looking forward to your response.
Kind regards,
Chris
The Collagen Hydrolysed mixes well with my protein powder, and there is no real taste. I am sleeping better since taking it, so I guess it is helping with that. Seems like a good product.
I have been using Collagen for a couple of years. I have the most unbelievably strong nails and both my hair and nails grow really fast. I guess it must helping in the rest of my body as well!!
Great service from NZ Protein- order early in the morning, receive it in the afternoon!!
Choice
Love this product and love love love the NZ protein team
Tastes great and mixes really well
Service is fantastic, unfortunately I find this flavour too sweet for me and it doesn't dissolve as easy as the non flavour one. I will be going back to that once I have finished this lot. NZPROTEIN REPLY: use more water. It will dissolve within minutes
Excellent product.
Unflavoured is the way to go! We add it to our smoothies or just to a glass of water, having no flavour at all you can add it to anything. Great value!
The artificial sweetener in this flavour is a bit overdone, but I find that one scoop of this with one scoop of the unflavoured variety counters this and is very pleasant. I have not used it long enough to determine any benefit to skin, nails and joints, but the product dissolves quite well in soda water, and is easy to use. The pin hole in the base of the scoop is rather annoying, as powder does spill through it, even being careful.
This is great. Helps make up my protein macros but most importantly my skin condition feels more plump and general really good. My skin is shiny and brighter. It dissolves easy enough in cold and hot drinks. Has no taste if you buy the unflavoured. I add it to food that I am cooking in batches. Quick postage.
Love the product and the service. I have seen quite an improvement in my skin and hair. This is my 3rd jar!
Amazing affordable product
Great product, sleeping well. now,. Heath has improved. Great service, excellent response and delivery. Thank you
Such an affordable great quality collagen! Unflavored mixes in with my morning coffee perfectly, no texture or taste at all. I will be buying this regularly.
Love this product, been using it for almost a year now. Lots of people comment about my skin looking so health. I?m positive it?s helped with my shoulder surgery recovery. Highly recommended, will continue to use.
I was disappointed, it's very sweet. I thought I was ordering the plain one so I could put it in my coffee. NZPROTEIN REPLY: it's made to go in a drink bottle and be sipped. You can select the flavour that you want on the product page...the unflavoured is listed there...
Excellent product.
Cant see my wrinkles disappearing just yet though....hehe
have been taking this for a couple of months now and finally have fingernails that dont split or fray and grow so long too!. so happy :-)
1st time I've tried a flavored Collagen. Got the Citrus Blast - great flavor, mixes really well. Impressed!
A very satisfyed and happy client. No more pain in my knees ,so i get a good night's sleep
Great collagen powder -mixes easily, no taste and not gritty. Good price and service and delivery from NZ Protein is excellent.
Recently added this supplement for sleep support and to assist in recovery during this offseason due to intense progressive overload training program.
just started taking it so not sure on my performance side of things
Fantastic company to deal with, fantastic product thank you so much
Great product, exceptional delivery and price very competitive compared to others. Highly recommended.
great product, mixes really easily into my drinks and my coffee and doesnt affect taste
Great service, very quick and luv your products
Great product, tastes great. Makes drinking more water easy.
This is the second container I?v order, I?ve found it has plump my skin up.
Fabulous service quick postage Great product and excellent packaging reliable company.
Great product. I am sensitive to most protein powders, but this one in unflavored I can tolerate. It also does not overwhelm my smoothies with favouring so I can taste the fruits and veggies.
Great product at a decent price. Fast delivery too. I'll be ordering more soon!
So far I feel like my knees are less achy, particularly after exercise. Still early days, but I would recommend everyone add some into their diets. I add to my morning coffee and then to other meals before I eat (unflavoured only!).
Pretty much unflavoured, mixes in well with everything I?ve tried so far!
Great product. Tasteless and dissolves well.
Bit too early to review but great for putting in my drinks as the powder has no flavour what so ever so will give it a good amount of time to see if it works
Very good for my Arthritis compared to all other rubbish on the MARKET that doesn't do what it says it will do.
Also sleeping a lot better.
Excellent pricing.
its great, stronger nails and thicker hair
I use this Collagen because of low blood sugar issues which are tied up with my Hashimoto's Thyroiditis. I mix it with juice and natural salt to sustain me through a game of golf, and also before bed to prevent me waking up about 2 a.m. with a pounding heart as Cortisol levels rise to compensate for low blood sugar. You only need a small amount at bedtime - 100 ml juice, 1/8 tspn ground natural salt and 1/2 tspn Collagen. It works a treat. Thanks to NZ Protein for a great product and an extremely fast delivery service.
Protein OLA is a must with Yogurt, fruit & LSA .

Collagen is great as a thirst quench
Another yummy product
I am a 73 year old arthritic female with inflamed, rickety joints, super sensitive tummy & gut, and just to add to my woes, unhappy weepy eyes!! Nothing life threatening here, but definitely inhibiting what I thought would be a rich & vibrant retirement. In a frustrated bid to help myself, I stumbled across this NZ made Hydrolysed Collagen powder, which I have been trialing for almost 3 weeks

The first thing to happen was that I slept such blissfully full nights, and my energy level zoomed up, which meant that my inclination to move more increased!
Then I noticed that much of the inflammation around my knees and ankles was reducing!!
My digestive system seems far calmer, less aggravated, and is working better!!
And my incredibly dried out old skin has started to soften!!!
An incredible domino effect, for sure!!

So with careful diet, regular exercise and this Hydrolysed Collagen powder, my body works much better, and mentally I feel far more positive.
All I can say is that this product is definitely worth trialing!!
Good product - my age is advancing and my joints, skin etc need all the help they can get. Work with a Personal Trainer so need to be on good form every time.

NZ Protein give the very best service - order one morning, get product the next morning - FABULOUS!!!
Have only been using for a week. love that it has not taste, mixes well into my water.
tastes great so hope it does what it says
This is the third type of collagen I have tried. All seem effective (fixed my water and pain on my knee as a result of arthritis). The NZProtein product is the right granulation size (one other brand was ground too finely and thus difficult to handle).
The NZProtein product dissolves well in my morning porridge and is tasteless.
Excellent. It also comes in effective packaging and the price is excellent especially when a double pack is ordered. Love the free delivery which also was very fast.

Thanks
I haven?t decided yet. I?ve got my husband and son in law on it . The jury is still out . After we?ve taken a container of it I?ll know more . We?ll see how our joints are then. So far I would say my joints are less sore, more supple and as I say they are a work in progress
refreshing booster for me.
I use this every day. I prefer non flavoured as then it can be added to anything I am eating or drinking and dissolves well too. I have purchased this a number of times. Seriously fast postage too. Great company to deal with!!!
Have only just started using so you to see if it makes any difference but good value for money compared to other products out there!
Great product. WOULD give 5 stars if the scoop didn't have silly holes in it!!
Mixes well, only been taking for a couple of days but hopefully I'll feel a difference.
Great product! Tastes good too. I've only just started using it, so hoping to see or feel some results soon.
Nice tasting ,easy to drink .Dont think it?s helped my joints as yet but too soon to tell. I have only had it a week. Too soon ?
The Collagen is easy to mix and tasteless. I add it to my coffee for the benefits and it does not alter the taste at all. Love it.
Fantastic product thank you
Great product. Great value
I have been using one scoop of collagen in one glass, not sure if i need to put more in my smoothie, loving the taste, and at the age of 67 i am sure my bones and joints will be loving it, i no longer have stiffness in my hands....early days.
I buy the tasteless one and add it to my smoothies, tea and coffee I can honestly say that it does not alter the taste of my drink. The product is delivered within a couple of days. I believe that the product does exactly what is stated on its label. I have noticed that my finger nails are quite hard, I have reordered as very pleased with results..
Mixes well in shakes and smoothies. I use the unflavoured type to reduce the extra ingredients. I have issues tolerating dairy and legumes, so this is a good alternative that does not upset my digestive system.
Been using this product for some time now. Put it in my smoothie after my workout along with whey protein and hemp protein. Good product, seems to be all says it should be.

Brilliant service from NZ Protein- just the best.
This product is really good and value for money. I have bought it multiple times (unflavored)
It dissolves well but I find the flavoured version a bit sweet
Will order the unflavoured next time
NZPROTEIN REPLY:add more water! It's made for a drink bottle
Am super impressed. Received my order within two days (South Island delivery). It's way too early to comment on results, but I do love this product for being basically odourless and flavourless. I've added this to my breakfast smoothy and black tea. Can't taste it all. Perfect for the fussy eater that I am. Definately ordering this again (and again).
Well, they haven't lied at all. You literally cannot taste it in almost anything. Believe me I decided to put it to the test! You can smell it slightly in hot beverages (but it's minor).

As far as results go? I'm not sure yet. I've been taking it for a few weeks now. It's certainly not hurting. And they're very honest about it's potential benefits - they did their homework and didn't embellish it. I look forward to seeing what a few months of taking it does!
Hey team, appreciate the thorough write-up on this one. Very informative and looks like a great product. I've just ordered one and looking forward to trying it out! Ben
I was impressed with how quickly I received my product so thank you. Mixed the powder in a glass of
water easy and pleasant to drink. Looking forward to ongoing use and benefits in time.
Does what it says on the tin. I was sceptical of "odourless and flavourless" but that is exactly right. It's plain enough to just drink in water without leaving a weird taste in your mouth.
Great value for your money! Mixes well, no lumps - unflavoured with no weird after taste. Bonus, super fast service as I ordered on Sunday night 9pm and received my package the very next day. Would highly recommend.
After a lot of research online I made the decision to take this product during pregnancy. The only health risk I could find was the possibility that taking "too much" collagen could result in health problems from too much calcium - so it avoid the possibility of "too much" I took one serving of 2 teaspoons every two days, rather than twice everyday. Pregnant women have been told to drink bone broth forever for the collagen, but I didn't fancy doing that. I chose this product because it is bovine based rather than marine.

I know my body is naturally prone to stretch marks because my hips got covered in them during puberty when my hips first came in. During pregnancy I went up 20kgs and two clothing sizes, baby measured two weeks ahead, was 9.4lbs. I only got two new tiny marks on one hip and an even smaller one on the other side in the final week. I firmly believe this was due to the collagen powder. I loved the taste of the citrus flavour - will buy again to assist with my recovery as soon as you have more stock.
STAFF COMMENT - the high calcium relates to collagen powders of marine collagen (ours is bovine)
I purchased this on March 29th and recieved it only 2 days later, despite Good Friday occurring in between, and living rurally in Dunedin. Fantastic communication and updates on where the parcel was, from time of packing to dispatch.

The collagen is from NZ pasture-fed bovine sources, making it a great clean type I and II source of collagen at a fantastic price. The collagen dissolves super fast and is virtually transparent in water, with just a slight viscosity to it. I took this first thing in the morning with vitamin C (1000mg), 1/2 hour before eating anything, and will monitor for a month before updating the review.

So far, very very happy with this purchase and the customer service! Thanks!
Click on a flavour to see the nutritional information.
Serving size: 10g (two scoops)
Servings per pack: 30
| Name | Ave Quantity Per Serving | Ave Quantity Per 100g |
| --- | --- | --- |
| Energy | 153kJ | 1530kJ |
| Calories | 36 | 360 |
| Protein | >9g | >90g |
| - Gluten | 0g | 0g |
| Fat - total | 0g | 0g |
| - Saturated | 0g | 0g |
| Carbohydrate - total | 0g | 0g |
| - Sugars | 0g | 0g |
| Sodium | 57mg | 570mg |
| Calcium | 3mg | 30mg |
Ingredients: Hydrolysed Collagen (Bovine) 100%. Source: Brazil
Serving size: 10g (2 scoops)
Servings per pack: 30
| Name | Ave Quantity Per Serving | Ave Quantity Per 100g |
| --- | --- | --- |
| Energy | 142kJ | 1421kJ |
| Calories | 33 | 335 |
| Protein | 8.4g | 84.3g |
| - Gluten | 0g | 0g |
| Fat - total | 0g | 0g |
| - Saturated | 0g | 0g |
| Carbohydrate | 0.3g | 3.4g |
| - Sugars | 0.2g | 1.7g |
| Sodium | 51mg | 508mg |
Ingredients: Hydrolysed Collagen (Bovine), Natural Flavour, Natural Colour (Beetroot Powder, Beta Carotene), Sweetener (Sucralose).
Serving size: 10g (two scoops)
Servings per pack: 30
| Name | Ave Quantity Per Serving | Ave Quantity Per 100g |
| --- | --- | --- |
| Energy | 147kJ | 1471kJ |
| Calories | 35 | 351 |
| Protein | 8.5g | 85.5g |
| - Gluten | 0g | 0g |
| Fat - total | 0g | 0g |
| - Saturated | 0g | 0g |
| Carbohydrate | 0.4g | 3.6g |
| - Sugars | <0.1g | 0.2g |
| Sodium | 53mg | 529mg |
Ingredients: Hydrolysed Collagen (Bovine), Citric Acid, Flavour, Natural Colour (Beta-Carotene), Sweetener (Sucralose)
Serving size: 10g (two scoops)
Servings per pack: 30
| Name | Ave Quantity Per Serving | Ave Quantity Per 100g |
| --- | --- | --- |
| Energy | 147kJ | 1471kJ |
| Calories | 35 | 351 |
| Protein | 8.5g | 85.5g |
| - Gluten | 0g | 0g |
| Fat - total | 0g | 0g |
| - Saturated | 0g | 0g |
| Carbohydrate | 0.4g | 3.6g |
| - Sugars | <0.1g | 0.2g |
| Sodium | 53mg | 529mg |
Ingredients: Hydrolysed Collagen (Bovine), Citric Acid, Flavour, Natural Colour (Beta-Carotene), Sweetener (Sucralose)
(g per 100g protein)
Branched chain aminio acids:
| | |
| --- | --- |
| Isoleucine | 1.5g |
| Leucine | 2.9g |
| Valine | 2.4g |
Other essential aminio acids:
| | |
| --- | --- |
| Lysine | 3.4g |
| Methionine | 0.6g |
| Phenylalanine | 2.1g |
| Threonine | 1.9g |
Non essential aminio acids:
| | |
| --- | --- |
| Alanine | 8.1g |
| Arganine | 8.4g |
| Aspartic Acid | 6.6g |
| Glutamic Acid | 12.4g |
| Glycine | 20.6g |
| Histidine | 0.8g |
| Hydroxylysine | 1.2g |
| Hydroxyproline | 11.4g |
| Proline | 11.5 |
| Serine | 3.4g |
| Tyrosine | 0.5g |