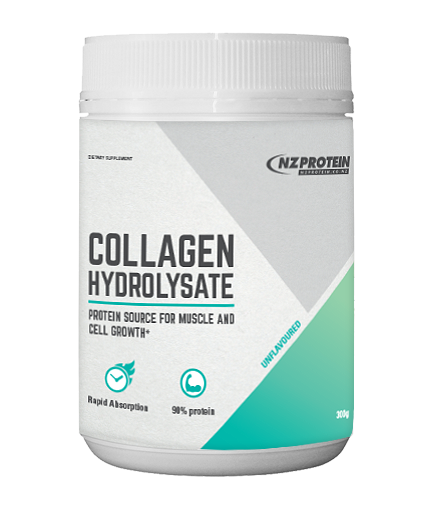 Collagen Hydrolysate 300g
A Concentrated Protein Supplement for Joints, Bones and Skin
A Concentrated Protein Supplement for Joints, Bones and Skin
NZProtein's Collagen Hydrolysate is beef collagen in an easily dissolvable, rapid-digesting form. It is an excellent source of high-quality protein (90% protein when unflavoured) with no fat or carbohydrates.
Collagen is the connective tissue that accounts for up to 30 percent of proteins in our body. It forms the elastic netting that supports the protective tissues in joints, and is essential to giving skin elasticity and strength.
Collagen Hydrolysate provides a unique combination of amino acids in concentrated levels which are specifically needed by the body to support connective tissue structure and maintain healthy cell function.
It may be beneficial for:
• Joint tissue health and reduced inflammation
• Healthier skin and hair, and stronger nails (anti-aging)
• Bone density
• Gut health and improved digestion
• Improved sleep
Suggested Use
This product can be taken anytime of the day or pre/post workout for extra protein. The Natural Unflavoured is tasteless and odourless, and flavoured varieties are available. It can be mixed with water and sipped throughout the day from a drink bottle, combined with a NZ Protein shake, or used in recipes. For best results take up to two servings per day or as directed.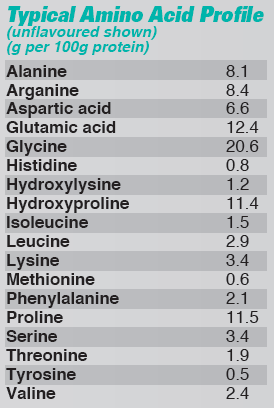 Rated
5
/
5
Based on
1
customer reviews.
I purchased this on March 29th and recieved it only 2 days later, despite Good Friday occurring in between, and living rurally in Dunedin. Fantastic communication and updates on where the parcel was, from time of packing to dispatch.

The collagen is from NZ pasture-fed bovine sources, making it a great clean type I and II source of collagen at a fantastic price. The collagen dissolves super fast and is virtually transparent in water, with just a slight viscosity to it. I took this first thing in the morning with vitamin C (1000mg), 1/2 hour before eating anything, and will monitor for a month before updating the review.

So far, very very happy with this purchase and the customer service! Thanks!
Click on a flavour to see the nutritional information.
Serving size: 10g (two teaspoons)
Servings per pack: 30
| Name | Ave Quantity Per Serving | Ave Quantity Per 100g |
| --- | --- | --- |
| Energy | 147kJ | 1471kJ |
| Calories | 35 | 351 |
| Protein | 8.3g | 82.9g |
| Fat - total | 0g | 0g |
| - Saturated | 0g | 0g |
| Carbohydrate - total | 0.4g | 3.6g |
| - Sugars | <0.1g | 0.2g |
| Sodium | 53mg | 529mg |
| Calcium | 3mg | 28mg |
Ingredients: Hydrolysed Collagen (bovine origin), Flavours, Citric Acid, Sweetener (Sucralose).
Serving size: 10g (two teaspoons)
Servings per pack: 30
| Name | Ave Quantity Per Serving | Ave Quantity Per 100g |
| --- | --- | --- |
| Energy | 153kJ | 1530kJ |
| Calories | 36 | 360 |
| Protein | 9g | 90g |
| Fat - total | 0g | 0g |
| - Saturated | 0g | 0g |
| Carbohydrate - total | 0g | 0g |
| - Sugars | 0g | 0g |
| Sodium | 57mg | 570mg |
| Calcium | 3mg | 30mg |
Ingredients: Hydrolysed Collagen (bovine origin)