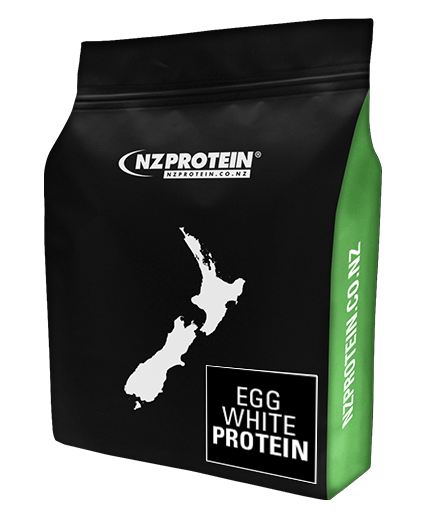 Egg White Protein 1kg
High Biological Value Protein From Free Range Eggs.
Egg White Protein Powder NZ
Egg White Powder is high biological value protein that's lactose and dairy free.
The whites contain most of the protein in the egg, with no fat or cholesterol. They also typically contain less calories than other protein sources.
Egg white powder is made by separating whites from yolks and drying them into a powder. The powder is then pasteurised so it's safe to drink from salmonella and the avidin protein. This process is done at a high heat which is beneficial also as it has been shown to increase digestibility of egg protein.
With the water removed 1kg of egg white powder contains the whites from about 260 medium sized eggs, meaning this product is very economical.
It's from free range chickens too.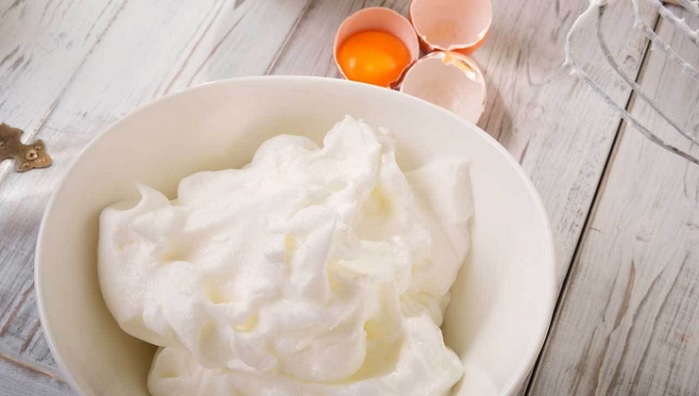 Benefits
Egg white protein is highly digestible. It digests slower than whey but faster than casein. It sits somewhere in the middle and provides a time released protein supply, so could be a good shake to have after a workout or during the day.
Egg white powder has a protein level of around 80%, which is similar to whey, casein and pea - but not all proteins are created equal.
Egg white protein contains all 21 amino acids required to support essential metabolic function, making it a good source of protein to assist muscle repair and development. It contains all nine essential amino acids and branched chain amino acids that the body cannot produce and must be supplied from the foods we consume.
Egg white is high in branched chain amino acids (BCAAs), containing more than 19 grams per 100 grams.
It's high in L-Leucine too, containing over 9 grams per 100 grams which is higher than whey. Leucine is one of three BCAAs and is primarily involved in muscle protein synthesis for muscle growth and recovery. It also contributes to the regulation of blood-sugar levels, growth hormone production and wound healing.
Pasteurised so it's safe to drink
Economical – 1kg contains the whites from about 260 medium sized eggs
Complete source of protein & contains all essential amino acids
High in BCAAs and L-Leucine for muscle development
Slower digesting (provides a time released protein supply)
Lactose & dairy free
Low in fat & carbohydrates so typically has less calories per gram than other protein powders
From free range chickens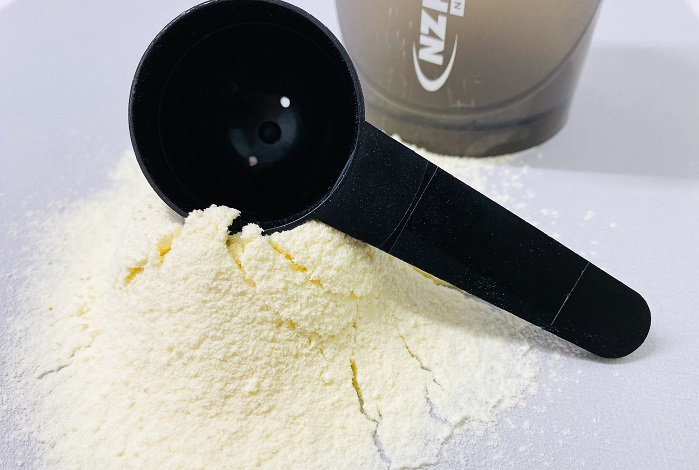 High Biological Value
Biological value is a measure of how much ingested protein is actually used by the body. Egg protein scores 100 on this scale. In fact, egg protein is so bioavailable that it represents the BV against which all other foods are compared.
The Protein Digestibility-Corrected Amino Acid Score (PDCAAS) measures the 'completeness' a protein, where a value of 1.00 on the scale is the highest measure. Not surprisingly egg protein scores the highest 1.00 which is the same as milk based proteins and higher than beef and non-animal protein sources.
Protein digestibility is a measure of the proportion of protein that is absorbed by the body. Egg white protein scores 97% on this scale.
Egg White Protein Shake
Flavoured egg white mixes better in a protein shake than natural but it is recommended to add liquid before the powder in a shaker. Vanilla mixes with virtually no foam/lumps if shaken well and left to settle for a minute.
We have samples of our flavoured egg white here.
Unflavoured tastes like natural egg whites but it is easy to overcome this when made into a smoothie with fruit etc.
Egg White Protein Pancakes
Egg white is often used to make protein pancakes and there are a heap of recipes that can be found online for these.
You could make some yourself, or you could try our pancake mix - which is already mixed and just needs water.
Our pancake mix has egg white protein it and also casein, oats, coconut flour, and other key ingredients designed to make the best pancakes.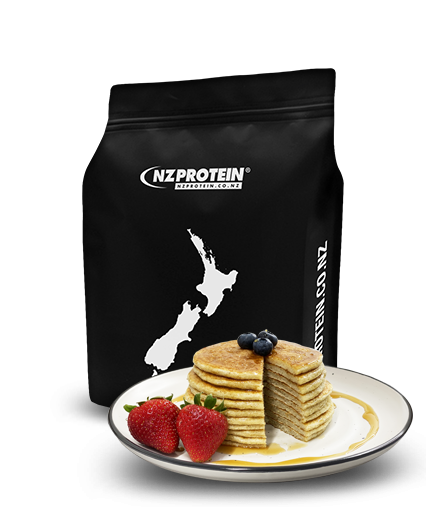 Egg White Protein Side Effects
Eggs are generally well tolerated and allergies seem to mostly affect children under five years old, who grow out of them. However, those with allergies to eggs should avoid this product.
Raw egg whites contain the protein avidin, which can bind to biotin and stop its absorption when consumed in large quantities. Egg white powder is pasteurised, rendering avidin inactivate.
Our Verdict
Egg white protein is a very good source of digestible protein and is virtually fat free. It has a powerful amino acid profile that's suited to muscle development.
Egg white is the best replacement to have if avoiding whey or as a shake during the day to provide a slower release of amino acids.

Egg White Protein Recipes
We've got a range of egg white based recipes available on our recipes page. Here are some favourites:
Please note that this product is processed in a facility that also handles milk, soy, peanut, and gluten ingredients.
---
Rated
4.35
/
5
Based on
96
customer reviews.
Good stuff. Neutral taste, so can mix with anything.
Great taste, great mix ability. Been using it for my morning smoothie everyday for the past 5 months. Great results. Much easier than breaking and cooking 8 egg whites in the morning.
Great product - All sorts of baking and cooking uses and it performs every time.
Loved it...I made egg white bread wirh it...and it was delicious! Perfect protein for my keto lifestyle!
Good stuff! Just what i need for my Paleo diet. Tastes ok too. Will definitely purchase again.
Nice flavour, great non-diary alternative
Blended easy enough into a smoothie with a NutriBullet but the aftertaste takes some getting used to.
Very happy with product and extremely fast service.
Taste is ok. This protein does not blend at all, so if you want an easy to shake mix definitely stay away from this. Bag ended up in the bin.
Use NZ protein egg white for baking low fat/high protein breads; it works quite well with Maria Emmerich recipes. Love the product! :-)
I would highly recommend this product. It is a nice alternative protein to whey, with a good taste. It is also easy to mix and well priced.
This is the first egg protein I have tried, and I found it to be a nice tasting non dairy protein, although it did separate a little after mixing.
Love the stuff. Best price I've found online and great for baking - pancakes and slices
Finally a protein powder that doesn't stir up my sensitive stomach. It's mostly flavorless and creates a smooth creamy texture, but it's hard to mix by hand. No problem with a blender though.
Great and versatile! Can add it to anything to have a bit more protein without overpowering the taste
Was pretty good, brought as it was cheaper than another I had been using. After taste is a little odd but it mixes well and goes great in smoothies 👍🏻
It doesn't mix properly at all in a shaker. It does leave lumps when using a mixer. The taste isn't good and their customer support is very poor. Tried contacting them and never received a reply. They don't really care about the customer service and just want to make money by selling as many products as they can. NZPROTEIN REPLY: I am sorry that you have not enjoyed this product. Egg white doesn't mix as well as some other proteins. Per emails.
Easy to digest protein with no stomach side effects that I get with Whey and Pea proteins. Nice flavour and fulfilling my protein intake
This is the second protein i have tried from NZPROTEIN, the first was faba bean which i liked a lot but the egg white is superior not only to the faba bean in my mind, but any other plant protein brand i have tried. why? because its so easy on my stomach. this one doesnt bloat me, doesnt upset my stomach and it doesnt make me feel super full which is nice because it doesnt interfere with my ability to eat meals within a close time frame of consuming a shake. I always add an extra scoop (3) and it mixes really well, unlike the faba bean which required more rigorous shaking. this mixes easily. only issue is i notice there is a lot of froth, particularly at the end so i often have to add a bit of extra water after i drink the shake to extract the froth. but this protein is so yummy and easy to drink that it doesnt bother me. i would 10/10 recommend this over any plant protein to people like my self who cant have whey but also have a sensitive digestive system and bloat easily. i will be buying another one. thanks NZPROTEIN! :)
Blends beautifully, no clumping which is great. I went for the unflavoured version which is not unpleasant just mixed with pure water but adding a tablespoon of cocoa or whatever makes it a good tasting shake without artificial sweeteners etc.
Good product, easy to mix and tasty
Great product....the best of the egg protein powders and easily the best tasting non milk protein.
Protein good .. container shite
Good.
I bought the unflavoured one because I didn't want the artificial sweetener, better than I expected with the neutral flavour. It mixes well in a food processer but does not dissolve easily if you sprinkle on your breakfast or yoghurt as topping.
This is the perfect source of protein for those can't have whey. Vanilla is so delicious!!
Excellent service. Will use again.
Repeat purchaser, I love this stuff. Perfect for making PSMF bread as well as scramble eggs or omelettes. If making scrambles I use half natural half vanilla egg whites, cook then top with sugar free maple syrup. Hits the sweet tooth.
Great non-dairy protein. Vanilla tastes good.
Delivery was great, super quick and well packaged.
Good on sensitive tummy but I can't handle the smell. Ordered vanilla but it doesn't really taste like it.
Using it in my oats, and can't get a nice mix with water, will use in smoothies only I think.
I bought the vanilla and the flavour and after taste was terrible. I bought it to bake with and I wont be using it again a waste of money.
Awesome quality and price. new buyer to this company and am super impressed
taste awesome.
Great amino acid profile. Great for cooking.
This is great product! I am so happy to find out this tasty and versatile product, especially for the people have Lactose problems. The chocolate chip cookie recipe goes well with Egg White Protein and GF is a bonus!!
Quite sweet, which I like. Great alternatively to dairy.
Great taste and consistency. Dissolves in my smoothie really quickly. Would definitely purchase again.
Really liked your product, prompt delivery. Just loved it 🌸💞🌸
good product
Mixes easily enough with almond/coconut milk/water.
I purchased unflavored for the lower sugar content, while it is palatable I add a chocolate stevia drinking chocolate mix to it and I barely taste the protein. I have tried the vanilla and would recommend that if you want a powder you don't want to add anything too.
Vanilla . Good quality and taste mixes easily . Very fast delivery. Good to see an outfit with their act together.Thanks.
Great clean protein product, recommend mixing in blender as not so good in shaker (tends to lump) through in some frozen fruit and nuts/seeds and you're pumped.
Excellent product. Love using it in my afternoon smoothie.💞🌸💞
This is excellent for making Maria Emmerich's protein sparing modified fast bread. A 1kg bag makes many loaves so is great value for money.
Quite eggy but thats what it is, so go figure :)

Needs a decent blender/mixer, and foams up a lot. I use it in baking and it works great.
I haven't used Egg Protein before and bought it to use primarily in baked goods. It didn't mix as well as I had hoped but this might be the norm for this type of protein but I'd still buy it again - the taste and texture were good.
loving the product have made a low card bread with it, and its great.
Good
Great product and would have been amazing but it made me feel sick. Not the products fault, my body just obviously didn't agree with it.
Would have been a 5.... but found vanilla flavour too sweet!
Great stuff 5 stars
I love the vanilla egg white and being able to give my smoothies an added bit of protein without the *yeuch* factor of plain egg whites! - Thanks NZ Protein - from an expat in Oz.
A bit cakey but expected must use a blender
Awesome protein source
I'm very happy with the egg white protein. The bags seal very well too, which is so important for this product. Delivery time was exceptionally good too!
The egg white protein is great if you have a super sensitive stomach like I do, it didn't upset it at all. It blends up nice and smooth, with no lumps. Taste is ok, can add fruit to make it better. Would be great if it came in a chocolate flavour. Will buy again.
Same day delivery and got just what I expected. Unflavoured is pretty unpleasant and a little clumpy just with water, but stomachable. Works brilliantly for smoothies and recipes with only a faint taste remaining. Good whey alternative.
Great tasting protein powder. Easy on the stomach.
I am very happy with both the service and product. I will definitely purchase it again.
Great alternative to dairy. Mixed with fruit etc in a smoothie with blender or similar is the way to go.
Didn't really come with any instructions as such as to how to substitute this for normal eggs in recipes as egg whites are meant to be better for you. I noted the carb content of these is extremely high for what it's meant to be. Overall I probably won't purchase again.
Wow, don't know if we got a bad batch but this protein powder smells horrendous and tastes even worse.
Easy mixed and good taste
Vanilla flavored proteins don't taste of egg. Overall they are a good replacement to whey, taste is a bit less good (but not at all bad as read in some comments) and they are only slightly harder to solubilize. I recommend them as an alternative.
The egg white protein is an excellent addition in my smoothies
very efficient service. product quality a1
Great switch from clean palo. Love the taste
I m very happy over 3 years now with ur protein.
The Protein-Mallows was very tasty. i was very surprised.
Extremely fast delivery. Perfect.
Love the flavour! Haven't had any issues with clumping. Have ordered it a couple of times now.
Taste is quite good. Thanks
Delivery was too late received product in 5 days, however, egg protein taste is excellent in comparison with other egg proteins but mixability with water is not that good there were small granules left in the water. Pea protein, chocolate and berry flavors are okay not too hard to drink. overall a good product I have tried other egg proteins which i was unable to drink it.
Was kindly given a second batch because it was thought my product was the wrong ingredients. sadly the unflavoured egg white powder tastes the same as it did the first time - absolutely disgusting with water, difficult to mix (even if you add water first) and extremely foul taste.
It expands with water, sort of strange but I've never had egg white protein before so have nothing to compare it with. I'll have to hide it in other foods.
Amazing delivery- I ordered it last night and it arrived today. I use this mostly for making pancakes with banana and oats and it's the best product for this, whey protein falls apart. It does have a bit of a funny smell but I don't notice it once cooked up. Don't expect this to be like a normal whey protein powder that you'd make up a shake with just on its own, but it's great for adding to smoothies. The vanilla has an overly strong and artificially sweet taste- the unflavoured is much better.
tastes ok mixes well
Lovvve this protein. Haven't found a good dairy free alternative as they're usually really grainy. But this tastes amazing. Not far off from whey protein. Recommend
Great product, tastes good in my smoothies but haven't had it as just a shake. I mix my smoothies with water only and it mixes well. If I use the full serving size there is a faint egg taste/smell but nothing that has put me off. Gentle on my tummy which is a must for me.
Postage is super quick.
Don't know if I got a bad batch or something but the most disgusting tasting powder I've ever tried. Practically inedible! Gourmet vanilla flavour - no resemblance to vanilla here. Tastes like goldfish food, well like how fish food smells. Taste overpowers any other flavour I add to try and disguise it. Will not buy again. Very dissatisfied.
I find it totally satisfactory for my diet
Agree with the below - clumps like chalk, doesn't blend like any of the other powders I've used. I've got the vanilla flavour and it does clump badly. Also as per the previous advice from NZ Protein, I do always add water first, and have tried shaking multiple times, leaving to sit and same result each time. SUPER ANNOYING because otherwise this protein would be ideal. NZPROTEIN REPLY: we have a new egg white since your purchase. This new egg mixes a bit better, is free range, and the price is slightly less!
Clumps like crazy. Trying every method I can but always ending up with massive clums. NZPROTEIN REPLY: add water to the shaker before the powder. Sometimes giving it a good shake then letting it sit for a minute before giving it another shake works well. But water before the powder will help - this can be the nature of egg white protein. The vanilla flavour is better at mixing.
Prompt delivery, good price, and wonderful taste!
Great product
Have been using the egg white protein for some time in smoothies.
It?s tasteless with other flavours and does everything that?s claimed.
Great taste
Both my wife and I love this egg protein. It dissolves well and isn't overly sweet. Been a repeat customer for several years
Superb fast service!!
Great flavour
Mixes well but flavour is too strong. NZPROTEIN REPLY: NEEDS TO BE AS THE EGG WHITE HAS A STRONG NATURAL FLAVOUR TO OVERCOME
Taste is ok, but it way to sweet for me, its like a mouth full of candy
This would be perfect if the egg whites could be sourced from free range chickens!
Tastes alright (vanilla) but its way too foamy. I know that just how eggs are but itd be nice if you could somehow minimize the foamyness.
Fantastic product , great value , taste and mixes well. Service is always fast, the product is great and the prices are unbeatable!
V.good value, not frothy, is my new favourite. I can mix in a shaker ok.
Gourmet Vanilla: seriously delicious, mixes well and value for money. I'm in love!!!
Loving it! So much nicer than the whey...
Hands down makes the BEST protein shakes and protein mousse dessert ever.
Click on a flavour to see the nutritional information.
Serving size: 31.25g (2 heaped scoops)
Servings per pack: 32
| Name | Ave Quantity Per Serving | Ave Quantity Per 100g |
| --- | --- | --- |
| Energy | 494kJ | 1573kJ |
| Calories | 118 | 376 |
| Protein | 25.7g | 82.4g |
| Fat - total | <0.2g | <0.5g |
| - Saturated | <0.1g | <0.2g |
| Carbohydrate - total | 1.4g | 4.5g |
| - Sugars | 0g | 0g |
| Sodium | 387mg | 1238mg |
Ingredients: Egg Albumen (Free Range).
Contains: egg
Serving size: 31.25g (2 heaped scoops)
Servings per pack: 32
| Name | Ave Quantity Per Serving | Ave Quantity Per 100g |
| --- | --- | --- |
| Energy | 502kJ | 1598kJ |
| Calories | 120 | 382 |
| Protein | 24.2g | 77.3g |
| Fat - total | 1g | 3.1g |
| - Saturated | 0.3g | 0.8g |
| Carbohydrate - total | 1.7g | 5.6g |
| - Sugars | 1.4g | 4.5g |
| Sodium | 364mg | 1160mg |
Ingredients: Egg Albumen (Free Range), Emulsifier (Sunflower Lecithin), Flavour, Sweetener (Sucralose).
Contains: egg
(mg per serving - for generic egg white protein)
Branched chain aminio acids:
| | |
| --- | --- |
| Isoleucine | 1700 |
| Leucine | 2900 |
| Valine | 2080 |
Other essential aminio acids:
| | |
| --- | --- |
| Lysine | 2080 |
| Methionine | 1030 |
| Phenylalanine | 1770 |
| Threonine | 1160 |
| Tryptophan | 320 |
| Cysteine/Cystine | 740 |
| Glutamic Acid | 4000 |
| Glycine | 1070 |
Non essential aminio acids:
| | |
| --- | --- |
| Histidine | 750 |
| Alanine | 1810 |
| Arganine | 1670 |
| Aspartic Acid | 3140 |
| Proline | 1120 |
| Serine | 2060 |
| Tyrosine | 1180 |